Sharp Movie Rewind: Happy Gilmore vs. Shooter McGavin at the 1996 Tour Championship
With the 2018 Tour Championship this weekend, Ian Hartitz takes a look back at the ultimate underdog story in the 1996 (fictional) version of the tournament: "Happy Gilmore."
How would sports books have treated Happy Gilmore vs. Shooter McGavin? Here's an attempt at setting some odds for their showdown.
Every so often we'll take a break from analyzing real-life events and look back at some of our favorite sports movies with the intention of setting odds on the film's pinnacle game or event. With the 2018 Tour Championship just around the corner, we break down the ultimate battle between two of the biggest stars in the history of golf. Without further ado, here's the story of the 1996 Tour Championship: "Happy Gilmore."
Happy Gilmore's rise to prominence was largely influenced by his life-long love of hockey. To this day he holds local high school records for most time spent in the penalty box, and holds the distinction as the only player to take off his skate and attempt to stab someone with it.
It wasn't until Happy was challenged to a long-drive competition in the front yard of his grandmother's house that his golf potential was realized.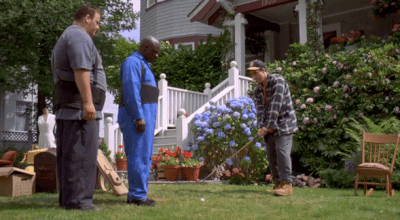 The bewildered professional movers lost $40 to Gilmore that afternoon, but that was nothing compared to what he was able to make while hustling local driving ranges. A chance encounter with PGA legend Chubbs Peterson (RIP) helped convince golf's future superstar to enter the Waterbury Open for a chance to play on the PGA Tour. Happy went on to win the qualifier despite displaying amateur-level skills on the greens.
Gilmore's ability to regularly drive golf balls 400-plus yards, as well as his consistently entertaining wild swings of emotion, quickly made him golf's next big thing. Everyone was coming around on Happy — with the exception of tour money leader Shooter McGavin. The two would ultimately face off on the sport's grandest stage months later in a rivalry fueled with more hard feelings than an argument with Gilbert Arenas.
This naturally begs the question: How would sportsbooks have treated an inexperienced long-drive journeyman embracing a battle against the sport's top-ranked superstar?
Let's take a look at a few key events from the film to help set some odds for Gilmore and McGavin's showdown at the 1996 Tour Championship.
The Setup
"You little son of a b*tch ball! Why you don't you just go HOME? That's your HOME! Are you too good for your HOME? ANSWER ME! SUCK MY WHITE A*S, BALL!" — Happy Gilmore.
Gilmore decided to jump directly into the PGA Tour with less than a week of training right after winning the Waterbury Open. This decision was driven by his (incredibly sweet) grandmother owing the IRS $270,000 in back taxes, which Happy hoped to pay off in order for her to keep her house.
Unsurprisingly, there was a steep learning curve for the self-pronounced hockey-player-turned-golfer. Gilmore quickly found himself in the tour president's dog house due to an alarming number of infractions during his first event. The list of violations include Happy …
Employing a homeless man as his caddie;
Participating in multiple extended obscenity-filled screaming fits;
Spearing an ESPN cameraman with the flag stick from the 17th green;
And tackling a fan near a pond before yelling more curse words.
Gilmore's last-place finish didn't help his bank account, but he was allowed to stay on the tour thanks to booming public interest, as well as a promise to tone his antics down. A more-composed version of Gilmore went on to place 21st at the Visa Everglades Open, 18th at the Bell Atlantic Invitational and ninth at the Wilson Golf Tournament.
Everything was going fine … until McGavin decided to take matters into his own hands.
"Listen, this is Shooter's tour. I worked hard, paid my dues — now it's Shooter's turn. Shooter won't let his reign at the top be spoiled by some freak." — Shooter McGavin
A near brawl at a local bar between Gilmore and McGavin was the first sign that their rivalry extended beyond the golf course. Still, this was nothing compared to what eventually went down at the 1996 Pepsi Pro-Am.
Unbeknownst to the PGA Tour, McGavin hired a local Red Lobster enthusiast to heckle Gilmore throughout his round. The taunts varied, but typically ended with the fan calling Gilmore a bad word for a donkey.
Gilmore's rage eventually boiled over, leading to a one-sided fight with his partner: "The Price is Right" host Bob Barker.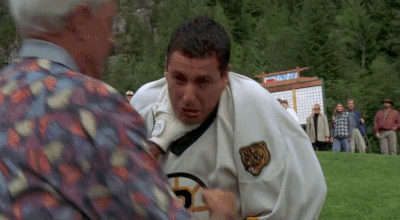 The PGA tour suspended Gilmore for a month and fined him $25,000 for his actions that afternoon. While Subway responded to the assault by signing PGA's bad boy to a luxurious life-time sponsorship deal, McGavin purchased Grandma Gilmore's home from the IRS before Happy could save it.
Gilmore was faced with the prospect of losing the house his grandfather had built with his own two hands.
So what did he do? Happy bet on himself.
The Odds
Before Tiger vs. Phil, we had Shooter vs. Happy. The arrangement was simple: A victory for Gilmore would earn him back his grandmother's house, while a victory for McGavin would result in Happy quitting the tour.
Odds currently list Tiger as a -170 favorite and Michelson as a +150 underdog for their upcoming $9 million heads-up match in November. There's little doubt McGavin is the Tiger in this parallel universe, while Gilmore's lack of a polished game could feasibly be outweighed by his alarming amount of public support.
Ultimately, Gilmore's upside didn't quite make up for his routine lapses in judgement and general short-game (in)ability. McGavin was playing the best golf of his career, and appeared poised to win his first Gold Jacket.
Head-to-head: Shooter McGavin (-300) vs. Happy Gilmore (+500)
To Win the Tour Championship: McGavin (+500) vs. Gilmore (+2000)
The public immediately pounded Gilmore in both matchups, because what kind of sick person wouldn't want to root for a complete mad man competing for his grandma's honor?
Still, an alarming 80%of the money came in on Shooter, indicating sharps were heavily fading Gilmore's inexperience and unorthodox style.
The Result
Shooter and Happy were paired together and quickly began competing atop the leaderboard, as well. Critics couldn't believe Gilmore's overnight improvement with his hockey-styled putter, and the massive underdog sat just one stroke behind golf's golden boy after 18 holes.
Days 2 and 3 featured more massive drives and alarmingly effective play on the greens from Gilmore. The pressure of dealing with Happy's mid-round antics appeared to weigh on McGavin, as the typically composed favorite struggled to find an edge on his younger competitor.
Gilmore entered the fourth and final day of the Tour Championship with a one-stroke lead over McGavin, but the former hockey player's day was quickly upended after he was hit by a car that was driven onto the fairway by the aforementioned Red Lobster ambassador.
Doctor's pleas to stop playing went unanswered, and an angered/injured Gilmore dropped to 1-under par entering the back nine.
Some call what happened next golf's biggest choke job, while others say it was the best comeback in the sport's modern era. Either way, Gilmore's fiery comeback on the back nine ultimately featured the single greatest shot in the rich history of the Tour Championship.
The greatest shot in the history of golf:

Happy Gilmore beats Shooter McGavin on 18 to win the 1996 Tour Championship pic.twitter.com/GXUb8zTA0J

— Suspended Ian Hartitz's brief burner account (@HartitzIam) September 18, 2018
Angry bettors chased down and later assaulted the befuddled McGavin, who had seized the tournament's coveted golden jacket upon losing. Gilmore would get both his jacket and grandmother's house back, while the faithful public happily bankrupted local sportsbooks and cashed in their winning tickets.
Long live Happy Gilmore, golf's greatest competitor and owner of the most-exhilarating sweat in the history of the sport.