FanDuel Dinger Tuesday Picks: Why to Bet Luis Robert Jr., Bryce Harper & Juan Soto
Credit:
Kevin C. Cox/Getty Images. Pictured: Luis Robert Jr.
One of the most popular promotions in the sports betting community is back again this week: Dinger Tuesday from FanDuel.
The promotion allows each user to bet $25 on one player in every MLB game played that day to hit a home run. Regardless of whether the player you bet on homers, you receive $5 in free bets back for each home run hit in the game, with a max return of $25 for the game.
Some users have been limited by FanDuel this season and are only allowed to receive a maximum $50 back in free bets — essentially 10 free homers back for the day in free bets. Last season, there were no limits on the promotion for any players.
Given the average number of home runs in an MLB game in 2022 was 2.14, you will receive an average of $10.07 in free bets back for each $25 home run bet you make, without accounting for the loss in expected value on the vig of the home run yes prop.
If you're not limited at all, you should play as many games as you're comfortable with because the promo is +EV for most of the board.
If you are limited to the max return of $50, an average of five games will return your $50 maximum free bets.
Here are my four favorite Dinger Tuesday picks for this week.
Pick: Bryce Harper +340
Bryce Harper broke the longest HR drought of his career on Saturday night against San Diego when he hit a long blast into the Phillies bullpen.
Harper's underlying statistical profile looks fine overall, but he had clearly been lacking confidence and been hitting too many ground balls to consistently hit for power. The chart below from FanGraphs paints a real picture of Harper's peaks and valleys. When he returned early from injury in late 2022, you saw the spike in ground ball rate and decreased wOBA as a result.
People forgot because of his elite playoffs last year, but Harper wasn't good for a month-plus prior to the end of the regular season. The ground ball rate has spiked yet again for Harper in late June and actually reached 65% on the rolling chart prior to the weekend.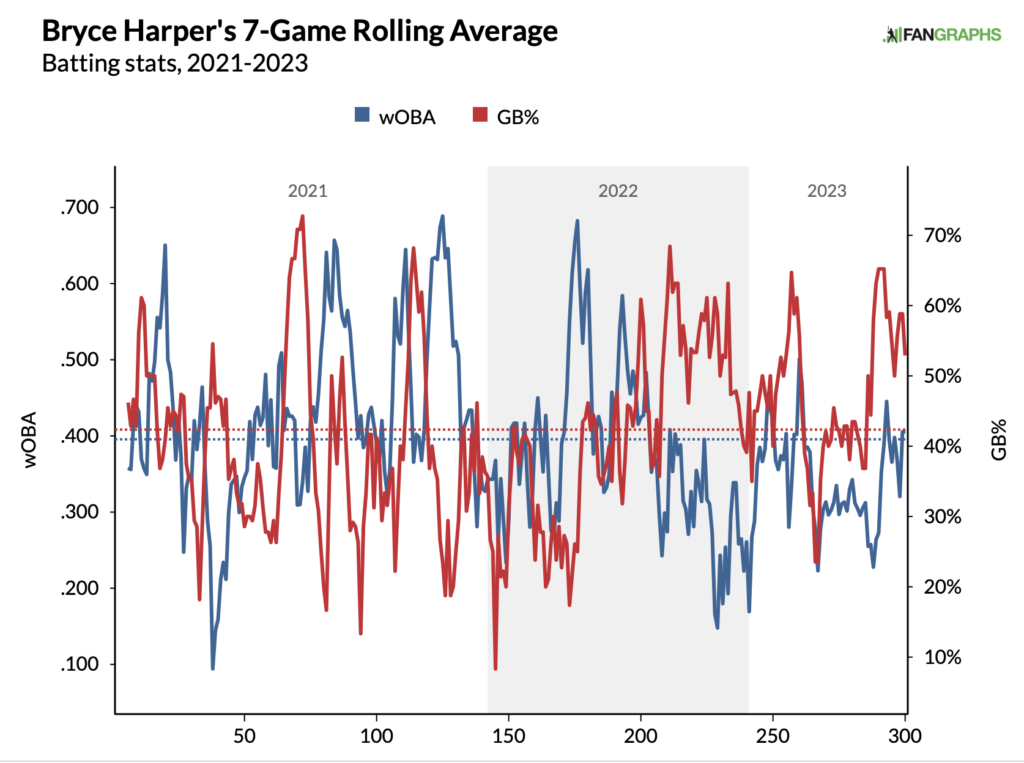 If Harper is finally figuring out how to lift the ball again, the power will only increase from here. His track record should be trusted and his seven-game rolling ground ball rate is back down near 50%. He gets a matchup with pitch-to-contact righty Julio Teheran, who the projection systems expect to have a major HR problem.
The BAT projects Teheran to allow 1.81 HR/9 for the rest of season. Citizens Bank Park is also one of the most homer-friendly parks in baseball and Harper has zero situational pinch-hit risk. I don't look a ton at batter vs. pitcher splits, but Harper has a .404/.533/1.043 slash line in 60 PA vs. Teheran, with nine homers.
---
Pick: Adley Rutschman +600
Michael Grove and Tyler Wells are two homer-prone pitchers who will take the mound on Tuesday night.
Wells is an extreme fly ball pitcher, and while he does excel at generating pop-ups, sometimes that means that Wells is vulnerable to homers, too. Grove has pitched 77 1/3 MLB innings and allowed 1.77 homers per nine in those innings.
Neither guy projects to avoid the home run bug for the rest of the season, and Camden Yards is expected to provide a slight boost to the run environment on Tuesday night compared to average.
Dave Roberts does have a ton of opportunities to mix and match his bullpen behind Grove, though. He often deploys a bullpen-esque game in lieu of overexposing Grove. As a result, you have to consider platoon splits. Gunnar Henderson +400 is intriguing, but he doesn't have a ton of value if the Dodgers spam a lot of lefty bullpen arms at him in the second half of the game.
One player who can't be platooned into a bad split is Orioles catcher Adley Rutschman. His versatility and near-zero pinch-hit risk makes him worth a long-shot flier despite underwhelming barrel rates.
He's shown consistent 18-22 HR per season power through 1.5 full MLB seasons. His barrel rate sits at 7.6%, but the homer risk from Grove opens the door for guys further down the slugging hierarchy to pop one.
Given the lack of value on the top sluggers in this game with deflated prices, Rutschman is my favorite bet on the board for this game.
---
Pick: Juan Soto +340
I know that Alek Manoah looked fixed in his dominant start (on paper) against the Tigers. But after a quick look at his underlying numbers, there's nothing materially different about Manoah's pitch mix when compared with his starts before demotion.
Manoah's slider was elite in 2021 and 2022 by Stuff+. The pitch lost a lot of that stuff and has become a lot worse in 2023. His first start back showed no meaningful improvement in the stuff model. His fastball is still below average, and I think the excellent results had more to do with the Tigers offense than Manoah.
He won't be as bad as he was before the demotion, but I'm still lower than the market on Manoah.
As a result of that, I'm targeting the Padres lineup for Dinger Tuesday. Juan Soto should have the best home run odds on the Padres on Tuesday in my view. He has a considerably better barrel rate than both Manny Machado and Fernando Tatis Jr., and one of Manoah's biggest problems was his struggles against lefties.
His slider doesn't play as well against the lefties to begin with, and the diminished quality of the pitch could put one on a tee for Soto to drive out of the park.
---
Pick: Joey Votto +360
It could be beneficial to wait and see that Votto is going to play in the second game on Tuesday night after completion of last night's suspended game that's currently 2-2 in the eighth.
I'd still expect Votto to play against a righty in the full game, and his batted ball quality since returning from injury is as good as anyone in the big leagues. His average exit velocity on flies and liners is 99.1 mph, which is among the top five in the league.
The sample is small for Votto — 42 batted ball events — but he's relying on his elite plate discipline and still has excellent batted ball quality. It's more of a slug-or-bust approach, which has led to more strikeouts but is still producing.
Votto has nine barrels, and while he's unlikely to maintain that level of batted ball quality, he's still shown that he's healthy enough to produce. There's a lot of young talent on this budding Cincinnati team, but the old veteran is still the best pure slugger.
I'm avoiding the rookies — Matt McLain, Elly de la Cruz and Christian Encarnacion-Strand — in favor of a hitter with a more proven track record of lifting the ball and pulling barrels.
Great American Ball Park is the best home run ball park in all of MLB, better than Coors, and the right field power alley for lefty pull hitters is a major reason why. The park plays 32% above league average for homers and has two mediocre starters on the mound on Tuesday.
---
Pick: Luis Robert Jr. +370
Robert has proven himself as one of the league's best sluggers in 2023, highlighted by his semifinal appearance in the Home Run Derby last week.
The White Sox don't have many bright spots this year, but Robert's power surge is one of them. His chase rate limits his strikeout rates and hurts his overall contact quality, but Robert's 15.6% barrel rate puts him in the top seven percentile of the entire league in the metric.
Mets starter Carlos Carrasco has allowed 1.77 HR/9 thus far this season and his decline in stuff has led to a 1.58 per nine homer projection for the rest of the season.
The wind is blowing out to center field at Citi Field tonight, which should help the park play closer to league average instead of the normally pitcher friendly (93 park factor for HRs) that it plays most often. Robert's exit velocity on flies and liners is in the top 10 amongst all MLB hitters, which helps overcome his overall league average hard hit rates.
When he gets a hold of a ball, the raw power cannot be denied.
---
Note: As of writing, there are no odds up in Astros–Rockies because the Rockies haven't listed a starting pitcher yet. I've found that most home run odds at Coors Field this season have actually been overpriced and not showing a ton of value, but the promotion still encourages people to pick games that will feature more homers. That game is the second best on the list tonight (after Cincinnati) for projected homer volume.
Ready to place your bets? Head over to FanDuel Sportsbook for the best markets on MLB and all of the day's games and events across the world of sports!
How would you rate this article?
This site contains commercial content. We may be compensated for the links provided on this page. The content on this page is for informational purposes only. Action Network makes no representation or warranty as to the accuracy of the information given or the outcome of any game or event.