MLB Futures Odds, Picks | How To Bet Shohei Ohtani, Kyle Schwarber, More
Credit:
Daniel Shirey/MLB Photos via Getty Images. Pictured: Shohei Ohtani
Regular season baseball may still be around month away, but for the betting public among us, MLB season started more than a month ago when the first 2023 futures started to appear at sportsbooks. 
If you're following me in the Action Network app (@TurveyBets), you know I have already logged plenty of futures, as the baseball futures market is always my favorite. It has also historically been one of my most profitable. Funny how those two seem to correlate, right?
The baseball futures market is a longgggg road, so what I tend to do is sprinkle the opening line for bets I like as they arrive just to make sure I get that number. Then, as the markets start to appear at each sportsbook, I begin to shop those bets and double down on some of those early bets and price shop some new ones as well, all starting to build my season-long portfolio.
Sean Zerillo and Anthony Dabbundo have had you covered with some excellent win total plays in recent days, but today we'll be focusing our lens on the player market. 
MLB Futures: Player Over/Unders
Salvador Perez Under 29.5 Home Runs (-110 DraftKings)
This is my favorite bet of this type. If you follow me in the app, you'll see I put five units on this and that's only for bankroll management; I'd go even higher if bankroll management was no consideration. 
Perez has evolved in his career to the point where he is a productive power hitter (remember how he broke into the leagues as a singles hitter), but this number is just too high. Perez has cleared this number just once in his 12 seasons in the majors. Granted, that season was recently (2021) and by a healthy margin (48 home runs), but the fact remains that this is a catcher who will turn 33 early in the year and has lots of wear and tear.
In terms of games behind the dish, Perez already has more career games at catcher than Buster Posey, Jonathan Lucroy, Carlos Ruiz and numerous other catchers had in their entire careers. 
Perez also battled a thumb injury all of last season, having surgery in June. And while he came back with similar power numbers, that injury is one that, in general, saps batter power. BetRivers, the only other book with this market open right now, has the number at 27.5 which seems far more reasonable to me (even though he has also gone under that number in 11 of 12 seasons in his career).
I'd play this to under 27.5 if you can still get -110, or under 29.5 if the juice doesn't get too crazy (around -140).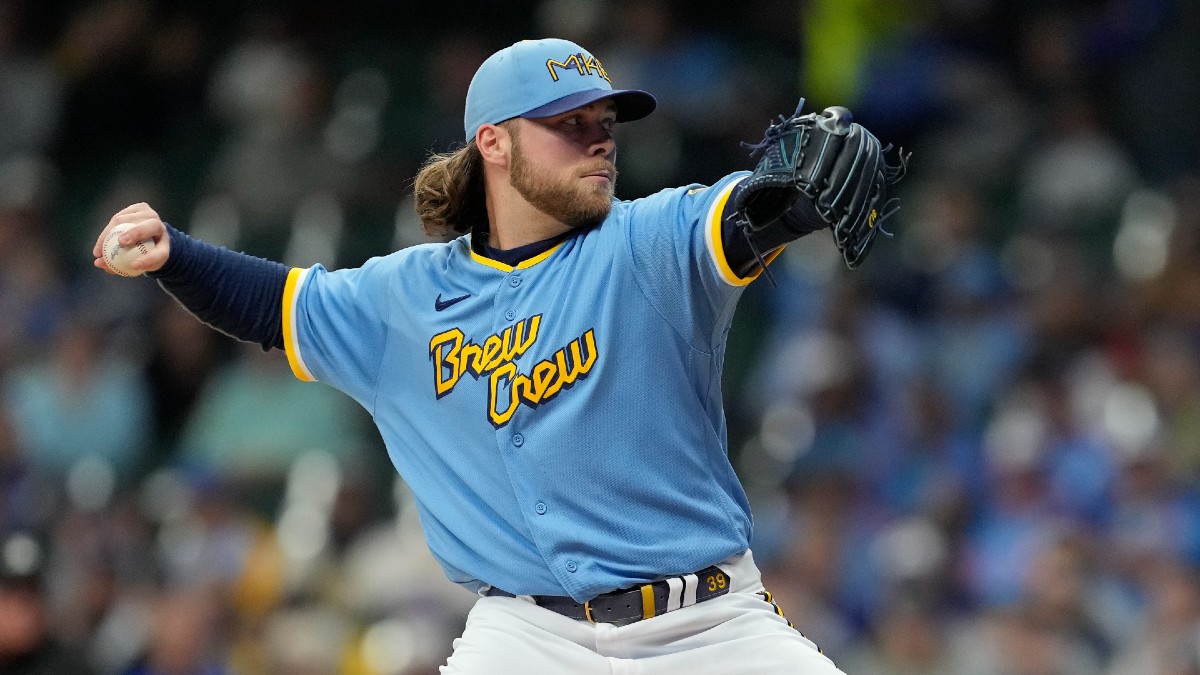 Shohei Ohtani under 210.5 Ks (-115 DraftKings)
Corbin Burnes under 233.5 Ks (-110 DraftKings)
Shane Bieber under 202.5 Ks (-110 DraftKings)
Here's a trio of pitching unders. In all honesty, almost every season, just going down the line and betting the under on every full-season pitching prop is a decent play. Pitchers get hurt — that's just how baseball works. And this season, in which pitchers are going to be forced to pitch faster than ever, it's only going to be worse. 
One aspect of all modern sports that has gone a bit under the radar is how much more common it is for athletes to be maxing out at all times. It's certainly part of what has driven the increase in injuries in all sports, and pitchers are no exception. Pitchers are reaching max velocity with far greater frequency than before, and as such, limiting their time between pitches is going to drive up injuries.
Shohei Ohtani is going to be the poster child for this. For one, he is one of baseball's slowest pitchers. Among pitchers with at least 550 pitches thrown, Ohtani was the slowest of them all in 2022, per Baseball Savant. He is also, of course, pulling double duty, as he slots into the lineup almost every day he isn't pitching.
It is somewhat miraculous that he has stayed healthy the past two seasons, and a testament to how incredible an athlete he is. But that's going to be put to the test more than ever in 2023, and given that he only barely cleared this number in a fully healthy season last year (219 strikeouts), even one IL stint and the under should hit. 
Even though I lumped all three of these together, Ohtani is by far my favorite play.
The case for Corbin Burnes rests on a few points beyond just the standard injury risk. He also is one of the slowest pitchers in baseball, ranking fourth by the parameters set above. This is also a crazy high number. MLB has averaged around four or five pitchers above this number each year in the hyper-modern era, so betting on any one pitcher to be one of them is always going to be risky.
Of course, Burnes has indeed done so each of the past two seasons, but neither were by a lot — hitting 234 in 2021 and 243 in 2022. Burnes' K rate actually dropped substantially last season, with only a large jump in innings carrying him over this 233.5 plateau. If he maintains his K rate from last season and spends even a bit of time on the IL, it will be impossible to go over 233.5.
Burnes also heads into this season incredibly frustrated with the Brewers over their handling of his contract situation. Milwaukee decided to go to arbitration and won its case, using data in the presentation that left a very sour taste in Burnes' mouth. Now, I wouldn't go overrating this information — these are professionals at the end of the day — but it was weighed slightly in my personal projection.
Finally, Shane Bieber is a pitcher the advanced metrics are also incredibly low on. He didn't even clear this number last year, despite his best season in years. He's only cleared this number in one of four full seasons (not counting 2020) and similar to Burnes, even a single IL stint would seem to clinch this under.
To reiterate: This is a really good market to pound unders. Pitchers are likely to be missing more time with the pitch clock, and without a shift, hitters may well be looking to put the ball in play more. Unders aren't always the sexy or fun play (who wants to root against Ohtani all season?!), but if your goal here is to make money, the individual pitcher strikeout total market is a great place to go under.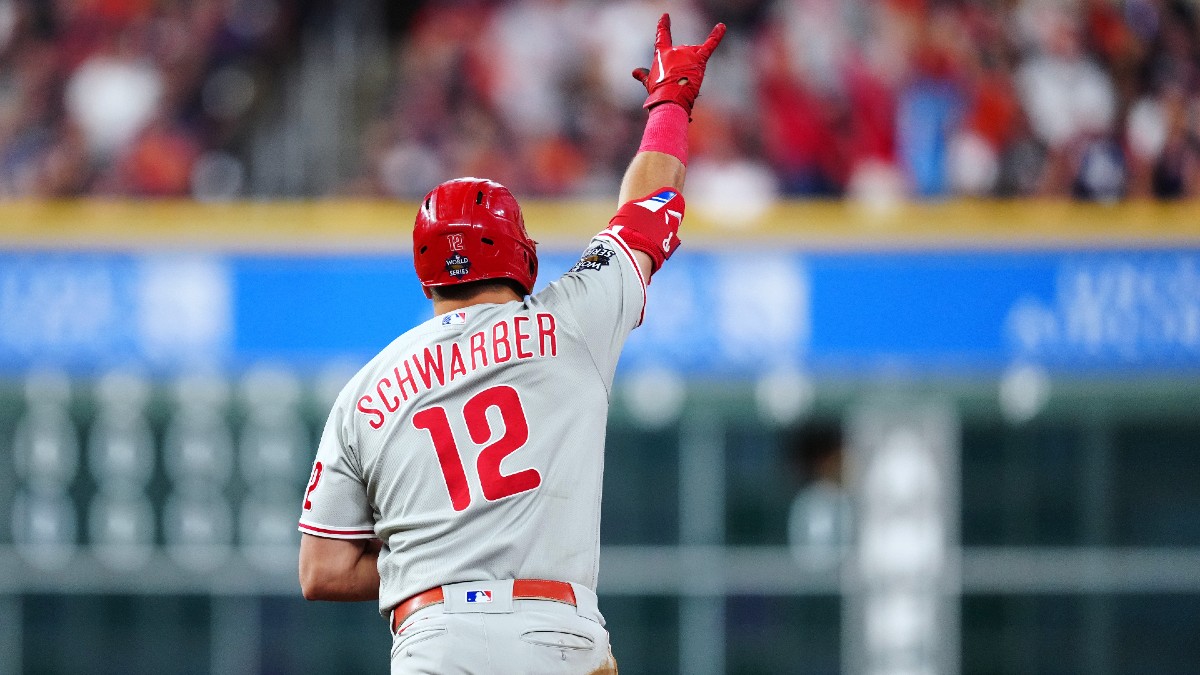 Head-to-Head Player Props
Matt Olson To Hit More Home Runs Than Shohei Ohtani (-110 DraftKings)
Kyle Schwarber To Hit More Home Runs Than Yordan Alvarez (-110 DraftKings)
As of this writing, the only head-to-head market out there at legal U.S. books is the DraftKings head-to-head home run market, but thankfully there are a couple plays here that look strong.
Matt Olson was one of my favorite home run plays heading into last season. He was moving into a new ballpark that was far more favorable to his swing and joining a lineup that could offer him protection. Coincidentally, the tall lefty saw his longball total drop by five in his debut season in Atlanta, but he still left the yard an impressive 34 times. 
There's reason to think he could top that number in 2023. Olson's hard-hit rate actually went up last season, despite the five-homer drop, as did his barrel rate and average (as well as max) exit velocity. He also continued his run of excellent health (playing all 162 games), and as noted, he moved to a much better ballpark for left-handed power hitters. The profile is there to increase his total from the 39 homers he hit in 2021.
But really, this bet comes down to Ohtani's health. If he continues his impressive and unprecedented run, this bet will be really close, although even then, I wouldn't hate Olson -110. However, as noted in the strikeouts section above and as sad as it is to think about, he carries as high an injury risk as anyone in the sport given all that he is trying to do. 
The story is somewhat similar for Schwarber and Alvarez. The Astros announced last week that they expect Alvarez to be ready for the start of the regular season, but players carrying injuries before the season even starts are always a red flag for me. Sure, there are times the player is truly healthy come April, but far more often it's a harbinger of a long and IL-filled season.
Schwarber, despite his build, has managed to stay pretty healthy since establishing himself in the big leagues, missing notable time really only once in the past four seasons. And even in that season he hit 32 home runs.
FanGraphs gives seven different projection systems on each player page these days, and all but one give the edge to Schwarber in terms of project long balls this season. That's even without them weighing this current injury for Alvarez as much as I tend to, making this, along with Olson over Ohtani, my two best bets here. 
League Leaders
All of the plays above are three-plus unit plays for me. Nothing in this market popped that much, and just by the nature of these markets, these bets are going to be much longer odds plays. As such, most bettors will approach them with a smaller-unit + longer-odds approach.
That being said, there are a few interesting plays. If Byron Buxton can ever stay healthy for a full season, his +4500 odds to lead the league in home runs at Caesars will look absurd. But that's about the biggest 'if' you could create as a baseball fan, so I'm tending to stay away.
Also in the home run market, my super lotto ticket this season is Spencer Torkelson to lead the league in long balls. This is a player who hit just eight home runs last season and is projected to finish 135th in the home run race, per The Bat X (my favorite of the projection systems at FanGraphs). 
However, this is a 23-year-old who will be given every chance to succeed in a Tigers lineup that is in no rush to compete. He hit 30 home runs in just 121 games across three levels in 2021 and has 70-grade raw power. The Tigers have made some changes to their ballpark to make it easier to leave the yard, and if you're going to buy a lotto ticket, why not buy a fun one. This bet belongs firmly in the "If John Mellencamp ever wins an Oscar, I'm going to be a rich dude" bucket, but I'll throw a dollar or two at it.
A far more sane bet is Freddie Freeman to lead the league in hits. He did so last season and is about as consistent as they come. This market opened around +1500 but moved quickly, so keep an eye out as all the other books drop their lines for this. I would definitely take it at +1500 and lesser so down to +1200, but not past that. The best line is currently +950 which is not enough for me personally.
Sean Zerillo dropped Jazz Chisholm to lead the league in steals at +2200 in the Action Network app, and I like that play as well, although it's another category in which I am intrigued by the favorite, Esteury Ruiz. He's around +750, but If you ever see him at +1000, go for it.
The Picks
Salvador Perez under 29.5 home runs (-110 DraftKings)

Shohei Ohtani under 210.5 strikeouts (-115 DraftKings)

Corbin Burnes under 233.5 strikeouts (-110 DraftKings)

Shane Bieber under 202.5 strikeouts (-110 DraftKings)

Matt Olson to hit more home runs than Shohei Ohtani (-110 DraftKings)

Kyle Schwarber to hit more home runs than Yordan Alvarez (-110 DraftKings)
How would you rate this article?
This site contains commercial content. We may be compensated for the links provided on this page. The content on this page is for informational purposes only. Action Network makes no representation or warranty as to the accuracy of the information given or the outcome of any game or event.