MLB Home Run Props to Bet Today: Juan Soto, Anthony Rizzo, More (Monday, July 3)
Credit:
Getty Images. Pictured: Anthony Rizzo, Juan Soto, Jake Fraley
Baseball betting is one of a kind. Each day diving into a full slate is grueling and sometimes edges are nowhere to be found within a side or total. But opportunities to fade pitchers at a lesser degree remains a constant. One of the areas in which I've tapped into this season has been the player prop market. More specifically, looking at hitters and their total bases/home runsprops.
Whether it's a positive split or the wind blowing out in double-digit force, there's always opportunities to back some of MLB's best hitters to find the outfield seats. These bets are rarely not (+) money and home runprops can often reach the 6-700 mark, providing plenty of value at a small cost.
That leads us to my new regular feature here at Action Network: DiSturco's Triple 7s. In each article, I will give out my three favorite total bases props and pair that with the odds for those same players to hit a home run.
The idea of Triple 7s comes from the slot machines. That's the ultimate jackpot and it's important to note the rarity of notching that feat. Similar to slots, parlaying all three players below to hit a home run is nothing more than a lottery ticket.
It's important to bet responsibly, and while I do bet every player o1.5 TBs (.5u) and to hit a HR (.1u), you shouldn't overextend yourself with a parlay of all three. It's a long shot for a reason.
But if you're feeling confident or have no plans and want to try and hit Triple 7s, pull the lever and cross your fingers. Today's lottery ticket comes with +16977 odds.
Visit our MLB Props page for a full list of props and odds for every player on the MLB slate each and every day.

Jake Fraley, Cincinnati Reds
Reds vs. Nationals, 6:05 p.m. ET
Opposing starting pitcher: Jake Irvin (RHP)
All aboard the Jake Fraley train!
We rode with Fraley against Kyle Gibson last week and hit the +165 total bases prop, and with a righty on the mound in Jake Irvin, we ride with Fraley once again here. The lone concern — and it's baked into the price — is that Fraley might not see a full workload if Washington were to opt for a lefty reliever. 
But Fraley has arguably been the most consistent bat for Cincinnati. He tore the leather off the ball in June, posting a 1.125 OPS  and a .346 average in 52 at-bats. A whopping 33% of his hits went for home runs 
Despite a league-average barrel rate, Fraley is a hard batter to strike out. He is above-average in both not chasing out of the zone and whiffing on pitches, and has posted a career-best .270 xBA and .428 xSLG in 2023. 
There have been multiple considerable improvements across the board for Fraley, who has found his role as a righty-killer in the middle of the Reds lineup. His strikeout rate has dropped over 5% and the lefty has been incredible with runners in scoring position (.347 average, 1.072 OPS). 
As for Irvin, his command is spotty and strikeout rate is low. While he does induce soft contact at an above-average rate, Irvin ranks in the bottom 3% of all pitchers in both chase and whiff rate, relying on inducing soft contact for success. 
That is a perfect recipe for success for a hitter like Fraley. He isn't a free-swinging lefty bat, rather his approach at the plate is more geared toward making contact and finding gaps. He is a hard bat to strike out and has enough punch to find the bleachers as seen in his dominant June. 
Also, the wind is blowing out at 6 mph to dead center tonight at Nationals Park in 86-degree weather. RotoGrinders' WeatherEdge projects a +12.6% increase in home runs and +8.7% increase in total runs based on a 150-game sample of similar conditions. 
I'm going to continue to back Fraley, who has seen his wOBA and isolated power trend up over the last few weeks. I'll be throwing .5u on 1.5 total bases (+135) at Bet365 and .1u on HR (+600) at FanDuel.
---
Anthony Rizzo, New York Yankees
Orioles vs. Yankees, 7:05 p.m. ET
Opposing starting pitcher: Tyler Wells (RHP)
Few players had as bad of a June as Anthony Rizzo. 
The left-hander hit just .173 and was homerless in 75 at-bats. His on-base percentage barely crept above .300 and his OPS sat at .538. But I actually believe he is on the precipice of a bounceback. 
For starters, over the last 15 days Rizzo is hitting .275 with three doubles. His rolling wOBA and hard-hit% graphs reached concerningly low numbers right before this stretch. But since, you've seen a straight, natural shot up toward league-average. 
Despite all his struggles, Rizzo remains in the top 40% of all hitters in exit velocity. He's around league-average in barrel%, xBA and xSLG. That's a positive for the 33-year-old who continues to bat in high-leverage situations and toward the top of this Yankees lineup. 
Tyler Wells takes the mound for Baltimore and while I am generally high on him and his season-long outlook, this is a plus matchup for Rizzo to do some damage. While Wells is one of the best Baltimore starters — 3.53 xERA, 20.9 K-BB% — he does have some concerns with limiting barrels. 
The right-hander ranks in the bottom 11% of all pitchers in barrel rate and his xSLG is a career-worst .428 despite this being his best season to date. He does limit hard hits and his xBA is in the top 20% of all pitchers, but he does tend to give up plenty of barrels. 
Entering this matchup, Wells has given up five home runs in his last three starts. He's always had issues limiting home runs and this season has once again jumped up for the worst — he has a 1.85 HR/9. Rizzo has the opportunity to do some damage with the short porch in right, too. 
And if that's not enough, we are expecting 85-degree temperatures in a game where RotoGrinders' WeatherEdge expects a +19.2% increase in home runs and 10.7% increase in total runs based on a 136-game sample. 
It seems like Rizzo's slump is starting to reach its end point and Monday is a perfect time to jump aboard with the home run prone Wells on the mound. I'm throwing .5u on over 1.5 total bases (+155) and .1u on HR (+450) at Bet365. 
Juan Soto, San Diego Padres
Angels vs. Padres, 9:40 p.m. ET
Opposing starting pitcher: Jaime Barria (RHP)
After an incredibly hot start to the season, Jaime Barria has fallen back down the Earth. The right-hander has been battered to the tune of a 5.87 ERA across 15 1/3 innings. He has given up five home runs in that span, including three last week to the White Sox. 
While Barria has been able to keep righties in check — .176 average, .600 OPS — it has been left-handers doing the damage. They have a near .300 average and .783 OPS against him. Barria has a sub-20 strikeout rate and is below-average in just about every major metric, including barrel rate, xBA and xSLG. 
The Padres have been one of the most confusing teams in baseball. They are 5-18 in one-run games and have struggled with runners in scoring position. Despite the offense playing better of late, success hasn't fully followed suit. 
Juan Soto was at the center of attention amid those early-season struggles, but the left-hander has been much more efficient of late. Over the last two months his OPS sits around 1.000, and in the last 15 days he has four home runs and three doubles. 
The obvious concern for Soto is that he walks 1-2 times and in turn ruins the total bases bet, but walks have not been a huge concern for Barria. If you look at how Soto has performed of late, you can see a distinct turnaround in wOBA, hard-hit% and isolated power: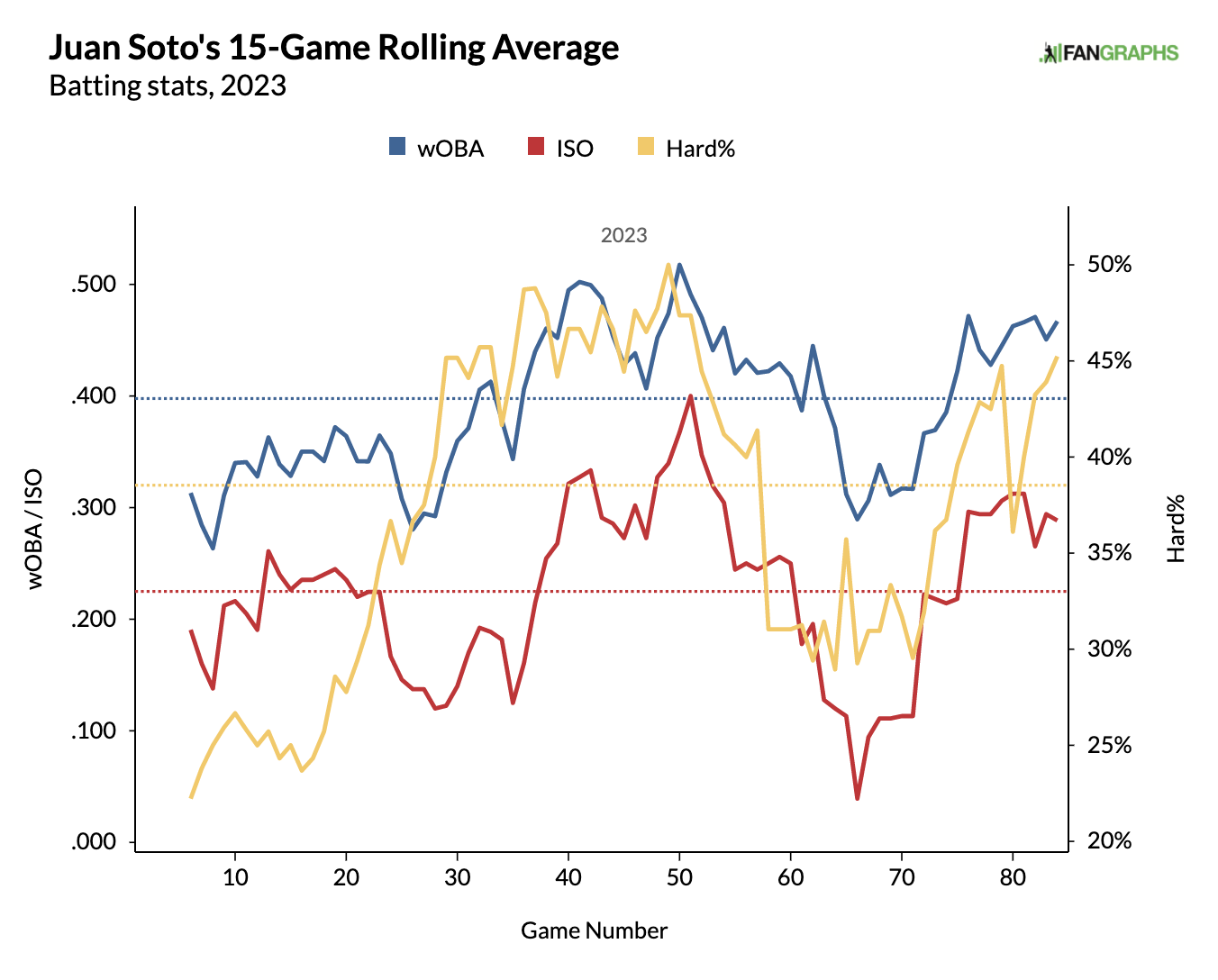 This is a plus matchup for Soto, who continues to be the best Padres hitter against righties (176 wRC+, .270 ISO). I'm throwing .5u on over 1.5 total bases (+120) and .1u on Soto to find the bleachers (+360) at Bet365.
---
DiSturco's Triple 7s Home Run Bets for Monday, July 3rd
Jake Fraley (+600)
Anthony Rizzo (+450)
Juan Soto (+360)
If you like all three plays and want to try a spin at hitting triple 7s, a $10 parlay of these three home run props at Bet365 comes in at $1,697.70.
How would you rate this article?
This site contains commercial content. We may be compensated for the links provided on this page. The content on this page is for informational purposes only. Action Network makes no representation or warranty as to the accuracy of the information given or the outcome of any game or event.