MLB Odds, Picks, Predictions | Expert Projections for Monday, April 24
Credit:
Getty Images. Pictured: Edward Cabrera, Chris Sale and Sonny Gray.
Welcome to Opening Pitch, my column that you'll find daily throughout the 2023 MLB season.
My goal for Opening Pitch is to highlight my top daily projection edges for MLB moneylines and totals, share my favorite bets and provide some betting notes and analysis, mainly as I react to opening and overnight lines while using my baseball betting model.
I will look to release a new version of Opening Pitch daily between midnight and 3 a.m. ET; after I enter my overnight bets in the Action Network App and update the MLB projections. Hopefully, you will use it as your morning betting guide to get ahead of the baseball markets.
You can find my projections for every MLB game in the Action App (on both the PRO Projections tab and the game pages) and our Projections Hub (which you can bookmark).
You can also shop for the best lines on our odds page.
Expert Picks for Monday, April 24
Colorado Rockies vs. Cleveland Guardians
Austin Gomber vs. Cal Quantrill
First Pitch: 6:10 p.m. ET
While the Guardians have one of the better bullpens in baseball, and starter Cal Quantrill (4.32 xERA or expected ERA in 2022, 4.62 in 2023) is far less effective in comparison, I don't like what I have seen from Austin Gomber (8.58 xERA in four starts) this season, who is pitching at reduced velocity and is struggling with command relative to prior years (4.6 xERA in 2022).
Gomber has posted more walks than strikeouts in consecutive outings, which he had never done as a starting pitcher, and only four times in the past two seasons (56 appearances).
While the full-game moneyline aligns with my expectations (projected -197, listed -200), I make the Guardians a slightly larger favorite (projected -210) for the first five innings (F5).
You can bet Cleveland on the F5 moneyline to -192, at a two percent edge compared to my projection.
Boston Red Sox vs. Baltimore Orioles
Chris Sale vs. Dean Kremer
First Pitch: 6:35 p.m. ET
In his last outing against the Twins, Sale had arguably his best start since 2019 (6 IP, 3 H, 1 R, 2 BB, 11 K) while also displaying his second-highest velocity in a start since July 2019.
All three pitches were working. Sale generated a 40% CSW% or called strike plus whiff rate, 40% with his four-seamer and sinker (9 whiffs), 44% with the slider (six whiffs), and 31% (four whiffs) with the changeup. For reference, the average is around 28-29%; and anything above 35% is considered an elite outing.
All 11 of Chris Sale's strikeouts against the Twins tonight.

First time with 10+ strikeouts since August 13th, 2019, which was his final start of that season. pic.twitter.com/BK0HeyaHTP

— Tyler Milliken ⚾️ (@tylermilliken_) April 19, 2023
Sale will draw the Orioles on Monday, who, as I have mentioned repeatedly in this column, are built better to hitter righties than lefties; however, their early season splits (131 wrC+ vs. lefties; 4th) are a bit concerning for my wagers.
In terms of projections, Sale forecasts roughly a run better (in terms of a full-season ERA) than his counterpart, Dean Kremer, who is also coming off of a quality start (6 IP, 4 H, 0 BB, 6 K) against the Nationals; where we cashed an Under.
In cool temperatures (mid 50s throughout the game) and with a cross breeze, conditions should be favorable for the pitchers in Baltimore on Monday.
I projected the total at 7.4 and would bet Under 8 to -112. Given the starting pitching advantage for the Red Sox behind Sale in the first half, you can bet Boston's F5 moneyline to -122 (projected -132).
Chicago White Sox vs. Toronto Blue Jays
Lance Lynn vs. Chris Bassitt
First Pitch: 7:07 p.m. ET
Since changing the dimensions at Rogers Centre over the winter — which should slightly increase the offensive environment — totals are 3-2-1 to the Under in Toronto.
After modeling the total 5.55 (F5) and 9.87 (full game), I like the Over on Monday. You can bet an F5 Over 5 to -125 or a full game Over 9.5 to -104.
Chris Bassitt (6.99 xERA), who has lost a tick of velocity across his entire repertoire, and Lance Lynn (6.12 xERA) have struggled during the first month.
As I begin to factor in 2023 data, I have downgraded both pitchers slightly based on their underlying indicators; however, even without those adjustments, I would have projected the totals closer to 5.3 and 9.25; and I would still have shown value on and bet the Over at the opening numbers, regardless of 2023 performance data.
Miami Marlins vs. Atlanta Braves
Edward Cabrera vs. Spencer Strider
First Pitch: 7:20 p.m. ET
I believe that we have backed Edward Cabrera  in some fashion during each of his four starts this year. We'll make it five in a row by grabbing an overinflated price on the Fish against Spencer Strider (2.79 xERA), who looks nearly as dominant as last season (2.39 xERA) with his two-pitch mix (four-seam fastball or slider 95.4% of the time).
I'll keep reiterating it at this point because it is fascinating: While Cabrera has struggled in six career starts against the New YorkMets (21 2/3 IP, 17 H, 16 R, 4 HR, 21 BB, 19 K, 6.65 ERA, 1.75 WHIP) he has been far more effective in his other 19 major league outings (94 IP, 66 H, 34 ER, 47 BB, 102 K, 3.26 ERA, 1.20 WHIP).
Cabrera faced the Braves once last September (5 IP, 4 H, 1 R, 3 BB, 7 K). I'll continue to believe in the arm talent and hope he can continue refining his command and pitch well against teams who don't wear blue and orange.
I think the Marlins win this game around one-third of the time (projected 32.4%, +209 implied) and would bet their moneyline down to +230 at a two percent edge compared to my projected number.
New York Yankees vs. Minnesota Twins
Jhony Brito vs. Sonny Gray
First Pitch: 7:40 p.m. ET
Brito had two solid outings to begin the season. Still, his xERA (which was over five at the time) called for significant regression before his blowup at home against the Twins (2/3 IP, 6 H, 7 R, 1 BB, 0 K), and I found him and the Yankees overvalued against the same opponent on the road.
I would bet the Twins in both halves; to -148 for the first five innings and -125 for the full game. At the time of writing, the full game line has moved up to -145 and is no longer actionable. However, I'm surprised to find a better price on their F5 moneyline (current -140) when the Twins should have a more significant pitching advantage between the starters than in the bullpens.
Sonny Gray (3.25 xERA; 3.67 in 2022) has gone overlooked for much of his career (I promise that isn't a height joke for the 5-foot-10 Gray, but it could be). Still, he's been one of the most reliable mid-rotation starters for the past decade (1,409 career innings, 3.52 ERA, 3.68 xFIP), and aside from a yearly IL stint (where the misses five starts) Gray is showing no signs of slowing down. He's steadily above average: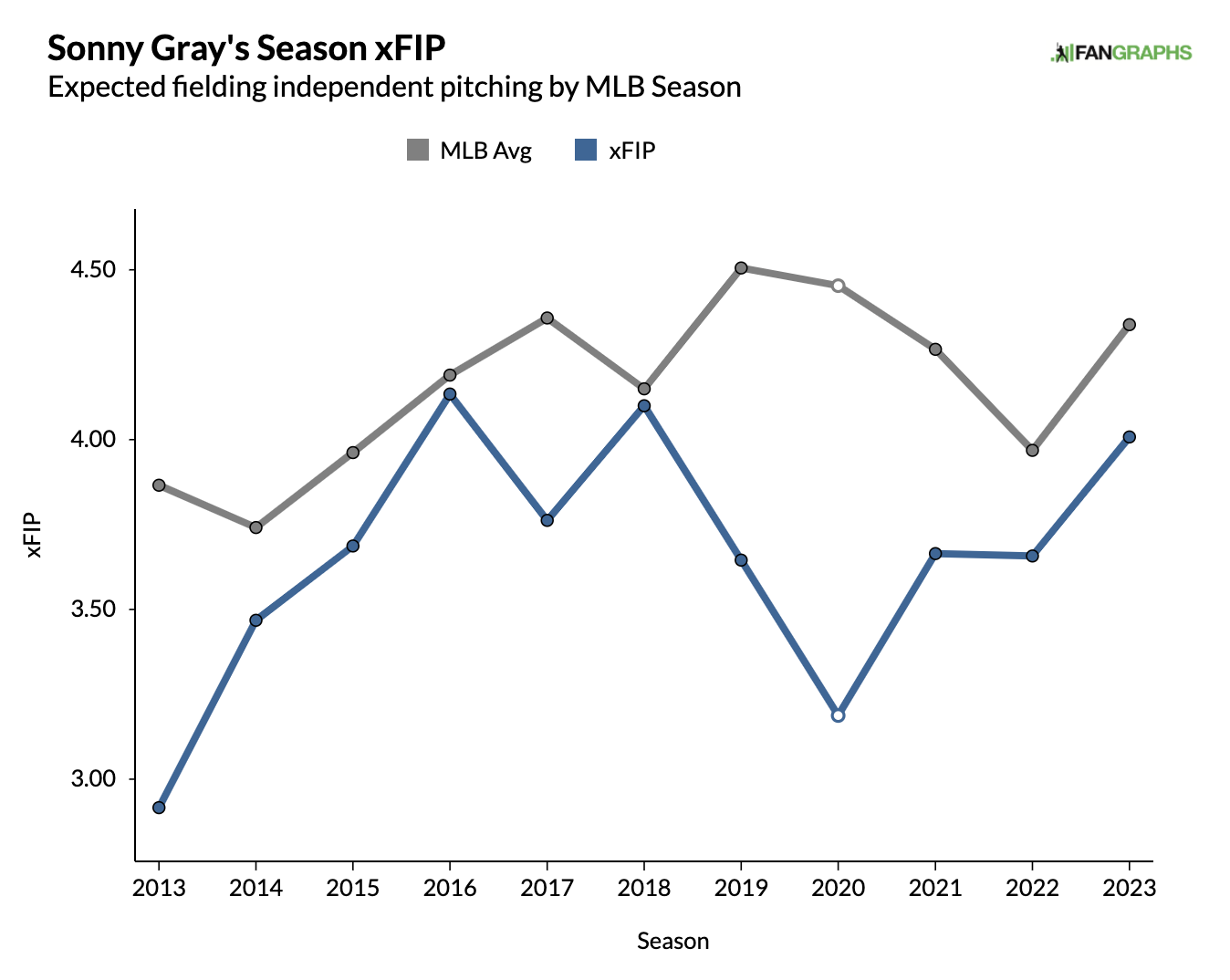 Gray is tweaking his pitch mix this season for the first time in a while, dialing back his fastball usage in favor of more cutters, changeups, and breaking balls. He's always been a pitcher, not a thrower; Gray has generated above-average pitch value on four different offerings (curveball, slider, changeup, fastball, the best on a per-pitch basis) throughout his career, which is a rarity to see.
Gray shouldn't be a more minor favorite in the first half than the Twins are over the whole game; he projects about a run better than Brito, but the bullpens are far more comparable.
Kansas City Royals vs. Arizona Diamondbacks
Brad Keller vs. Tommy Henry
First Pitch: 9:40 p.m. ET
I was big on Keller in his last outing against the Rangers; unfortunately, he had his worst start of the season. Still, my analysis from those bets remains: Keller is a different pitcher than in prior seasons. I'm willing to excuse an off night.
Keller has added a curveball to his arsenal (28% usage rate) and modified his slider to a sweeper after spending time this winter at Driveline Baseball.
And I view him as a significantly more effective pitcher than Tommy Henry (career 4.97 xFIP), who is taking the rotation spot of Madison Bumgarner. I had expected the Diamondbacks to call up top pitching prospect Brandon Pfaadt, who could have provided an immediate boost to Arizona's playoff hopes for 2023. Bumgarner to Henry feels like more of a lateral move than an upgrade.
I projected the Royals as slight favorites (52%, -108 implied) for the first half on Monday. You can bet the Royals' F5 moneyline at any plus-money price. I would need +118 or better to bet the Royals over the full game and might look to bet Arizona live after five if anything.
Zerillo's Bets for Monday, April 24
For additional bet notifications, follow me in the Action Network App. 
Boston Red Sox F5 (-115, 0.5u) at FanDuel (bet to -122)
Boston Red Sox / Baltimore Orioles, Under 8 (+100, 0.5u) at Caesars (bet to -112)
Cincinnati Reds (+105, 0.5u) at WynnBet (bet to -104)
Chicago White Sox / Toronto Blue Jays, F5 Over 4.5 (-120, 0.5u) at DraftKings (bet to 5, -125)
Chicago White Sox / Toronto Blue Jays, Over 9 (-105, 0.5u) at FanDuel (bet to -123 0r 9.5, -104)
Cleveland Guardians F5 (-184, 0.5u) at FanDuel (bet to -192)
Kansas City Royals F5 (+110, 0.5u) at FanDuel (bet to +100)
Kansas City Royals (+130, 0.5u) at WynnBet (bet to +118)
Miami Marlins (+240, 0.5u) at WynnBet (bet to +230)
Minnesota Twins (-125, 0.5u) at WynnBet (bet to -125)
How would you rate this article?
This site contains commercial content. We may be compensated for the links provided on this page. The content on this page is for informational purposes only. Action Network makes no representation or warranty as to the accuracy of the information given or the outcome of any game or event.