MLB Picks Today | Odds, Expert Projections (Friday, July 7)
Credit:
Getty Images. Pictured: Christian Yelich, Dylan Cease, Carlos Rodon
Welcome to Opening Pitch, my column that you'll find daily throughout the 2023 MLB season.
My goal for Opening Pitch is to highlight my top daily projection edges for MLB moneylines and totals, share my favorite bets and provide some betting notes and analysis, mainly as I react to opening and overnight lines while using my baseball betting model.
I will look to release a new version of Opening Pitch daily between midnight and 3 a.m. ET; after I enter my overnight bets in the Action Network App and update the MLB projections. Hopefully, you will use it as your morning betting guide to get ahead of the baseball markets.
You can find my projections for every MLB game in the Action App (on both the PRO Projections tab and the game pages) and our Projections Hub (which you can bookmark).
You can also shop for the best lines on our odds page.
Expert Picks for Friday, July 7
Toronto Blue Jays vs. Detroit Tigers
Alek Manoah vs. Alex Faedo
First Pitch: 6:40 p.m. ET
Alek Manoah will return to Toronto's rotation after a pair of starts in the minors — a horrific effort in rookie ball (2 2/3 IP, 10 H, 11 R, 2 BB, 3 K), and a more encouraging outing in Double-A (5 IP, 3 H, 1 R, 3 BB, 10 K) on July 2.
Manoah overachieved last season (2.24 ERA, 3.31 xERA, or expected ERA) thanks to a .244 BABIP and an 82.6% strand rate — but nobody saw this implosion coming. His strikeout minus walk rate, or K-BB%, has fallen from 16.4% to 2.1%, and his xERA has climbed to 6.85.
Manoah's velocity (92.8 mph) is down only slightly compared to last season (93.6 mph), but pitching models think his Stuff+ has declined (From 99 to 91) and he has struggled with his command, too (14.9% walk rate, 95 Location+; 99 last season).
Perhaps he fixed a mechanical issue during his minor league stint, but it isn't easy to upgrade Manoah's projection drastically without seeing evidence of improved performance at the MLB level.
Alex Faedo will return from the IL for the Tigers after having a fingernail removed. In a limited sample (29 innings pitched), Faedo showed excellent command (107 Location+, 1.9% walk rate) in what appeared to be the start of a breakout campaign (3.15 xERA).
The Tigers are a team to watch in the second half in a wide-open AL Central, as they have Faedo, Tarik Skubal, Eduardo Rodriguez and Matt Manning all returning to the rotation recently, Spencer Torkelson hitting the ball harder, and Riley Greene expected back this weekend.
For Friday, bet the Tigers to +109 in the first five innings (F5) and +114 for the full game.
What is QuickSlip?

QuickSlip is an Action Network feature that allows users to automatically pre-load their bet slip at FanDuel Sportsbook.
---
Chicago Cubs vs. New York Yankees
Jameson Taillon vs. Carlos Rodon
First Pitch: 7:05 p.m. ET
Carlos Rodon will come off the IL to debut for the Yankees on Friday after signing a lucrative six-year, $162 million contract in the offseason.
Before the season, on a per-inning basis, Rodon was projected as the best starting pitcher in baseball aside from Jacob deGrom. He posted xERA marks of 2.68 and 2.64 across 55 starts the past two seasons. He seemed sharp across three rehab starts (combined 10 2/3 IP, 3 H, 3 BB, 17 K) and figures to give the Yankees the early pitching advantage against a pitcher Rodon replaced, Jameson Taillon (5.62 xERA).
While I don't expect Rodon to pitch more than four or five innings in his season debut, the Yankees should retain a reasonably significant pitching edge as the game turns to the bullpens. New York ranks ninth with a 3.99 xFIP from their relievers this season; Chicago is 15th (4.16). The projected ERA gap in my model is more than half a run.
I set the Yankees as -181 favorites in this matchup; bet their moneyline to -166.
---
Cincinnati Reds vs. Milwaukee Brewers
Andrew Abbott vs. Corbin Burnes
First Pitch: 8:10 p.m. ET
Andrew Abbott will hope to maintain his perfect 100% strand rate in a crucial divisional matchup with the Milwaukee Brewers.
Abbott has emerged as potentially the most exciting arm among the Reds' young rotation pieces, posting a 2.70 xERA over his first six MLB starts. Pitching models like his slider (106 Stuff+) but think his overall arsenal is subpar (88 Stuff+). Still, Abbott excels with above-average command (102 Location+), which makes him an above-average arm (102 Pitching+).
FIP projections didn't think Abbott would be this good right away (projected range 4.21 to 4.68); still, a 29.4% strikeout rate is impressive — especially when pitching models don't think too highly of your arsenal. And if Abbott eventually improves his walk rate (currently 9.1%), he has ace-level upside.
He gets a relatively soft matchup against a Brewers team that ranks 29th (81 wRC+) against left-handed pitching. However, after reconfiguring their position player group, the Brewers have performed closer to league-average against lefties since the start of June (99 wRC+, 11th).
Regardless of the matchup, Abbott can't maintain a .190 BABIP and a 100% strand rate forever; both will eventually regress toward the major league averages of .296 and 71.7%, respectively.
I have routinely highlighted Corbin Burnes' decline and bet against him throughout this season. Burnes' K-BB% has fallen from 30.4% to 20.4% and now 14.6% the past three seasons, as his xERA has climbed from 2.00 to 3.05 and now 3.64.
Still, we might be getting Burnes and the Brewers at a discount Friday, contrary to the apparent trajectory of both of these starting pitchers and teams.
Play the Brewers up to -123.
---
St. Louis Cardinals vs. Chicago White Sox
Jordan Montgomery vs. Dylan Cease
First Pitch: 8:10 p.m. ET
Dating back to June 9, Jordan Montgomery has tossed five consecutive quality starts (32 2/3 IP, 22 H, 8 BB, 31 K); still, his underlying metrics (18.4% K-BB%, 3.50 xFIP) over this recent run aren't substantially better than his results in the 12 starts prior (14.5% K-BB%, 4.00 xFIP).
Montgomery's sub-two ERA from the past month is mainly attributed to a .247 BABIP and an 84% strand rate (4.28 ERA, .328 BABIP, 71.3% strand rate in his first 12 starts) rather than improved performance.
Conversely, Dylan Cease has experienced a noticeable uptick in strikeouts relative to the start of the season. Through his first 13 starts, Cease carried a 24.6% strikeout rate — down nearly 6% compared to last season (30.4%). In five starts since June 9, however, Cease's strikeout rate has ballooned to 34.7% — the closest he has been to the peak of his powers since last June: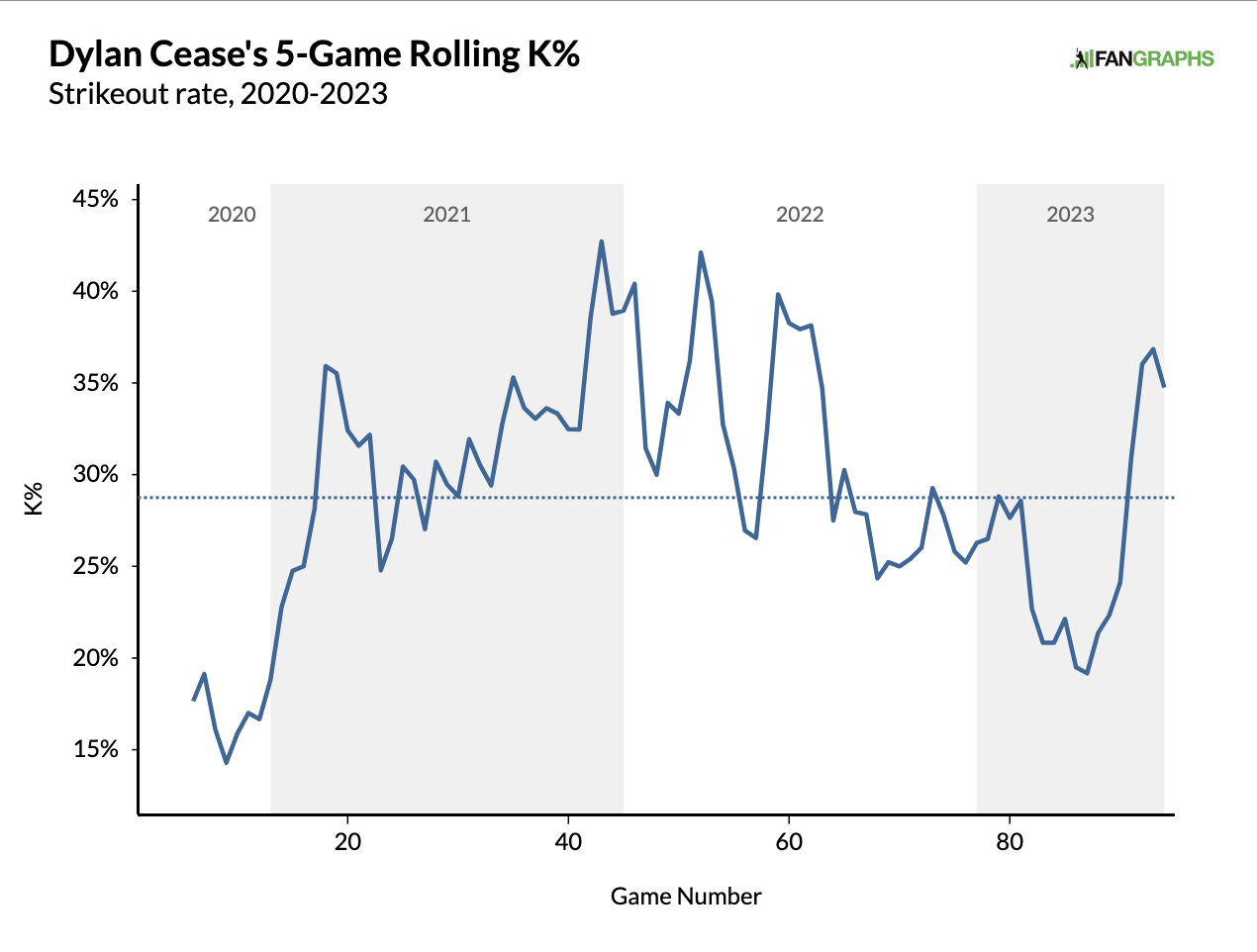 Offensively, Chicago fares much better against lefties (101 wRC+, 17th) than righties (87 wRC+, 25th), so the White Sox have a favorable matchup.
Technically, the Cardinals have performed better against righties (109 wRC+, 7th) than lefties this season (104 wRC+, 15th); however, they have been much better against lefties than righties for the past couple of seasons, and I project their offense about 10% better against southpaw pitching.
Bet Cease and the White Sox at -110 or better.
---
Baltimore Orioles vs. Minnesota Twins
Cole Irvin vs. Bailey Ober
First Pitch: 8:10 p.m. ET
The Orioles have legitimate playoff aspirations and continue to call up one top offensive prospect after another, but they have made little effort to improve a rotation spot currently occupied by Cole Irvin (8.56 xERA, 79 Stuff+, 96 Pitching+).
Irvin draws a relatively soft matchup on Friday against a Twins offense that ranks 27th against left-handed pitching (86 wRC+) and which he helped beat in his last outing (5 IP, 6 H, 1 R, 3 BB, 1 K). If he continues to allow balls in play at that rate, Minnesota should have chances with runners in scoring position.
Bailey Ober (3.61 xERA, 82 Stuff+, 102 Pitching+) should give the Twins a clear starting pitching advantage.
The #MNTwins have seven 1-0 wins under Rocco Baldelli. Only the Rays and Giants have more since 2019.

Bailey Ober has started three of those 1-0 wins.

August 11, 2021 vs CLE – 5.1 IP, 6 K
June 2, 2023 vs CLE – 6.0 IP, 3 K
July 1, 2023 at BAL – 7.0 IP, 8 K pic.twitter.com/CWTKJdXvrp

— Twins Gems (@TwinsGems) July 2, 2023
I project the two bullpens as relative equals, and the potential for a late-game duel between Felix Bautista and Jhoan Duran — arguably the two most electric relievers — makes this matchup between potential playoff opponents even more intriguing.
One hidden advantage for Minnesota in this pairing? Defense. The Twins rank eighth with 18 Defensive Runs Saved, while the Orioles are 19th (+1). The defensive discrepancy between these two teams is enough to swing the projection by as much as 2%.
Bet the Twins to -172 for the first half (F5) on Friday; and to -172 for the full game.
---
Zerillo's Bets for Friday, July 7
For additional bet notifications, follow me in the Action Network App. 
Chicago White Sox F5 (-110, Flat Risk 0.5u) at WynnBet (bet to -110)
Chicago White Sox (-104, 0.5u) at FanDuel (bet to -105)
Colorado Rockies / San Francisco Giants, Over 8 (-115, 0.5u) at FanDuel (bet to 8.5, -115)
Detroit Tigers F5 (+122, 0.5u) at FanDuel (bet to +109)
Detroit Tigers (+130, 0.5u) at WynnBet (bet to +114)
Houston Astros (-110, 0.5u) at WynnBet (bet to -110)
Milwaukee Brewers (-120, 0.5u) WynnBet (bet to -123)
Minnesota Twins F5 (-160, 0.5u) at WynnBet (bet to -172)
Minnesota Twins (-149, 0.5u) at WynnBet (bet to -152)
New York Yankees F5 (-180, Flat Risk 0.5u) at WynnBet (bet to -186)
New York Yankees (-165, 0.5u) at DraftKings (bet to -166)
How would you rate this article?
This site contains commercial content. We may be compensated for the links provided on this page. The content on this page is for informational purposes only. Action Network makes no representation or warranty as to the accuracy of the information given or the outcome of any game or event.