MLB Picks Today | Odds, Expert Projections for Friday, June 23
Credit:
Getty Images. Pictured: Luis Urias, Anthony Volpe, Bryce Harper
Welcome to Opening Pitch, my column that you'll find daily throughout the 2023 MLB season.
My goal for Opening Pitch is to highlight my top daily projection edges for MLB moneylines and totals, share my favorite bets and provide some betting notes and analysis, mainly as I react to opening and overnight lines while using my baseball betting model.
I will look to release a new version of Opening Pitch daily between midnight and 3 a.m. ET; after I enter my overnight bets in the Action Network App and update the MLB projections. Hopefully, you will use it as your morning betting guide to get ahead of the baseball markets.
You can find my projections for every MLB game in the Action App (on both the PRO Projections tab and the game pages) and our Projections Hub (which you can bookmark).
You can also shop for the best lines on our odds page.
Expert Picks for Friday, June 23
Minnesota Twins vs. Detroit Tigers
Kenta Maeda vs. Joey Wentz
First Pitch: 6:40 p.m. ET
Kenta Maeda will return on Friday from a triceps injury that has sidelined him since late April. The veteran righty missed the entire 2022 season following Tommy John surgery and returned with the slowest fastball velocity of his career (89.5 mph), causing a dip in his strikeout rate and a spike in his underlying ERA indicators (career-high 4.55 xERA).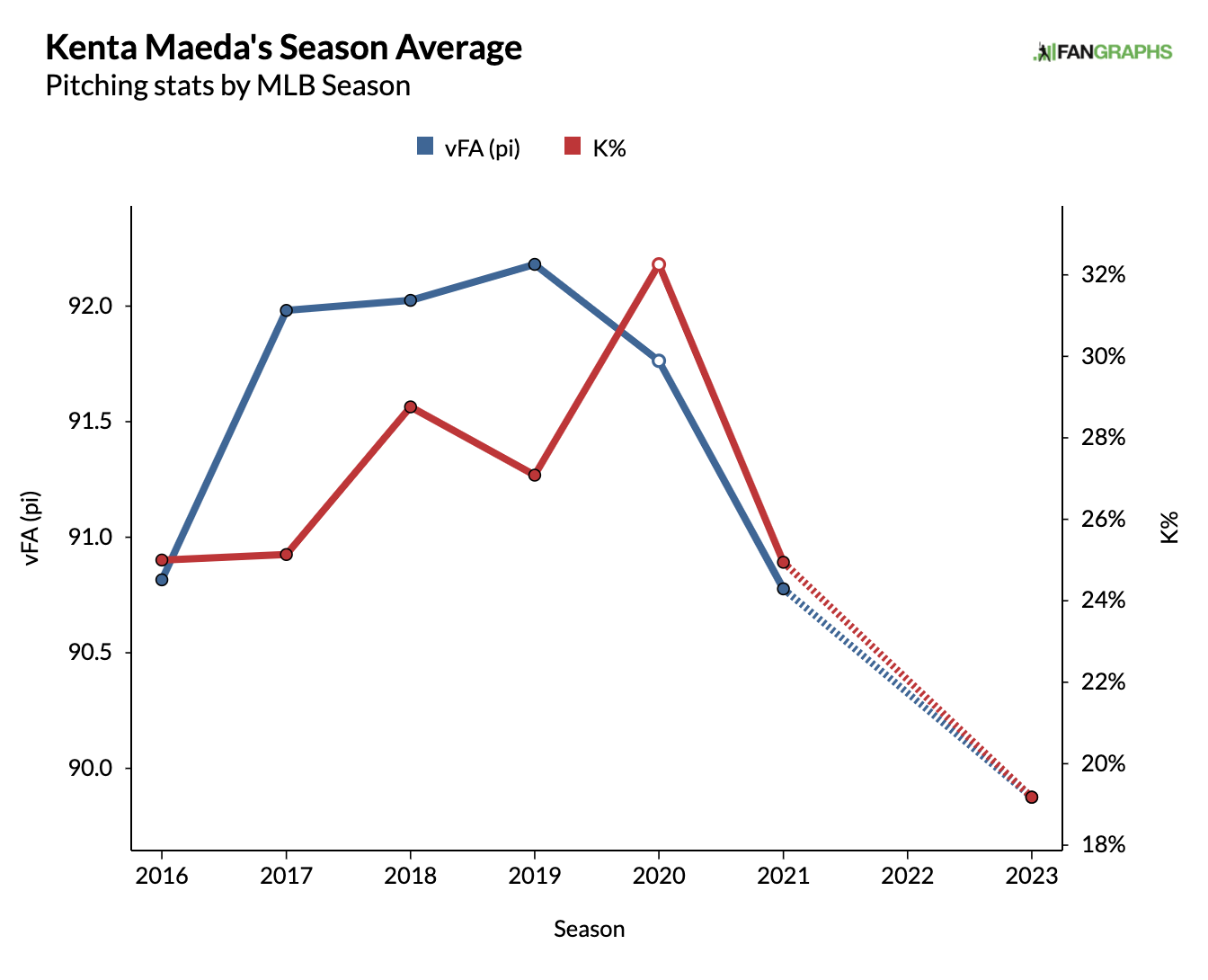 Maeda's splitter and slider continue to model as above-average pitches, which helps to bolster his Stuff+ ratings: 103 at the MLB level and 106 in Triple-A over four rehab appearances: 13 1/3 IP, 10 H, 5 BB, 17 K.
Still, Maeda's fastball should continue to get torched (.462 batting average against) at its diminished velocity. Maeda seemingly carries high blowup potential on a start-to-start basis, with a career home run rate of 1.21 per nine innings.
Similarly, Joey Wentz (5.63 xERA) has allowed a barrage of home runs and hard-hit balls this season. He, too, has a below-average fastball (77 Stuff+) but relies on command (102 Location+) and his curveball (100 Stuff+).
I projected the totals in this matchup around five for the first five innings (F5) and 9.2 for the full game. Bet the Overs up to 4.5 (-120) for the first half (F5) and 8.5 (-115) for the full game.
Pittsburgh Pirates vs. Miami Marlins
Luis Ortiz vs. Jesus Luzrdo
First Pitch: 6:40 p.m. ET
Pitching models love the upside of Luis Ortiz (111 Stuff+ Sinker, 111 Slider), but his command has been spotty at the MLB level (12.4% walk rate). His sinker/slider mix (combined usage 60%) is explosive, and if Ortiz learns how to harness his stuff, he could eventually slot as a mid-rotation starter.
This might be the single best pitch Luis Ortiz has made in the Majors this season, a perfectly-placed slider low-and-away that Luis Urías can't do anything with. The lil jerk off the mound is the cherry on top. pic.twitter.com/IMBkHIM2v5

— Justice delos Santos (@justdelossantos) June 18, 2023
His potential upside falls in a similar range of effectiveness as the current version of Jesus Luzardo (3.86 xERA), who has provided a steadying presence to an injury-riddled Marlins rotation.
The Pirates have the better offensive splits on both ends of the matchup, ranking 12th against lefties (107 wRC+) while the Marlins are 21st against righties (93 wRC+). The Marlins have crushed southpaws (113 wRC+, 6th), while the Pirates have struggled with righties (89 wRC+, 22nd).
Miami does have the bullpen advantage (6th vs. 22nd in xFIP), but given the offensive splits — and the upside baked into Ortiz's projection — I see a fairly significant edge on the Pirates' F5 moneyline; and a slightly less significant edge on their full game line.
Bet the Buccos to +118 in the first half, and add some F5 spread (+0.5 runs) to -122. Additionally, bet their full game line down to +127 after blowing a three-run, eighth-inning lead on Thursday.
Milwaukee Brewers vs. Cleveland Guardians
Wade Miley vs. Shane Bieber
First Pitch: 7:10 p.m. ET
I have discussed Bieber ad nauseam — so forgive me if this is getting repetitive — but it's worth reiterating: his 11.2% K-BB% is right around major-league average and down more than 9% compared to last season and nearly 23% compared to his 2020 Cy Young campaign.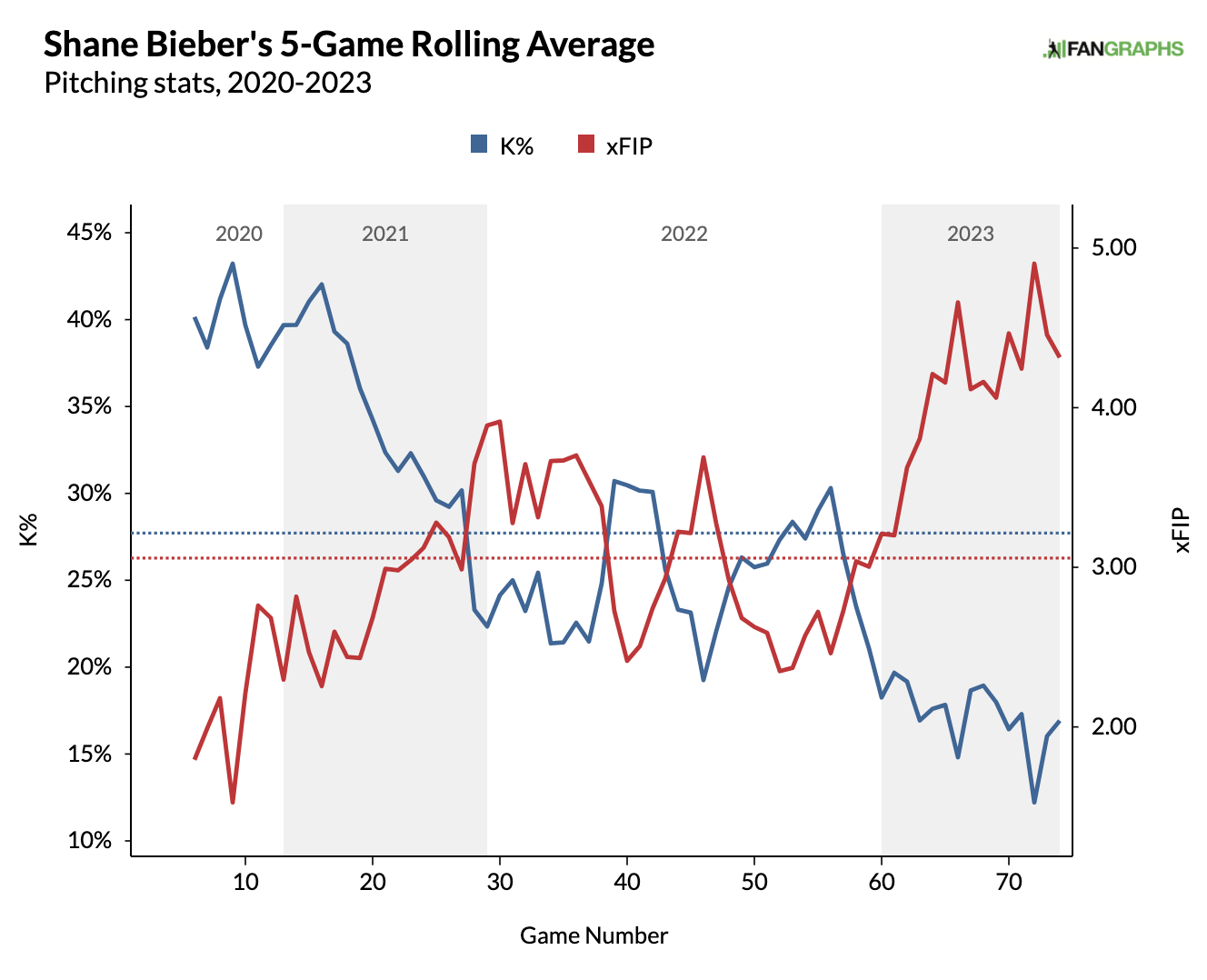 Bieber still has good command, but he is far too reliant on his defense to secure outs, and a 4.87 xERA suggests that his 3.51 ERA is due for some regression. Bieber has consistently overachieved — compared to underlying ERA indicators — for his entire career, but never to this degree.
Similarly, Wade Miley (3.28 ERA, 4.43 xERA) has outperformed his underlying indicators for the past few seasons. And considering that both pitchers rely heavily on their cutter, perhaps there is some correlation between cutter usage and BABIP suppression.
Regardless, I don't see a significant difference between the current versions of Bieber and Miley. Their underlying metrics are surprisingly comparable. And the Brewers have better offensive splits on both ends of the matchup.
Bet Milwaukee's moneyline at +116 or better.
Los Angeles Angels vs. Colorado Rockies
Patrick Sandoval vs. Kyle Freeland
First Pitch: 8:40 p.m. ET
Coors Field should see decent Under weather on Friday, with 11 mph winds blowing in from left field. And the Rockies draw a difficult matchup in lefty Patrick Sandoval (4.37 xERA), who has struggled this year but tossed seven shutout innings in his last outing against the Royals.
The Rockies have the worst offense in baseball (63 wRC+) against left-handed pitching and own the lowest wRC+ against lefties in more than 20 years. The surface stats (.656 OPS) aren't as bad as you think. For example, the 2012 Houston Astros — the second-worst team against lefties in the past two decades (66 wRC+) — posted a .613 OPS, but when you factor in the adjustment for Coors Field, the Rockies have been astoundingly bad. For context, the 2021 Rockies (93 wRC+ vs. lefties) posted a .778 OPS against southpaws.
The Angels have hit both righties and lefties well, but the wind (blowing in on the pull side for right-handed bats) could help to knock down a couple of home run balls with two left-handed starters on the mound.
I set the totals for this matchup around six (F5) and 10.8 (full game); bet an F5 Under 6.5 to -114, and add a full game Under 11.5 to -116.
Additionally, bet the Rockies down to +135. I played the opener at +155, and the line has moved in, but I still see a slight edge at the current number.
Zerillo's Bets for Friday, June 23
For additional bet notifications, follow me in the Action Network App. 
Atlanta Braves / Cincinnati Reds, F5 Under 6.5 (-125, 0.5u) at FanDuel (flat risk to -130 or 6, +104)
Atlanta Braves / Cincinnati Reds, Under 11.5 (-110, 0.5u) at DraftKings (bet to -119)
Colorado Rockies (+155, 0.5u) at DraftKings (bet to +135)
Colorado Rockies / Los Angeles Angels, F5 Under 6.5 (+100, 0.5u) at FanDuel (bet to -114)
Colorado Rockies / Los Angeles Angels, Under 12 (-115, 0.5u) at DraftKings (bet to 11.5, -116)
Milwaukee Brewers (+136, 0.5u) at FanDuel (bet to +126)
Minnesota Twins F5 (-130, 0.5u) at WynnBet (bet to -132)
Minnesota Twins / Detroit Tigers, Over 8 (-115, 0.5u) at DraftKings (bet to 8.5, -115)
New York Yankees (+100, 0.5u) at WynnBet (bet to -110)
Oakland Athletics (+260, 0.25u) at WynnBet (small to +246)
Philadelphia Phillies (-110, 0.5u) at DraftKings (bet to -110)
Pittsburgh Pirates F5 (+136, 0.5u) at FanDuel (bet to +118)
Pittsburgh Pirates F5 +0.5 (-120, 0.5u) at FanDuel (bet to -122)
Pittsburgh Pirates (+150, 0.5u) at DraftKings (bet to +133)
How would you rate this article?
This site contains commercial content. We may be compensated for the links provided on this page. The content on this page is for informational purposes only. Action Network makes no representation or warranty as to the accuracy of the information given or the outcome of any game or event.