MLB Picks Today | Odds, Predictions, Expert Projections for Tuesday, May 9
Credit:
Getty Images. Pictured: Nick Castellanos, Anthony Santander and Wil Myers
Welcome to Opening Pitch, my column that you'll find daily throughout the 2023 MLB season.
My goal for Opening Pitch is to highlight my top daily projection edges for MLB moneylines and totals, share my favorite bets and provide some betting notes and analysis, mainly as I react to opening and overnight lines while using my baseball betting model.
I will look to release a new version of Opening Pitch daily between midnight and 3 a.m. ET; after I enter my overnight bets in the Action Network App and update the MLB projections. Hopefully, you will use it as your morning betting guide to get ahead of the baseball markets.
You can find my projections for every MLB game in the Action App (on both the PRO Projections tab and the game pages) and our Projections Hub (which you can bookmark).
You can also shop for the best lines on our odds page.
Expert Picks for Tuesday, May 9
Tampa Bay Rays vs. Baltimore Orioles
Zach Eflin vs. Grayson Rodriguez
First Pitch: 6:35 p.m. ET
We have bet on and watched the Orioles drop three consecutive winnable games while converting just two of 29 opportunities (.068 batting average) with runners in scoring position (25 LOB). Somehow, we also lost an Under in one of those matchups; quite a needle to thread.
All three losses came against the Braves and Rays — the two current favorites in their respective leagues — and the top two offenses this season per xwOBA or expected weighted on-base average, per Statcast.
Still, while the Braves have been a bit unlucky (.349 wOBA,359 xwOBA), the Rays have overachieved on offense as much as any team (.373 wOBA, .352 xwOBA), tied with the Phillies at +.021 vs. expectation.
Tampa Bay should continue to have one of the best offenses in baseball over the remainder of the season, but it won't be as dominant (.024 points better than the next closest team) as it has been so far this season. The gap between the Rays (1st) and the Braves (2nd) is as more significant than the gap between the Braves and the Pirates (14th).
The Orioles (-.009 vs. expectation) should see slightly more positive results on offense moving forward.
Grayson Rodriguez (4.78 xERA) has had a bumpy start to his major league career, while Zach Eflin (3.08 xERA) is thriving for the Rays. Still, I projected this game as a coinflip; you can bet the Orioles at +108 or better.
New York Mets vs. Cincinnati Reds
Editor's note: Max Scherzer was scratched from Tuesday's start. David Peterson will start in his place.
Max Scherzer vs. Luke Weaver
First Pitch: 6:40 p.m. ET
After revealing that he's pitching with "discomfort below his right scapula," Scherzer's 2023 results are extra discouraging (5.29 xERA, 5.58 xFIP).
And for the first time in his career, Scherzer's velocity has dipped below the steadily rising major league average: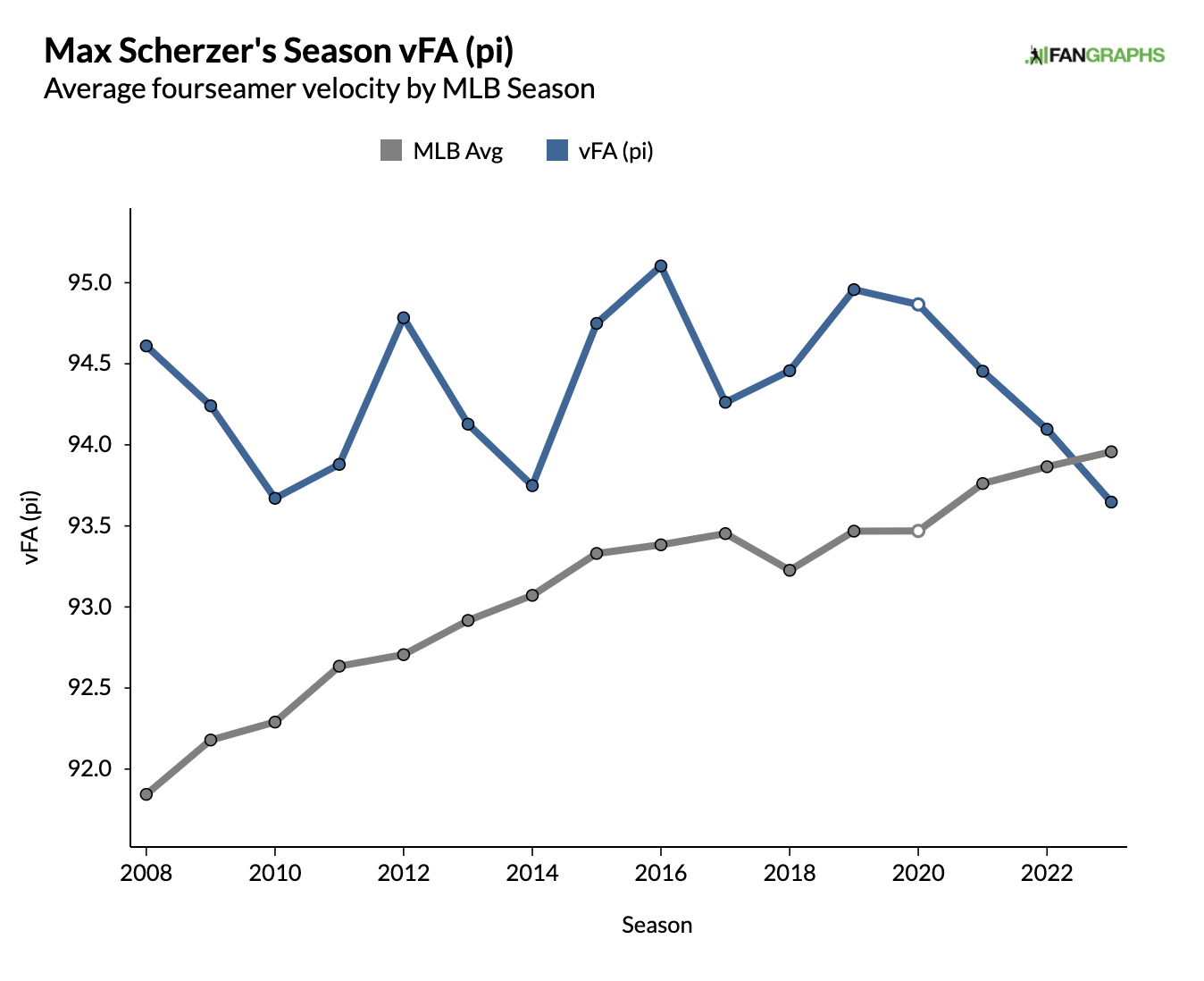 Scherzer will turn 39 years old this season, but the injuries started cropping up during the Nationals' 2019 World Series run (the same year he tossed 117 pitches a day after breaking his nose).
Scherzer was scheduled to start Game 5 but couldn't lift his arm that morning. A cortisone shot led to a heroic Game 7 effort just a few days later. And the pandemic-shortened 2020 season (just 12 starts) may have delayed the inevitable.
Ultimately, Scherzer couldn't make it to the finish line in 2021, experiencing a dead arm in the NLCS with the Dodgers. He wore down last season with the Mets and is starting this season at less than 100%. If Verlander had been fully healthy to start the year — and if depth options like Jose Quintana hadn't also been hurt — Scherzer and the Mets might have played things more cautiously.
It's odd to see a pitcher talk so openly about discomfort and still be allowed to go out there and perform. Still, it's undeniable that we see a gutsy but reduced Scherzer at the moment, and unless he takes time to rest, I don't know how much things will improve for him.
Luke Weaver (5.91 xERA) isn't the type of pitcher you back with either faith or credit, but the Reds are being priced like they are facing something close to prime Scherzer and not a severely reduced version.
I projected the Reds' moneyline at +164, and you can bet them down to +180 at a two percent edge compared to my number.
However, the totals might be my preferred way to bet on this matchup. I projected the totals at 5.6 (F5 or First Five Innings) and 10.13 (full game).
Bet an F5 Over 5 up to -130 and a full game Over 9.5 to -114 . BetMGM has the best price on both wagers (-110 and +100, respectively) if you can bet there.
Toronto Blue Jays vs. Philadelphia Phillies
Alek Manoah vs. Aaron Nola
First Pitch: 6:40 p.m. ET
Like the above Mets-Reds games, I see value in both the F5 and full game Overs for Blue Jays-Phillies. However, I'm less inclined to bet an F5 Over against Aaron Nola, who seems to be struggling more with his velocity and effectiveness the second and third times through the order.
Most notable are the strikeouts; Nola has a 32% strikeout rate when seeing a batter for the first time in a game, but that drops to 12% as his fastball velocity decreases in the middle innings.
For his career and last season, Nola's strikeout rate was about five percent worse going through a batting order for the second time (but still north of 25%), and the impact on his overall strikeout rate (-10% vs. last season) is stark. Nola can still be an effective pitcher with excellent command, but the decline in stuff drastically lowers his ceiling.
Similarly, Alek Manoah (6.75 xERA) is experiencing a velocity dip, a decreased strikeout rate and increased walks this season. He's shown glimpses of his old self, but Statcast thinks he has overachieved by as much as two runs, even with a 4.71 ERA.
So, while I'm down on Nola — and will now look to live bet against him around the third or fourth inning — I might be even lower on Manoah, who overachieved last season (2.24 ERA, 3.31 xERA) and now profiles as a pitcher masking a potential injury.
I bet the Phillies early at -110, but my price target (-118) is out of range.
You can still bet the Over up to 8.5 (-115), compared to my projection of 9.16. However, despite a potential projection edge, I think I will lay off the F5 Over. Nola still looks like his old self for the first few innings before things tend to unravel.
Washington Nationals vs. San Francisco Giants
Patrick Corbin vs. Logan Webb
First Pitch: 9:45 p.m. ET
Quietly, Patrick Corbin has been much more effective in his past four outings (3.70 ERA, 3.95 xFIP, 3 BB, 18 K in 24 1/3 IP) than he's gotten credit for. He is no longer an automatic fade, even with an ERA (5.17) lower than his expected mark (5.87 xERA). Still, the Nationals' bullpen (4.79 xFIP, 28th) isn't a solid supporting cast.
Despite cool temperatures (59 degrees at first pitch), Oracle Park will see strong winds blowing out to Center Field (13 mph) on Tuesday night. That should impact Corbin slightly more so than his counterpart, Logan Webb (career 56.7% groundball rate), but I did project the total around 8.9.
Bet Over 8 to -124, or Over 8.5 to -105.
Zerillo's Bets for Tuesday, May 9
For additional bet notifications, follow me in the Action Network App. 
Baltimore Orioles (+110, 0.5u) at WynnBet (bet to +108)
Chicago Cubs (-110, 0.5u) at DraftKings (bet to -110)
Cincinnati Reds (+190, 0.5u) at DraftKings (bet to +180)
Cincinnati Reds / New York Mets, F5 Over 5 (-110, 0.5u) at MGM (bet to -130)
Cincinnati Reds / New York Mets, Over 9.5 (-104, 0.5u) at FanDuel (bet to -114)
Parlay (+138, 0.5u): Los Angeles Angels F5 (-150) & San Francisco Giants F5 (-235) at DraftKings (parlay to -156 and -240 or bet individually to -149 and -227).
Philadelphia Phillies (-110, 0.5u) at DraftKings (bet to -118)
Philadelphia Phillies / Toronto Blue Jays, Over 8.5 (-115, 0.5u) at Caesars (bet to -115)
Washington Nationals / San Francisco Giants, Over 8 (-118, 0.5u) at FanDuel (bet to -124 or 8.5, -105)
How would you rate this article?
This site contains commercial content. We may be compensated for the links provided on this page. The content on this page is for informational purposes only. Action Network makes no representation or warranty as to the accuracy of the information given or the outcome of any game or event.