MLB Picks Today | Odds, Expert Projections for Thursday, July 6
Credit:
Getty Images. Pictured: Elly De La Cruz, Mastataka Yoshida, Josh Palacios.
Welcome to Opening Pitch, my column that you'll find daily throughout the 2023 MLB season.
My goal for Opening Pitch is to highlight my top daily projection edges for MLB moneylines and totals, share my favorite bets and provide some betting notes and analysis, mainly as I react to opening and overnight lines while using my baseball betting model.
I will look to release a new version of Opening Pitch daily between midnight and 3 a.m. ET; after I enter my overnight bets in the Action Network App and update the MLB projections. Hopefully, you will use it as your morning betting guide to get ahead of the baseball markets.
You can find my projections for every MLB game in the Action App (on both the PRO Projections tab and the game pages) and our Projections Hub (which you can bookmark).
You can also shop for the best lines on our odds page.
Expert Picks for Thursday, July 6
Cincinnati Reds vs. Washington Nationals
Brandon Williamson vs. MacKenzie Gore
First Pitch: 1:05 p.m. ET
The surging Cincinnati Reds will search for a four-game sweep in Washington, D.C., in hot conditions on Thursday afternoon — 90 degrees at first pitch with 5-mph winds blowing out to left field.
Brandon Williamson (6.15 xERA or expected ERA) and MacKenzie Gore (5.09 xERA) have shown subpar underlying indicators this season.
Williamson pitched in line with expectations after a surprising promotion from Triple-A, where he posted a 6.3 xFIP and a 4.5% K-BB% the past two seasons. His MLB results (5.20 xFIP, 8.5% K-BB%) align with below-average pitch modeling metrics (93 Stuff+, 97 Location+).
And the Nationals present a relatively difficult matchup: Washington ranks 13th (106 wRC+) against left-handed pitching season, including the second-lowest strikeout rate against southpaws.
The Reds rank 15th against lefties on the season (103 wRC+) and 12th (104 wrC+) since Elly De La Cruz arrived in the majors on June 6.
Gore posted a 4.50 ERA (5.21 xERA) as a rookie and has improved his K-BB% by 6.5% year over year. Still, he is getting barreled up more frequently this season, explaining the disagreement between an xFIP improvement (from 4.42 to 3.75) and his relatively steady ERA and xERA levels.
Models like Gore's arsenal (104 Stuff+) — particularly his fastball and slider — but indicate the command (98 Location+, 10% BB%) still needs harnessing.
In warm temperatures, I projected Thursday's total at 10.46; bet Over 9.5 to -125 or Over 10 to -107.
Additionally, you can bet the F5 Over 5.5 to -125 (projected 6.15) or the individual F5 team totals, which I opted to do.
I projected the Reds' F5 team total at 2.9; bet Over 2.5 to -105. And I projected the Nationals' F5 team total at 3.25; bet Over 2.5 to -133.
Texas Rangers vs. Boston Red Sox
Nathan Eovaldi vs. Kutter Crawford
First Pitch: 7:10 p.m. ET
If you have been tailing me this season, you have probably noticed that the model is generally higher on Kutter Crawford (3.34 xERA) than the betting market. Models like his fastball, cutter and slider (107 Stuff+), and Crawford has above-average command (102 Location+).
Among 196 qualified starters this season (min. 20 innings pitched), Crawford ranks 38th with a 103 Pitching+ figure. Nathan Eovaldi (101 Pitching+) is 85th. And on paper, both his Stuff+ and Location+ have declined about five or six points relative to last season.
Despite the pitch modeling regression, Eovaldi has better results than ever (2.64 ERA, 3.26 xERA). Still, his K-BB% remains in line with his level from last season. Eovaldi has been unquestionably lucky (.266 BABIP, .307 career; 77.7% strand rate, 72.2% career), but he is also allowing more weak contact than ever before, and his groundball rate (51.7%) can help suppress home runs (0.64 HR.9; 0.97 career).
While I project advantages for Texas across the board in this matchup, its most significant edge might be its defense (+44 Defensive Runs Saved or DRS, 2nd vs. -7 DRS, 21st).
Still, I projected the Red Sox around +102 in the first five innings (F5) and +107 for the full game on Thursday evening; bet Boston's F5 moneyline to +111 and their full game line to +116.
New York Mets vs. Arizona Diamondbacks
Carlos Carrasco vs. Ryne Nelson
First Pitch: 10:10 p.m. ET
Carlos Carrasco (6.51 xERA) might finally be turning a corner, posting 11 strikeouts over his past two starts (94 Stuff+, 103 Location+, 98 Pitching+) while displaying vastly superior command to the nine starts that preceded them (92 Stuff+, 96 Location+, 94 Pitching+).
His velocity has also increased as he's gotten deeper into the season. In his first five starts of the 2023 season, Carrasco averaged 91.5 mph on his fastball, compared to 92.9 mph in six starts since, right in line with his velocity level from 2022 (4.08 xERA).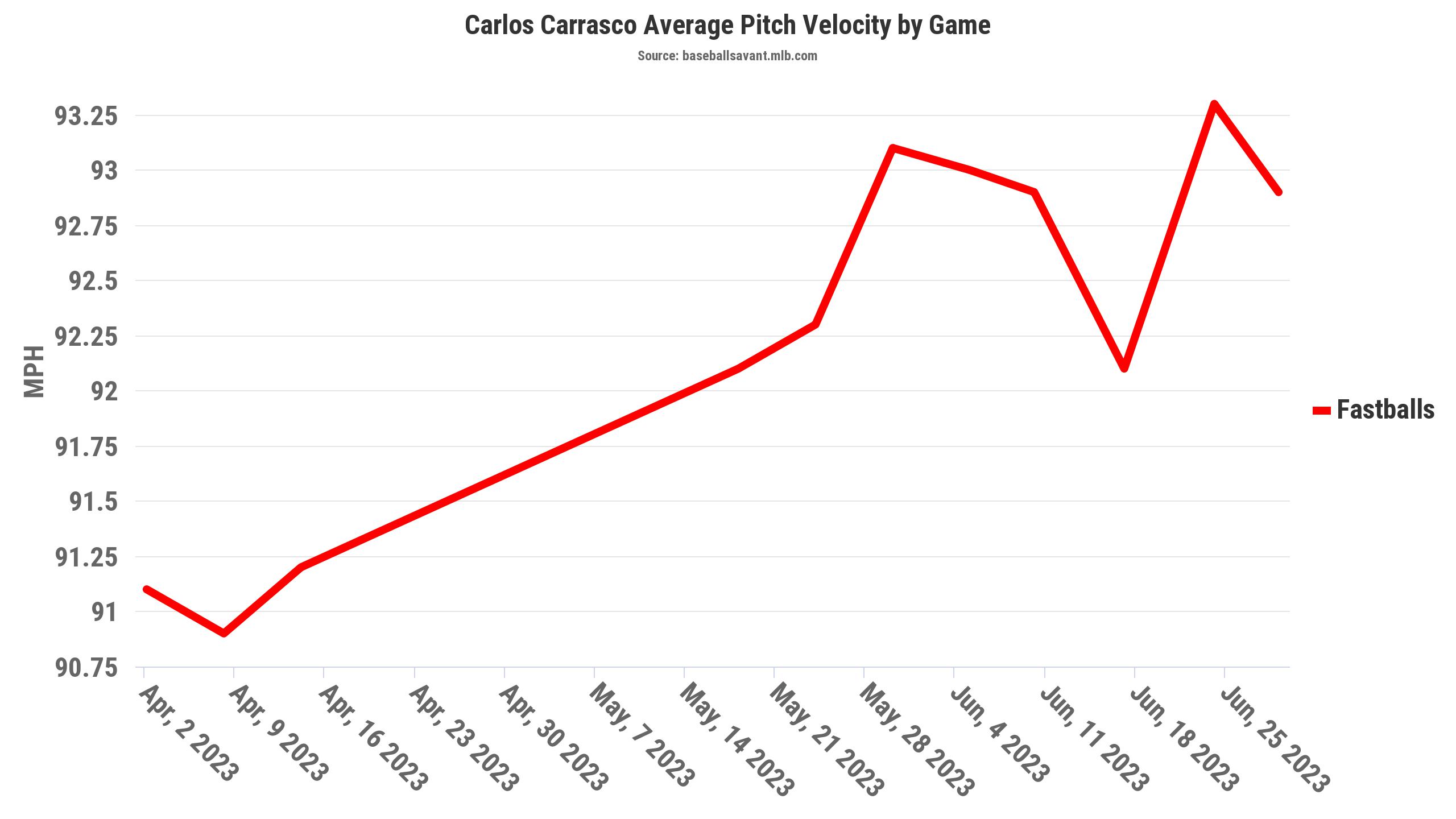 Despite underwhelming season-long results, Ryne Nelson (104 Stuff+, 103 Location+, 103 Pitching+) remains a pitch model darling (4.86 xERA, 9% K-BB%). The model is high on his fastball and slider, but only Nelson's changeup has netted a positive return this season.
Still, the model has generally proven correct at identifying breakout candidates before they hit their stride; I'll continue to find ways to bet on Nelson's ascension.
I projected Thursday's total at 9.77; bet Under 10 to -102.
Pittsburgh Pirates vs. Los Angeles Dodgers
Johan Oviedo vs. Julio Urias
First Pitch: 10:10 p.m. ET
We have had much success betting against Julio Urias this year, dating back to Colombia's win (as a +450 underdog) over Mexico in the World Baseball Classic.
Urias recently got rocked by the Royals (3 IP, 6 H, 5 R, 2 BB, 2 K) in his return from the IL following a hamstring injury. Even before the injury, however, Urias's results were down (4.39 xERA) significantly compared to the past few seasons (2.81 xERA in 2022, 3.10 in 2021).
He was never going to maintain the 2.16 ERA he posted last year (.229 BABIP, 86.6% strand rate), but even as his luck categories have normalized (.281 BABIP, .270 career; 75.4% strand rate, 78% career), Urias has never gotten hit harder, allowing 14 home runs in 11 starts and 58 1/3 innings (2.16 HR/9; 1.01 career).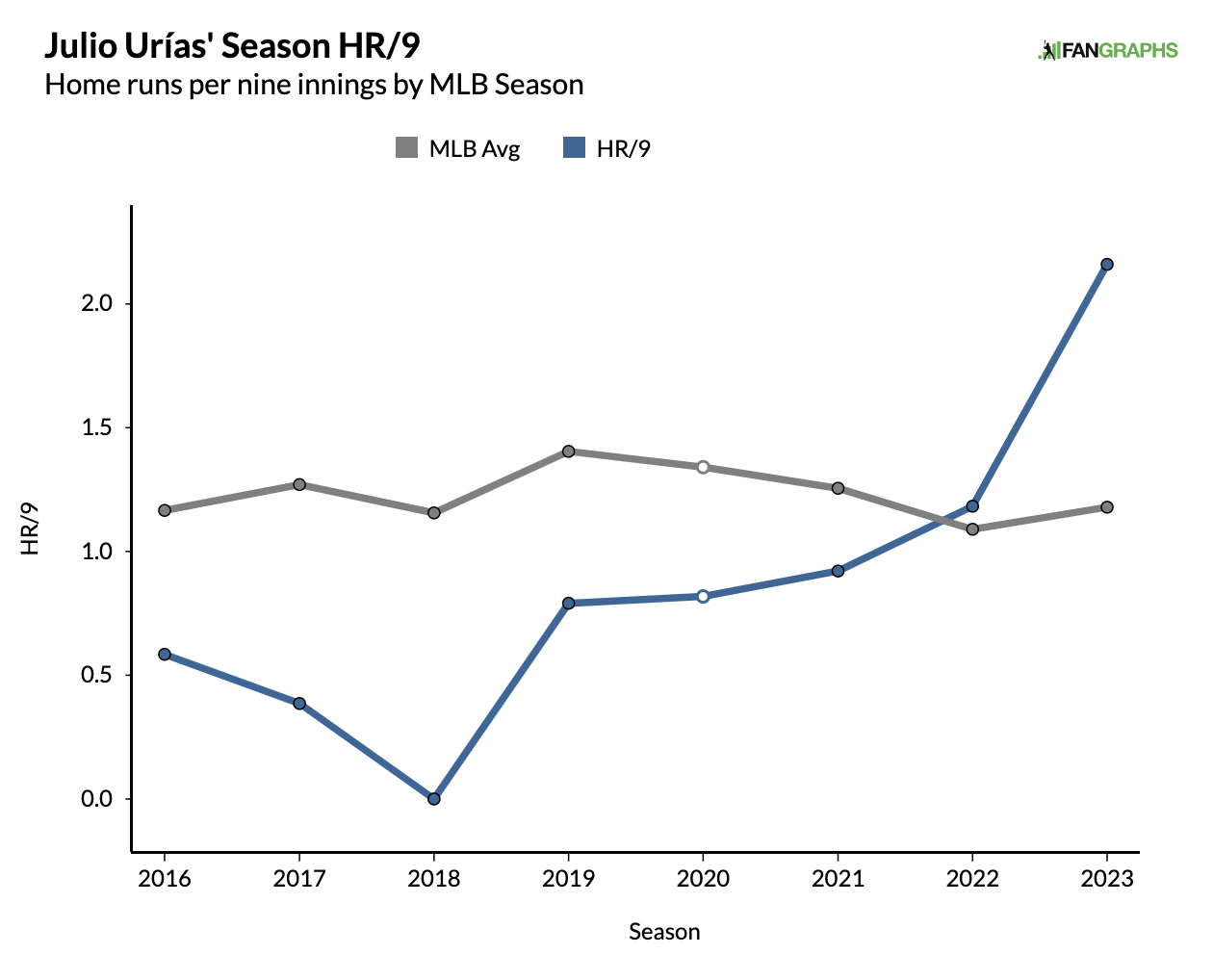 Pitching models see no issue with the stuff (107 Stuff+) or command (104 Location+) even though they both have dipped by a few points relative to last season (110 Stuff+, 106 Location+). Still, the model views the current version of Urias as a clear No. 2 starter, at worst.
The Pirates have performed better against lefties (103 wRC+, 16th) than righties (90 wRC+, 23rd) this season and have seen a lift on both sides of the plate in recent days with the switch-hitting Bryan Reynolds (career 129 wRC+ vs. righties, 113 wRC+ vs. lefties) back in the fold.
Johan Oviedo (4.48 xERA) has an above-average sinker and slider, even though models aren't high on his overall arsenal (95 Stuff+, 97 Location+).
Back Oviedo and the Pirates in both halves at +195 or better as they look to split their series in Los Angeles.
Zerillo's Bets for Thursday, July 6
For additional bet notifications, follow me in the Action Network App. 
Boston Red Sox F5 (+116, 0.5u) at FanDuel (bet to +111)
Boston Red Sox (+125, 0.5u) at WynnBet (bet to +116)
Chicago White Sox Game 2 (+135, 0.5u) at WynnBet (bet to +112)
Cincinnati Reds / Washington Nationals, Over 9.5 (-115, 0.5u) at WynnBet (bet to -125 or 10, -107)
Cincinnati Reds F5 Team Total, Over 2.5 (+105, 0.5u) at DraftKings (bet to -105)
Kansas City Royals / Cleveland Guardians, Over 9 (+100, 0.5u) at WynnBet (bet to +100)
New York Mets (+130, 0.5u) at WynnBet (bet to +125)
New York Mets / Arizona Diamondbacks, Under 10 (+100, 0.5u) at WynnBet (bet to -102)
Oakland Athletics (+150, 0.25u) at WynnBet (small to +147)
Oakland Athletics / Detroit Tigers, Over 8.5 (-110, 0.5u) at DraftKings (bet to -115)
Parlay (+175, 0.5u) at FanDuel: Baltimore Orioles F5 (-124) & Cleveland Guardians F5 (-190), parlay to -125 and -190
Pittsburgh Pirates F5 (+215, 0.5u) at DraftKings (bet to +195)
Pittsburgh Pirates (+205, 0.5u) at WynnBet (bet to +195)
Seattle Mariners F5 (-122, 0.5u) at FanDuel (bet to -128)
Washington Nationals F5 Team Totals, Over 2.5 (-125, Flat Risk 0.5u) at DraftKings (bet to -133)
How would you rate this article?
This site contains commercial content. We may be compensated for the links provided on this page. The content on this page is for informational purposes only. Action Network makes no representation or warranty as to the accuracy of the information given or the outcome of any game or event.