MLB Picks Today | Odds, Expert Projections for Thursday, May 25
Credit:
Getty Images. Pictured: C.J. Abrams Jorge Soler, Alex Faedo
Welcome to Opening Pitch, my column that you'll find daily throughout the 2023 MLB season.
My goal for Opening Pitch is to highlight my top daily projection edges for MLB moneylines and totals, share my favorite bets and provide some betting notes and analysis, mainly as I react to opening and overnight lines while using my baseball betting model.
I will look to release a new version of Opening Pitch daily between midnight and 3 a.m. ET; after I enter my overnight bets in the Action Network App and update the MLB projections. Hopefully, you will use it as your morning betting guide to get ahead of the baseball markets.
You can find my projections for every MLB game in the Action App (on both the PRO Projections tab and the game pages) and our Projections Hub (which you can bookmark).
You can also shop for the best lines on our odds page.
Expert Picks for Thursday, May 25
St. Louis Cardinals vs. Cincinnati Reds
Miles Mikolas vs. Luke Weaver
First Pitch: 12:35 p.m. ET
Miles Mikolas (5.36 xERA or expected ERA, 4.46 xFIP) and Luke Weaver (4.70 xERA, 4.35 xFIP) have posted similar underlying ERA indicators this season.
Pitch modeling data doesn't see much difference between them, giving both pitchers below-average Stuff+ ratings (92 for Mikolas and 94 for Weaver) and above-average command or Location+ ratings (107 and 104, respectively).
In context, that's better news for Weaver, who mostly worked out of the bullpen last season and is hanging onto a major league job, than for Mikolas, who is owed $20 million for the 2024 and 2025 seasons.
I projected the Reds around +117 in both halves of Thursday. Bet their moneylines for the first five innings (F5) and the full game to +117.
Additionally, we have some rare pitching weather at Great American Ball Park; temperatures are in the low 60s at first pitch, compared to 83 degrees on Wednesday night. I set the total at 9.8; bet Under 10.5 to -115.
Toronto Blue Jays vs. Tampa Bay Rays
Alek Manoah vs. Zach Eflin
First Pitch: 1:10 p.m. ET
Pitching models thought Alek Manoah was a league-average pitcher last season (100 Pitching+), and he was never going to maintain a 2.24 ERA compared to his underlying metrics (3.31 xERA, 3.97 xFIP, .244 BABIP, 82.6% strand rate).
Manoah has lost a tick of velocity this season, and his command has slightly worsened (94 Pitching+). However, his overall statistical profile has wholly collapsed; he's not merely six percent worse than his expected marks from last season, as those numbers might suggest.
Manoah's walk rate has more than doubled compared to last season, and his strikeout rate has fallen by ten percent since his 2021 debut (five percent each year).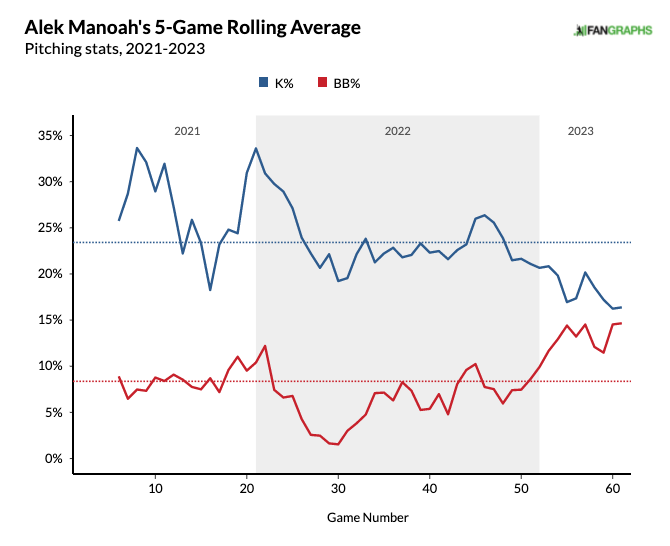 Among 124 qualified starters (min. 30 innings pitched). Manoah ranks 122nd in strikeout minus walk rate, or K-BB% (3.0%), and in the bottom 10 of all starters by expected ERA and other key performance indicators.
Conversely, Zach Eflin — the Rays' big free agent signing — has blossomed and provided enormous stability for their injury riddled rotation.
Eflin has posted a career-best K-BB% (25.7%) while relying on both his cutter (31.7%) and curveball (26.4%) more than ever before.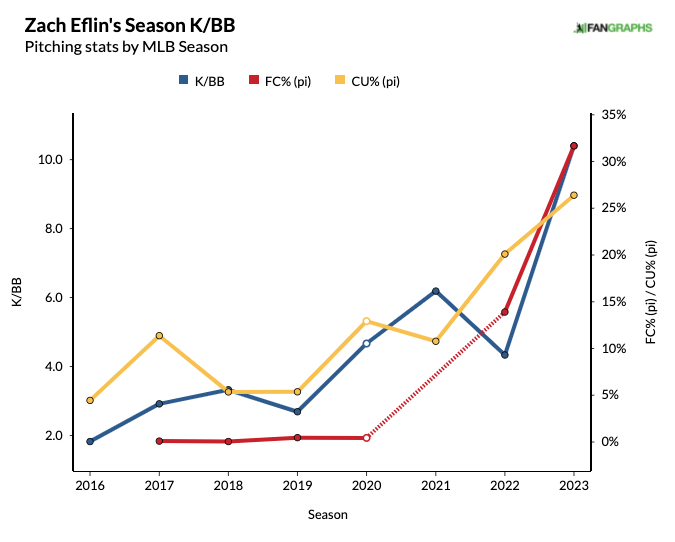 I see a fairly significant difference between these two starting pitchers in their current form. Bet the Rays to -150 for the first five innings and -140 for the full game.
Miami Marlins vs. Colorado Rockies
Braxton Garrett vs. Kyle Freeland
First Pitch: 3:10 p.m. ET
On Wednesday, we bet an Over 11 (+100) with Sandy Alcantara involved, the Marlins in their lesser offensive split, and worse weather.
I set Thursday's total at 11.2; bet Over 10.5 to -115.
Kyle Freeland has been my arch-nemesis this season. He shuts me down when I fade him (moneyline or Overs) and blows up when I back him (moneylines or Unders).
The Marlins have the better offensive splits in this matchup, ranking as a top-10 team against lefties, while the Rockies are 30th against southpaw pitching. The teams have flip-flopped in the rankings against lefties compared to last season (Colorado 18th, Miami 30th).
Neither Braxton Garrett (88 Stuff+) nor Freeland (63 Stuff+) have an exceptionally high ceiling. And while both offer above-average command (102 Location+ for either pitcher), I don't rate either better than a No. 5 type starter (sub 4.5 Model Weighted ERA).
San Diego Padres vs. Washington Nationals
Blake Snell vs. Jake Irvin
First Pitch: 4:05 p.m. ET
I wanted to bet the Over in this matchup, but even a slight amount of wind can drastically affect the scoring environment at Nationals Park. With the wind blowing in (6 mph from center field), I set the total at 9.4.
Blake Snell continues to struggle this season (5.95 xERA), and his 2022 results (3.19 xERA) look like an outlier compared to 2021 (4.82) and 2020 (4.07). He's seen a steep decline after winning the AL Cy Young in 2018 (3.15), and his strikeout minus walk rate (10.4%) is at a six-year low.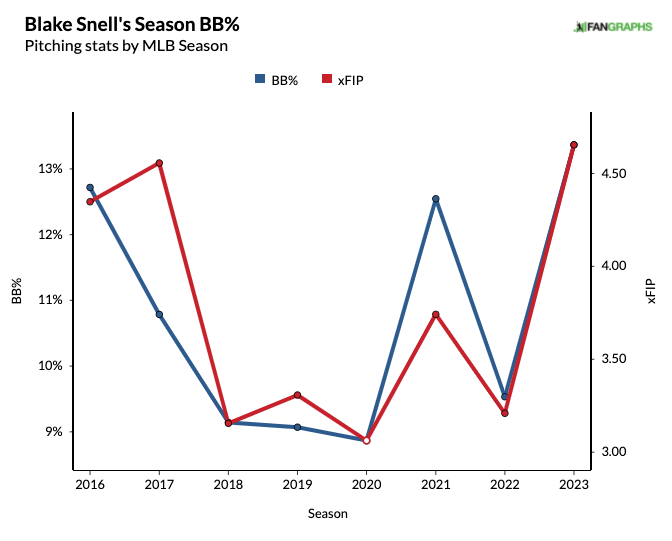 Pitching models say that Snell still has above-average stuff (106 Stuff+), but it's still taken a step back compared to last year (119 Stuff+ in 202). And his command has dropped from average to below average.
Jake Irvin (6.88 xERA) doesn't inspire much confidence, but the overall package (98 Stuff+, 98 Location+, 96 Pitching+) is comparable to what Snell has shown this year (93 Location+, 96 Pitching+), albeit with a lower ceiling due to lesser stuff.
The Nationals, in particular, seem like a difficult matchup for Snell. They strike out less often than any other team, so they'll force the southpaw to work, and they rank as a top-seven offense against left-handed pitching (118 wRC+) compared to 27th against lefties.
I projected the Nationals around +125 in the first five innings and +135 for the full game. Bet their F5 moneyline to +135 and their full game line to +145.
Chicago White Sox vs. Detroit Tigers
Lucas Giolito vs. Alex Faedo
First Pitch: 6:40 p.m. ET
I rarely bet on both sides and totals in both halves of a game; the prospect of going 0-4 on one matchup is nerve-wracking. And essentially, my entire position depends on my opinion of Alex Faedo. If he blows up, I lose all four bets.
I'm a believer in Faedo. He comes with a first-round pedigree (18th overall in 2017) and has shown strong command numbers this year (107 Location+; 105 Pitching+) after struggling in 53 innings as a rookie (96 Location+; 94 Pitching+).
Bear in mind, Faedo made just five starts in Triple-A last season before jumping to the big leagues — after getting Tommy John surgery in December 2020. Command is typically the last thing to come back, but his velocity (93.4 mph) has also increased relative to last season (92.8 mph).
Still, Faedo has a below-average four-seam fastball. He gets by with a plus slider and a serviceable changeup on top of his command. Scouting reports gave Faedo a 60-grade command projection, and he's meeting that this season.
At his peak, Faedo can carve out a career similar to Anthony DeSclafani. I'm curious to see if he eventually starts throwing a sinker to better complement his slider, instead of that below-average four-seamer.
Lucas Giolito has shown improved command of his own this year with a career-best 4.9% walk rate.
Still, Giolito's expected ERA (3.79) only splits the difference from his past couple of seasons. His strikeout minus walk rate remains about five percent below his career peak when that expected ERA hovered between 3.04 and 3.27.
Both teams are in their lesser split (Chicago is 25th, and Detroit 28th against righties), and Comerica Park will see cool temperatures in the low 60s, with an 11-mph crosswind.
I set the totals at 3.9 (F5) and 7.97 (full game). Bet an F5 Under 4.5 to -125, and the full game Under to 8 (-104).
Additionally, I essentially view this game as a coin flip. Bet the Tigers down to +112 in either half.
Zerillo's Bets for Thursday, May 25
For additional bet notifications, follow me in the Action Network App. 
Cincinnati Reds F5 (+140, 0.5u) at FanDuel (bet to +127)
Cincinnati Reds (+150, 0.5u) at WynnBet (bet to +127)
Cincinnati Reds / St. Louis Cardinals, Under 10.5 (-112, 0.5u) at FanDuel (be to -115)
Detroit Tigers F5 (+116, 0.5u) at FanDuel (bet to +112)
Detroit Tigers (+125, 0.5u) at FanDuel (bet to +112)
Detroit Tigers / Chicago White Sox, F5 Under 4.5 (-122, Risk 0.5u) at FanDuel (flat risk to -125)
Detroit Tigers / Chicago White Sox, Under 8.5 (-110, 0.5) at DraftKings (bet to -123 or 8, -104)
Miami Marlins / Colorado Rockies, Over 10.5 (-115, 0.5u) at DraftKings (bet to -115)
New York Mets / Chicago Cubs, F5 Over 4 (-115, 0.5u) at WynnBet (bet to -120)
Philadelphia Phillies F5 (-115, 0.5u) at WynnBet (bet to -120)
Tampa Bay Rays F5 (-138, 0.5u) at FanDuel (bet to -150)
Tampa Bay Rays (-135, 0.5u) at WynnBet (bet to -140)
Washington Nationals F5 (+135, 0.5u) at BetMGM (bet +135)
Washington Nationals (+155, 0.5u) at WynnBet (bet to +145)
How would you rate this article?
This site contains commercial content. We may be compensated for the links provided on this page. The content on this page is for informational purposes only. Action Network makes no representation or warranty as to the accuracy of the information given or the outcome of any game or event.