MLB Picks Today | Odds, Expert Projections for Tuesday, August 1
Credit:
Getty Images. Pictured: Bobby Witt Jr., Luis Robert Jr., Whit Merrifield
Welcome to Opening Pitch, my column that you'll find daily throughout the 2023 MLB season.
My goal for Opening Pitch is to highlight my top daily projection edges for MLB moneylines and totals, share my favorite bets and provide some betting notes and analysis, mainly as I react to opening and overnight lines while using my baseball betting model.
I will look to release a new version of Opening Pitch daily between midnight and 3 a.m. ET; after I enter my overnight bets in the Action Network App and update the MLB projections. Hopefully, you will use it as your morning betting guide to get ahead of the baseball markets.
You can find my projections for every MLB game in the Action App (on both the PRO Projections tab and the game pages) and our Projections Hub (which you can bookmark).
You can also shop for the best lines on our odds page.
Expert Picks for Tuesday, August 1
Tampa Bay Rays vs. New York Yankees
Zach Eflin vs. Carlos Rodon
First Pitch: 7:05 p.m. ET
Although Carlos Rodon (5.75 ERA, 5.82 xERA) has struggled in his first four starts since signing a six-year, $162 million contract with the Yankees, the lefty might have found his form in his last start, posting a 115 Stuff+ rating (125 slider, 111 fastball). It was more comparable to his 2022 form (114 Stuff+; 123 slider, 113 fastball) than his level over the first three starts of the season (102 Stuff+, 88 Location+).
One can expect Rodon's ERA to align closer to his projected FIP Range (between 3.07 to 3.93) over the remainder of the season, especially if he can mimic his Stuff+ numbers from last year.
The Rays have a top-three offense against right-handed and left-handed pitching this season, but since the start of June, they rank 30th against left-handed pitching, with a 71 wrC+.
I've been high on Zach Eflin (3.12 xERA, 105 Pitching+) all season and projected just 7.7 runs in this matchup; bet Under 8.5 to -122 or Under 8 to -103.
Baltimore Orioles vs. Toronto Blue Jays
Kyle Bradish vs. Hyun Jin Ryu
First Pitch: 7:07 p.m. ET
Hyun Jin Ryu will return to the Blue Jays rotation on Tuesday following Tommy John surgery.
The question is how much the injury impacted his overall effectiveness in recent seasons. Ryu pitched to an ERA in the low threes from 2018-2020 — which included top-three finishes in Cy Young balloting in both leagues — before dropping to a 4.45 xERA in 2021 and a 5.21 xERA over six starts last season before the surgery.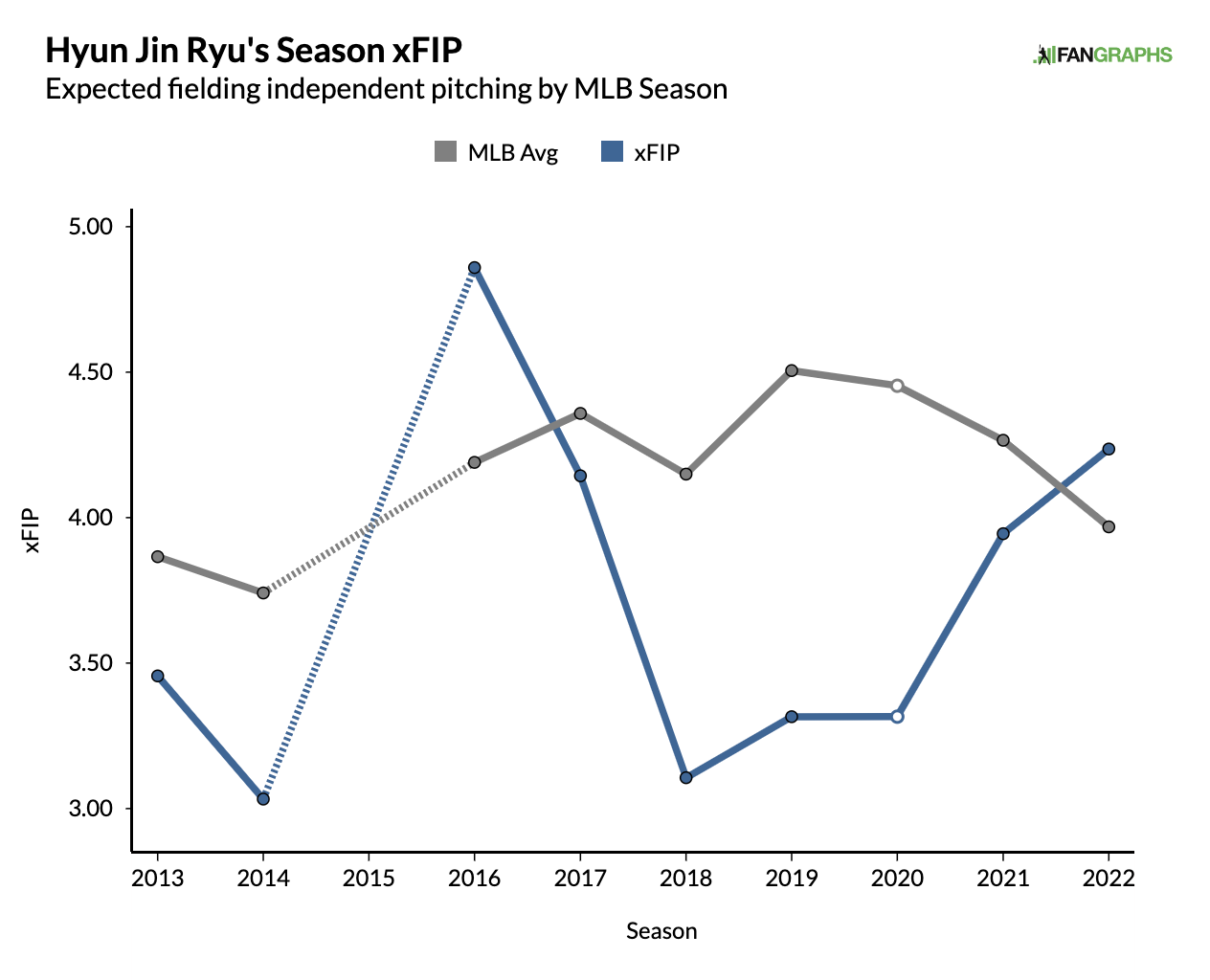 And his K-BB% dropped by about 5% each year over the past two seasons.
Projection systems put Ryu's rest of season FIP range between 4.12 and 4.5, and I'm personally using a number below that range. I still like the Blue Jays for Tuesday, even though I am generally high on Kyle Bradish (4.14 xERA, 105 Pitching+).
I'm expecting Toronto to be without Bo Bichette, who suffered a knee injury on Tuesday, but Baltimore may need to get big outs in big spots at the end of the game without Felix Bautista, who recorded five outs on Monday — his second appearance in three days.
I projected the Blue Jays as -131 home favorites; bet Toronto's moneyline to -121.
Cincinnati Reds vs. Chicago Cubs
Ben Lively vs. Justin Steele
First Pitch: 8:05 p.m. ET
Justin Steele (2.87 ERA, 3.36 xERA) and Ben Lively (3.76 ERA, 4.56 xERA) seem like potential regression candidates. Still, Steele has proven his ability to generate weak contact, a skill that can help a pitcher consistently overperform compared to their underlying metrics.
Pitching models see a fairly substantial difference between Steele (100 Stuff+, 102 Location+, 102 Pitching+) and Lively (79 Stuff+, 102 Location+, 96 Pitching+), worth about a 1.5-run difference on a projected ERA — a slightly more significant gap than the delta between their expected indicators.
Lively's BABIP (.274 vs. .298 career and a .296 league average) is notably low, and his strand rate (84.9% vs. 76.9% career and a 71.9% league average) is notably high; those are obvious areas where he has overperformed.
Conversely, Steele's numbers (.296 BABIP, 76.3% strand rate) align with his career averages, and are very much sustainable.
Even as the Reds have surged over the past two months, their offense has performed better against righties than lefties (94 wRC+, 18th since June 1).
I projected Chicago around -200 for the first five innings (F5) and -170 for the full game; bet those lines up to -180 and -156, respectively.
Additionally, I set the total at 7.6 runs; bet Under 8.5 to -125 or Under 8 to -106.
Chicago White Sox vs. Texas Rangers
Jesse Scholtens vs. Andrew Heaney
First Pitch: 8:05 p.m. ET
Although the White Sox might deal off more pieces by Tuesday evening, I view enough of an edge in the number to bet on Chicago overnight; back the White Sox at +184 or better (projected +168).
Andrew Heaney (4.78 xERA, 13.7% K-BB%) is showing significant signs of regression compared to his breakout 2022 campaign with the Dodgers (3.39 xERA, 29.4% K-BB%), even though his pitch modeling numbers (102 Stuff+, 99 Pitching+) essentially align with last season (97 Stuff+, 101 Pitching+).
Heaney's 2022 campaign — a short 72 2/3 inning sample — is a clear outlier compared to the remainder of his career (4.56 ERA, 4.69 xFIP, 18.1% K-BB%). And given his career-worst walk rate this season (9.8%) and a continued home run problem (1.69 HR/9, 1.64 career), there's no reason for optimism within his profile.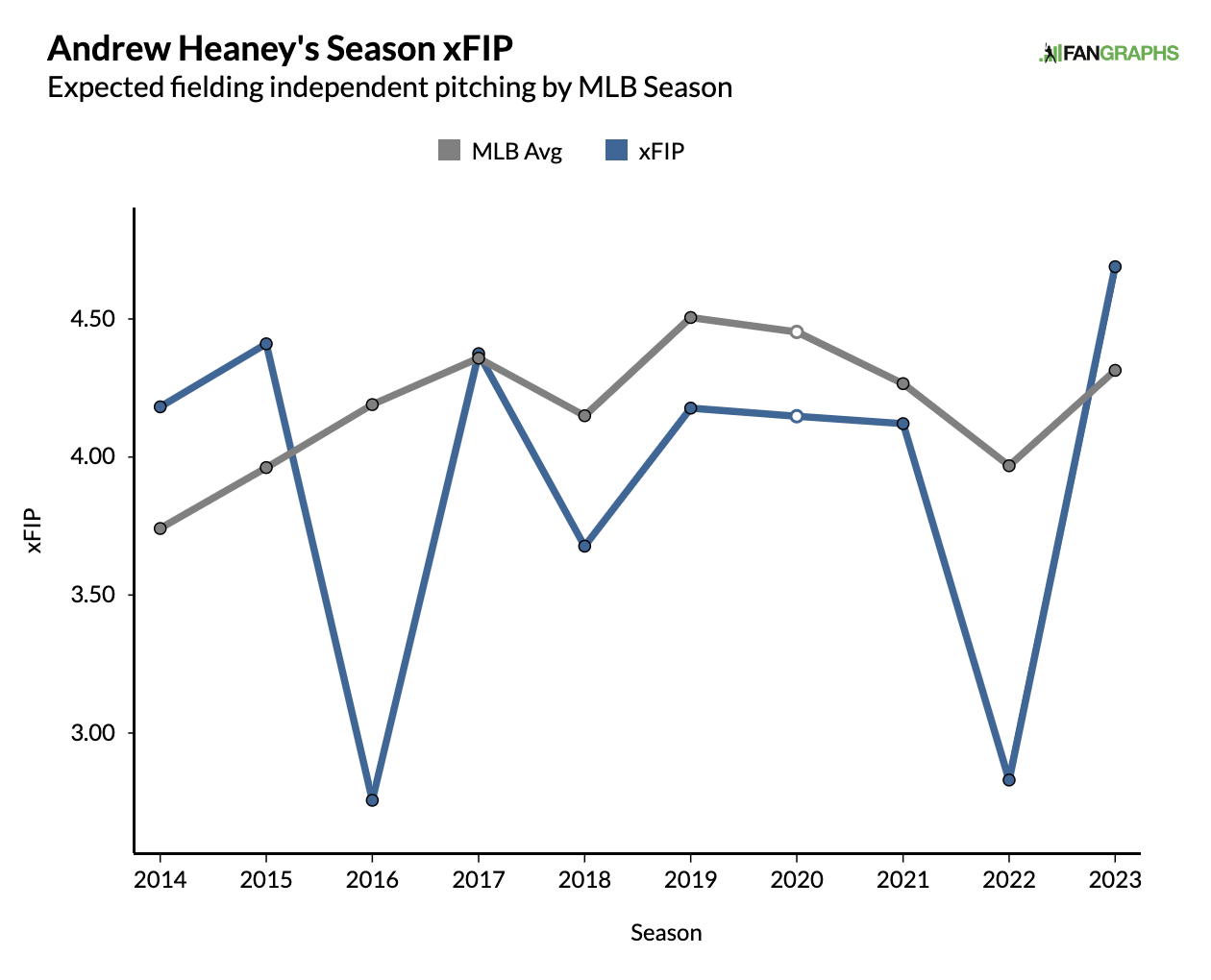 Despite their overall struggles as a team, the one thing the White Sox have done OK this season is hit lefties (100 wRC+, 17th) better than righties (83 wRC+, 28th). It continues a trend of the past few seasons, when they consistently ranked as a top team against southpaw pitching but closer to league average against righties. Their overall quality has dropped this season — to average against lefties and bottom of the league against righties — but the relative offensive split on the roster remains the same.
Tim Anderson (136 wRC+ vs. lefties since 2021) may be traded by 6 p.m. ET Still, if Yoan Moncada (105), Luis Robert (187), Eloy Jimenez (104), Jake Burger (149), Andrew Vaughn (129) and Yasmani Grandal (138) are all in the lineup on deadline day, they remain a formidable group against a left-handed pitcher.
New York Mets vs. Kansas City Royals
Jose Quintana vs. Zack Greinke
First Pitch: 8:10 p.m. ET
After suffering a stress fracture in his rib cage, free agent Jose Quintana had a delayed start to his tenure in Queens.
The southpaw had five starts and tossed 15 innings in the minors — and may still be working his way into form — but in a two-start sample, both his fastball velocity (90.3 mph) and Stuff+ (79 Stuff+, 94 Pitching+) are down compared to last season (91.3 mph, 86 Stuff+, 98 Pitching+ during the second half with the Cardinals).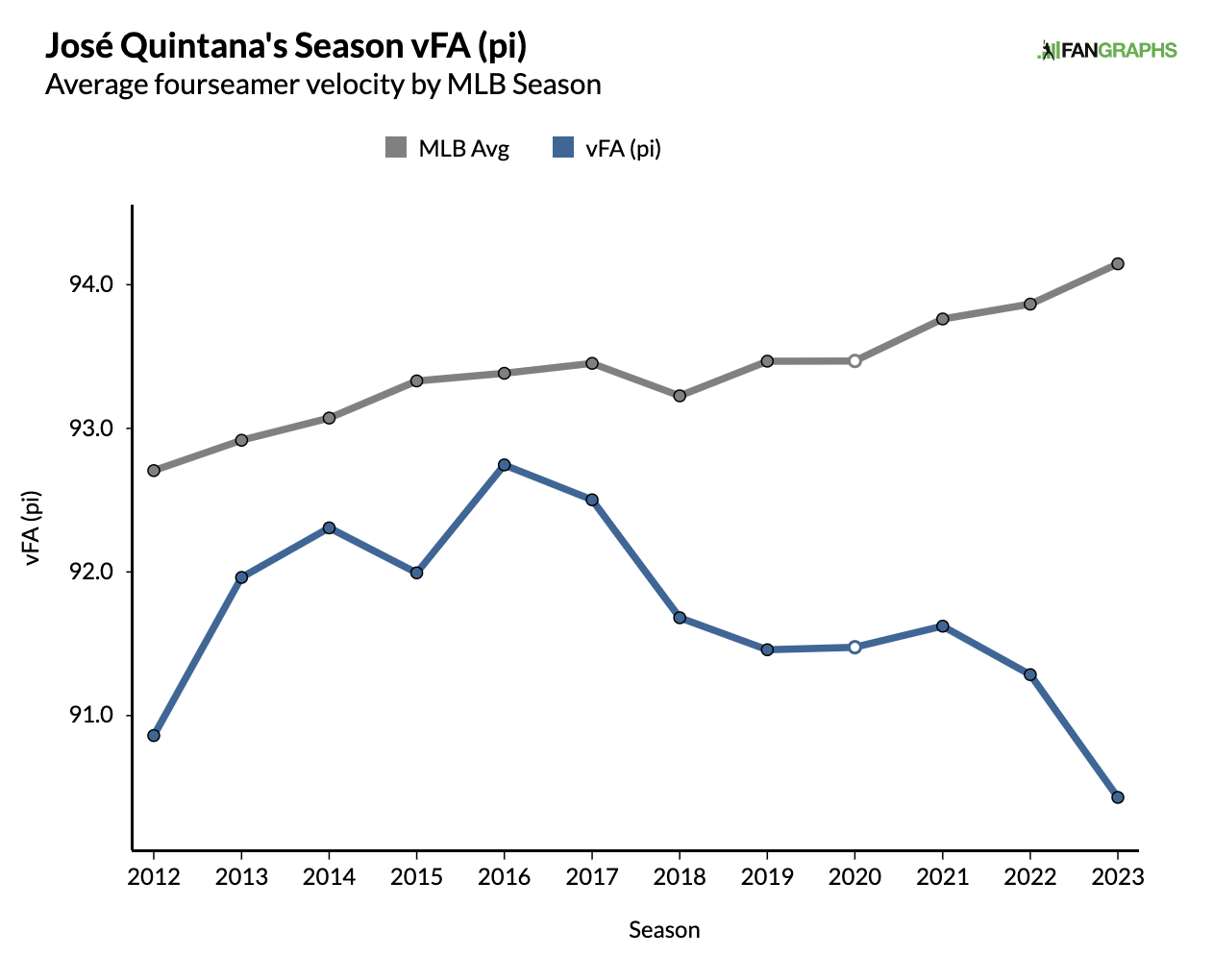 Under the hood, I might prefer Zack Greinke (84 Stuff+, 100 Pitching+) and his more refined command, even if his ERA (5.49) and xERA (5.24) stand as his worst marks since his sophomore season in 2005.
Both teams stand potentially to trade more assets on Tuesday afternoon. However, I don't anticipate a move that impacts this game projection significantly. And if one does, it's likelier to reduce the Mets' chances of winning the game.
Bobby Witt Jr. is heating up (159 wRC+) in July, and the Royals' offense is scoring in bunches over the past two weeks (105 wRC+, 16th) after ranking as a bottom-three offense for the entire season.
Although it's challenging to quantify motivation, this Mets team also appears to be checked out after dealing (and now continuing to shop) critical assets.
Regardless of that factor, I projected the Royals at +116 in this matchup; bet Kansas City at +127 or better.
Zerillo's Bets for Tuesday, August 1
For additional bet notifications, follow me in the Action Network App. 
Atlanta Braves F5 (-220, 0.5u) at Caesars (bet to -230)
Boston Red Sox / Seattle Mariners, Over 7.5 (-120, 0.5u) at DraftKings (bet to -120 or 8, -102)
Chicago Cubs F5 (-165, 0.5u) at WynnBet (bet to -180)
Chicago Cubs (-149, 0.5u) at WynnBet (bet to -156)
Chicago Cubs / Cincinnati Reds, Under 8.5 (-122, 0.5u) at FanDuel (bet to -125 or 8, -106)
Chicago White Sox (+205, 0.5u) at Caesars (bet to +184)
Chicago White Sox / Texas Rangers, Under 9.5 (-115, 0.5u) at Caesars (bet to
Houston Astros F5 (-190, 0.5u) at Caesars (bet to -195)
Kansas City Royals (+140, 0.5u) at WynnBet (bet to +127)
Kansas City Royals / New York Mets, Over 9.5 (-105, 0.5u) at WynnBet (bet to -120 or 10, +100)
Miami Marlins F5 (-135, 0.5u) at DraftKings (bet to -136)
Miami Marlins (-130, 0.5u) at DraftKings (bet to -135)
Milwaukee Brewers / Washington Nationals, Over 8.5 (-115, 0.5u) at Caesars (bet to -115)
Minnesota Twins F5 (-120, 0.5u) at FanDuel (bet to -120)
San Diego Padres / Colorado Rockies, Under 12.5 (-102, 0.5u) at FanDuel (bet to -120 or 12, -102)
Tampa Bay Rays / New York Yankees, Under 8.5 (-115, 0.5u) at DraftKings (bet to -122 or 8, -103)
Toronto Blue Jays (-115, 0.5uj) at WynnBet (bet to -121)
How would you rate this article?
This site contains commercial content. We may be compensated for the links provided on this page. The content on this page is for informational purposes only. Action Network makes no representation or warranty as to the accuracy of the information given or the outcome of any game or event.