MLB Expert Picks: Predictions, Projections for Angels vs. Tigers, Cardinals vs. Diamondbacks & More
Credit:
Getty Images. Pictured: Miguel Cabrera, Daulton Varsho, Josh Jung.
Wednesday's MLB slate features plenty of afternoon and evening action.
Sean Zerillo broke down his top picks and projections for Angels vs. Tigers, Cardinals vs. Diamondbacks and more.
Check out all of Zerillo's Wednesday MLB picks below.
Welcome to Opening Pitch, my column that you'll find daily throughout the 2023 MLB season.
My goal for Opening Pitch is to highlight my top daily projection edges for MLB moneylines and totals, share my favorite bets and provide some betting notes and analysis, mainly as I react to opening and overnight lines while using my baseball betting model.
I will look to release a new version of Opening Pitch daily between midnight and 3 a.m. ET; after I enter my overnight bets in the Action Network App and update the MLB projections. Hopefully, you will use it as your morning betting guide to get ahead of the baseball markets.
You can find my projections for every MLB game in the Action App (on both the PRO Projections tab and the game pages) and our Projections Hub (which you can bookmark).
You can also shop for the best lines on our odds page.
Expert Picks for Wednesday, July 26
Colorado Rockies vs. Washington Nationals
Peter Lambert vs. Jake Irvin
First Pitch: 12:05 p.m. ET
While I view Jake Irvin (5.14 xERA or expected ERA, 97 Stuff+, 99 Pitching+) as a slightly superior pitcher to Peter Lambert (5.15 xERA, 92 Stuff+, 95 Pitching+), the Nationals' offense rates far better against left-handed pitching (110 wRC+, 9th) than they do against righties (88 wRC+, 25th), pushing this matchup closer to a coin flip, even though the Rockies have a bottom-three offense regardless of opponent handedness.
These teams also feature two of the worst bullpens in the league (28th and 29th in xFIP), who should permit a lot of baserunners (both bullpens have a WHIP >1.5) and create run-scoring opportunities for both offenses to flip the game late.
I projected the Rockies closer to +115 in this matchup; bet Colorado at +125 or better. Additionally, bet Over 9.5 to -115, compared to my projection of 10.2 runs.
St. Louis Cardinals vs. Arizona Diamondbacks
Jack Flaherty vs. Zac Gallen
First Pitch: 3:40 p.m. ET
I hate having to bet against Zac Gallen in every start now — after consistently backing him throughout the first few years of his career. I love Gallen as a pitcher, but I think that he is slightly overrated in the betting market and that his actual talent level is closer to his 3.67 xERA or 3.92 pitching model ERA (converted from his 105 Stuff+ and 107 Pitching+ marks) than the 2.54 ERA he carried last season, or even his 3.18 ERA this year.
Pitching models think Jack Flaherty has been much better of late (99 Stuff+, 102 Pitching+ in four July starts) than his season-long numbers (4.74 xERA) and reduced level for the past four seasons. Overall, his arsenal remains significantly lessened from his peak form (3.38 xERA in 2019). Still, Flaherty has made 19 starts and tossed 104 innings this season, and he's on track to record nearly as many innings as he has in the past three seasons combined (154 from 2020-2022).
If Flaherty can get the walks under control — as he's done in the past month (7.8% walk rate vs. 11.3% on the season) — and get his walk rate back near peak form (7.1% in 2019), he can be a very effective starter, even with a strikeout rate that is about 7% below his career high.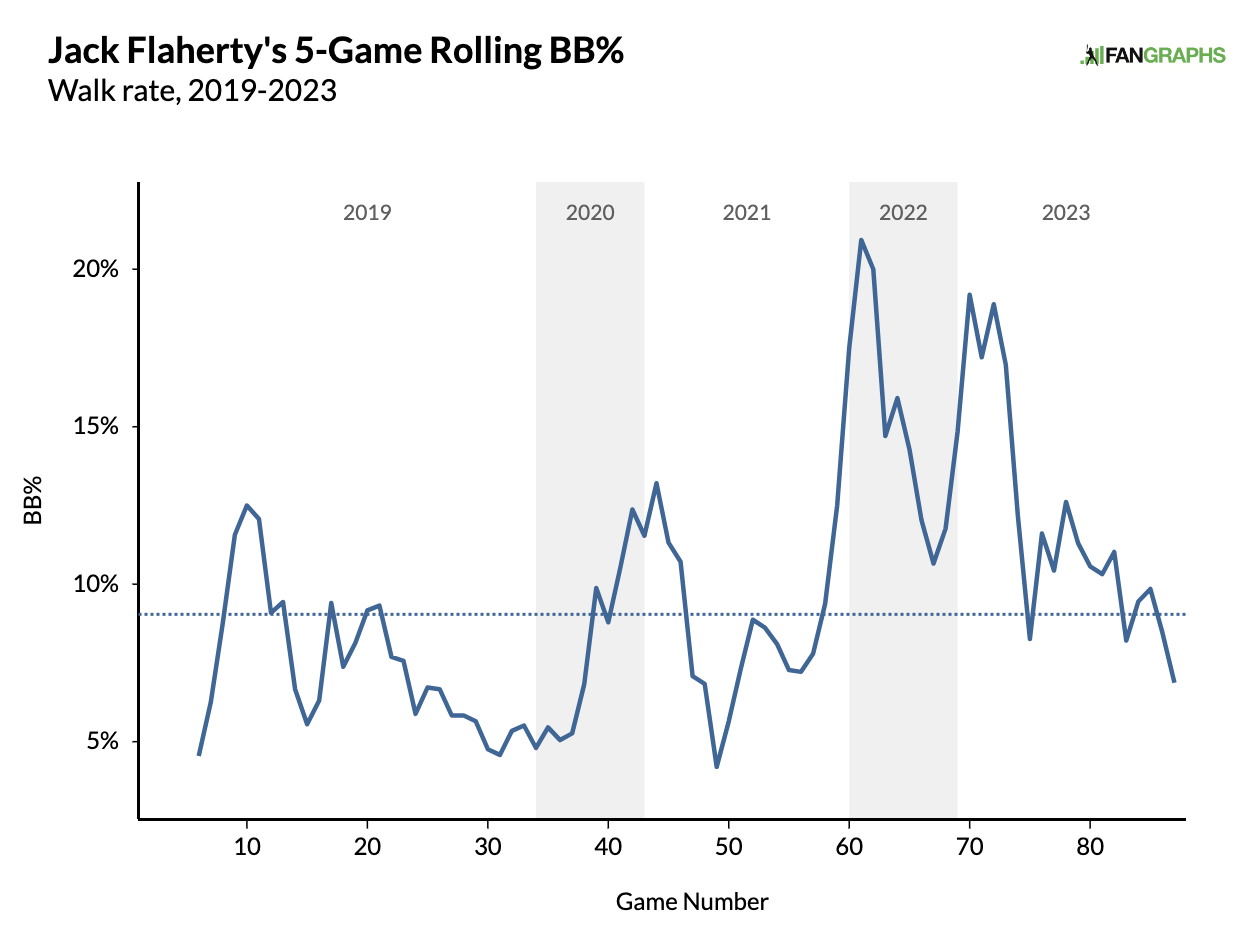 The teams have split the first two games in this series, but Arizona has struggled in July (6-13, -29 run differential), and I projected St. Louis closer to +120 for Wednesday; bet the Cardinals at +129 or better against the NL Cy Young favorite.
Toronto Blue Jays vs. Los Angeles Dodgers
Yusei Kikuchi vs. Tony Gonsolin
First Pitch: 4:10 p.m. ET
The enigmatic Yusei Kikuchi (4.46 xERA, 108 Stuff+, 103 Pitching+) has pitched to a career-best 3.92 ERA and 4.46 xERA this season, despite continuing to allow home runs (1.92 HR/9) at one of the highest rates in the league. Kikuchi has brought his K-BB%, or strikeout minus walk rate (17.8%) above league average (14.2%), but an 84.3% strand rate (73.3% career) explains the difference between his actual and expected ERA.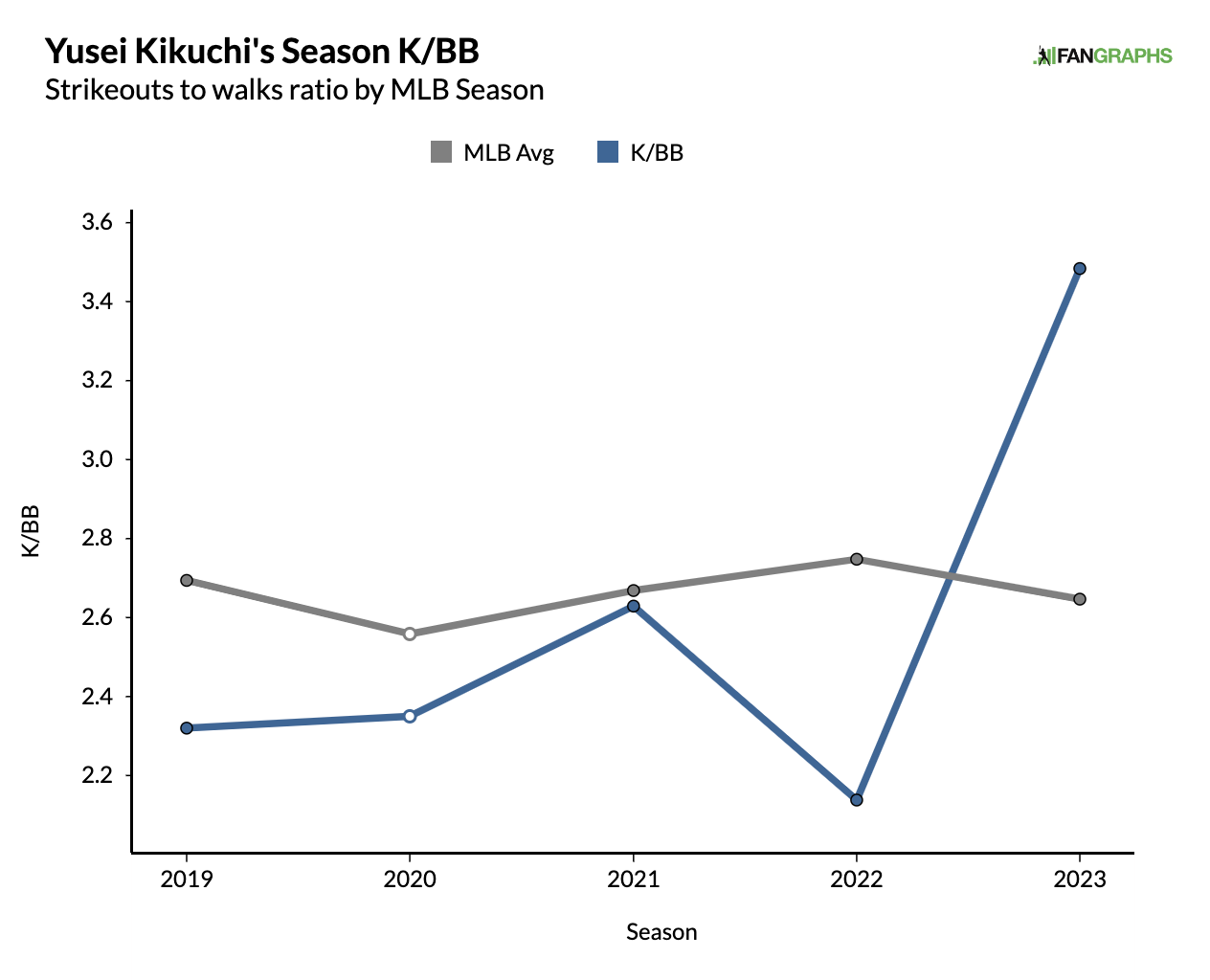 I view Kikuchi as a superior pitcher to Tony Gonsolin (4.84 xERA, 98 Stuff+, 99 Pitching+), whose K-BB% (10.3%) has fallen below the MLB average this season. Gonsolin's fastball velocity and strikeout rate are both down compared to the past two seasons (3.12 xERA in 2022) when he otherwise overachieved — and outpitched his underlying indicators — due to strand rates of 83.8% and 86.2%, respectively.
Offensively, the Dodgers project better against righties (117 wRC+, 3rd) than lefties (109 wRC+, 10th), while the Blue Jays are in their superior split (7th vs. righties, 15th vs. lefties) against a right-handed starter.
Bet Toronto in both halves to +112 (F5) and +124 (full game) behind the Japanese southpaw.
Los Angeles Angels vs. Detroit Tigers
Patrick Sandoval vs. Michael Lorenzen
First Pitch: 6:40 p.m. ET
The Angels have hit both righties and lefties well this season (top five in wRC+ against both handedness types), but the Tigers have fared better against lefties (94 wRC+, 21st) than righties (83 wRC+, 28th), a continuation of a trend from last season (19th vs. lefties, 30th vs. righties). I typically look to back Detroit against left-handed pitchers and bet against them or pass when they face a righty.
On Wednesday, the Tigers draw a solid matchup against southpaw Patrick Sandoval (4.25 xERA, 92 Stuff+, 97 Pitching+). He pitched to a sub 4 xERA the past two seasons, but his strikeout rate has slipped from 26% to 19% over a two-year period, and his K-BB% (9.2%) is now well below average (down from 16%).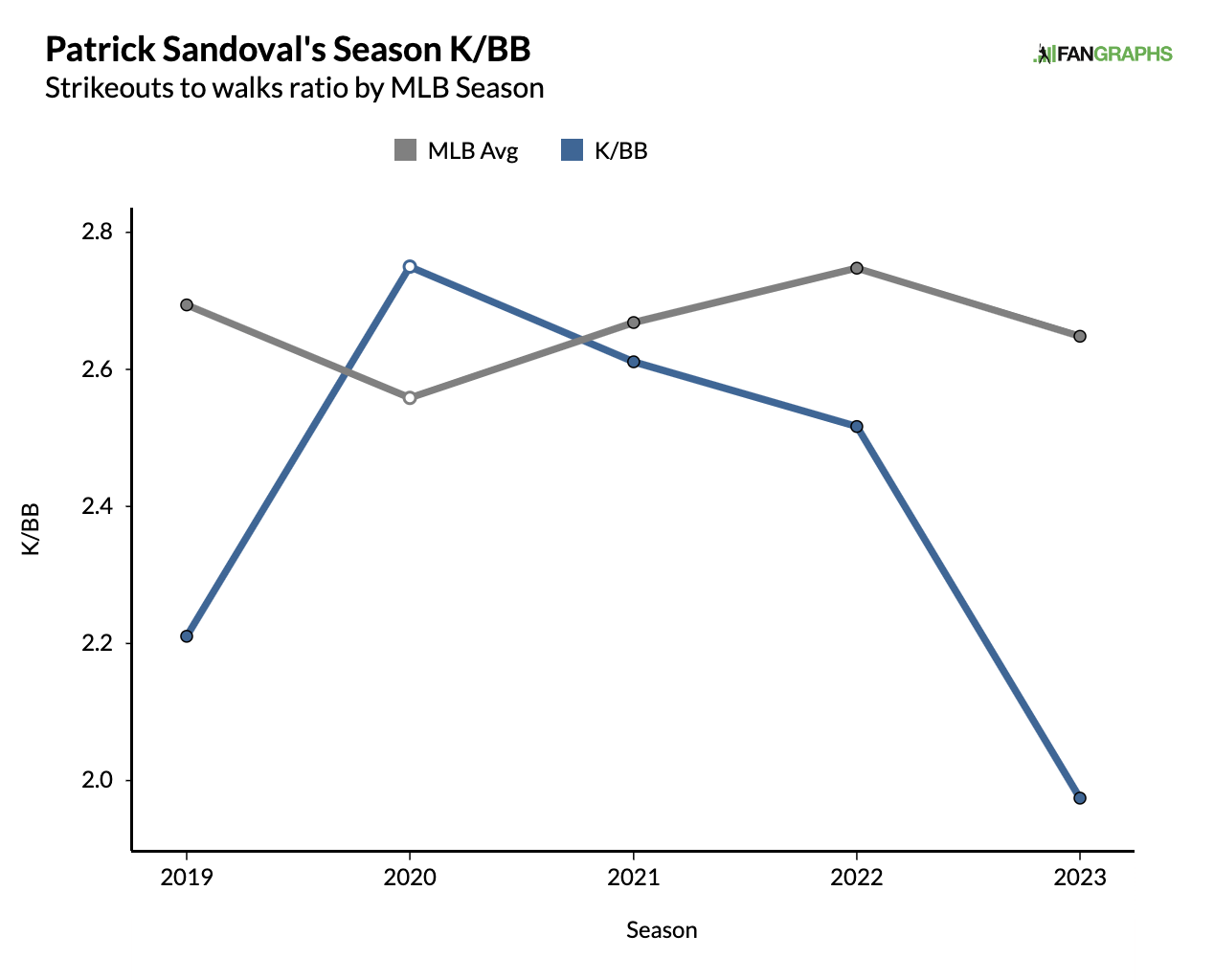 Michael Lorenzen (4.20 xERA) is in a revenge spot against his former team. Pitching models view him as a slightly above-average arm (101 Stuff+, 100 Pitching+), and I view him as the better pitcher in this matchup.
I projected Detroit between -110 to -115 in both halves; bet the Tigers F5 line to -105 and their full game line to -102.
Texas Rangers vs. Houston Astros
Andrew Heaney vs. Framber Valdez
First Pitch: 8:10 p.m. ET
Both offenses are set up for success against a left-handed starter; the Astros typically project better against lefties than righties in recent seasons and rank 11th (109 wRC+) against southpaw pitching in 2023, compared to 17th (99 wRC+) against righties. Yordan Alvarez might also return to their lineup for Wednesday's matchup.
Still, the Rangers have smashed left-handed pitching this season (128 wRC+, 2nd) and seemingly have the offensive advantage, despite a pitching edge for Houston.
Framber Valdez (3.97 xERA, 108 Stuff+, 101 Pitching+) is in contention for AL Cy Young, but he's permitted a career-high 24% flyball rate (17.7% career) and a career-worst 8% barrel rate this season, yet his HR/FB rate (11.7%) stands at a career low. Valdez also permits more walks than your typical ace, and Texas (MLB-best .357 OBP vs. lefties) will work deep counts.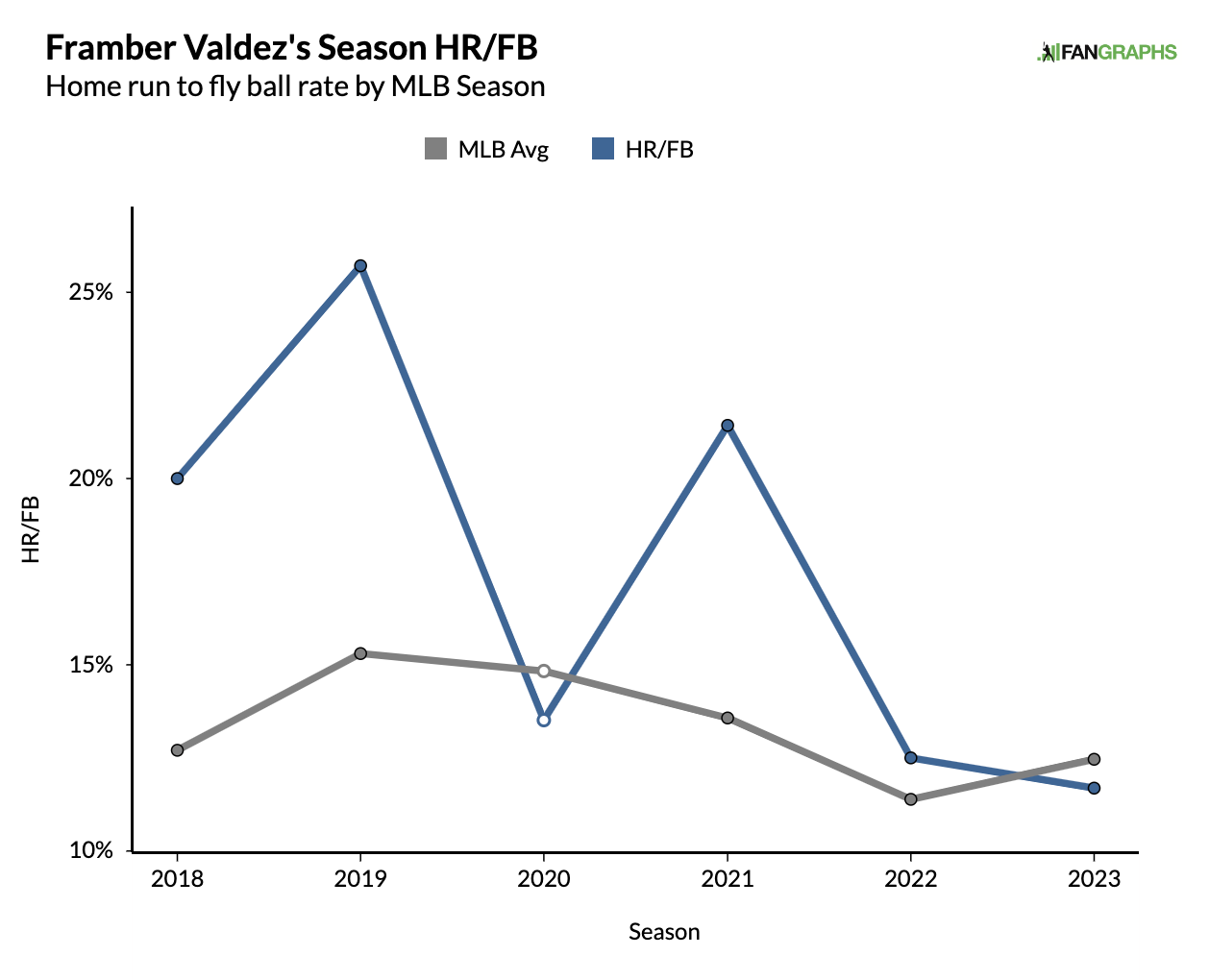 Andrew Heaney (4.78 xERA) has taken a significant step back this season following a career-best year with the Dodgers (3.10 xERA, 29.4% K-BB% in 2022). His strikeout minus walk rate (14.4%) has halved, year-over-year, yet his pitch modeling metrics (101 Stuff+, 99 Pitching+) aren't drastically different from last season (97 Stuff+, 101 Pitching+) when he showed better command.
Regardless, I'll trust the career-long sample (4.56 ERA, 4.47 FIP) for Heaney — which aligns with his 2023 level — but even projecting a fairly significant difference between the two starters, I like Texas here to +150 (F5) and +137 (full game).
Zerillo's Bets for Wednesday, July 26
For additional bet notifications, follow me in the Action Network App. 
Baltimore Orioles F5 (+120, 0.5u) at DraftKings (bet to +115)
Chicago White Sox (+110, 0.5u) at DraftKings (bet to +101)
Chicago Cubs / Chicago White Sox, Over 8.5 (-115, 0.5u) at DraftKings (bet to -122 or 9, -103)
Colorado Rockies (+125, 0.5u) at WynnBet (bet to +125)
Colorado Rockies / Washington Nationals, Over 9.5 (-110, 0.5u) at DraftKings (bet to -115)
Detroit Tigers F5 (+100, 0.5u) at FanDuel (bet to -105)
Detroit Tigers (+100, 0.5u) at WynnBet (bet to -102)
Kansas City Royals / Cleveland Guardians, Over 9.5 (-120, 0.5u) at FanDuel (bet to 10, -105)
Milwaukee Brewers -135 (0.5u) at DraftKings (bet to -137)
Oakland Athletics / San Francisco giants, Under 9 (-120, 0.5u) at Caesars (bet to 8.5, -105)
Pittsburgh Pirates (+185, 0.5u) at WynnBet (bet to +171)
St. Louis Cardinals F5 (+140, 0.5u) at DraftKings (bet to +135)
St. Louis Cardinals (+140, 0.5u) at Caesars (bet to +129)
Tampa Bay Rays F5 (-145, 0.5u) at WynnBet (bet to -150)
Texas Rangers F5 (+158, 0.5u) at FanDuel (bet to +150)
Texas Rangers (+155, 0.5u) at WynnBet (bet to +137)
Toronto Blue Jays F5 (+116, 0.5u) at FanDuel (bet to +112)
Toronto Blue Jays (+125, 0.5u) at WynnBet (bet to +124)
How would you rate this article?
This site contains commercial content. We may be compensated for the links provided on this page. The content on this page is for informational purposes only. Action Network makes no representation or warranty as to the accuracy of the information given or the outcome of any game or event.