MLB Odds, Predictions & Projections: Expect Picks for Tuesday's Slate, Including Cardinals vs. Cubs, Brewers vs. Dodgers (August 23)
Credit:
Harry How/Getty Images. Pictured Luis Urias and Will Smith
Our analyst has combed through all the betting lines on tonight's MLB slate to find the best value.
Big-time matchups like Twins vs. Astros, Mets vs. Yankees and Brewers vs. Dodgers are featured in his picks.
Continue reading for a full breakdown of how Anthony Dabbundo is betting tonight's MLB slate.
We have a loaded 16-game slate this Thursday night with some high-stakes games like Mets–Yankees, Twins–Astros, Brewers–Dodgers and more.
Be sure to check out our MLB odds page for up-to-the-minute odds changes across multiple sportsbooks, and our projections page which helps you find the best value across the board.
Here are my favorite bets from tonight's card.
---
Follow all of Anthony Dabbundo's bets in the Action Network app! Click here.
---
Mets at Yankees, 7:05 p.m. ET
Taijuan Walker vs. Frankie Montas
Frankie Montas has been terrible since joining the Yankees at the trade deadline with 14 runs allowed in 14 innings. Even more concerning is his eight strikeouts to just six walks in that time frame.
Montas has excellent stuff with a 108.5 Stuff+ per Eno Sarris' model from The Athletic (100 is considered average). He also typically has good command and has a sub 7% walk rate for the season.
I see nothing in his underlying numbers that suggest he is actually injured and while it is difficult to go from pitching in Oakland's huge ballpark to Yankee Stadium, ballpark effects aren't going to have that much of an impact on overall performance.
What's more likely is that Montas is pressing a bit as a pitcher, trying to be too perfect in his first few starts with his new team. I'm willing to buy low on him because I don't believe his true talent is any worse than it was last month when he had stellar numbers for the Athletics. The Mets put a ton of balls in play, but the Yankees are also a top five defense by outs above average and defensive runs saved.
As much as the Mets have benefitted offensively from infield singles and taken advantage of defensive miscues more than any other team (per OAA), those will be harder to come by against the Yankees' excellent team defense on Tuesday night in the Bronx.
Taijuan Walker has mostly outrun the regression monster to this point in the season, but his recent injury and drop in strikeout and whiff rate suggests that hitters are catching up to his increased use of the splitter in 2022.
In his last five starts not impacted by injury, Walker has posted a K/9 below 9.00 and a groundball rate below 44%. The biggest difference for Walker early in the year was that improved groundball rate, which had increased by 5-10% year over year. It enabled him to keep the ball in the park and avoid getting barreled.
Since the All-Star break, Walker has started to pitch more like the 2021 version of himself, which had an ERA north of 7.00 in the second half. The Yankees maintain elite barrel rates and should get to Walker. They have the better lineup, the better starter and are at home.
The graph shows the beginning of his groundball regression and an increase in his ERA as a result.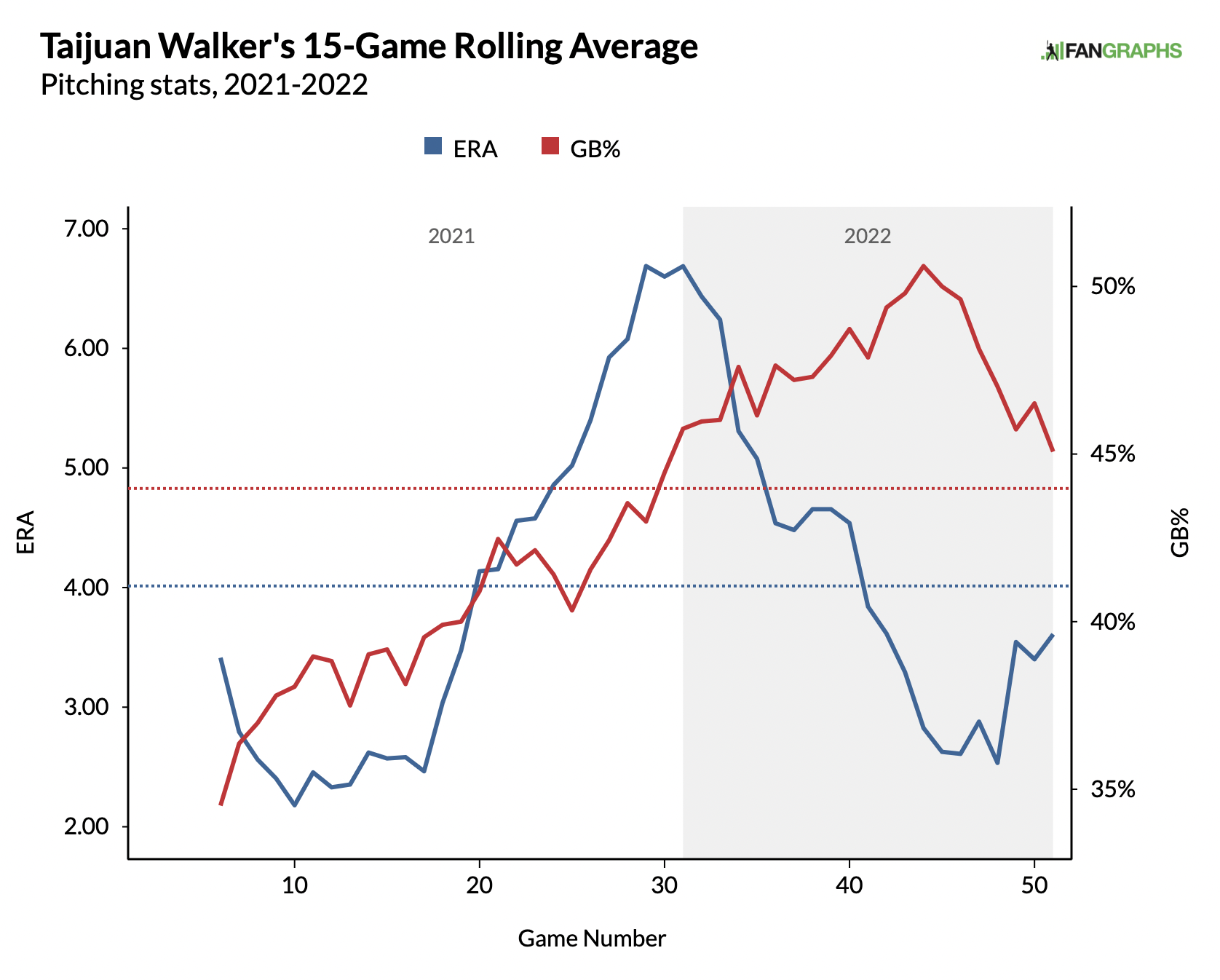 Recommended Bets
Yankees ML (-130 or better)
Cardinals at Cubs, 8:10 p.m. ET
Jake Woodford vs. Adrian Sampson
This is the second game of the doubleheader and I usually don't like to bet the second game of the doubleheader until we see bullpen usage and potential lineups for the second game. Barring anything extreme, though, I will be backing Sampson and the Cubs at home at an underdog price in this game.
The Cardinals are in their worse offensive split facing a right-handed pitcher and Sampson has some of the best command of any starter in baseball, based on Location+ from Sarris' model.
The result of his excellent pitch locations is that he doesn't get barreled or hit hard and doesn't give out free passes. We all fall in love with stuff, but you don't have to blow guys away to be a successful starter and that's what Sampson is.
He has four pitches he uses at least 13% of the time and has an xERA of 3.60 because of that weak contact allowed. Compare this to Jake Woodford, who has a 4.20 xERA, doesn't strike anyone out and allows a 46.4% hard hit rate.
I haven't bet it yet and likely won't until I see the first game play out, but I'm likely to take the Cubs at anything plus money in game two. I also did bet the Cubs at +160 in the first game of the doubleheader against Adam Wainwright.
Twins at Astros, 8:10 p.m. ET
Aaron Sanchez vs. Justin Verlander
As good as Justin Verlander is and as bad as Aaron Sanchez has been this season, the Twins offense is way too good to be lined this high against anyone.
We saw last week that the White Sox were able to get to Verlander after the starting pitching and bullpen kept the game close enough for the White Sox to steal it.
The Twins will have all four of their high-leverage bullpen arms available and all four have excellent Stuff+ ratings. Griffin Jax, Michael Fulmer, Jhoan Duran and Jorge Lopez can help shorten the game and haven't had a ton of use in the last three days.
The Twins have a top-five offense by wRC+ and rank fourth against right-handed pitching this season. Verlander is the futures/mlb-al-cy-young-odds">AL Cy Young favorite with a 1.98 ERA. But, his underlying numbers suggest he hasn't quite been that good.
Verlander's xERA still a full run higher than his actual at 2.98. His xFIP is 3.48 and his Pitching+ — a metric that combines stuff and command — is solidly above average but not elite at 105.
We really just need to survive the first 4-5 innings of Verlander vs. Sanchez and keep the game close enough for the Twins' offense and improved bullpen to do its work.
Minnesota actually opened +310 at FanDuel overnight, one of the worst openers in the entire MLB season. That wasn't around long, as the market bet it down to the current +270 at BetRivers and +260 at FanDuel.
The market still hasn't come down low enough on the Twins and I'd still bet them at the current number.
Recommended Bets
Twins ML (+230 or better)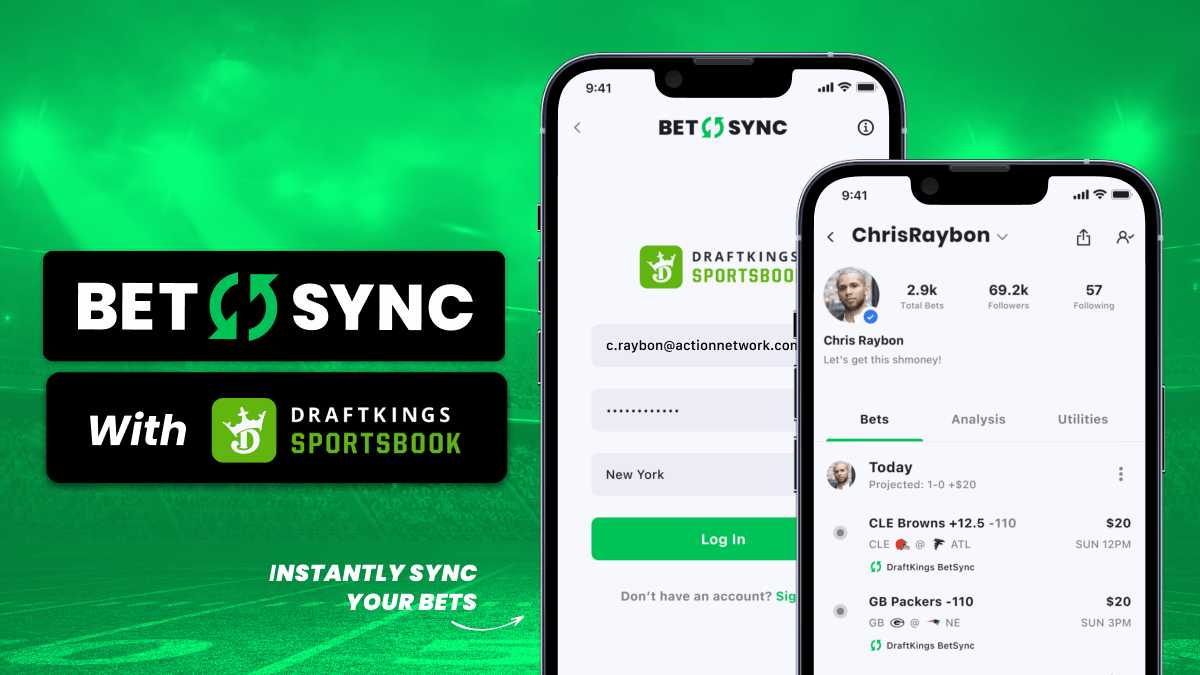 All your bets tracked … automatically!

View your bet win probability

AZ, CO, CT, IA, IN, IL, LA, MI, NH, NJ, NY, PA, TN, VA, WV, WY
Rangers at Rockies, 8:40 p.m. ET
Dane Dunning vs. Germán Marquez
Marquez has one of the most stark home/away splits in all of baseball, and it runs deeper than just his ERA. Marquez's Stuff+ is considerably better on the road than it is at home, where his breaking pitches don't have the same effectiveness at Coors Field. In 2022, Marquez has a 4.11 ERA away from home and 5.85 at home. 
He gets barreled way more at home and the lacking Rockies outfield defense hurts him a lot more in the league's biggest outfield. That is one area where Texas has a significant edge. While the Rangers have a league average outfield defense by outs above average, the Rockies are dead last. My colleague Sean Zerillo projects Texas as one of the better defensive teams and Colorado is as bad as it gets with its defense there.
Marquez just isn't the same pitcher this year, either. His strikeout rate dropped five percent, his hard hit rate increased by eight percent. His curveball — once graded as one of the better pitches in all of baseball — is getting less and less drop this year than ever before. Even more concerning is his fastball, which he has thrown harder of late but is still getting absolutely smoked to the tune of a .345 batting average.
Dane Dunning is far from a dominant pitcher himself — his Stuff+ is way down at 74 — but he has plus command and uses some deception in his delivery to keep hitters off balanced. He has bad stuff, but still strikes out more than 20% of hitters, has a 4.15 xERA and doesn't get hit hard often.
Texas has the better starter, the better lineup and a bunch of positive regression coming in one-run games. The Rangers should be favored at Coors and I'll bet them at any plus-money price.
Recommended Bets
Rangers ML (+100 or better)
Brewers vs. Dodgers, 10:10 p.m. ET
Corbin Burnes vs. Tony Gonsolin
Congrats to everyone who cashed on the Brewers at +225 on the moneyline in their 4-0 win against the Dodgers on Monday night. I'm going back to the well on the Brewers with Corbin Burnes against Tony Gonsolin. Gonsolin is in the midst of a career year as he cut his walk rate from 14% last season to 7% this year. His ERA sits at an impressive 2.12, but his 2.99 xERA suggests he's pitched about a run better than his underlying numbers.
Burnes has a similar xERA at 2.82, but when we go even deeper into the process stats, the differences between the two pitchers shines through.
Burnes has a 130 Stuff+ and 108 Pitching+. That puts him up there among the best starters in all of baseball in both categories. Gonsolin has good underlying numbers with a 97 Stuff+ and 100 Pitching+, but that shows the true difference in pitcher quality in this matchup.
The Dodgers make up for that with their vastly superior lineup, but I'm willing to back Burnes to have success against this lineup as he did last week in Milwaukee. My trust in Milwaukee's bullpen has fallen off — and most of the high leverage guys pitched last night — but I like Milwaukee in the first five innings.
Recommended Bets
Brewers F5 +0.5 (-140 or better)
Anthony Dabbundo's Bets (August 23)
Yankees ML (-130 or better)
Twins ML (+230 or better)
Brewers F5 +0.5 (-140 or better)
Rangers ML (+100 or better)
Cubs ML G1 (+150 or better)
Watching: Cubs Game 2 ML (+100 or better)
---
Follow all of Anthony Dabbundo's bets in the Action Network app! Click here.
How would you rate this article?
This site contains commercial content. We may be compensated for the links provided on this page. The content on this page is for informational purposes only. Action Network makes no representation or warranty as to the accuracy of the information given or the outcome of any game or event.