MLB Picks Today | Odds, Expert Projections for Friday, May 19
Credit:
Getty Images. Pictured: Paul DeJong, Blake Sabol and Rafael Devers
Welcome to Opening Pitch, my column that you'll find daily throughout the 2023 MLB season.
My goal for Opening Pitch is to highlight my top daily projection edges for MLB moneylines and totals, share my favorite bets and provide some betting notes and analysis, mainly as I react to opening and overnight lines while using my baseball betting model.
I will look to release a new version of Opening Pitch daily between midnight and 3 a.m. ET; after I enter my overnight bets in the Action Network App and update the MLB projections. Hopefully, you will use it as your morning betting guide to get ahead of the baseball markets.
You can find my projections for every MLB game in the Action App (on both the PRO Projections tab and the game pages) and our Projections Hub (which you can bookmark).
You can also shop for the best lines on our odds page.
Expert Picks for Friday, May 19
Arizona Diamondbacks vs. Pittsburgh Pirates
Zac Gallen vs. Johan Oviedo
First Pitch: 6:35 p.m. ET
Earlier in the year, I thought Johan Oviedo (4.05 xERA) might be in breakout mode while showing improved command, but after four strong starts, the 25-year-old has posted four duds (17 2/3 IP, 29 H, 20 R, 12 BB, 11 K) and seems back to square one.
He's dialed back his fastball and increased his curveball usage by about 10 percent, but if Oviedo cannot locate, his pitch selection is irrelevant. And a sub-10 percent strikeout minus walk rate (or K-BB%) is well-below average (13.9%).
Arizona has the better of the splits in this matchup. The Diamondbacks have performed much better against righties (5th in wRC+) than lefties (18th) this season, while Zac Gallen (2.99 xERA) gets the lesser split of the Pirates' offense (7th vs. lefties, 21st vs. righties).
However, the Pirates may have the advantage in the late innings; their bullpen ranks about five spots better than Arizona's in some underlying indicators (including xFIP and K-BB%) and also have a superior bullpen by my model weighted projections.
Bet the Buccos down to +150.
Cleveland Guardians vs. New York Mets
Cal Quantrill vs. Carlos Carrasco
First Pitch: 7:10 p.m. ET
Carlos Carrasco struggled in three starts earlier this season (7.58 xERA) while showing significantly reduced velocity. He will return to the Mets' rotation on Friday after a pair of rehab starts in the minors.
I'm skeptical of his form — the Mets can't afford more pitching injuries at this point, and with David Peterson struggling, someone had to fill his rotation spot. Unless Carrasco has regained a couple of ticks of velocity, this could be his final year at the MLB level.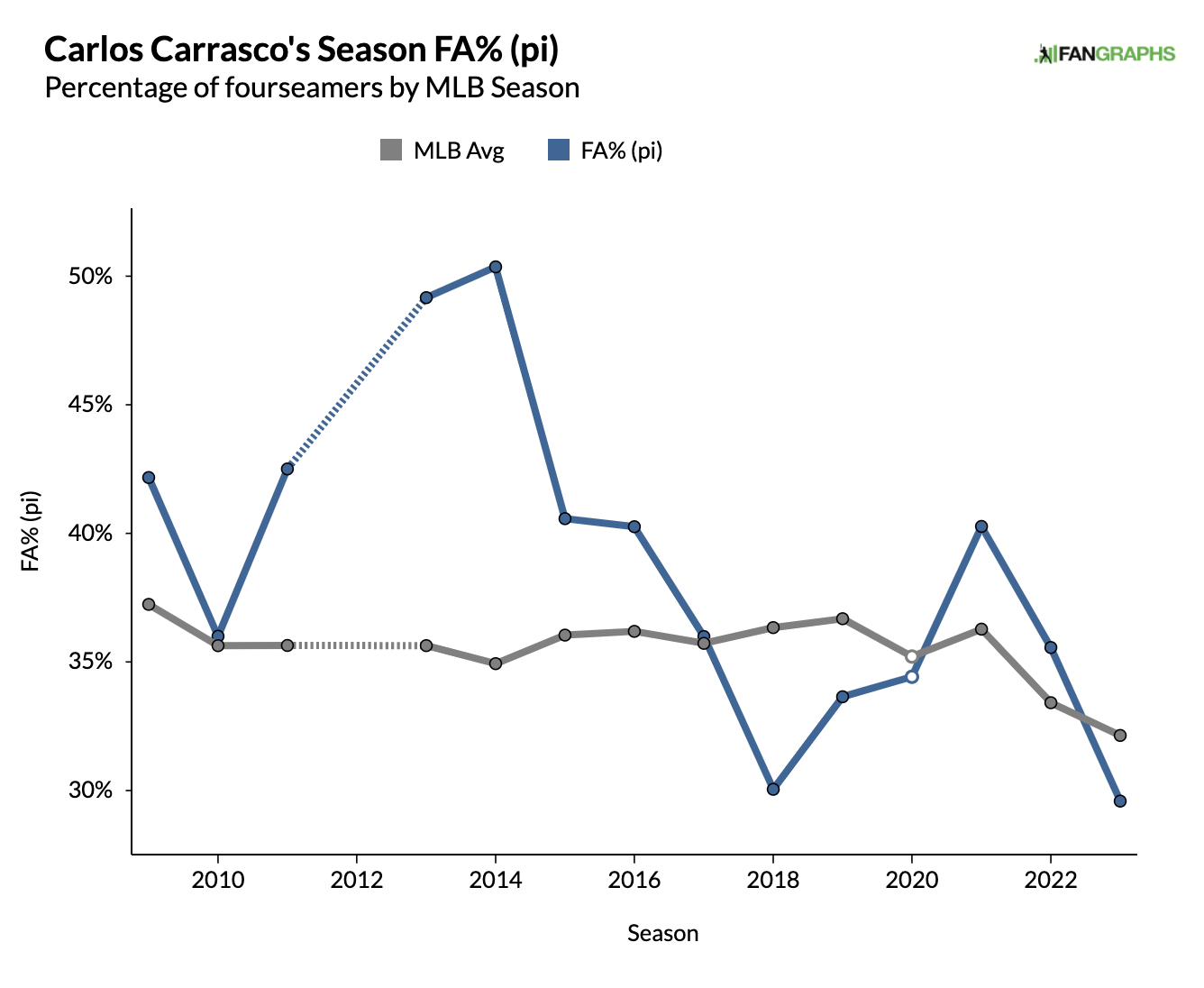 While I'm not particularly fond of Cal Quantrill (5.31 xERA), there isn't a substantial gap between his floor and ceiling. Conversely, Carrasco's range of outcomes is significantly wider, and I'm uncertain how you could stomach laying juice to bet him, given those early season results.
Bet the Guardians at +134 or better.
Seattle Mariners vs. Atlanta Braves
Bryce Miller vs. Bryce Elder
First Pitch: 7:20 p.m. ET
Bryce Miller has impressed through three starts (2.66 xERA), but we'll see if the league eventually catches up to his explosive fastball (63.3% usage) as he faces better competition.
His start against the Astros was impressive, but I can't take as much from his dominant efforts against the Athletics and Tigers. A test against Atlanta — one of the best teams in the league — should provide a better measuring stick.
Like Miller, Bryce Elder has outperformed his xERA (4.59) thanks to a low BABIP and a high strand rate. While I wouldn't have seen a significant difference between the two starters if I was using a pure preseason projection, I have upgraded Miller and downgraded Elder (slightly) relative to my priors.
Bet the Mariners at +130 or better on Friday behind their young flamethrower. Teams (especially divisional opponents) may hit him as they see him multiple times, but opponents seem to have difficulty timing Miller's fastball on first viewing.
Kansas City Royals vs. Chicago White Sox
Zack Greinke vs. Michael Kopech
First Pitch: 8:10 p.m. ET
Through nine starts, Zack Greinke's stats are closer to his 2021 season when he posted a serviceable 4.35 xERA in 29 starts than his 2022 campaign where he defied a 4.78 expected mark with a 3.68 ERA. While his xERA continues to increase (5.00 in 2023), Greinke's strikeout minus walk rate has increased by five percent (to 12.9%, compared to 12.1% in 2021), and once his home run rate normalizes (17.3% HR/FB rate; career 10.5%), Greinke may continue to defy father time.
While I'm not trying to regularly back Greinke at this stage of his career, he forces the White Sox into the lesser split and draws a matchup with the uber-enigmatic Michael Kopech (7.63 xERA), whose command of the strike zone continues to slip away:
If anything, Kopech has been lucky this season, thanks to a .243 BABIP and an 81% strand rate. And he's allowed a high number of solo shots.
The fastball velocity is there — and the arm talent remains. If Kopech suddenly regains his 2022 form (3.94 xERA), I won't be floored, but he's a pitcher that I have to bet against for now.
Bet the Royals to +108 for the first five innings (F5) and +120 for the full game.
Los Angeles Dodgers vs. St. Louis Cardinals
Tony Gonsolin vs. Steven Matz
First Pitch: 8:15 p.m. ET
With a pair of explosive 18-run and 16-run efforts this week, the Cardinals' offense might finally be heating up as we head toward the summer months. I'm still skeptical of their pitching, but when their lineup clicks, they might have the best offense in baseball one through nine, with plenty of depth on the bench and in the minors.
Steven Matz forces the Dodgers into their lesser split (second against righties, 21st vs. lefties). Still, surprisingly, the Cardinals have performed much better against righties (3rd) than lefties (16th) this season, too, even though they project as one of the best southpaw-mashing teams in the league and rated as such last year.
If the Cardinals have raised their floor against righties — and eventually regress toward expectations against lefties — they could slug their way back into the playoff race.
There is a big disconnect in underlying metrics for Tony Gonsolin (3.32 xERA, 4.57 xFIP) because he relies on weak contact and doesn't strike out many batters.
Still, my model is built to find weak contact warriors like Gonsolin (and pitchers like Tyler Wells or Graham Ashcraft), who we can back despite mediocre strikeout stats.
Even though I'm more optimistic about Gonsolin than most, I like the Cardinals in this matchup at +115 or better.
Minnesota Twins vs. Los Angeles Angels
Joe Ryan vs. Reid Detmers
First Pitch: 9:38 p.m. ET
Aside from Jacob deGrom (1.84 xERA), Joe Ryan (2.16) has the lowest expected ERA among starting pitchers. The righty has thrived after adding a splitter to his arsenal (27% usage rate), improving his strikeout minus walk rate by nine percent year over year.
The splitter's deceptiveness has helped complement his arsenal and made Ryan's low-90s fastball one of the most effective offerings in baseball (fourth among fastballs in run prevention on a per-pitch basis).
While I expected improvement from Reid Detmers this season (4.05 xERA in 2022, 4.23 in 2023), he remains a couple of tiers below Ryan, and I like the Twins in the first half a bit more than the betting market. I set Minnesota as -142 F5 favorites; bet the Twins' F5 moneyline up to -130.
Boston Red Sox vs. San Diego Padres
James Paxton vs. Blake Snell
First Pitch: 9:40 p.m. ET
Although I didn't expect much after some volatile command numbers in the minors, James Paxton impressed in his 2023 debut — and his seventh start since the 2019 season.
Paxton sat at 96.3 mph on his fastball, his highest level in a start since July 2019 and close to his career peak: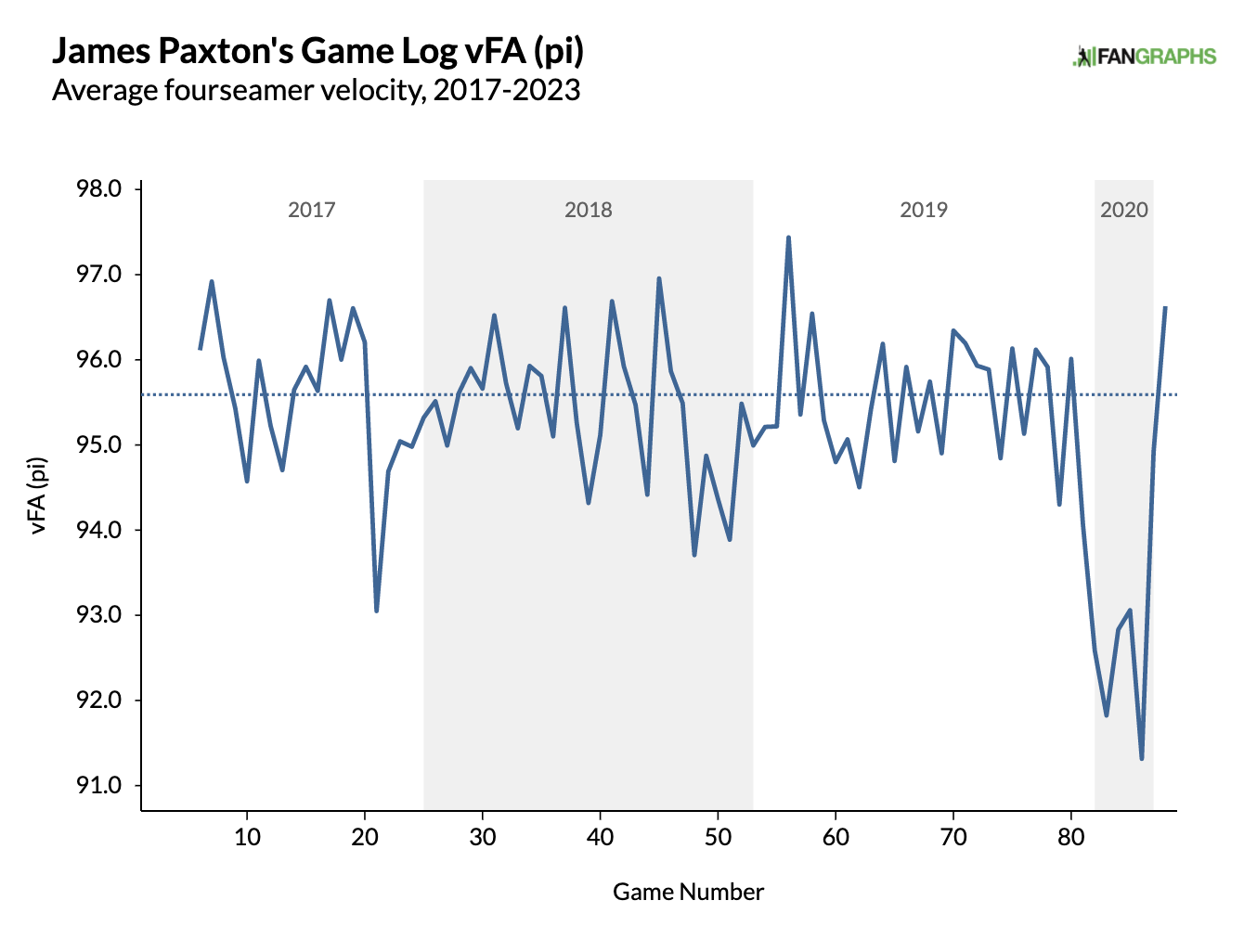 With Chris Sale showing recent improvements, Brayan Bello due to eventually breakout, and a combination of Tanner Houck, Garret Whitlock, and Nick Pivetta to fill out innings at the back end of the rotation, the Red Sox should remain competitive for the duration of the 2023 season — health provided.
While the Padres have performed better against lefties than righties this season, their offense takes a bit of a hit against southpaws with Manny Machado on the IL. Boston has a top-10 offense against both righties and lefties.
I like the Red Sox in this matchup at +130 or better, but I also bet an Under 9 at open if the total floats back up, bet Under 9 to -115; otherwise, fire on the underdog.
Miami Marlins vs. San Francisco Giants
Sandy Alcantara vs. Anthony DeSclafani
First Pitch: 10:15 p.m. ET
I projected this total around 8.13 and was able to bet the opener on Friday morning at 7 (+100) — about a complete run below my price target, which I initially set at 8 (+100) but would now put at Over 8 (+104) or 7.5 (-114).
Although we have cool temperatures at Oracle Park on Friday (58 degrees at first pitch), the wind is blowing out (12 mph to left-center field). Sandy Alcantara (4.34 xERA) continues to struggle and will have to face a Giants offense that ranks as a top-seven unit against right-handed pitching (112 wRC+), compared to 24th against lefties.
Although his strikeout and walk rates, called strike plus whiff rate (CSW%), have held steady relative to previous seasons, Alcantara is generating far fewer ground balls or pop-ups (combined 65% in 2022, 50.1% in 2023) and less weak contact as a result. His BABIP (.270 career) has risen toward the league average, and even though his 60% strand rate should improve, Alcantara is trending away from his Cy Young form.
The Marlins are in their lesser split against Anthony DeSclafani (3.94 xERA), who has rebounded after a down 2022 season. Miami ranks 11th against lefties (111 wRC+) but falls to 25th against righties (85 wRC+) and is currently without its best left-handed bat in Jazz Chisholm Jr. (career 117 wRC+ vs. righties, 63 wRC+ vs. lefties).
On paper, the starting pitching matchup is closer than expected, and the Giants have a distinct offensive advantage. I favor San Francisco in both halves of this matchup. Bet the Giants' F5 line to -125 and their full game line to -120, in addition to the Over.
Zerillo's Bets for Friday, May 19
For additional bet notifications, follow me in the Action Network App. 
Boston Red Sox / San Diego Padres, Under 9 (-110, 0.5u) at DraftKings (bet to -115)
Boston Red Sox (+130, 0.5u) at WynnBet (bet to +130)
Cleveland Guardians (+145, 0.5u) at WynnBet (bet to +134)
Kansas City Royals (+120, 0.5u) at WynnBet (bet to +120)
Minnesota Twins F5 (-125, 0.5u) at BetMGM and (-135, 0.5u) at DraftKings (bet to -160)
Oakland Athletics (+225, 0.25u) at WynnBet (bet small to +225)
Pittsburgh Pirates (+150, 0.5u) at WynnBet (bet to +150)
San Francisco Giants F5 (-114, 0.5u) at WynnBet (bet to -125)
San Francisco Giants (-118, 0.5u) at FanDuel (bet to -120)
San Francisco Giants / Miami Marlins, Over 7 (+100, 1u) at DraftKings (bet to 8, +100 but reduce risk above 7.5 -105)
Seattle Mariners (+130, 0.5u) at WynnBet (bet to +129)
St. Louis Cardinals (+120, 0.5u) at DraftKings (bet to +115)
St. Louis Cardinals / Los Angeles Dodgers, Under 9 (-115, 0.5u) at DraftKings (bet to -115)
How would you rate this article?
This site contains commercial content. We may be compensated for the links provided on this page. The content on this page is for informational purposes only. Action Network makes no representation or warranty as to the accuracy of the information given or the outcome of any game or event.