MLB Player Breakdown: Time to Buy Mariners OF Jarred Kelenic's Hot Start
Credit:
Steph Chambers/Getty Images. Pictured: Jarred Kelenic
The Action Network's MLB analysts dive into some of MLB's best, worst and most interesting characters, breaking down their past, current and projected performance to see if there's any betting value surrounding that player or his team.
Today's iteration is on Mariners outfielder Jarred Kelenic.
Background
Jarred Kelenic was once considered one of baseball's top prospects and expected to be a future star. The New YorkMets drafted Kelenic out of his high school in Wisconsin with the sixth overall pick in 2018. He was widely considered the best high school bat in the draft and his combination of power and average at the plate, with speed and arm strength in the outfield profiled him as a star center fielder.
A few months later, Kelenic was traded to the Seattle Mariners as the cornerstone piece of the deal for Robinson Cano and Edwin Diaz. He entered 2019 as a Top 100 prospect in baseball and was named to the 2019 Futures Game while quickly working his way from Low-A to High-A to Double-A ball. Kelenic hit 23 home runs across the three levels and hit .291 with a .904 OPS.
With the cancellation of the 2020 minor league season due to the pandemic, Kelenic spent the summer at Seattle's training camp but did not appear in any games. Expectations were sky-high coming into 2021 for Kelenic. He was ranked as the No. 4 prospect in all of baseball, one spot ahead of his teammate, Julio Rodriguez.
There was a lot of drama surrounding Kelenic into 2021 after comments surfaced of the Mariners CEO appearing to admit that Kelenic was being kept in the minor leagues to start the year in order keep him under team control for an extra year before he would reach free agency. After starting the year in Triple-A, Kelenic eventually earned his first call-up on May 13 and made his MLB debut that night.
That is when the Kelenic roller coaster began. In 2021, he played 30 games in Triple-A and 93 in the major leagues. The outfielder hit .320 with a .414 wOBA in the minor leagues but managed an average of just .181 with a .270 wOBA in the big leagues.
The next year was more of the same for Kelenic. He raked in the minor leagues and struggled in the majors. Every time he earned a call-up it would look like he forgot how to hit a baseball. From the beginning of 2021 to the end of 2022, Kelenic hit .302 with 27 home runs and a .394 wOBA in 116 Triple-A games and managed just a .168 average with 21 home runs and a .260 wOBA in 147 games up with the Mariners.
New and Improved
This offseason, however, everything changed. For the first time since being drafted, a frustrated Kelenic did not return home to Wisconsin during the offseason. Instead, he spent the winter in Arizona, completely overhauling his swing and approach with the help of hitting coaches Tim Laker and Craig Wallenbrock.
The main focus Kelenic needed to work on was staying inside the ball; being able to scoop low pitches into the air and remaining true on inside pitches, sending them to centerfield instead of pulling a weak groundball or lazy pop up.
The first thing Kelenic did was change his bat. Initially, he was very reluctant, but ultimately switched to a "hockey-puck knob" that guys like Paul Goldschmidt and Nolan Arenado use. This style of knob shifts the center of that bat's mass closer to the batter's hands. This makes it easier to stay inside on the ball and produced immediate results on Kelenic's exit velocity. Kelenic actually uses his old bat during batting practice still for a more dramatic difference during games, similar to a batter using a donut weight in the on-deck circle.
The next adjustment was fixing Kelenic's stance. Compared to his previous setup, Kelenic now stands up taller in the box and relaxes the bat on his shoulder at the initial setup. Kelenic's stance used to be very stiff and tense, but after working out with Mookie Betts, he started to keep his hands inside more and added a quick hitch with his hands as the pitcher started his windup. This adjustment has given Kelenic more rhythm and athleticism to his swing.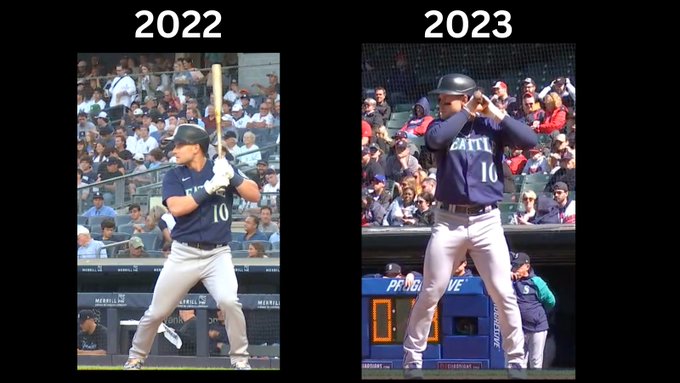 With Kelenic's looser approach and more fluid motion, he has been able to load into position quicker, while keeping his hands in close to help him stay inside the baseball, making more consistent contact.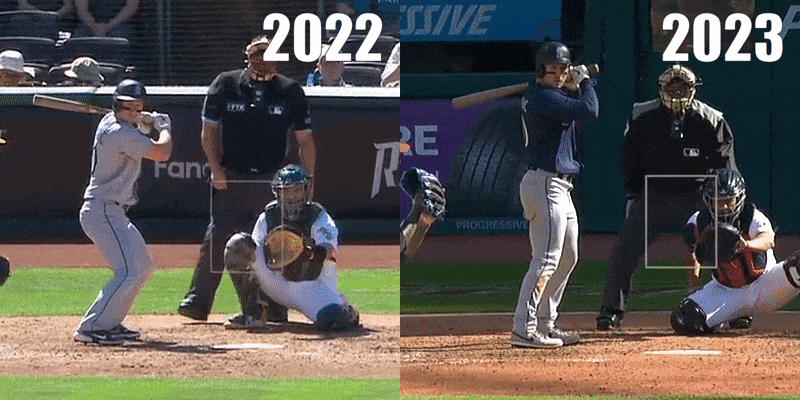 GIF via CBS Sports
The new setup led to the next correction, his swing path. Kelenic's initial swing was great for hitting fastballs up in the zone. During the 2021 and 2022 seasons, Kelenic hit .207 with 14 home runs when facing fastballs and .129 with three home runs against breaking balls.
He tended to throw his top hand to the ball too aggressively, increasing the likelihood of weakly pulled groundballs. By keeping his barrel up and staying in the zone longer, he can stay inside the ball and use the whole field better. It also helps him adjust his swing to the plane of the ball better, giving him the ability to scoop off-speed pitches at the bottom of the zone up into the air, or remain on-top of pitches up in the zone to avoid weak pop ups.
The Results
The results of Kelenic's new swing were evident right away during spring training. Kelenic finished the spring batting .353 with a 1.095 OPS, four home runs and 10 RBI in 19 games. His new approach quickly turned heads and he was named the Opening Day starter in left field for Seattle.
For many people, the moment it became clear we were seeing a brand-new Kelenic came about 10 games into the season. During a three-game set in Chicago from April 10-12, Kelenic went 5-for-9 with three home runs.
Through Sunday's games, Kelenic is batting .298 with a .927 OPS, .397 wOBA, and a 160 wRC+, which ranks 12th in the league. He already has seven home runs this year, tying last year's mark in 25 fewer games.
Outside of the clear statistical boost, everything about Kelenic's approach has produced an improvement and an indication that the results are here to stay. He has improved his hard-hit rate from 35% to 55% this year and his sweet spot percentage from 27.2% to 39.5%.
Kelenic's average exit velocity is up from 86 to 92.4 mph. He ranks 23rd in the league in average exit velocity and is 12th in hard-hit percentage.
The increased sweet-spot rate has resulted in more hard-hit line drives. In the past, Kelenic often produced either weakly hit groundballs or pop flies. He has increased his line-drive rate from 16.5% to 30.3% and is hitting for much more power, despite cutting his average launch angle nearly in half from 18.0 degrees to 9.9 degrees. He has a popup percentage of just 1.3%, seventh best in the league.
Kelenic's ability to stay inside the ball, making more consistent contact with the sweet spot of the barrel has allowed him to better use the entire field. Kelenic has a 230 wRC+ on balls hit to center field, the third-highest mark among all left-handed hitters, behind only Shohei Ohtani and Matt Olson. Compare his spray charts from last year to where he sits now, to see how much more effective he has been using the entire field, despite playing one-third of the games.
2022: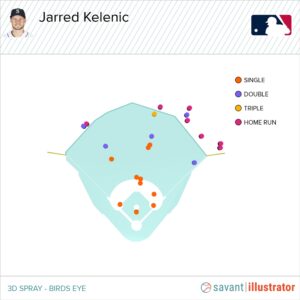 2023: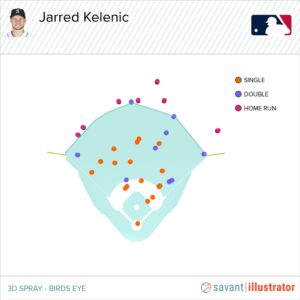 Another area we have seen Kelenic improve is his ability to hit all pitches. He is still crushing fastballs, hitting .351 with four home runs and a .474 wOBA against them. But he has raised his average against breaking balls from .057 to .222 this season. He has a .325 wOBA with three home runs against breaking pitches, matching the number of homers he had in his entire career off breaking balls before this year.
His upright stance and inside-hand position have allowed Kelenic to excel against left-handed pitching this season. In 2021 and 2022, Kelenic hit much better against right-handed pitchers, as most left-handed hitters do, especially ones that struggle against breaking balls.
This season though, Kelenic is actually batting just .282 with a .888 OPS against righties, compared to a scorching .360 average and 1.087 OPS against left-handed pitchers. In fact, he has the best wOBA and wRC+ for any left-handed hitter against left-handing pitchers in the league.
What This Means
The Mariners appear to have two stars cemented in their outfield, both under the age of 24, with Kelenic and Rodriguez. Last year's acquisition of Jesse Winker did not work out as Seattle had hoped, and the Mariners finished the year ranked 21st in batting average from their left fielders. Prior to last year, Seattle had not had a consistent presence play more than half of a season in left field since Denard Span in 2018. Winker was just the first left fielder to play 100 games in left since Dustin Ackley in 2014.
Kelenic's breakout gives Seattle a cornerstone in left field and another young star to continue to build around. Especially with Rodriguez starting the year a bit slow in his sophomore campaign, Kelenic has been there to keep things afloat. He leads the team in hits, doubles, home runs, wOBA, wRC+ and WAR. He has clearly been the team MVP through the first 35 games.
From labeled a bust through his first two seasons, Kelenic appears on his way to his first All-Star selection. He was named to MLB's Team of the Month for April. With his new approach at the plate and revamped swing, every advanced metric indicates that Kelenic's early success is here to stay.
Betting Value
If you are looking for a betting takeaway from Kelenic's new success, I think he creates value on the Mariners as a whole. Seattle currently ranks sixth in the league in team ERA and fourth in team xFIP.
Robbie Ray is out for the season, but Luis Castillo has been terrific and young arms Logan Gilbert and George Kirby have a ton of upside. Top prospect Bryce Miller was recently called up to continue their youth movement on the mound. Seattle has a terrific bullpen to backup their young arms as well.
Hitting has been the early problem and a large reason Seattle finds themselves sitting fourth in the division standings. They rank 23rd in team wOBA and 19th in wRC+. The reason for this has mainly been the slow starts from former All-Stars Rodriguez and Ty France.
This Seattle offense is going to start performing up to expectations eventually. They rank 15th in xwOBA and have the fourth biggest difference in xwOBA and wOBA and second biggest difference in average and xBA, indicating they have not gotten the results they should be. All nine of their regular starters have an xwOBA higher than their current wOBA.
Seattle sits just three games out of a playoff spot, with essentially their entire lineup underperforming. Eventually, Rodriguez and company are going to get going and give Kelenic some help at the plate. This is a team I am looking to buy going forward.
The emergence of Kelenic gives Seattle three All-Star-level players at the top of their lineup, followed by Eugenio Suarez, who has hit at least 30 home runs in the four full seasons, but has just three this year. Jump on the Mariners bandwagon now and get ready for these bats to get going.
If you are looking to target Kelenic specifically, he is usually a good bet for total base props. His combination of hitting for power and average gives him multiple ways to cash your bet. He has at least two total bases in 15 of his first 32 games this year.
His reverse splits this year make him a solid bet against either righties or lefties, but I would definitely look to attack pitchers that throw mostly fastballs as he continues to crush fastballs, ranking top 25 in xSLG and hard-hit rate against them.
It is time to once again start viewing Kelenic as the talented player that made him a top 10 pick and a former top prospect. He is still only 23 years old, and his retooled approach and revamped swing have him on the track to being one of the game's best left-handed hitters for the foreseeable future.
How would you rate this article?
This site contains commercial content. We may be compensated for the links provided on this page. The content on this page is for informational purposes only. Action Network makes no representation or warranty as to the accuracy of the information given or the outcome of any game or event.