MLB Playoff Picks, Projections, Odds for Guardians vs Yankees, Padres vs Dodgers
Credit:
Wally Skalij/Los Angeles Times via Getty Images. Pictured: Julio Urias
Tonight's MLB postseason slate continues with Guardians-Yankees and Padres-Dodgers.
These two Game 1s present plenty of betting opportunities, and our analyst has you covered.
Continue reading for how to bet tonight's Division Series games as part of the MLB playoff slate.
Throughout the Major League Baseball playoffs, I will provide a daily breakdown summarizing my thoughts on both futures and individual games for that day.
Below, I will address how to handle betting on these playoff series, whether on the series moneyline or a game-by-game basis, while using my daily MLB Model projections.
You can find my projections for every MLB game in the Action Network App (on both the PRO Projections tab and the game pages) and our Projections Hub (which you can bookmark).
You can also shop for the best lines on our odds page.
Using my projections, where can we find actionable value on Tuesday?
Series Moneyline Corner
First, let's take a look at my projected series prices for the Divisional Round and discuss the bets that I have already placed:
As I highlighted on Sunday, I placed Divisional Series bets on the Yankees (1.25u at -170), Phillies (1u at +180), and Mariners (1u at +210) shortly after those markets opened.
You can bet the Yankees up to -177, the Phillies down to +160 and the Mariners to +178; any of those bets represents an edge of at least two percent compared to my projections.
You can still find actionable prices on the Mariners and Phillies in the market (+220 and +174 at Caesars).
Conversely, the Yankees vs. Guardians price has moved fairly substantially since it opened. I would now look to bet Cleveland at +212 or better if the price continues to widen.
Concerning the Padres/Dodgers series, I don't see any value at current market odds; however, I would look to bet the Dodgers up to -179 or the Padres down to +214.
Philadelphia Phillies vs. Atlanta Braves, 1:07 p.m. ET
Ranger Suarez vs. Max Fried (full projections here)
The Braves won 11 of 19 regular season meetings between these two teams, though only by a margin of three runs (88-85) across those contests.
Ranger Suarez (3.78 xERA, 3.82 xFIP, 4.11 SIERA) started five of those games (28 IP, 3.21 ERA, 23 H, 12 BB, 23 K), while Max Fried (2.85 xERA, 3.09 xFIP, 3.31 SIERA) started four (23 IP, 3.13 ERA, 23 H, 6 BB, 25 K).
Suarez has better career numbers against the respective opponent, holding Braves hitters to a .640 OPS in 130 plate appearances. Conversely, Fried has permitted a .747 OPS to Phillies bats across 215 plate appearances (including 11 at-bats by Phillies pitchers).
While I generally disregard batter vs. pitcher data — since the sample sizes are often so tiny — there's a ton of familiarity between these two divisional rivals and in two of the other three divisional round series, which also feature familiar opponents squaring off.
Tuesday's Braves-Phillies contest could be a sneaky slugfest, with both teams residing in their superior offensive split.
During the season, the Braves ranked fifth (118 wRC+) and the Phillies sixth (115) against southpaw pitching. However, the Phillies (123) overtook the Braves (115) in the two months after the trade deadline.
Conversely, Atlanta featured the better offense against right-handed pitching both over the entire season (108 vs. 102) and after the deadline (112 vs. 109); so keep that in mind when the Phillies roll out Zack Wheeler, Aaron Nola and likely Kyle Gibson later on in this series.
The Braves rate as the better defensive club (30 Defensive Runs Saved, 11th), though, as I have mentioned, the Phillies (-34, 25th) improved their projection substantially in the second half of the season, and now rate as a slightly above-average defensive unit. And they played stellar defense in their series win against the Cardinals.
The totals for Tuesday's matchup opened at 3 for the first five innings (F5) and 6.5 for the full game. I bet the Overs at those numbers and would play them to 3.5 (-108) and 6.5 (-113), respectively.
By Monday afternoon, the totals had climbed to 3.5 (-120) and 7 (-120), respectively. Some books even moved the full game total to 7.5 at plus money.
While I'm encouraged by my CLV on both of those bets, I wouldn't blindly tail my Over wagers beyond those price targets; and I would recommend that you lay off the totals unless the numbers come back down.
Concerning the moneyline, the Phillies opened as +165 underdogs (37.7% implied) and have moved up to +175 (36.4% implied) as of writing. I would wait for +179 (35.8% implied) or better to back the Phillies at a two percent edge compared to my projection (+164, 37.8% implied).
Seattle Mariners vs. Houston Astros, 3:37 p.m. ET
Logan Gilbert vs. Justin Verlander (full projections here)
The Astros won 12 of the 19 meetings between these AL West rivals in 2022, outscoring the Mariners by eight runs in those contests.
Justin Verlander (2.66 xERA, 3.23 xFIP, 3.09 SIERA) started six of those games and dominated most of those matchups; recording a quality start in five outings (42 1/3 IP, 2.34 ERA, 33 H, 6 BB, 43 K).
While current Mariners' hitters own a .712 OPS against Verlander, Carlos Santana (19-for-84, 9 HR, .927 OPS) did most of that damage when the pair faced off earlier in their careers in the AL Central.
Logan Gilbert (4.11 xERA, 3.78 xFIP, 3.84 SIERA) made four starts against Houston this season and pitched well (25 IP, 2.52 ERA, 21 H, 6 BB, 22 K). Current Astros hitters own a .750 OPS against him in 133 plate appearances.
Gilbert owns reverse splits (3.44 xFIP vs. lefties, 4.08 vs. righties in 2022) and will face an Astros lineup that features seven right-handed bats in addition to lefties Yordan Alvarez and Kyle Tucker; both of whom rate above-average against left-handed pitching. Alvarez has neutral splits for his career.
Houston's offense fared better against lefties (124 wRC+, 2nd) than righties (107, 9th) this season and surged after adding Trey Mancini and Christian Vazquez to their offense at the deadline (146 wRC+ vs. lefties, 100 vs. righties).
Conversely, Seattle's offense fares slightly better against lefties.
The Astros (66 Defensive Runs Saved, 5th) also rate as the better defensive team. The Mariners (+36, 9th) have gotten a massive lift from Cal Raleigh (+14) behind the plate; and they'll need him to steal borderline strikes against a Houston offense that received fewer pitches in the strike zone (40%) than any other team this season.
Gilbert and Verlander overachieved relative to their underlying metrics this season, and it's difficult to say either is more overdue for negative regression.
I need to point out Verlander's uncanny ability to strand baserunners, which has stayed well-above league average since 2016: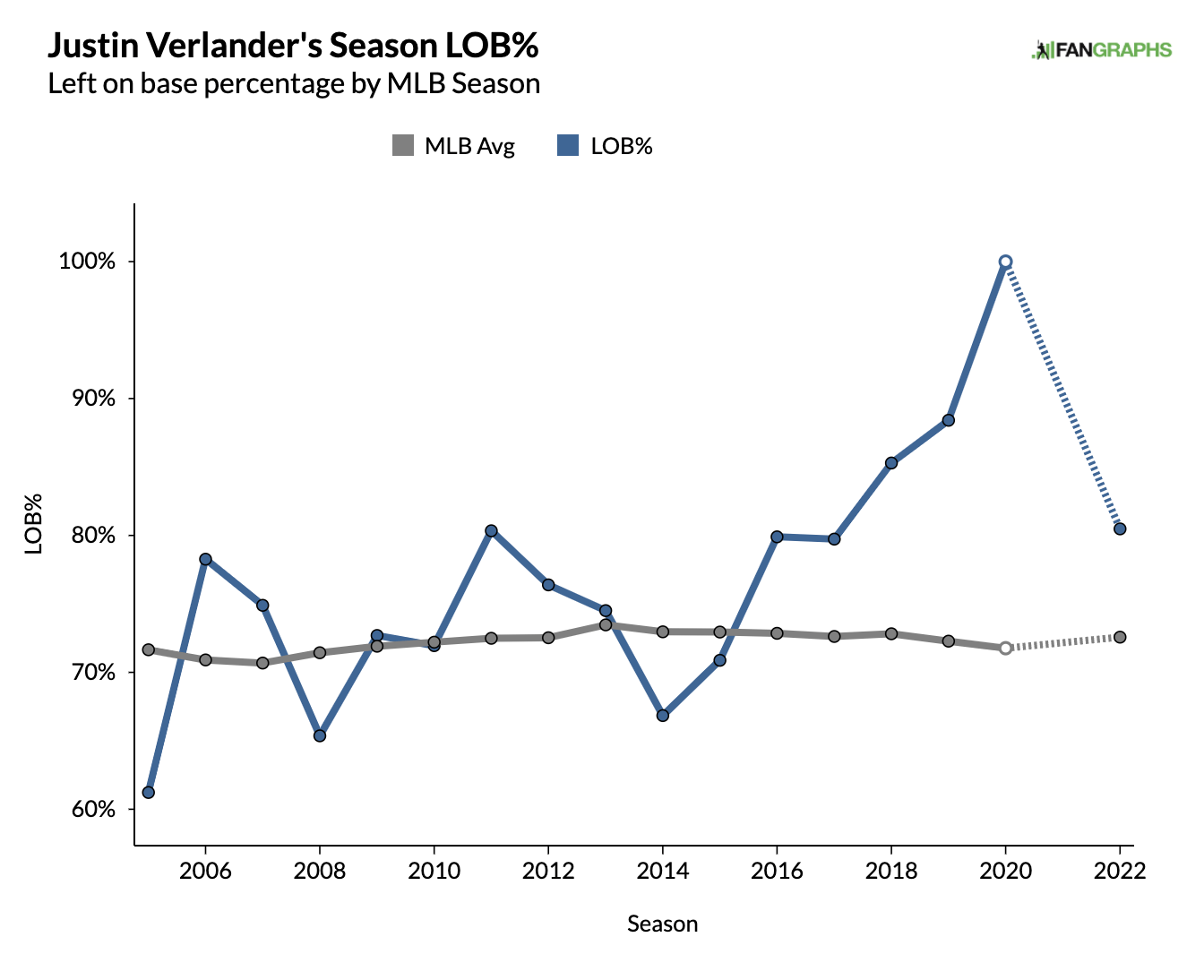 Great pitchers excel at stranding baserunners and stifling rallies. Verlander (82.5%) ranks third in that category since 2016, behind only Cristian Javier (83.5%) and Josh Hader (82.9%) and ahead of Max Scherzer (81.4%), Raisel Iglesias (81.2%), Clayton Kershaw (80.7%), Alek Manoah (80.3%) and Jacob deGrom (80%). That's quite a list of arms — and a good time to point out that Javier is one of my favorite sleeper Cy Young candidates for 2023.
Seattle has an excellent bullpen, and I don't necessarily see an advantage for either team in the late innings (3.18 v. 3.23 Model Weighted ERA). The full game moneyline aligns with my projections, and I would need +208 (34.5% implied) to bet Seattle at a two percent edge compared to my number.
However, I see an advantage for Houston in the first half, and I would bet Verlander's F5 moneyline up to -213 (68% implied) at a two percent edge compared to my F5 projection (70%).
I don't project actionable value relative to the totals in either half of Tuesday's matchup.
Cleveland Guardians vs. New York Yankees, 7:37 p.m. ET
Cal Quantrill vs. Gerrit Cole (full projections here)
Crucially, Cleveland had two days off to rest its bullpen after using seven relievers for 150 combined pitches in Game 2 against Tampa Bay while deploying Emmanuel Clase in both Wild Card Round victories.
Though they lost Nick Sandlin (3.36 xERA) for the rest of the postseason with a shoulder strain, the Guardians have featured one of the best bullpens in history since mid-July. And I project them to have a distinct bullpen advantage against the Yankees (2.94 to 3.33 Model Weighted ERA).
However, they are at a disadvantage everywhere else in this series, particularly in Game 1, with Gerrit Cole (3.31 xERA, 2.78 xFIP, 2.77 SIERA) facing Cal Quantrill (4.31 xERA, 4.39 xFIP, 4.50 SIERA).
Although Cleveland can keep the Yankees in their lesser offensive split (113 wRC+ vs. RHP; 119 vs. LHP), the Guardians will largely stay in their superior split (104 wRC+ vs. RHP; 84 wRC+ vs. LHP) throughout this series.
However, the Yankees' offense is undoubtedly better. And New York is the far superior defensive team, finishing No. 1 in Defensive Runs Saved (+130); 42 runs clear of the next-closest team. While the Guardians play excellent defense (+79, 3rd), there is still a substantial gap in the season-long metrics and a projection gap worth about three percent for the Yankees' defense in my model.
Quantrill (3.38) outperformed his ERA by more than a run relative to his underlying metrics, while Cole (3.50) mostly got what he deserved this year.
Although the Yankees' ace allowed a career-high 33 home runs this season, Cleveland is not the team to take advantage of the long ball; ranking 29th with 127 home runs (0.78 per game) this season; and 29th in HR/FB rate (7.9%):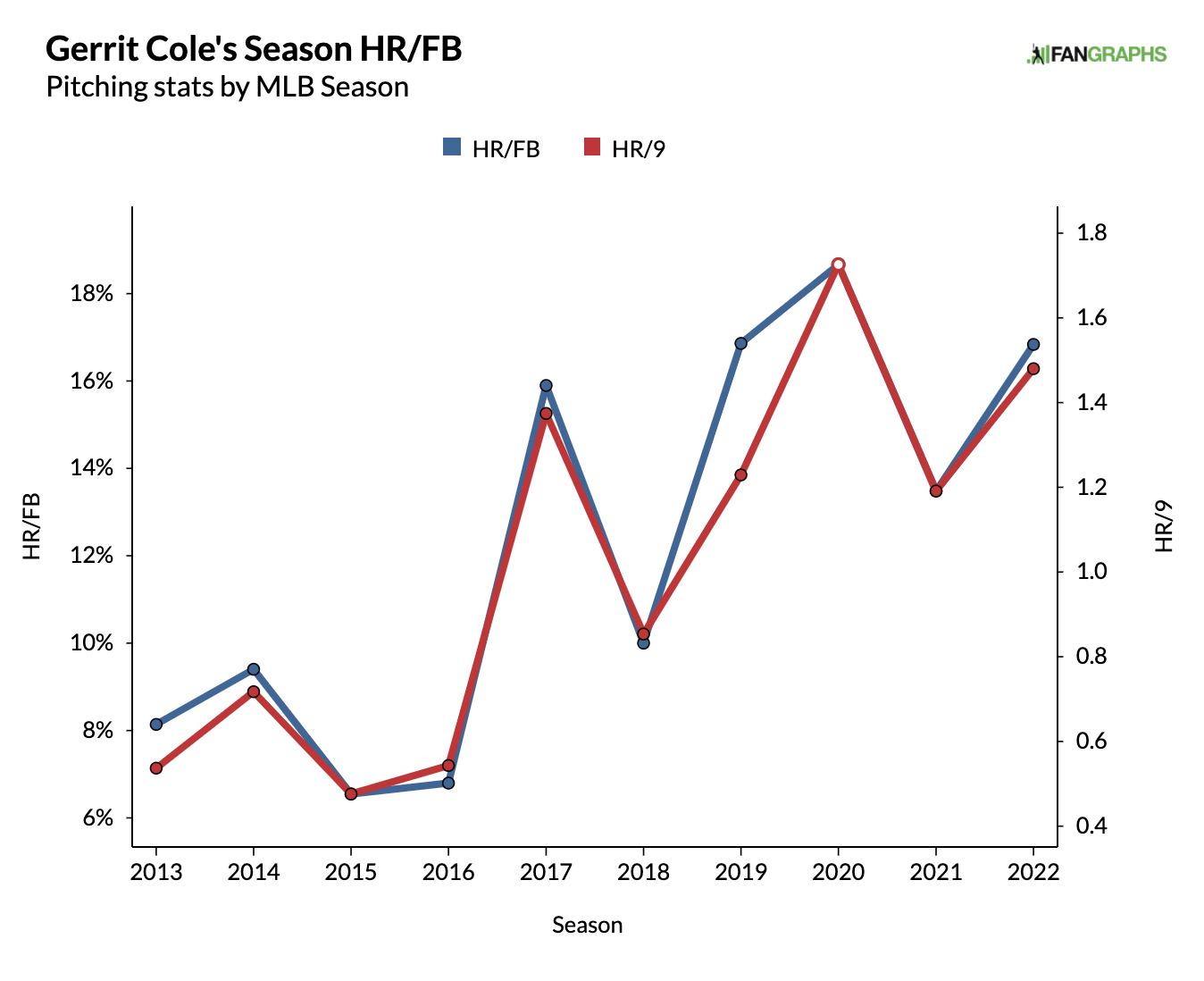 The Guardians will look to avoid the strikeout against Cole — with an MLB-best 17.3% strikeout rate against right-handed pitching. They should attempt to foul off pitches, rack up his pitch count and start wearing down the Yankees' bullpen early and often. Cleveland must win a war of attrition against the Yankees' pitching staff throughout a best-of-five series.
Still, it could be challenging to win a series by slapping singles against the Yankees. They feature three above-average defensive outfielders and stole more base hits than any other defensive unit in 2022.
Teams who hit more home runs in a postseason game tend to win, and you won't find a more stark power differential between the Guardians and the Yankees — who led MLB with 254 round-trippers (1.57 per game). The two teams also ranked fourth and 21st in slugging percentage.
Given their bullpen advantage, Cleveland could be worth betting on the live moneyline throughout this series once the games turn over to the relief pitchers.
Still, for Game 1, I projected the Yankees' F5 line at -226 (69.3% implied), and I would bet Cole's F5 line up to -206 (67.3% implied) at a two percent edge compared to my number.
Lastly, regarding the total, the run-scoring environment at Yankee Stadium on Tuesday should be about eight percent below the Park average, and I set the full game total at 6.3. You can bet the Under 7 to -116.
Or, if you'd prefer, target a Live Under 7.5 if there's some early scoring, with the expectation that these bullpens will lock down both offenses late.
San Diego Padres vs. Los Angeles Dodgers, 9:37 p.m. ET
Mike Clevinger vs. Julio Urias (full projections here)
The Dodgers won 14 of the 19 regular season matchups against the Padres this season, outscoring their southern rivals 109-47, or an average score of 5.74 to 2.47 per game.
Julio Urias (2.81 xERA, 3.81 xFIP, 3.66 SIERA) started four games and posted a 1.50 ERA (24 IP, 15 H, 10 BB, 18 K). Current Padres hitters own a meager .555 OPS against him, with Manny Machado (10-for-27, 4 HR, 1.229 OPS) doing most of the damage.
Mike Clevinger fared far worse against the opposition, allowing five home runs in three starts against the Dodgers (13 IP, 9.69 ERA, 16 H, 5 BB, 11 K).
The Dodgers had the top-ranked offense against right-handed pitching this season (122 wrC+), compared to the No. 8 offense against lefties (113). Both numbers declined after the trade deadline (120 and 104), and I expected the Padres to roll with southpaw Sean Manaea (4.05 xERA, 3.96 xFIP) to open this series.
Clevinger made 22 starts and tossed 114 innings after a two-year absence following Tommy John surgery. His fastball velocity dropped noticeably this year, and his command and effectiveness in his final 10 starts (5.1% K-BB%, 5.77 xFIP) dipped noticeably relative to his first 13 appearances (15% K-BB%, 4.14 xFIP).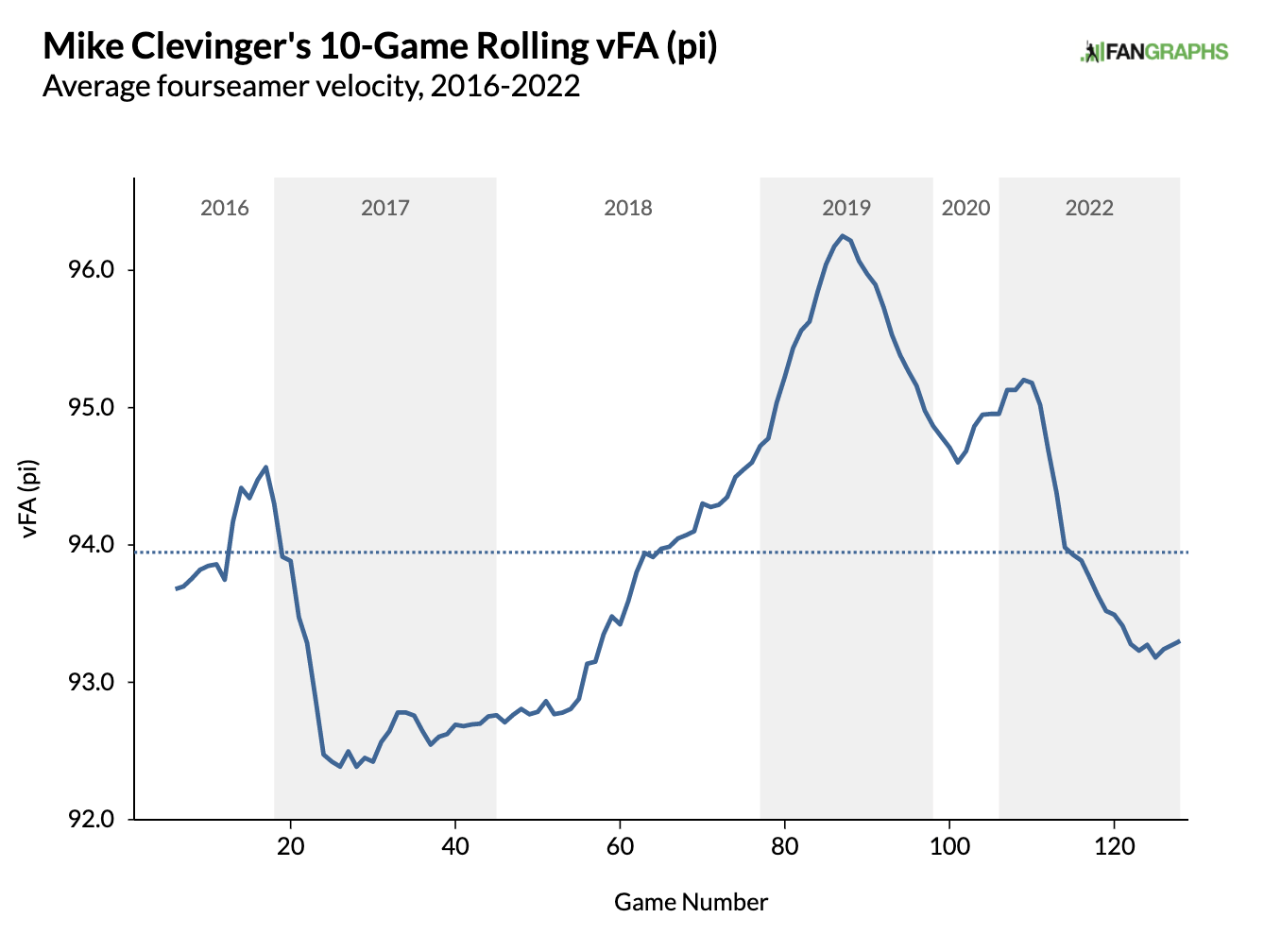 I'm admittedly shocked that he's starting Game 1 of this series and potentially putting the Padres in a position where they'll have to win three out of the final four games to advance to the NLCS. They'd be better served to go with a full bullpen game and see what happens from there with Yu Darvish, Blake Snell and Joe Musgrove lined up in Games 2-4.
I give the Dodgers the best bullpen of any team remaining in the playoffs (2.94 Model Weighted ERA). Still, the Padres aren't too far behind (3.24). And the difference between the respective bullpens is significantly smaller than the gap between Clevinger and Urias, for example.
The Dodgers also rated as the superior defensive team and finished second to the Yankees with 87 Defensive Runs Saved, compared to 8 for San Diego (19th).
It isn't easy to find an edge for the Padres anywhere in this series against a team that beat them by an average of more than two runs per game during the regular season.
I don't see value concerning the full game moneyline, but Clevinger is a prime fade candidate, and I would bet the Dodgers' F5 moneyline up to -206 (67.3% implied) at a two percent edge against my projection (69.3%).
Moreover, I bet the Dodgers F5 team total Over 1.5 (-150), and I like that up to 2 (-125), compared to a projection of 2.57. And I bet the F5 Over 3 (-120) and would play that up to 3.5 (-125) relative to a projection of 4.21.
Bets for October 11
Guardians/Yankees, Under 7 (-110, 0.5u at Pointsbet), bet to -116
Los Angeles Dodgers F5 Moneyline (-200, 0.75u at BetMGM), bet to -211
Los Angeles Dodgers F5 Team Total, Over 1.5 (-150, 0.5u at BetMGM), bet to 2 (-125)
Houston Astros F5 (-200, 0.75u at BetMGM), bet to -213
New York Yankees F5 (-200, 0.5u at BetMGM), bet to -207
Parlay (+125, 0.5u at BetMGM): Astros F5 (-200) & Yankees F5 (-200)
Padres/Dodgers, F5 Over 3 (-120, 0.5u at BetMGM), bet to 3.5 (-124)
Phillies/Braves, F5 Over 3 (-135, 0.5u at BetMGM), bet to 3.5 (-108)
Phillies/Braves, Over 6.5 (-113, 0.5u at BetMGM), bet to -113
How would you rate this article?
This site contains commercial content. We may be compensated for the links provided on this page. The content on this page is for informational purposes only. Action Network makes no representation or warranty as to the accuracy of the information given or the outcome of any game or event.