Phillies vs Astros Odds, Picks, Expert Projections for World Series Game 1
Credit:
Mary DeCicco/MLB Photos via Getty Images. Pictured: Aaron Nola
Game 1 of the World Series is tonight as the Philadelphia Phillies and Houston Astros meet to decide the title.
It's a battle of aces with Aaron Nola taking the mound for Philadelphia, opposed by Houston's Justin Verlander.
Continue reading for our expert MLB analyst Sean Zerillo's full breakdown of the game, including his betting predictions.
Phillies vs. Astros Game 1 Odds
Throughout the Major League Baseball playoffs, I will provide a daily breakdown summarizing my thoughts on both futures and individual games for that day.
Below, I will address how to handle betting on these playoff series, whether on the series moneyline or a game-by-game basis, while using my daily MLB Model projections.
You can find my projections for every MLB game in the Action Network App (on both the PRO Projections tab and the game pages) and our Projections Hub (which you can bookmark).
You can also shop for the best lines on our odds page.
Additionally, make sure to check out my World Series props preview.
Using my projections, where can we find actionable value on Friday?
Series Moneyline Corner
First, let's take a look at my projection for the 2022 World Series:
I went into further detail in my series betting preview, but to reiterate the main points:
If you don't have a World Series future on the Phillies, consider betting their series price at +162 (38.1% implied) or better, at a two percent edge compared to my projection (40.1%). You can find a +200 (at WynnBET) on Philadelphia if you're interested in betting the series price before Game 1
If you're looking to hedge Phillies futures, wait until after Game 2 (if at all).
The Phillies' series spreads of +1.5 games (to -138) and -1.5 games (to +270), in addition to their exact result "Win Series 4-2" Prop (to +650), are my favorite series props.
Phillies vs. Astros, 8:03 p.m. ET
Aaron Nola vs. Justin Verlander (full projections here)
Starting Pitching
Two frontline starters take the ball in Game 1 of the World Series. Justin Verlander and Aaron Nola both ranked as top-10 pitchers (fifth and ninth, respectively) in expected ERA (xERA) among a group of 140 pitchers who tossed at least 100 innings this season.
Don't expect a ton of free passes; the two also ranked in the top 10 in walk prevention (Nola 2nd, Verlander 9th in BB%).
Underlying metrics indicate that Nola had a far unluckier year but potentially a more efficient one than the AL ERA leader. Nola's actual ERA (3.25) was a half-run higher than his expected indicators, while Verlander (1.75 ERA) outperformed his own indicators by a run or more.
Nola got strike one more frequently (70% vs. 62%) and generated called strikes at a higher rate (19.2% vs. 15%). And with Verlander's decreased whiff rate (down from 16.1% in 2019 to 11.6% this season), Nola misses more bat now, too (12.6%).
Verlander has posted both a low BABIP (.278) and home run rate (0.92 HR/9) alongside a high strand rate (75.4% LOB%) throughout his career. But his 2022 season was an outlier, even by his standards.
Stellar results in those three categories (.240 BABIP, 0.62 HR/9, 80.5% LOB%) led to a career-best 1.75 ERA, the lowest full-season mark in MLB since Pedro Martinez's prime (1.74 in 2020).
After missing nearly two full seasons because of Tommy John surgery, Verlander returned with a similar pitch mix, velocity and overall results this year as he had in 2019 (identical 2.66 xERA).
Still, underlying metrics indicate regression and inevitable decline for the future Hall of Famer.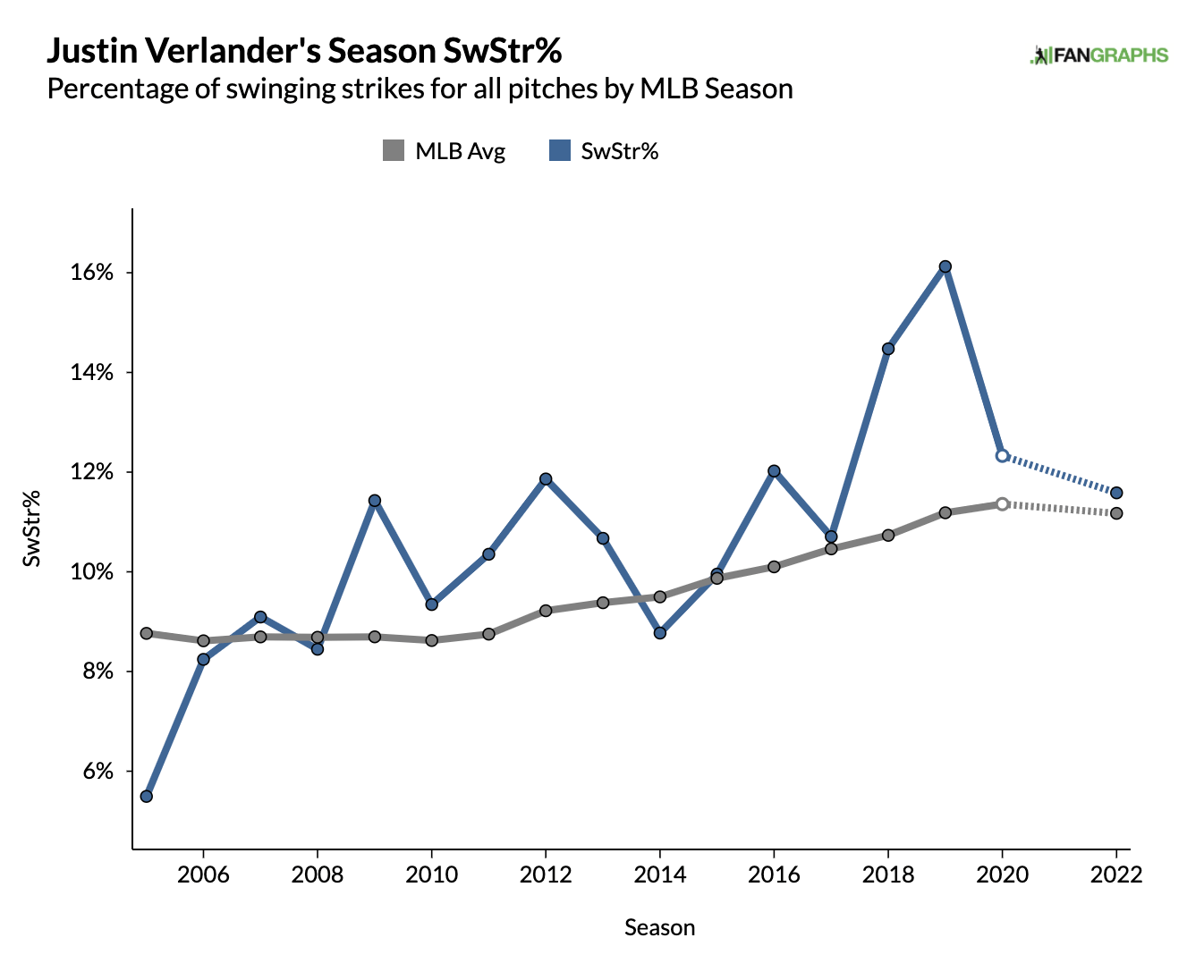 While the velocity has returned, and Verlander is throwing harder than any 39-year-old pitcher in history, his swinging strike and called rate rates have noticeably dipped relative to pre-injury levels.
Still, while Verlander is a wizard at turning contact into outs and preventing baserunners from scoring, a more significant percentage of balls in play — which there are now more of — should have gone for hits this season, and his HR/FB rate (6.2%) sat at its lowest mark since 2015, and nearly half his career number (11.8%).
That HR/9 rate was the second-lowest of Verlander's career (0.56 in 2010). I'm still not buying into the idea that he can suddenly prevent home runs without changing his pitch mix while also missing bats at a reduced rate, particularly since he's had difficulty controlling homers since 2016.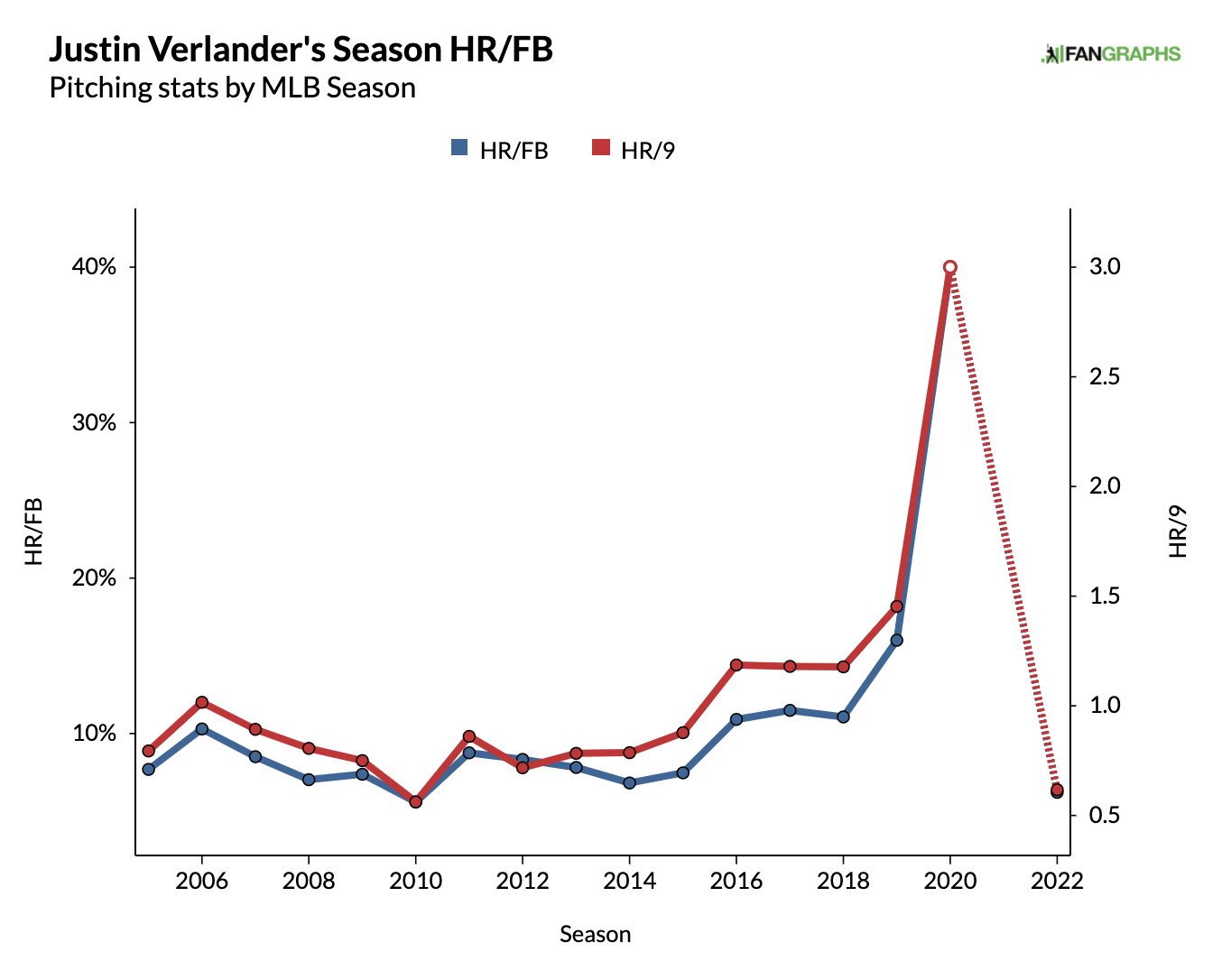 We'll see if the Phillies can take Verlander deep in the World Series.
He got beat up by the Mariners in Game 1 of the NLDS (22% CSW%) but responded with a dominant effort against the Yankees in Game 1 of the ALCS (38% CSW%).
His pitch mix is almost entirely four-seam fastball, slider and curveball. Still, that slider usage is tilted heavily toward righties, with an even split on the breaking ball usage against lefties.
His velocity has held steady in these playoffs, despite handling an extended workload after a significant injury.
Interestingly, the velocity levels for both Nola and Zack Wheeler have ticked up late in the year, as though it were planned.
Nola averaged 92.8 mph on his heater during the regular season but has clocked at 93.9 mph in his playoff-clinching start against the Astros, 93.8 mph against the Cardinals, 94.3 mph against the Braves and 94.6 mph against the Padres.
He has more of a varied pitch mix than Verlander but prefers a four-seam, curveball, and sinker mix vs. righties, with increased changeup usage against lefties.
Lineups and Defense
Below are my projected lineups for Game 1, alongside their 2022 splits and defensive runs saved per 9 innings:
Both offenses are better against lefties than righties. The Astros had superior numbers against righties for the season (107 vs. 102 wRC+), but the Phillies surged past them after the trade deadline (109 vs. 100 wRC+).
Whatever advantage the Phillies might have offensively is negated by the defensive discrepancy between these two teams.
The Astros ranked third in both Defensive Runs Saved and Outs Above Average. The Phillies ranked 25th and 29th by the same two defensive measurements, largely attributing a part of their positivity to pitcher defense.
Still, as I have repeatedly mentioned, the Phillies improved their defensive rating drastically in the second half, and I now rate them closer to league average. And while they have made a couple of mistakes in the playoffs, there have been many positive plays too.
The easiest way to hurt them is to hit the ball to Nick Castellanos and Kyle Schwarber in the corners.
The Phillies potentially have the defensive advantage at three critical positions up the middle — catcher, second base, and center field — and Rhys Hoskins rated slightly better than Yuli Gurriel this year too. Castellanos and Schwarber rate so poorly that they drag the overall team rating down, but when the ball doesn't go their way, the Phillies are competent defensively.
Regarding player props, Hoskins excelled against the fastball/slider mix that Verlander relies on against righties. At the same time, Bryson Stott destroyed curveballs, which Verlander likes to use more frequently against lefties.
Jose Altuve and Yordan Alvarez are the players I'd like to deploy against Nola. Each excelled against four-seamers and sinkers. Altuve also crushes curveballs, while Alvarez does a lot of damage against changeups.
However, I worry the Phillies will try to pitch around Alvarez to a degree; his prices have shortened dramatically after those heroic moments against the Mariners.
Bullpens
Below are my projected bullpens for this series alongside their 2022 splits. I expect Noah Syndergaard to potentially start Game 4 for the Phillies.
The Astros don't have a single left-handed pitcher in their bullpen, so Framber Valdez is the only left-handed reliever on their roster.
Some righties carry reverse splits (Hunter Brown, Hector Neris, Ryan Pressly), and they'll need those arms to record big outs against Schwarber and Bryce Harper.
The Phillies will have a pair of lefties (assuming Cristopher Sanchez replaces Brad Hand on the roster) and a reverse-splits righty in David Robertson to tackle Alvarez and Kyle Tucker, both of whom remain above-average hitters against same-sided pitching.
The Astros' bullpen is better when everyone is fully-rested (2.96 vs. 3.38 Model Weighted ERA for Game 1).
Still, the Phillies have some quality arms peaking at the right time, and Rob Thomson has done a masterful job at managing his staff down the stretch.
Venue and Umpire
Minute Maid Park rates as a slight pitcher's park and plays about four to five percent below the MLB average run-scoring environment (assuming the retractable roof is closed).
The park dimensions increase home runs to left field (into the Crawford Boxes) but severely reduce extra-base hits into the power alleys.
The Game 1 plate umpire is James Hoye, who owns a career 52.2% record to the Under (257-235). He has a more expansive strike zone than most umpires and should provide a slight boost to strikeouts.
Projection and Pick
I projected the Phillies as 46% underdogs (+117 implied) for the first five innings (F5) on Friday and as 44.7% underdogs (+124 implied) for Game 1.
You can place either of those bets down to +127 and +134, respectively, with either bet representing an edge of roughly two percent or more compared to my projection.
Furthermore, I would tack on some F5 spread (+0.5 runs) to -128.
Concerning the total, I bumped my projection down slightly (to 6.33) with Hoye behind the dish and would bet an Under 6.5 at +102 or better (or an Under 7 to -116).
And I wouldn't bet an F5 Under 3.5 past -106, so I doubt that play comes into range.
Bets for October 28
Philadelphia Phillies F5 (+135, 1u at BetMGM), bet to +127
Philadelphia Phillies (+150, 0.75u at WynnBET), bet to +134
Under 6.5 (+105, 0.5u at BetMGM), bet to +102
Philadelphia Phillies F5 +0.5 (-110, 0.5u at FanDuel), bet to -128
Add Phillies F5 +0.5 To Your Betting Slip at FanDuel Using QuickSlip!
How would you rate this article?
This site contains commercial content. We may be compensated for the links provided on this page. The content on this page is for informational purposes only. Action Network makes no representation or warranty as to the accuracy of the information given or the outcome of any game or event.