Yankees-Red Sox Expert Predictions: Our Staff's 3 Favorite Bets For London Series Game 2
Credit:
Steve Flynn-USA TODAY Sports. Pictured: New York Yankees shortstop Didi Gregorius (18) celebrates his run with his teammates at London Stadium.
The Yankees and Red Sox play the second game of their series in London at 10 a.m. ET on ESPN on Sunday.
Our MLB experts detail how they're betting the matchup.
Fans watching the first ever Major League Baseball game played in London saw some unusual things happen on Saturday. Between the 12 combined runs scored in the first inning and a final score that looked more like an NFL game in the UK, the only stat that was familiar was the game time — another four-hour marathon between the Yankees and Red Sox.
Now we have a game that opened with the highest over/under (15.5) since 2005 in an early Sunday morning tilt. Our MLB experts break down how their betting the second game of the London series.
Red Sox-Yankees Staff Bets
Sean Zerillo: Under 16.5 or Higher
Despite a combined 30 runs scored in Saturday's 17-13 shootout between the Yankees and the Red Sox, 11 out of the 18 half innings in the game finished scoreless as the runs came in bunches.
The two starting pitchers looked like they were having difficulty both with their grip on the baseball and their footing on the pitching mound, and neither made it out of the first inning.
One play that really struck me was Michael Chavis' dropped foul popup with one out and a runner on base in the top of the first inning. There is an insane amount of foul territory on this field, and you need your corner infielders and outfielders to be able range over to balls that they normally wouldn't consider going after.
Had Chavis reeled in that catch, Rick Porcello might have gotten out of the inning unscathed and Masahio Tanaka may not have tightened up as a result of his sitting on the bench for half of an hour while waiting for his turn to pitch.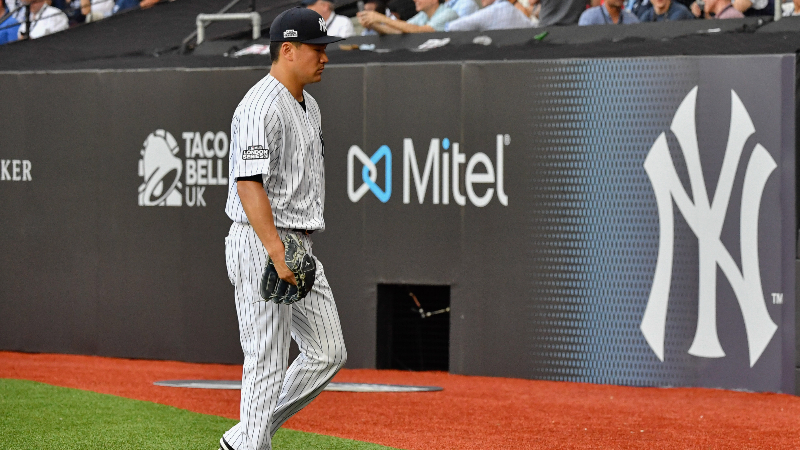 The direction of that game felt like it changed after that misplay, even in the moment.
Saturday's game total of 11.5 implied a park factor about 25% above league average in my projections, equivalent to an offensive environment somewhere between Texas and Colorado.
When Saturday's total sailed over before the Red Sox first inning had ended, Sunday's total was set up for some natural inflation. Sunday's total of 16.5 implies a park factor about 80% about league average in my projections.
They are in the midst of a heat wave in Europe, and these same two potent offenses will be meeting inside of the same bandbox park, but it should be a little cooler on Sunday and the relief pitchers (most of whom got work on Saturday) might have a better feel for the mound.
Both pitching staffs received extensive work on Saturday — but they also had two off days beforehand and will have an off day again on Monday too.
Therefore, I'm not particularly worried about rest and I expect both managers to have extremely quick hooks since they know how quickly things can turn on you in this type of environment.
I would wait while the public pounds the over on this game all morning, and look to play the under at its peak value just before the first pitch.
---
Mark Gallant: Under 16.5
I think this total is certainly an overreaction to a crazy game we saw on Saturday and should be at least a couple runs less in reality. The field isn't actually that small and, in fact, the gargantuan amount of space in foul ground could lead to a couple extra outs.
The weather will not be as favorable, either, and the FantasyLabs Weather Rating is down from 71 to 49 thanks to cooler temps.
My one concern is that the bullpens are taxed, but then again, they did have some extended rest thanks to the travel.
---
Stuckey: Under 16.5, Red Sox +110
I agree with the crew here on the under. Yes, the park has very hitter-friendly dimensions and a fast infield.
However, the ball isn't actually supposed to carry that well there and as Mark mentioned there is so much foul ground on both sides, which can lead to outs that would normally go into the stands in other stadiums. It will also be significantly cooler today than it was on Saturday.
I think this over/under should be around 14 — not potentially the first total to close above 15.5 this century:
Yankees-Red Sox total tomorrow is now at 16.5. We have not seen a total close at 16 or higher this century

— Stuckey (@Stuckey2) June 30, 2019
I also think the Red Sox have a little value with Rodriguez on the mound. I recently included him in an article I wrote about the unluckiest pitchers I'm looking to back.
The Red Sox lefty has a subpar 4.87 on the season but his xFIP sits almost a full run lower at below 4. He still has elite strikeout stuff and misses bats. He's just dealt with some misfortune on balls in play — despite having the lowest soft contact rate (23.2%) of all qualified starters across MLB. (He also has the fourth-lowest hard-hit rate). Rodriguez should have some positive regression coming his way.
Rodriguez has also had past success against these current Yankees — who, as a team, have struggled much more against lefties: .707 OPS vs southpaws (24th in MLB) vs. .825 against righties (second in baseball). Plus, Voit is expected to be out with an abdominal injury for the Bombers.
And for what it's worth, even though the game is 3,200 miles across the pond, Boston is the home team so will get to bat last which is a slight advantage.
How would you rate this article?