NBA Finals Series Player Props: Our Experts' Make the Case for Betting 10 Warriors-Celtics Picks
Credit:
Brian Babineau/NBAE via Getty Images. Pictured: Jayson Tatum #0 of the Boston Celtics, Andrew Wiggins #22 of the Golden State Warriors.
The NBA Finals are here, and since this is basketball's Super Bowl, sportsbooks offer a plethora of series-long props and bets from every angle. Action Network's prop kings — Brandon Anderson and Joe Dellera — are here to break down the best plays.
Will the favored Golden State Warriors run up the score with a barrage of 3s and their usual Stephen Curry magic? Or could the underdog Boston Celtics use their elite defense to stem the attack and turn the tide?
Anderson and Dellera talk through some series angles they're expecting and how that informs some of their favorite series-long player props below.
All lines as of publishing on Wednesday, June 1.
The Warriors Will Shoot a TON of 3-Pointers
Brandon Anderson: All these years the Warriors have had the reputation of bombing a ton of 3s, but the reality is that teams like the Rockets and Jazz have taken many more. Even in the Western Conference Finals the Mavs were often shooting 15 or 20 more 3-pointers than Golden State.
The Warriors are excellent shooters but they're also incredibly efficient at 2s and shredded vulnerable Denver, Memphis and Dallas defenses with their back cuts and easy points in the paint. Boston is a different animal. The Celtics led the league in 2-point percentage defense and will take away those easier looks as the series goes on as Robert Williams is the ultimate eraser.
That could push the Warriors into the exact caricature fans have imagined, bombing as many 3s as they can get up. Golden State attempted 46 and 48 treys in its two games against Boston, accounting for over 53% of the Warriors field goal attempts. That's way up from the Warriors' 45.6% during the regular season, which was already second highest in the league.
Golden State shot 36% on 3s, despite missing both Stephen Curry and Klay Thompson for huge stretches of the season. If the Warriors average 45 attempts a game at 36%, they'd average over 16 makes per game.
A six-game series at that rate would mean 96+ treys, an all-time Finals record — and one we can bet on at DraftKings. Add a seventh game, or increase the attempts or shots and you only help our odds.
The Bet: Either team to Set the Record for Most 3-Pointers in NBA Finals (+450 DraftKings)
Joe Dellera: That means increased volume for many Warriors. But I've got my eye on Andrew Wiggins in particular.
Yes, you heard that right. It's not the greatest shooter of all time who we are targeting. It's Wiggins, the All Star, Maple Jordan, the people's champ.
Wiggins has seen consistent volume throughout the postseason.
Despite starting a bit slow against Denver, he's averaging 4.3 3-point attempts and has increased to 5.6 over his past five games. He may clear that even further if these attempts balloon.
Wiggins has averaged 1.5 3s made per game. However, he's made at least one in every single game except his most recent.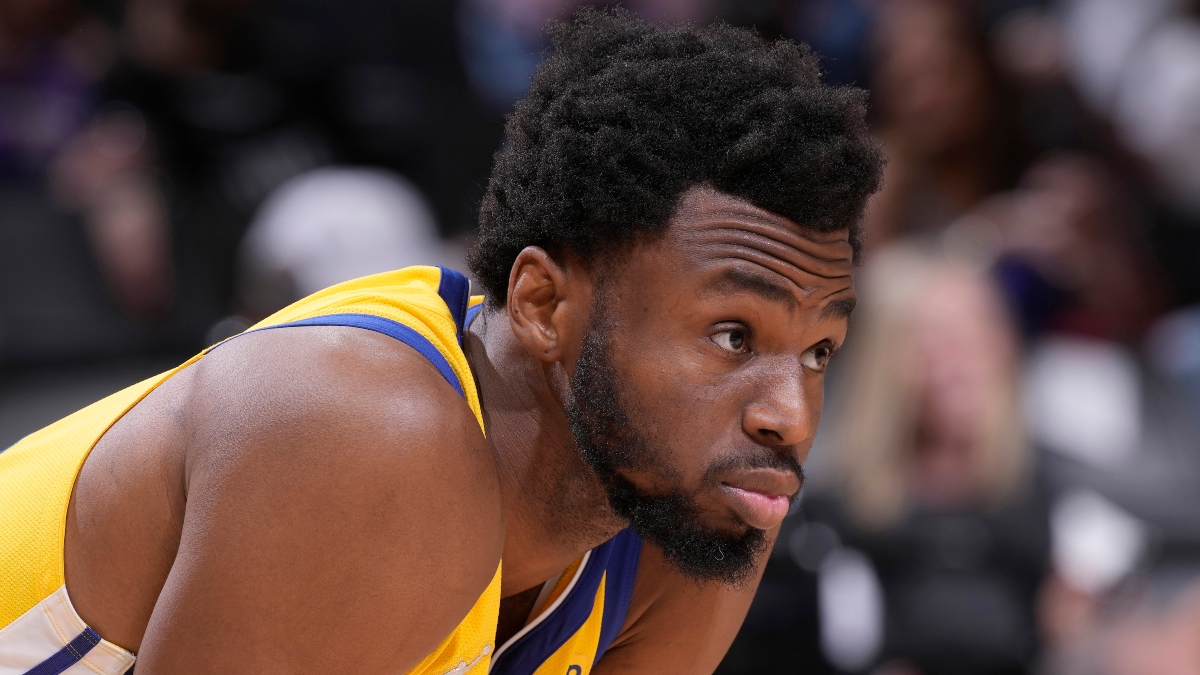 FanDuel lists Wiggins at -600 to make at least one trey in Game 1. To give you rough odds, let's parlay (-600) six times, those odds are (+152). If the series goes seven games it is (+194) and the implied odds of those lines are 39.7% and 34.0% respectively.
At DraftKings, you can bet on Wiggins to make at least one 3 in every game of the series (+240) and that means significant value on the implied 29.4% odds. He should continue to see volume and he has hit one 3-pointer in 15-of-16 playoff games.
The Bet: Andrew Wiggins At Least One 3-Pointer Made in Every Game (+240 DraftKings)
Anderson: Yup, if the Warriors do shoot 40 or 50 3s a game, Wiggins will be one of many Golden State players getting his shots up. And if you want one real long shot bet just for fun, you can also bet either team to break the Finals record for 3s in a single game at +2000 at DraftKings. That means at least 25 makes.
The math says that if the Warriors get up 50 3s even once, they'd have almost a 6% chance of making 25 at their usual rate, already better than the implied number. Besides, how much fun will it be to root for the avalanche of 3s to come as the home Chase crowd goes berserk? 19 … 20 … 21 …
Small Ball Will Play Key Role Throughout Series
Dellera: Series generally trend smaller as they go on because team's bigs are just less capable of playing a variety of schemes defensively unless you have someone as versatile as Bam Adebayo at center.
We saw this when Steven Adams was played off the floor against the Timberwolves and when even Rudy Gobert struggled against the Dallas Mavericks. If you are not a flexible big who can switch everything and are not tied to drop coverage, then you can stay on the floor — i.e. Draymond Green and Al Horford. However, this is problematic for both Robert Williams and Kevon Looney.
Robert Williams is tougher to take off the floor for strategic reasons due to his excellence defending the paint, but he has injury issues that could also take him off the floor — which forces the Celtics to play a bit smaller as well. Additionally, Looney is best used as a counter for Robert Williams and if his minutes are limited due to scheme or injury, then Looney's relevance in this series evaporates.
Looney is not a scorer or shooter and if the Celtics pivot first and go small, then the Warriors cannot keep both Looney and Green on the floor simultaneously because neither is a scoring threat. It would open up easy double teams on Curry. Obviously between those two, you're going to keep Green on the floor.
Green immediately becomes the best rebounder on the Warriors and his line of 7.2 rebounds per game is way too low. He is averaging 7.2 RPG during the playoffs (removing his injury and ejection games) in about 32 minutes per game.
Given that it's the Finals and he has averaged 38.9 minutes per game in the Finals throughout his career, we should expect an uptick in his minutes. When Green has played at least 32 minutes over the past two seasons, he's averaged 8.8 rebounds per game. This is the Green we should see in the Finals.
The Celtics have a similar situation in a big that they want on the floor due to his versatility in Horford. He can switch, play drop and score from all over the floor. He is a lock for minutes, unlike Looney.
At PointsBet, you can bet Horford to record more rebounds than Looney throughout the series. Horford already averages 9.6 rebounds per game compared to Looney's 7.7 but even better, this is not an average bet. It's a totals bet, so if Looney falls out of the rotation altogether that's even better for us.
The Bet: Al Horford More Rebounds Than Kevon Looney (-130, PointsBet) | Draymond Green Over 7.2 RPG (-110 DraftKings)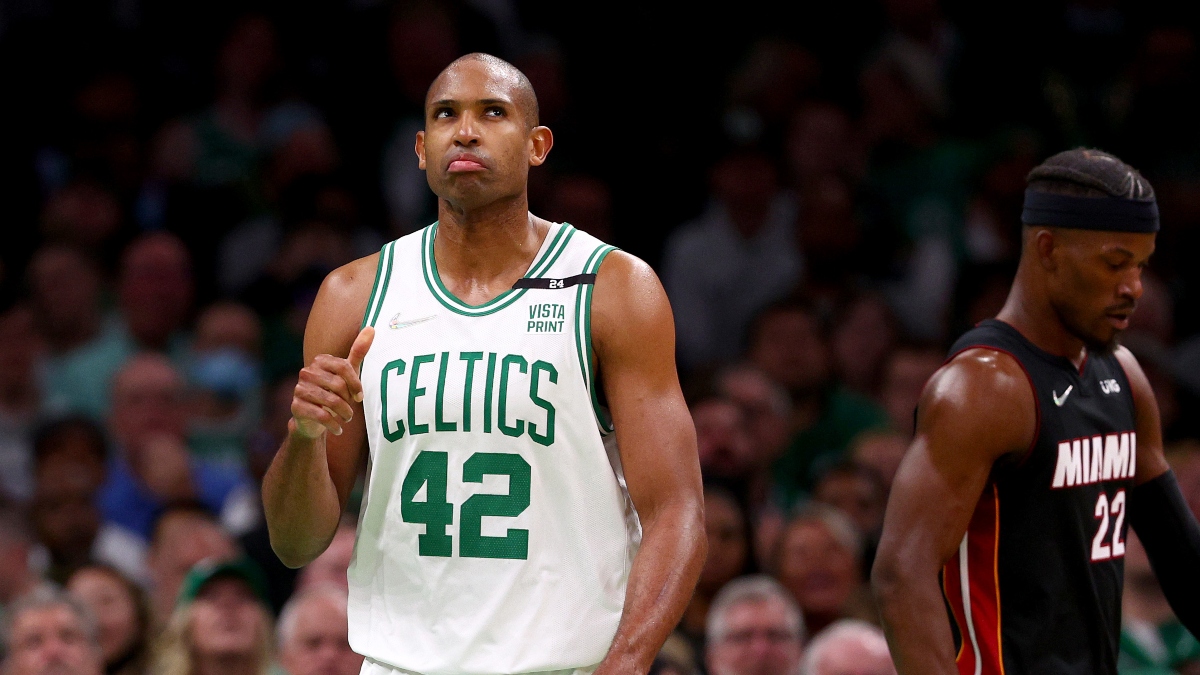 Anderson: We're in lockstep on this one, Joe. I'm expecting less Looney as we go and we know Green ain't going anywhere.
Green averaged only 6.4 RPG against Dallas in his roaming freelance role defensively, but he was at 9.6 RPG against Memphis, despite missing a few stretches of time. He's also averaged 10.0 RPG over the past five playoff runs.
In fact, since the start of the Warriors title runs, Green has had at least six boards in 106 of 120 games (88.3%). At that rate, the chance of him hitting at least six in seven straight games is 42.0% vs. an implied 16.7% on this bet, and our odds get even better if the series is shorter. If Green plays big minutes as the de facto center, six just isn't a big ask.
The Bet: Draymond Green to Record 6+ Rebounds Every Game (+500 FanDuel)
Dellera: Not to beat a dead horse, because we both expect Green to play significant minutes at center, but Green has averaged 9.3 rebounds per game in 27 NBA Finals Games throughout his career. In fact, he's recorded fewer than six rebounds just twice in any Finals game.
Green has a high floor and his minutes are safe. If we're right that Looney and Time Lord see reduced minutes too, these odds are just too long for Green. It becomes a bet between him and Horford for the series lead and we have to like our chances at 10-1 odds.
The Bet: Draymond Green to Lead Series in Rebounds (+1000, PointsBet)
Marcus Smart Will be Important on Both Ends
Dellera: Marcus Smart is a menace on defense. While I may personally disagree with him winning DPOY, he is an excellent defender due to his physicality and basketball IQ. While we tend to overvalue point-of-attack defenders, against Curry this is incredibly important.
Smart (and Derrick White to a lesser extent) is an excellent perimeter defender who can pressure Curry even if the Celtics elect to play drop coverage as a general defensive scheme. Smart can bother Curry with his size, quickness, and athleticism and force the ball out of his hands. This means more shots for some other players (like Wiggins!), but definitely less for Curry, and that's a win for Boston.
Anderson: Smart is my favorite Finals MVP bet as I wrote in my article considering the top 10 candidates. Initially I liked him as the potential Steph Stopper for the reasons you said, Joe, but I actually think he could make a real impact offensively, too.
The Warriors are a great defense too, and they're going to do all they can to limit Jayson Tatum and Jaylen Brown and force Boston's "others" to beat them. Smart is always a willing shooter –- for better and for worse –- and recent history suggests he'll have real volume in this matchup.
Since the start of 2019, Smart is 22-of-55 on 3s in seven Warriors matchups. That's 3.1 makes per game on 40% and more importantly, it's 7.9 attempts versus 5.7 against all other teams, a big volume uptick. Over the five most recent Warriors games, Smart is even hotter at 18.2 PPG, thanks in part to 3.8 treys a game on shockingly high volume.
Smart's PPG and 3s/game lines are both too low, so pick your favorite or play both. Could he also be a shock contender to lead the series in 3s? That's a steep ask with all those Warriors shooters, but at +3400 at FanDuel, he could be worth a sniff as a potential cash-out option.
The Bet: Marcus Smart Over 14.5 PPG (+102 DraftKings) | Over 2.1 3s per game (-110 DraftKings)
---
If the Celtics Win, Jayson Tatum Needs to be Elite
Anderson: Joe and I both like the Celtics to win the series despite losing the opener in a tough schedule spot. You can read our cases for Boston here.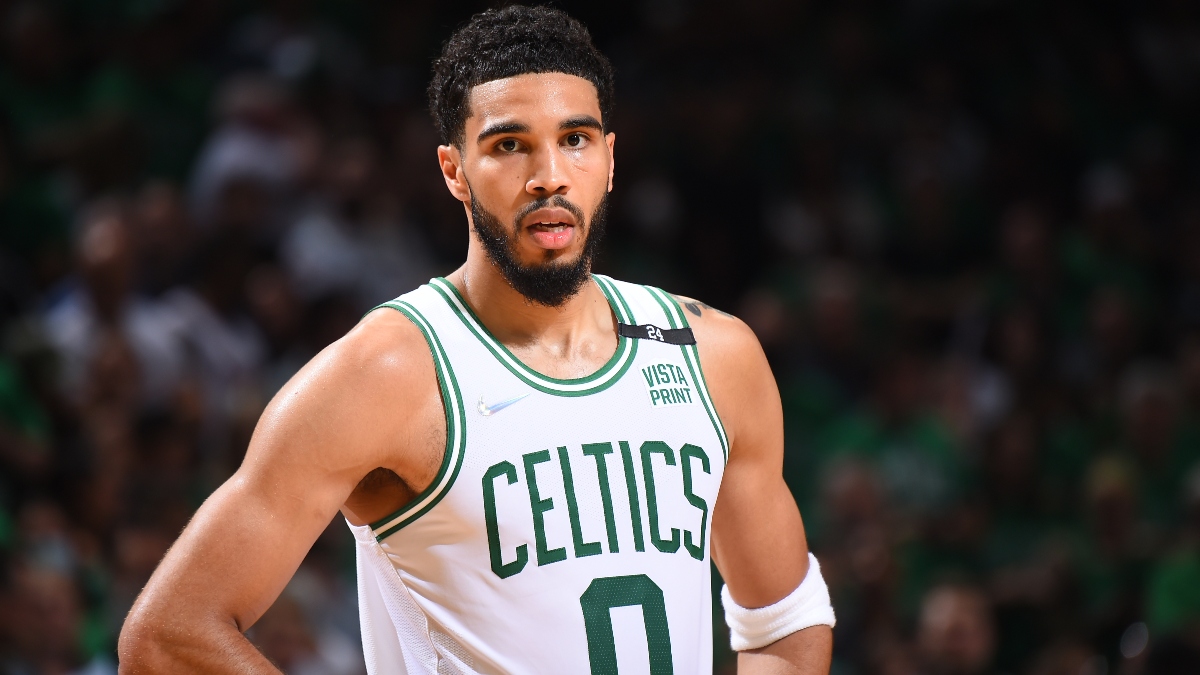 While all the focus has been on Boston dispatching Kevin Durant, Giannis Antetokounmpo and Jimmy Butler over the past three rounds, Tatum's put up some pretty awesome numbers himself, even while defending that trio.
He's averaging 27.0 points, 6.7 rebounds and 5.9 assists a game, leading the team in scoring and hitting all the late shots. And even when his shot isn't available or falling, he's taken a huge step forward as a passer.
Tatum's series assists line is at 4.8. He's under that in four of six Celtics losses, bringing his average down, but he's over it in 11 of 12 Boston wins (91.7%). If you like the Celtics to win the title, then you also like Tatum assists because that means four wins. Tatum's had at least four assists in all but one game this postseason.
I'll also nibble on Tatum to lead the series in assists. He's one of four guys in this series averaging between 5.9 and 6.3 APG this postseason and it's smart to bet on the best player on the team you like to win the series having the ball in his hands a lot. At +650 to lead the series (implied 13.3%), that's just too low. This same prop just hit against Miami.
The Bet: Jayson Tatum Over 4.8 APG (-110 DraftKings) | Tatum Lead Series in APG (+650 FanDuel)
Dellera: FanDuel offers assists per game markets, while every other book has assist leader. Per Game is just that, an average that the player records in each game they play while the leader is a raw total for the number of assists recorded.
This is notable because Marcus Smart has been hampered by a foot injury during the playoffs and it's possible he may miss a game as he has in prior series. While this would impact his totals, it would not impact his averages.
It's possible someone could lead on a per-game basis compared to totals and that's something to be leery of. However, in this specific instance, I'm not as concerned because if Smart missed a game it would lead to an increase in passing from Tatum.
Anderson: So Joe, we gave out over 10 bets, some short odds and some longer shots. If you're a bettor and want to play one unit on the surest win and one on your favorite long shot, which two are your picks?
Dellera: I love the Green rebounds per game prop at 7.2, I just think it's too low given his pedigree and the way I expect this series to run smaller as it goes on. For a longer shot, Brandon has me convinced that Tatum will lead the series in assists per game and at +650 that's a must bet.
Anderson: The rebounding props are my favorite short odds, both Green's RPG over and especially Horford vs. Looney.
I love the Green series leader rebounding prop too, but my favorite bet from the article was the first one, for one team to hit 96 3s in the series. I'm expecting six or seven games and if this goes as long as I expect, that +450 should maybe be closer to even odds from my perspective.
Good luck, Joe. Let's get that bread!
How would you rate this article?
This site contains commercial content. We may be compensated for the links provided on this page. The content on this page is for informational purposes only. Action Network makes no representation or warranty as to the accuracy of the information given or the outcome of any game or event.