NBA Futures Odds & Picks: Buy/Sell the Los Angeles Lakers, More Early Leans on Western Conference
Credit:
Joe Murphy/NBAE via Getty Images. Pictured: LeBron James #6 of the Los Angeles Lakers.
Last month, our NBA crew pondered the value of several Eastern conference teams in futures markets. This time around, we're looking at the Western conference.
Most of the league has play at least one-third of its games and that gives us a healthy sample size of what to expect long term out West. As of this writing, the top three teams in the conference — Phoenix Suns, Golden State Warriors, UtahJazz — are well ahead of their counterparts, which has left a logjam of squads in the middle of the pack.
Will any of those seven teams emerge and present some betting value after the first trimester of the season? Our analysts Matt Moore, Roberto Arguello and Brandon Anderson, look at three burning questions aimed at the West.
All odds below via DraftKings.
Which State's Odds have the most value?
Current Odds: California (+245), New York (+215) Florida (+1300) Texas (+3000) or the Field (+155)
Matt Moore: California
You get the favorite with the Golden State Warriors — cool, great, I grabbed them this summer (VICTORY LAP) and I'm sitting pretty — who have the best Net Rating, best Adjusted Net Rating and second-best record. That's nice.
You also get the Los Angeles Lakers, and sure, you can bet them at much longer odds now, but there's no failsafe there with the team sort of in the wilderness. Will they make big changes? Will Anthony Davis snap out of it? Will the team get used to Russell Westbrook? Will they defend? Does a new coach inspire them if Frank Vogel gets fired?
The Lakers are mediocre right now, no question. But do you think a team with Davis and LeBron James will be mediocre all season? Or miss the playoffs? And if they don't, are you ruling a run out?
But not just that, my friends!
The L.A. Clippers are why this bet gets value. You don't want to bet the Clippers with Kawhi Leonard's uncertainty and their current roster. However, Leonard said in preseason that one reason he signed a long-term deal was so that he could feel good about trying to come back this season.
I still remain skeptical he plays based off what league sources say. But even if it's a crazy idea, if he comes back in May this season and the Clippers are in the second round with momentum, how far do their odds shorten?
There's a decent chance the Western conference finals are two California teams given the injuries to the Denver Nuggets beyond Jamal Murray and with the Dallas Mavericks and Portland Trail Blazers languishing.
It's really just the Phoenix Suns or Utah Jazz. Phoenix had great luck last season and a phenomenal run to start the season. Does that hold? Utah has always had trouble with getting "figured out" in the playoffs.
I think if you're betting a state, there's no better song to sing than 'California Love.'
Roberto Arguello: The Field (But not really)
A bettor would be better off betting the Brooklyn Nets to win the title straight up than New York state at +215 since the New York Knicks have no chance. Similarly, I would rather bet the Warriors at +600 and Clippers at +2000 and cut out the Lakers' dead weight instead of betting California at +245.
For longshot states Texas and Florida, take the Miami Heat at +1400 instead of Florida at +1300 (because the Magic have no value) and pass on Texas at +3000.
This leaves the field at +155 as the best value available with seven teams that I think have a chance to win the title: Milwaukee Bucks (+750), Suns (+950), Jazz (+1100), Philadelphia 76ers (+2200), Chicago Bulls (+3000), Nuggets (+3500) and Atlanta Hawks (+4500).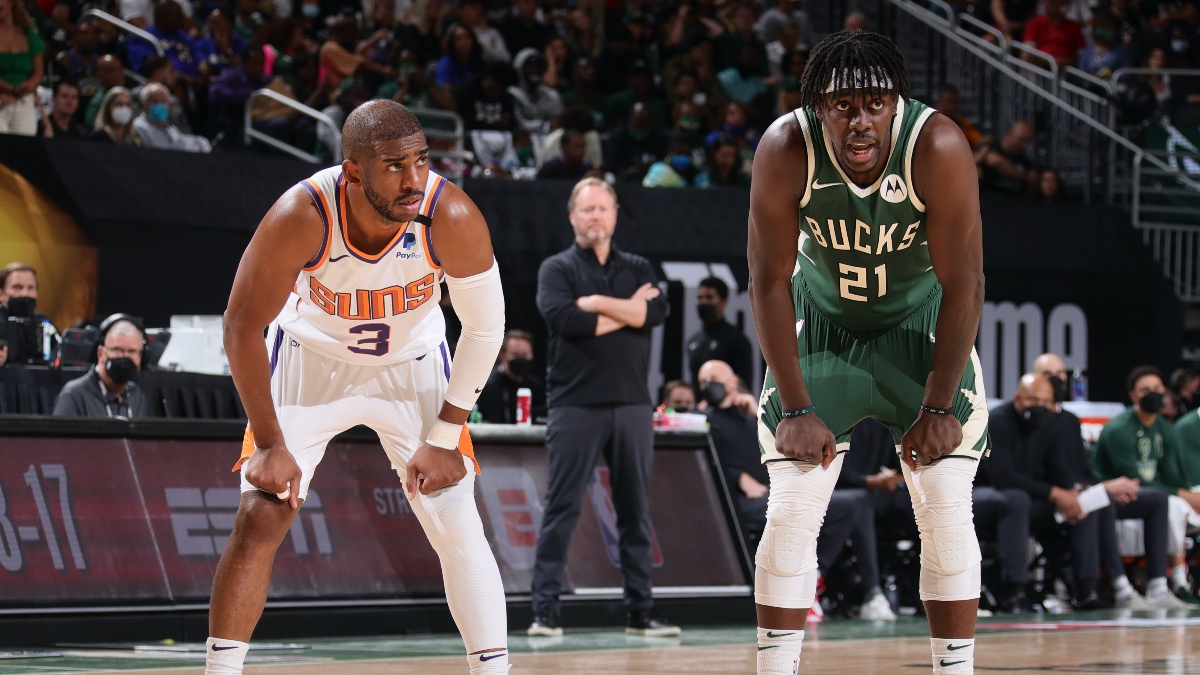 However, the Jazz aren't a contender as currently constructed, and unless they trade Rudy Gobert (which I strongly doubt they would consider this season), they don't have the assets to get the pieces to solidify their perimeter defense.
The 76ers need more on the perimeter as well, and although a Ben Simmons trade could bring that to fruition, I would rather wait until that trade happens to make a bet on them. Joel Embiid's health also gives me cause for concern there. I believe the Bulls are the least likely of these teams to win it all, and they would need some serious injury help from teams above them to reach the NBA Finals.
Consequently, I would rather bet the Bucks (+750) and Suns (+950) and sprinkle the juiciest longshots, the Nuggets (+3500) and Hawks (+4500). The Bucks and Suns have looked as good as anyone this season when healthy, and I like the value on each to win it all.
If the Nuggets get Jamal Murray back, they could have a puncher's chance to win it all if Nikola Jokic keeps up his ridiculous play on both ends. The Hawks at +4500 are also intriguing because of their plethora of shooters surrounding Trae Young and depth around him.
Brandon Anderson: California (But, also, not really)
I agree with Roberto's premise — the problem with this bet is that you're paying for too many options you don't even really want.
When you bet on California, for example, you are being charged at least a little for the possibility of a Kings championship. We know that's not going to happen, but the book has to charge you a little for it.
In every state's case, you're paying for more options than you actually want, like Roberto said. The field option does the same thing.
I'm also with Matt, in a sense, because I do think California is the best option here if there is one. We talked about the California option on the podcast a few weeks ago. The key here, like Matt said, is the potential long-term value of the Lakers and Clippers if both teams get healthy and right.
If you're skeptical of the Jazz and Suns in the playoffs and skeptical that the Nets are the title favorites they're getting credit for, then betting "California" might give you the three highest-upside options on the board.
Even so, I think you're better off betting them individually, buying at nadirs and making your own "California" bet option. This bet does the work for you but charges you for your laziness.
---
Check out our free NBA odds page, which automatically surfaces the best line for every game, and our NBA Futures page for updated NBA Title odds and more.
---
Who is the Fourth-Best Team in the West?
Moore: I think it might be … Memphis?
Seeding Odds: Over/Under 5.5 (-160/+120)
Look, I have a title ticket on the Nuggets. I thought they would be able to handle the early tough schedule, survive until Murray gets back and then be able to make a run. But losing Porter Jr. and Dozier on top of Murray has them at a breaking point with a bad bench.
They have no choice but to burn out Jokic to stay above water. The bench is a tire fire. I just don't think they can survive until reinforcements arrive in the spring.
The Clippers are inconsistent when they're fully healthy. They are relying on a lot of unreliable players right now, and there's just no guarantee Kawhi returns at all (see above).
Dallas and Portland? No thank you. The Lakers? Hard no.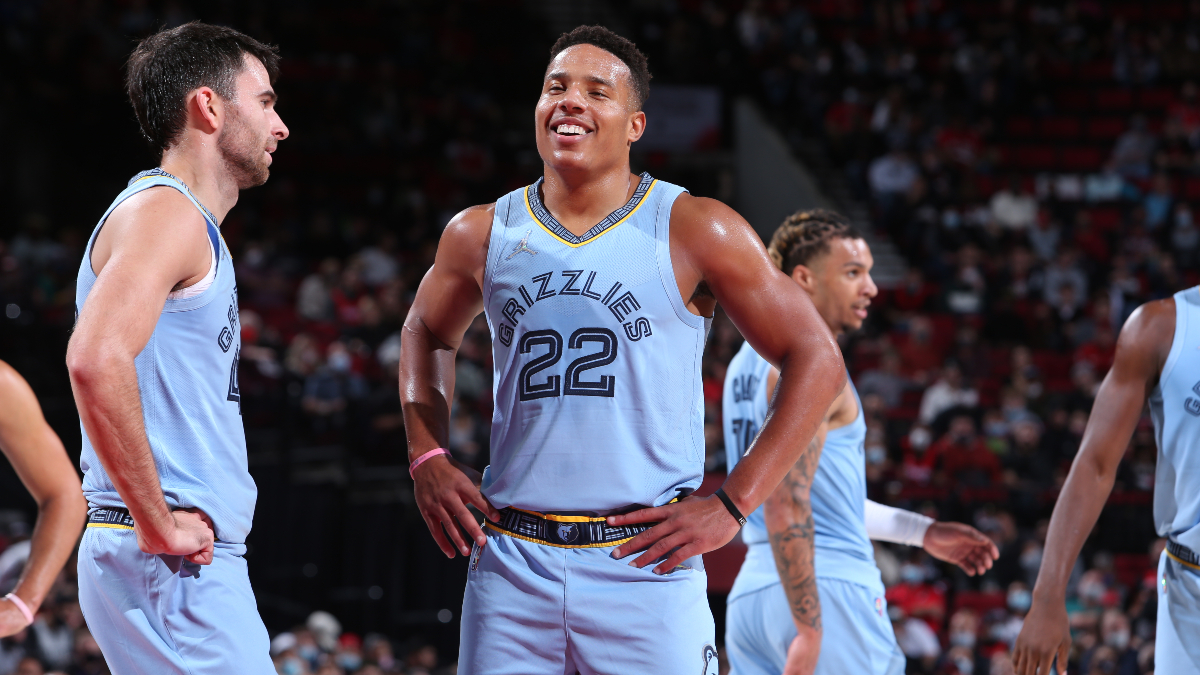 But Memphis? Their defense was 30th for much of the first three weeks and is now 22nd. Ja Morant will be back in a few weeks and the negative Net Rating with Morant probably won't hold given how well the team is playing.
They're deep, they have multiple options, they're well coached, and they have signature wins vs. Golden State, the Lakers, and Denver. I don't think Memphis is a fluke. I think they're legit.
Arguello: Denver Nuggets
Seeding Odds: Over/Under 6.5 (-145/+110)
The Clippers are ever-so-slightly behind them in my personal rankings, but it's the Nuggets. They have arguably the best player in the NBA, but they have been snake-bitten by injuries with P.J. Dozier and Michael Porter Jr. already out for the year.
Jokic has somehow been even better this season than last as he remains an unstoppable offensive force who has taken his defense to another level. When Jokic is on the court (excluding garbage time, per Cleaning The Glass), the Nuggets have an Offensive Rating of 114.8 and a Defensive Rating of 102.3. That Offensive Rating would rank second in the NBA and this Defensive Rating would also rank second.
However, the Nuggets have struggled without Jokic off the court, especially defensively where they have allowed 18.1 points per 100 possessions more without him. The Nuggets are just 1-4 in the games Jokic has missed, which is why they are eighth in the West with the seventh-best odds (+1400) to win the conference.
While the losses of Dozier and MPJ sting, the Nuggets draft well and have smart players and capable shooters on the wing like Will Barton, Monte Morris, Aaron Gordon, Jeff Green, and JaMychal Green (I'm not too worried about his shooting slump) who fit well alongside Jokic. Rookie Bones Hyland also has potential and could become a significant contributor throughout the season.
Barton has emerged as the Nuggets' second-best player right now as he has become a better playmaker and scorer. Even if Murray doesn't return, I like the Nuggets more than any of the other non-top-three Western Conference teams (barring a healthy return from Leonard).
Anderson: Lakers. Wait … is the Warriors bench an option?
Seeding Odds: Over/Under 5.5 (-140/+110)
No? I guess I'm really picking the Lakers. Gross.
This is much more of a vote against everyone else than it is a vote on L.A., but it is what it is. I don't buy the Clippers offense or the Grizzlies defense yet. The Nuggets have the best player in the world right now but almost nothing else. The Trail Blazers stink. The Mavs haven't made sense since Kidd was hired.
By default, that means all roads lead back to the Lakers, because they're still former champions and still have two of the most talented players in the world if they ever get healthy and on top of things. The Lakers are 10-6 with James playing, and while his durability hasn't been great, that's a 51-win pace and still about as good as anything else available.
The Lakers still haven't gotten Trevor Ariza or Kendrick Nunn into the lineup. I expected them both to be pivotal parts of the equation. Westbrook is settling in a little. And you know the Lakers will make some roster moves at some point.
It's not that I believe in the Lakers. I assure you I do not. It's just that I believe in everyone else even less right now. And if you really think you'd pick any of the other teams from the Western morass in a seven-game series against the Lakers right now, even considering everything, I think you're fooling yourself.
Buy or Sell on the Lakers odds to win the West (+425)?
Arguello: Sell
Somehow DraftKings has the Lakers at +425 to win the Western Conference, which gives them the third-shortest odds to win the conference between the Suns (+400) and Jazz (+450), whom I would give a much higher chance of winning the West.
The Lakers ranked among the top three in the NBA in Defensive Rating in each of the last two seasons, but they have plummeted down to 18th in the league this season after losing key perimeter defenders such as Alex Caruso, Kentavious Caldwell-Pope and Kyle Kuzma, among others. This has led to the Lakers playing too many players on the wing who either can't shoot/score or can't defend at a high enough level.
The Lakers have lost the Westbrook trade so far as he remains a clunky fit alongside James and Davis in the halfcourt. Westbrook's decision-making in crunch time has been horrendous while Davis has been a bigger disappointment (by his lofty standards) than anyone on the team.
The only reason to buy the Lakers' odds to win the West would be because of optimism in a trade or signing that will bring them back to contender status. I don't know that they have the ammunition to make such an acquisition, and I don't think they can solve all of their issues in the buyout market later on.
While I am not buying the Lakers' odds, their high price has created value on other teams like the Warriors (+280), Suns (+400), Clippers (+1000) and the Nuggets (+1400).
Anderson: Sell
Hard pass. The Lakers are about even odds right now with the Jazz and Suns, and that's patently absurd right now. It's so disrespectful to the great work Utah and Phoenix have done this season. I continue to think Utah is really underrated, and the Suns just ripped off an 18-game winning streak.
With the Lakers right now it still feels like a miracle anytime they manage to put together a winning streak. Things can change, and they will with this team, but the Lakers look like a play-in team and are being treated like the No. 2 or No. 3 seed in the West by the odds. And that means there's no value in this number.
There's one other big problem too, and that's the Warriors. Coming into this season, the Lakers were supposed to be great and there was no other great team. But the Jazz and Suns are showing last season was no fluke, and the Warriors turned the clock back about six years.
Golden State is a juggernaut and a clear, heavy favorite against any other opponent right now. And that has stolen a lot of the presumed value that might have been there on the Lakers before the season too.
The Lakers season might be at its nadir right now, but the odds do not reflect that and just don't present any betting value here. I know you want to bet on LeBron's past, but it's time to face the facts. James has played three seasons with the Lakers.
He made it out of the first round in one of them, and that was a unique bubble season after months of rest for him and Anthony Davis. It's just not fair to pencil LeBron into the Finals because of the past anymore.
We can't rule LeBron out, ever. We know that by now. But that doesn't mean we should bet on him either.
How would you rate this article?
This site contains commercial content. We may be compensated for the links provided on this page. The content on this page is for informational purposes only. Action Network makes no representation or warranty as to the accuracy of the information given or the outcome of any game or event.