NBA Futures Odds & Picks: Our Staff's Early Buy/Sell Bets on Wizards, Hawks, Celtics & More East Teams
Credit:
Scott Taetsch/Getty Images. Pictured: Bradley Beal #3 of the Washington Wizards.
Let's face it, this NBA season has been a wild ride early on.
The Eastern conference has been especially unpredictable and while we do not endorse the "if the season ended today" logic in November, the standings are surprising to say the least. (Raise your hand if you expected the Milwaukee Bucks to be outside the play-in picture and the Cleveland Cavaliers to be squarely in the thick of things.)
The Western conference may have more star power at the top, but the East is extremely deep in this early stretch of the season with 10 teams posting a positive scoring differential — two of the teams outside of that group made the Eastern conference finals last season.
So, the question is what's real and what is smoke and mirrors? More importantly, how can bettors profit off of slow starts from teams that will be good later and great starts from teams that will regress?
For the answer to those questions, we turned to our NBA analysts Raheem Palmer, Joe Dellara, Austin Wang and Brandon Anderson to tell us which teams in the East are worth buying and which ones we should be selling.
What team are you buying stock in and how are you looking to get ahead of the market?
Joe Dellera: Wizards to Make the Playoffs (+145 BetMGM) | Win the Southeast Division +1900 (FanDuel)
I'm buying the Washington Wizards. They're off to an incredible start and have performed on both the offensive and defensive sides of the ball. I guess this is what happens when you ship out a ball dominant point guard who ranks at the bottom of the league in both turnovers and points per shot attempt and bring back key rotational pieces to complement Bradley Beal.
The Wizards' offense is fine — they rank towards the middle of the league in Offensive Rating — but the surprising development has been their defense. The Wizards have the fourth best Defensive Rating in the league (102.9).
How are they doing this?
Well, they have the league's second best allowed eFG% and the league's best expected allowed eFG%. Their defensive effort seems like it can be replicated throughout the season. I think they can secure a spot in the final eight teams of the postseason race and while it's early, they certainly have a nice head start.
With Miami Heat forward Jimmy Butler suffering an ankle sprain of unknown severity right now, I think they are worth a sprinkle to win the Southeast, too.
Raheem Palmer: Wizards to Make the Playoffs (+145 BetMGM) | Over 41.5 Wins (-110, DraftKings)
There's a lot to be said about trading an aging ball dominant, inefficient and turnover prone point guard for three young rotation players in Kyle Kuzma, Kentavious Caldwell-Pope and Montrezl Harrell.
When you add in the acquisition of Spencer Dinwiddie and it's clear you have a solid group of role players around Bradley Beal who can compete for the playoffs in the East.
The kicker is Beal hasn't even been himself yet as he's averaging 23.1 points on just 40.7% shooting and 25% from behind the arc. Still, the Wiz rank 15th in Offensive Rating (108.1) and fourth in Defensive Rating (103.6) in their non garbage time minutes.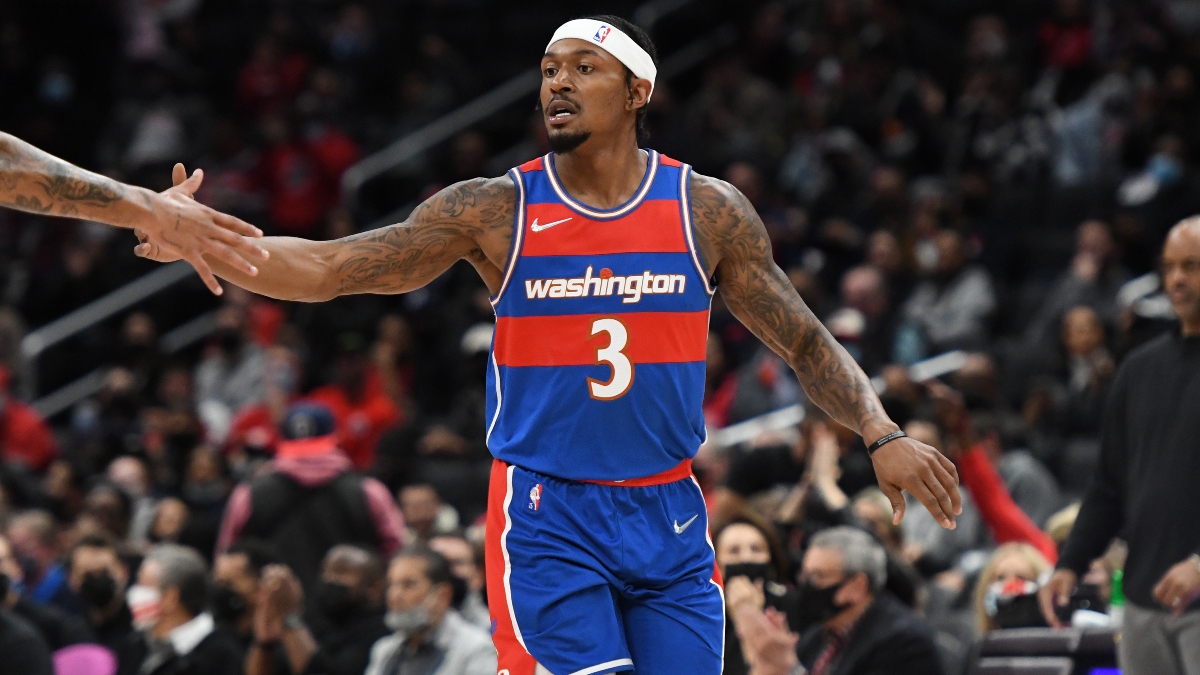 While I don't expect opposing teams to continue shooting a league-low 29.6% from behind the arc against this Wizards team, they are holding teams to the lowest frequency of 3-point field so there's something here. They're also getting back in transition, leading the league in opponent fast break points (8.5).
With improvement from the second year small forward Deni Avdija and key rotational pieces in Raul Neto, Daniel Gafford, Aaron Holiday, Corey Kispert, this is a solid roster that will get even better with the return of Rui Hachimura and Thomas Bryant.
I felt this team was a good play-in tournament candidate, but with the roster additions and the job West Unseld is doing, I'm buying them to make the postseason.
Austin Wang: Hawks to Win Southeast Division (+480, FanDuel)
The Hawks have gotten off to an extremely disappointing start. As of this writing, they are 4-9 and have lost six games in a row. However, they've faced the third toughest strength of schedule (Jazz twice, Wizards twice, Warriors, Suns, Nets, 76ers, Nuggets) and things should get easier.
Trae Young has been massively affected by the NBA's rule changes to prevent players to draw offensive fouls from non-basketball moves. His free throw attempts have decreased from 8.7 to 5.3 season-over-season. I think it will take some time for Young to adjust to these new rules and get back to form.
After getting back home after this murderer's row of opponents, their schedule lightens up over the next couple of weeks. I think it is just a matter of time before the Hawks get it together. They have the depth and the talent that got them to the Eastern conference finals last season.
With the Miami Heat getting off to a fast start, I think this is a great opportunity to grab the Hawks to win the Southeast division at +480 (FanDuel).
I believe the Heat's offensive metric numbers are a bit of a mirage and they are coming back down to earth after losing three of their last four. I see the margin between these two teams becoming a lot shorter over the next couple of weeks.
Brandon Anderson: Atlanta Hawks to win Southeast Division (+480 FanDuel)
I'm with Austin here. For a hot minute, when Giannis Antetokounmpo was hurt, it looked like the Hawks might end up in the NBA Finals.
They are talented up and down the roster with a deep cadre of versatile players. They're battle-tested after last season's playoff run. We know what they can do and, more importantly, they know too.
With respect to the Wizards and Charlotte Hornets, this is still mostly a two-team race to me. I played the Heat before the season at +125 because I thought it was a nice number on what was largely a coin flip. Now I'm doing the opposite under mostly the same logic.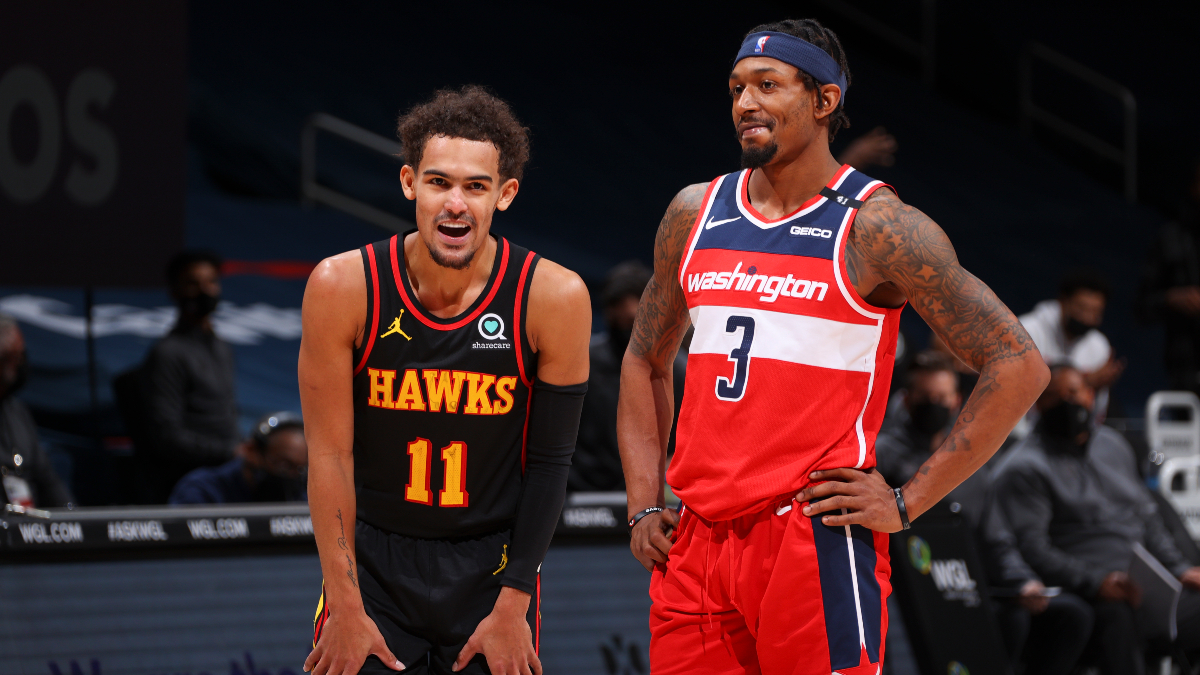 Think of it this way. The Hawks are off to about the worst start you could imagine. The Heat were red-hot, as good as almost any team in the league in October. These are the polar extremes for these two teams.
And after all that, 12 games into the season, the Heat are … 3.5 games up? And that is supposed to make Atlanta an implied 17% chance of winning the division suddenly at +480? I don't buy it.
The books aren't giving Washington much credit for the hot start, and I think they're giving Miami far too much credit. I still don't trust the Heat offense in half court and still don't trust Jimmy Butler (currently sidelined) and Kyle Lowry to stay healthy all season.
I knew the Heat could look this good when things clicked. But what happens when they hit their swoon and the Hawks hit their next gear?
Buy low. Sell high. That's the game, and I'm buying some Atlanta stock while it's dirt cheap.
---
What team are you selling stock in and how are you looking to get ahead of the market?
Austin Wang: Boston Celtics Miss the Playoffs (+148, FanDuel)
The Celtics have gotten off to a shaky start despite having two of the league's most talented young stars in Jaylen Brown and Jayson Tatum. They've got a rookie head coach (Ime Udoka) and a lot of roster turnover from last year's squad.
The Celtics overpaid Marcus Smart with a 4-year, $77 million extension during the offseason, which doesn't really align with his talent or production. Although he is a great vocal leader and tenacious defender, his shooting numbers are at an all-time low and made some recent comments accusing Brown and Tatum of being ball hogs.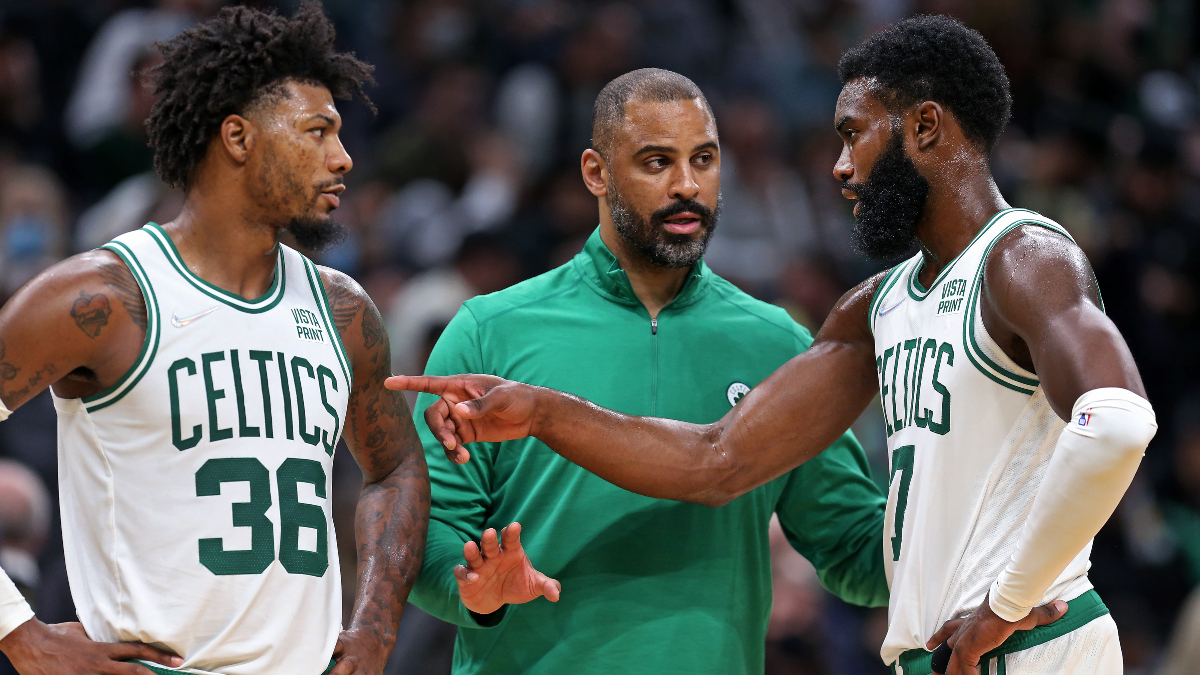 This doesn't bode well for their team chemistry when your de facto leader isn't jiving with your best players.
Al Horford has started off pretty well, but at 35 years old with some recent injury history, I don't think this level of play is sustainable.
With the emergence of the Wizards, Chicago Bulls and the Hornets, the talent pool in the Eastern conference has gotten crowded. I can see the Celtics being the odd team out in this situation, especially after barely sneaking in the playoffs last season with the seventh seed.
I am selling on the Celtics and I see value in them to miss the playoffs at +148.
Raheem Palmer: Hawks Under 43.5 Wins (-105, DraftKings)
I know my colleagues are buying this team in bulk, but it's hard to find too many positives about a team's star point guard admitting that the regular season is boring and that his team needs motivation to play.
Through the first 12 games of this season you have to wonder if the second of half of last season in which the Atlanta Hawks went 27-11 and made it to the Eastern conference finals was a fluke.
While Nate McMillan was certainly an upgrade over Lloyd Pierce, this season the Hawks are off to an abysmal start, ranking 28th in Defensive Rating, giving up a whopping 113.1 points per 100 possessions this season.
While this team has played a tough schedule, the Hawks were supposed to make the leap into being one of the best teams in the East and they've struggled to compete in many of these losses.
Clint Capela doesn't appear to be the same guy this season and he was the catalyst for their defense. And as Austin pointed out above, the new foul rules have impacted Young.
With so much improvement from teams in the East, I'm concerned for this Hawks team and will be selling. While I believe they will challenge for a play-in game spot, this is not the same team we saw last year.
Joe Dellera: Hornets Over 10.5 Conference Seeding (+100, DraftKings
Hornets' games are an absolute blast to watch, but it's not necessarily for positive reasons. They have exciting young players such as LaMelo Ball and Miles Bridges who can make flashy plays, but a highlight reel does not always equate to wins.
This team's defense is abysmal. They have the third-worst Defensive Rating in the league (112.3) and as good as their offense (109.7, seventh-best) has been they just cannot keep up defensively. It's a tall task to ask your offense to perform night in and night out because if they falter your defense cannot stop anyone.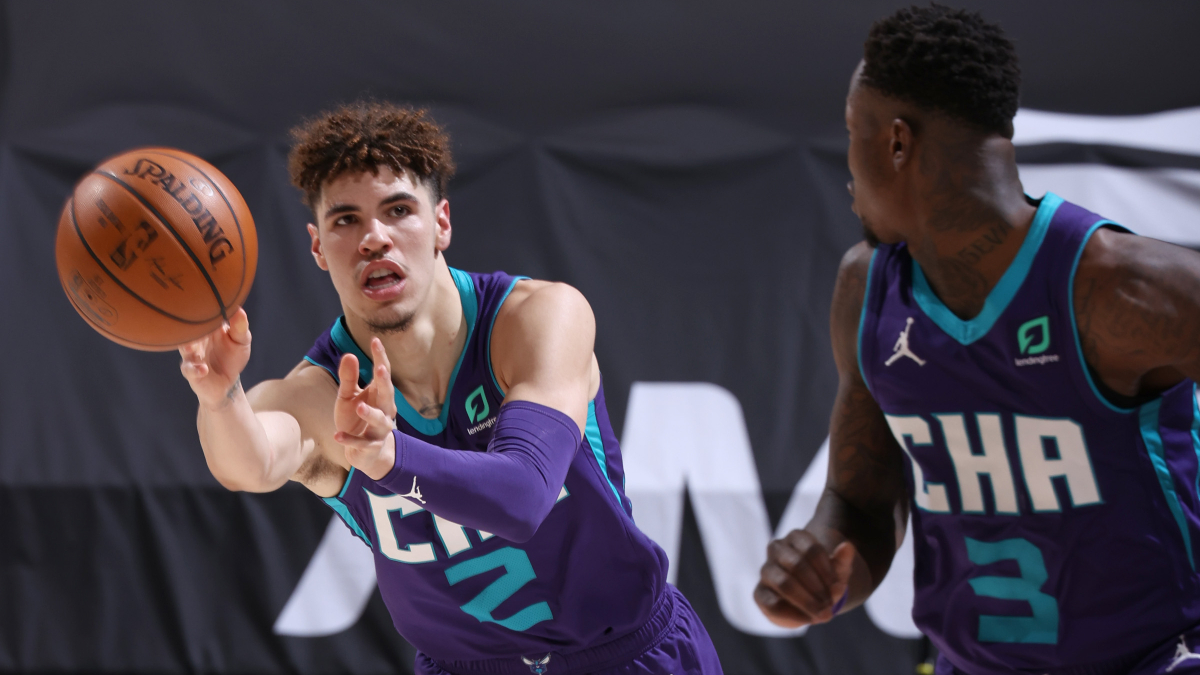 When the Hornets have played teams with top-10 defenses they are just 1-4 and they have a -6.9 point differential per 100 possessions, per Cleaning the Glass. They consistently give up the same amount of points, but their offense falls off by about 6.0 points per 100.
The Hawks and Pacers should figure it out and the Celtics still have a superstar duo that can carry them. There's too much juice on make/miss playoff bets for me, but I'll take them to miss the play-in all together.
Brandon Anderson: Wizards Miss the Playoffs (-105, PointsBet)
Okay, fine, I'll be the one dissenting opinion on the … checks notes… East leading Wizards. Wait, what?!
Yes, the Wizards are at the top of the East and if the season ended today, Wes Unseld Jr. would deservedly be a strong Coach of the Year candidate. I absolutely buy that the Wizards will be in the mix of things and that we probably took them too lightly coming into the season. But I'm still selling on them for the season.
The Wizards rank fifth in Defensive Rating at Basketball Reference, so that's where this team is grinding out wins right now. And on the surface, I want to just leap all-in on Unseld and attribute that to him. But the underlying metrics worry me greatly. Washington's opponents are shooting 29.5% on 3s for the season. That's lowest in the entire league and it will never keep up all year, not anywhere close.
The Wizards allow more 2s and 2-point attempts than anyone in the league too. Some of that is running teams off the 3-point line, but it also means opponents getting shots closer to the rim, a whole lot of them, and who is supposed to stop them there?
Daniel Gafford can protect the rim some in his 20 minutes per game, but do we really think Montrezl Harrell is suddenly a positive defender a decade into his career, or that Thomas Bryant or Rui Hachimura will be anything other than their usual awful once they return?
Kyle Kuzma, KCP, Deni Avdija … I appreciate that these guys are trying hard as role players on defense, but this is not the makings of a top-five defense. Scheme can only get you so far.
At the end of the day, the Wizards have a lot of playable guys but very little star talent, and the one star who is there isn't contributing to the hypothetical good defense and also never stays healthy and may not necessarily be on the team all year.
I'm backing the Wizards to miss the playoffs at -120 at PointsBet, taking advantage of the standings to give us basically a coin flip. It's a bet on the rest of the East, even as wonky as it's been so far. I still put the Nets, Sixers, Bucks, Heat, Celtics, Knicks, Bulls, and Hawks ahead of Washington — and teams like Toronto, Indiana, or even Cleveland could be in the mix at the Wizards' level too.
That first list is eight teams. The Wizards are not going to be a top-six team, which means Washington has to beat one or two of those eight in the play-in to make the playoffs. I don't see it happening. They'll continue to win some regular season games, but I'm not buying them as a real threat.
How would you rate this article?
This site contains commercial content. We may be compensated for the links provided on this page. The content on this page is for informational purposes only. Action Network makes no representation or warranty as to the accuracy of the information given or the outcome of any game or event.