NBA Player Props Betting Forecast: Navigating Injuries, Potential Trade Scenarios
Credit:
Joe Murphy/NBAE via Getty Images. Pictured: Xavier Tillman #2 of the Memphis Grizzlies.
As the trade deadline of Feb. 9 approaches, NBA teams may be even more cautious with their potential trade chips leading into the deadline. While we anxiously await some news, our Matt Moore broke down the buyers, sellers and some of the league's biggest rumors here.
Let's dive into this week's NBA player props betting forecast.
NBA Player Props Forecast

The Bigs Down in Memphis
Schedule: Wed. vs. Trail Blazers | Thu. at Cavaliers | Sun. vs. Raptors
Steven Adams (knee) was diagnosed with a sprained PCL in his right knee and will miss somewhere between two and four more weeks. This has opened up the Grizzlies' rotations a bit in the front court. The players who naturally receive the biggest boost to their usage are Jaren Jackson Jr, Brandon Clarke, and Xavier Tillman.
There isn't much more we can say about JJJ. He's been a monster this season but he does see a few more minutes at center if the Grizzlies are trying to play smaller, and he records 19.1 ppg without Adams compared to 15.8 with him. And yes, his blocks remain at an absurd 3.1 per game with or without Adams.
Clarke and Tillman see their minutes balloon without Adams, but Clarke has been the more consistent performer. He averages 12.6 points, 6.7 rebounds, and 1.7 assists in 24.8 minutes without Adams compared to Tillman who averages 6.8 points, 6.3 rebounds, and 1.6 assists in 21.6 minutes per game.
These averages do not tell the whole story though — there are particular matchups where one is more valuable than the other. Clarke is a bit faster than Tillman whereas Tillman has about 30 pounds on Clarke.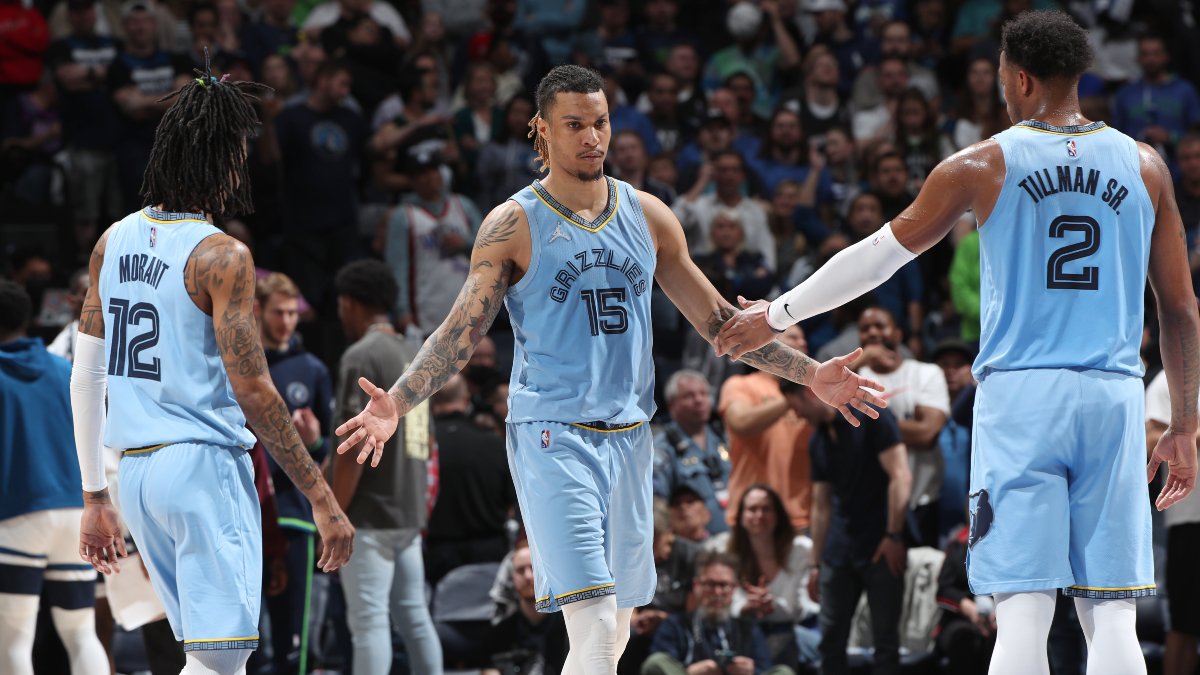 Clarke is a bit more valuable on a nightly basis because of his speed and quickness against smaller lineups with Jackson generally being able to play center. However, Tillman has found success in matchups with more traditional bruising centers where the Grizzlies may not want to expose Jackson to the potential of foul trouble.
Tillman played his biggest minutes against the Indiana Pacers, Sacramento Kings, Atlanta Hawks, and Utah Jazz (Clarke did not play vs the Jazz) — this week the Grizzlies take on the Portland Trail Blazers, Cleveland Cavaliers, and Toronto Raptors.
In those four matchups where Tillman was more heavily utilized: 27 minutes, 9.5 points, 7.5 rebounds, 1.75 assists, and 1.5 steals per game. I think Tillman should see more run against the Blazers and Cavaliers.
The Blazers rely on Jusuf Nurkic who has given Jackson foul trouble in the past (in nine career matchups JJJ averages 4.6 fouls), and the Cavaliers lean on a two-big lineup of Evan Mobley and Jarrett Allen.
Tillman's lines populate very close to tip, but his rebounds line was 4.5 against the Pacers on Sunday, and that's a prop I want to target on Wednesday against the Blazers and Thursday against the Cavaliers.
---

OG Anunoby's Trade Saga
Schedule: Mon. at Suns | Wed. at Jazz | Fri. at Rockets | Sun. at Grizzlies
OG Anunoby has been ruled out of Monday's matchup against the Phoenix Suns due to a wrist injury. Without Anunoby in the lineup, Precious Achiuwa has started and he had a tremendous game on Saturday with 27 points and 13 rebounds in 33.4 minutes against the Trail Blazers.
Matt Moore wrote about the sky-high asking price for Anunoby and it is important to remember that anyone joining the Raptors or leaving it due to trade will see a significant bump or decline in their statistical output.
Head coach Nick Nurse plays his starters at some of the highest minutes per game in the league, and from a raw output perspective, leaving Toronto may hurt Anunoby's counting stats if he does not average 35.2 minutes per game in a new uniform.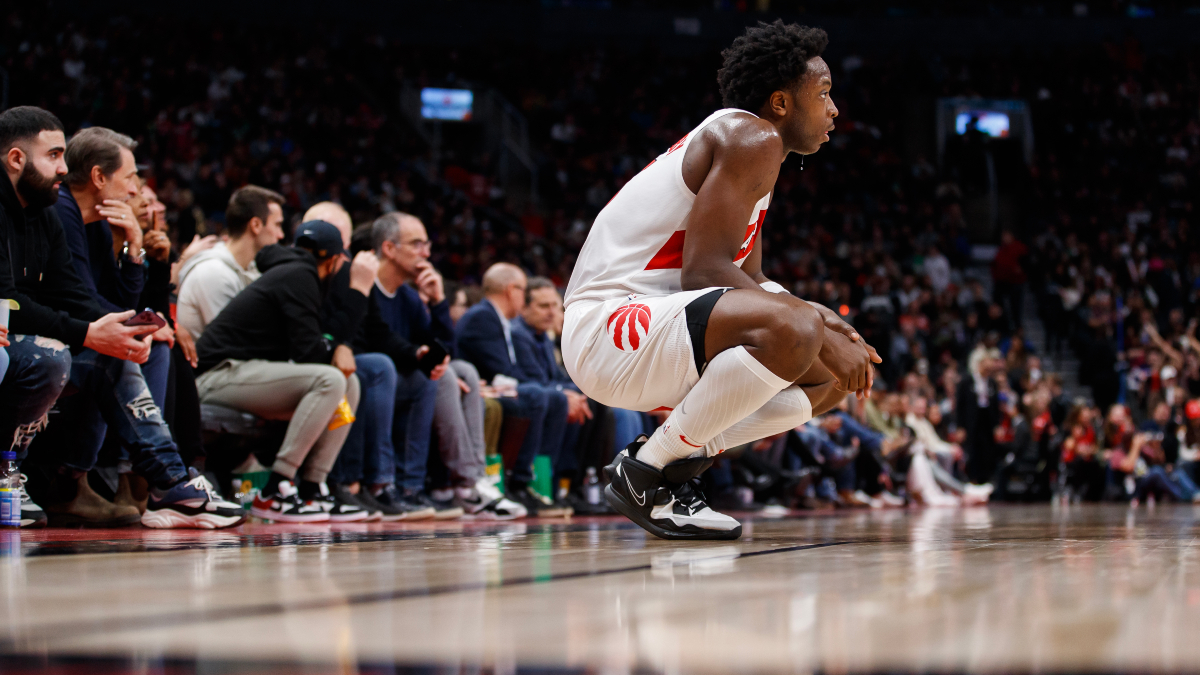 Due to Anunoby's injury, we are getting an idea of what life may be like without him in Toronto. The players that generally have seen the greatest upticks are Precious Achiuwa, Scottie Barnes, and Fred VanVleet.
While it's possible VanVleet gets moved at the deadline, he has seen his scoring average jump to 26.5 points in six games without Anunoby while taking about three more shots per game.
Barnes sees his minutes increase up to 37.9 per game and his role shifts a bit as his points increase to 19.7 per game while his rebounds drop from 7.3 to 5.7. He takes a few more shots but also gets to the free-throw line at an increased rate.
Both Barnes and VanVleet have exceeded their listed points line tonight of 16.5 and 19.5 in five of his six games without Anunoby. While we do not have lines for Achiuwa yet, they were last set at 15.5 points, 7.5 rebounds, and Double Double (+240). I'd look to target his rebounds tonight.
---
Check out our NBA props page for daily player props lines and projections.
---
Navigating the Trade Market and Props
Not all trade destinations are created equal. While there are so many rumors it is difficult to get ahead of all of the potential implications there are certain signals we can take to determine future value.
The Raptors and New York Knicks are both notorious for playing their starters obscene minutes with a short rotation. A trade to either of these teams likely signifies an uptick in raw counting stats just due to the sheer volume of minutes played.
Pace is another valuable indicator. Take Rui Hachimura and his trade to the Los Angeles Lakers. The Lakers play at the second-fastest Pace in the league compared to the Washington Wizards who rank 18th in Pace.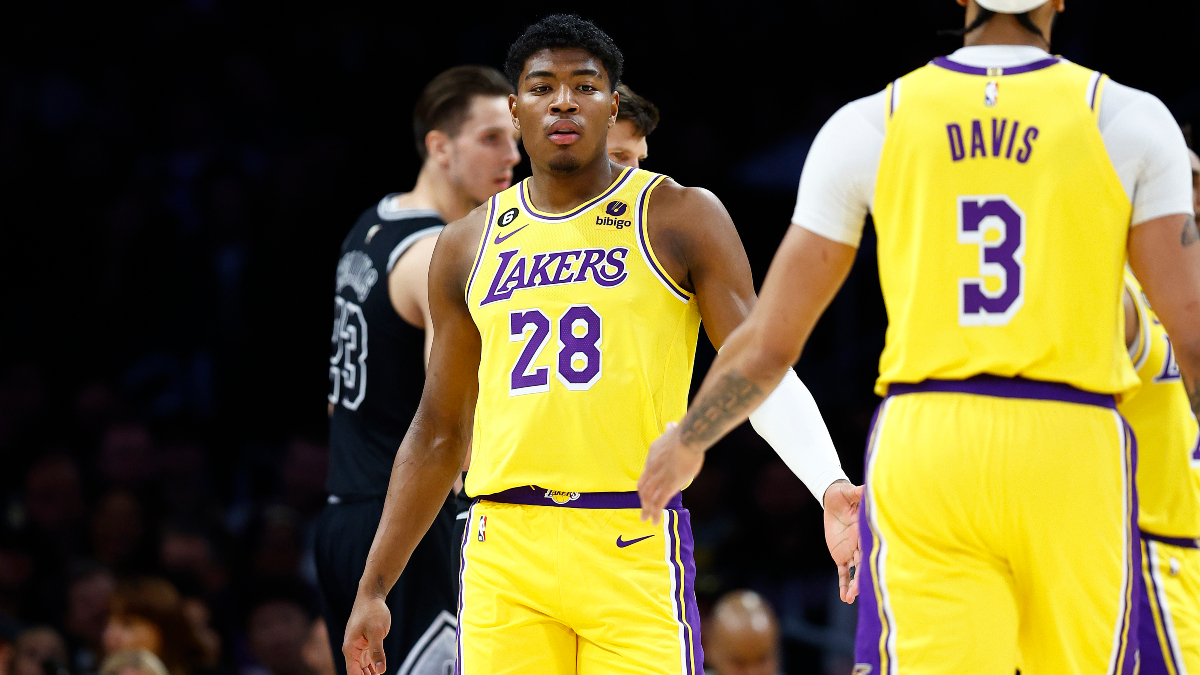 More possessions means greater opportunity — couple this with the rest potential of LeBron James and Anthony Davis (who both are out on Monday), and this offers a great opportunity for Hachimura to see an uptick in his counting stats. He should see at least 25 minutes Monday and I'm looking to bet on his points. I'll log that in the Action App if I find value.
On the flip side, some teams that would be tough to get sent to from a prop perspective are the Dallas Mavericks and the L.A. Clippers. Both teams are targeting some upgrades; however, they both are bottom six in Pace.
Additionally, they have players that command extremely high Usage rates in Luka Doncic, Kawhi Leonard, and Paul George. It will be tough for anyone to join those rotations and produce at a comparable level to their previous team.
How would you rate this article?
This site contains commercial content. We may be compensated for the links provided on this page. The content on this page is for informational purposes only. Action Network makes no representation or warranty as to the accuracy of the information given or the outcome of any game or event.