NBA Player Props Betting Forecast: Jamal Murray, Jayson Tatum Among Targets in Conference Finals
Credit:
Garrett Ellwood/NBAE via Getty Images. Pictured: Jamal Murray #27 of the Denver Nuggets.
We're down to four teams with the Nuggets and Lakers facing off in the Western Conference finals and the Celtics taking on the Heat in the Eastern Conference finals. These teams are quite familiar with each other after recent playoff series against each other and after two rounds, we've got a clear picture of which players stand out in player prop markets.
I'll be previewing each of the matchups in the upcoming round to give some insight on how I will be betting series and game player prop markets. Let's get right into the players I'm looking at for the East and West in my Conference finals NBA player props betting forecast.
---
NBA Player Props Betting Forecast
This series is headlined by LeBron James, Anthony Davis, Jamal Murray, and Nikola Jokic, and how they play against each other will dictate the outcome of this series. The matchup that's most compelling here is the one on the interior between Davis and Jokic as each will work to distort what the other does well. Davis has remained an anchor for this Lakers' defense, and he's been best when he can remain in the paint.
In the last series against the Golden State Warriors, they were able to pull Davis out of the paint on occasion and they found success then; however, for the majority of the series, AD won that battle and locked up the interior. The Lakers did an excellent job with a combination of high-drop and strong point-of-attack defense using Dennis Schroder and Austin Reaves. They'll have a similar task with Murray and Jokic.
The Nuggets will try to pull Davis out of the paint, and Jokic may be the player best able to do this with his ability to run the offense from literally anywhere on the floor. I think the Nuggets will run more options with Jokic at the high post or even on the perimeter to try and draw AD out of the paint and get the Nuggets downhill.
Jokic has taken more 3s against Davis than he normally shoots in the regular season. During the season he averaged 0.8 3s on 2.2 attempts, against Davis this season he made just 0.7 per game but it was on 4.0 attempts. In the playoffs, Jokic has averaged 1.7 on 3.6 attempts. I think we should continue to see 3-point volume and I like him to make 2+ in Game 1 (+180).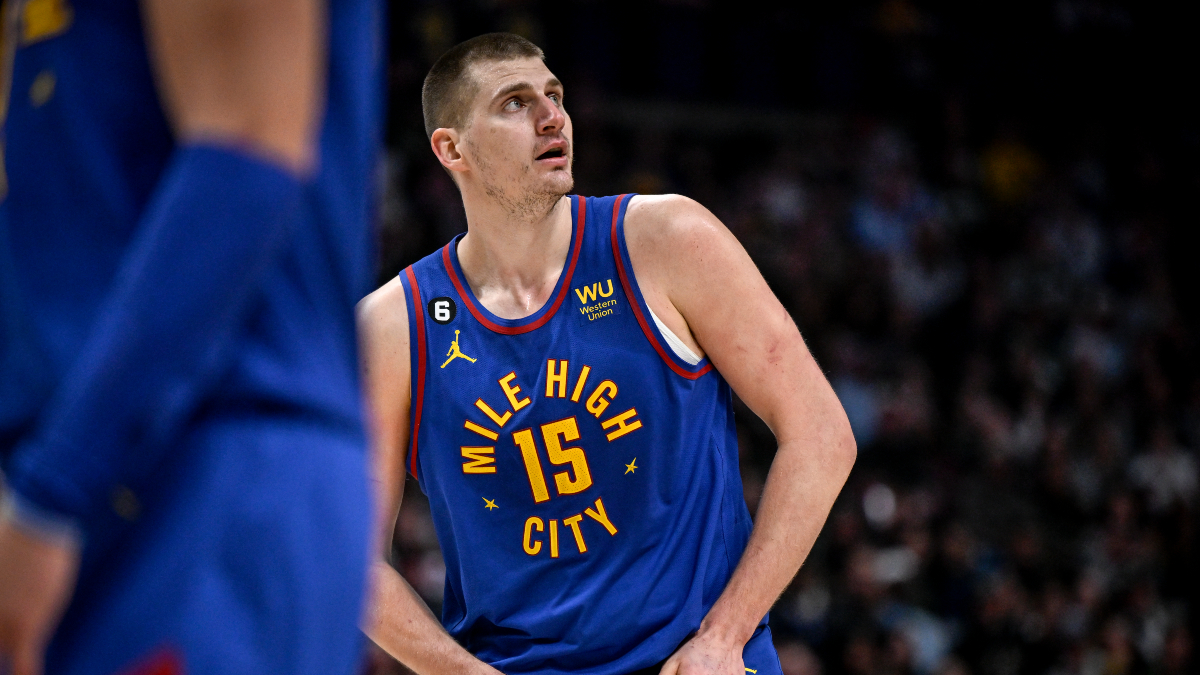 DraftKings is also giving us a market for 3s per game, and Jokic's prop is set at 1.4. This is something to consider with an expectation for increased volume and less game-to-game variance.
To put it in perspective, Jokic would need to make the six 3s in a four-game series, seven threes in a five-game series, nine 3s in a six-game series and 10 3s in a seven-game series to cash that prop. It's important to remember for these per-game bets that in order to exceed that average you need to extrapolate that total over the number of games and exceed that raw total.
While it is unlikely, Jokic is to lead the series in 3s, and with neither team having a 3-point specialist who is knocking down five per game it's worth a tiny sprinkle for at least the hedge opportunity. (I got it at +12000 but the best number as of this writing is +9000.) That being said, Jamal Murray is the most likely winner (averaged 2.8 against the Lakers and 2.9 during the playoffs) but the number is untenable (+180).
This leads to an analysis of how the Lakers will defend Jokic. He's a multifaceted offensive talent who can score at every level while also making his teammates better. This is evidenced by his league-best EPM of +7.9 (+7.7 being Offensive). The Lakers have no options to stop him, but they have a few options to slow him down. I think there's a bit too much expectation that Davis will defend Jokic one-on-one.
To me, this is a zero-sum game simply due to the potential foul trouble Davis can run into along with how it would likely wear him down over the course of the series – this needs to be deployed selectively. It's more likely that the Lakers send help on Jokic, especially in the post.
We love to fantasize about the on-court matchups, the one-on-one superstar showdowns; however, we'd do much better by looking at what has actually happened. While these matchups involved different personnel, the strategy should remain the same – in the regular season, the Lakers sent help on 73% of Jokic post-ups, according to Tim aka Cranjis McBasketball at BBall Index. Jokic is an elite passer, and that's something the Lakers will live with because this will decrease the fouls he draws and forces the rest of the Nuggets to beat them.
Jokic should easily lead the series in assists — he is averaging 9.7 assists per game this postseason, and the next closest in this series is Murray at 6.5 and James is averaging a distant 5.3. That line is set at (-200 BetMGM) and that line is flat-out wrong giving Jokic just a 66.66% implied probability.
Similarly to our arbitrage scenario last series with Jokic, you could sprinkle both Murray (+850 Bet365) and LeBron (+900 Bet365) to lock in a profit, but I don't think it's necessary in this spot. I also lean the over for his assists prop in Game 1 at 9.5.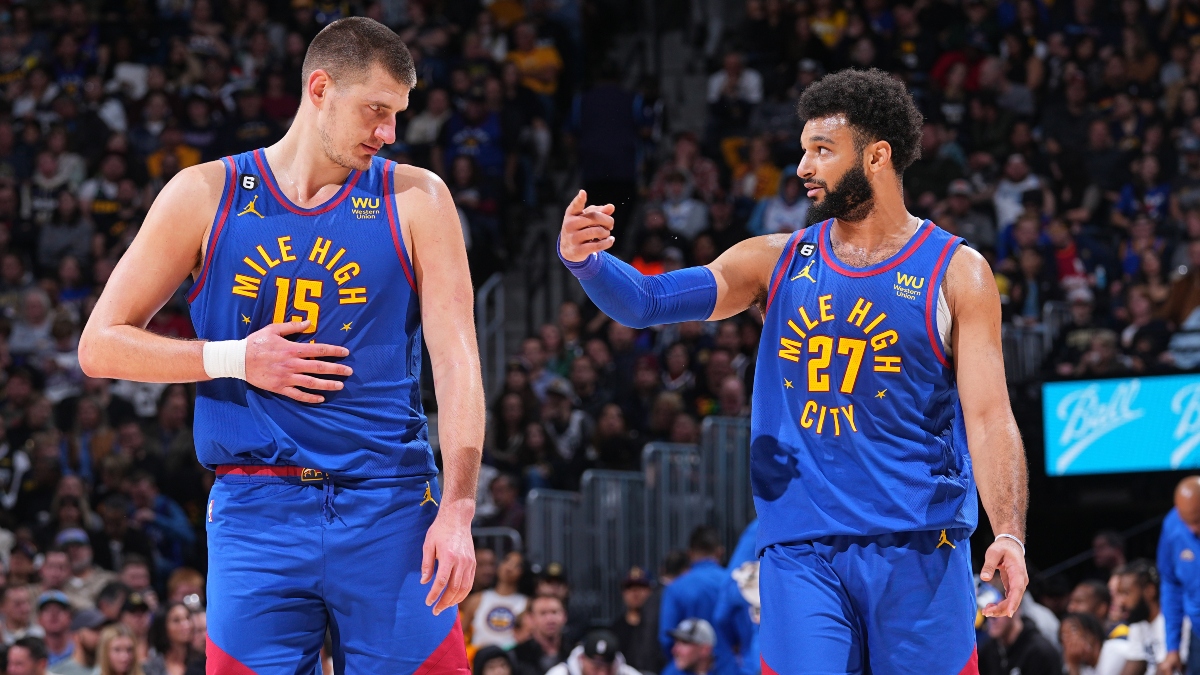 I do think with Jokic leading in assists, this should lead to more scoring from Murray, especially if the Lakers drop on him to defend the interior. Murray has explosive scoring ability and is always a threat to drop 30 points in a game.
Murray is averaging 25.9 points per game during the playoffs, and while the Lakers could cover him in a manner similar to how they defended Stephen Curry, with a high drop. That takes away from the Jokic defense, so I think he will see a lot of single coverage with Schroder or even D'Angelo Russell as the primary defender — and if it's Russell, he should feast.
I think there's some potential for Russell to get played out of the rotation because Schroder is a much better point-of-attack defender. That being said, I like Murray to lead the series in points at (+600) and you should consider the Parlay of Murray to lead in Points and Jokic to Lead in Assists and Rebounds at (+1000) on FanDuel.
Bets: Jokic Assists Leader (-200 BetMGM)
---
Pick: Jokic over 1.5 3s (+176) in Game 1
---
Pick: Murray Points Leader (+600)
---
Sprinkle: Jokic 3s Leader (+8000 DraftKings)
---
Sprinkle: Series Leader: Murray PTS, Jokic REB, Jokic AST Parlay (+1000)
What is QuickSlip?

QuickSlip is an Action Network feature that allows users to automatically pre-load their bet slip at FanDuel Sportsbook.
---
Check out our NBA props page for daily player props lines and projections.
---
This series is a rematch of last year's Eastern Conference finals and there's much we can take from that history and compare it to this season's. Stylistically this is interesting because both teams take a ton of 3s while allowing those opportunities. The main difference is the Celtics are actually good at hitting those 3-point opportunities and they are shooting an incredible 40.1% from deep during the playoffs compared to 36.4% from the Heat, which is better than their season-long mark of 34.8%, per Cleaning the Glass.
The margins are close due to the rest advantage Miami has in Game 1 and the coaching advantage with Erik Spoelstra at the helm. My favorite spot in this series is in the rebounding battle. So far this postseason, Jayson Tatum, has been incredible on the boards and he is averaging 10.6 Rebounds per game, sixth-most in the playoffs and a significant increase from the 8.8 rebounds he averaged during the regular season. While he is the favorite (-220), and should be at this point, the number is egregious. This number is inflated because he just lead both of the previous series and was plus money in each of them (which we bet against Atlanta and Philadelphia).
I think there's a pivot here. Adebayo (+260) averages 9.2 RPG and is a viable option; however, I think the value lies in Al Horford (+3000). Horford lead this exact matchup in rebounds last season with 10 RPG and he did that in just six games to lead with 60. While some personnel is different, Horford's offensive and defensive versatility should lock him into a consistent role during this round.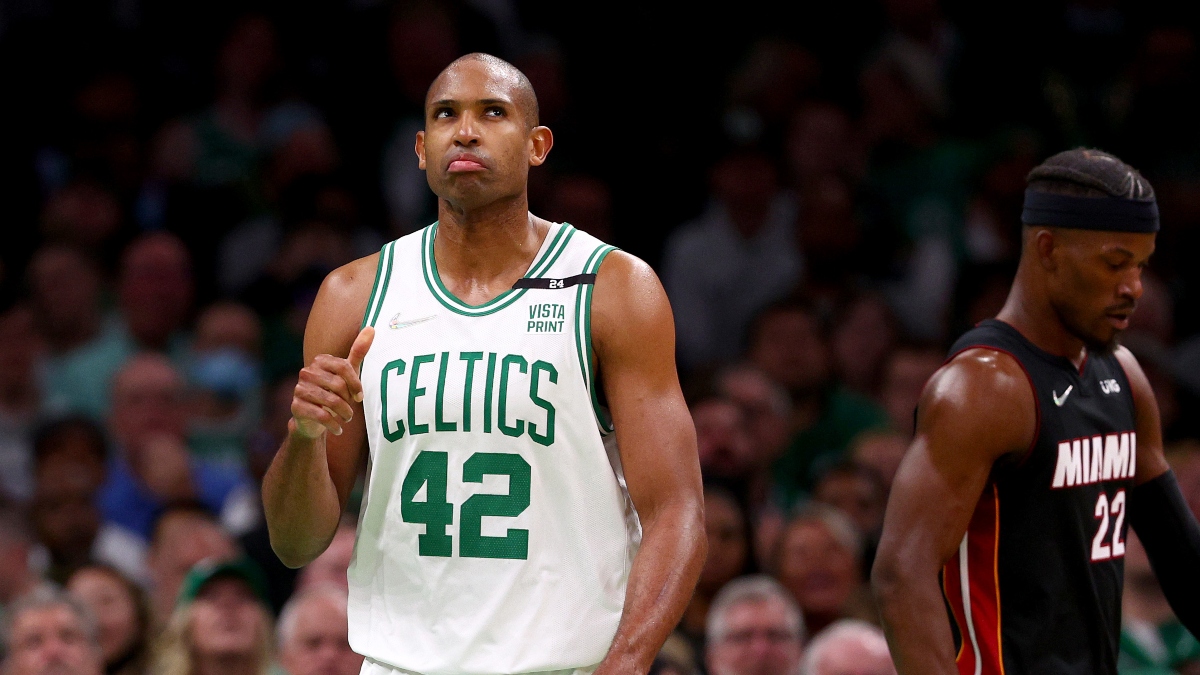 Additionally, there seems to be some concern that Robert Williams III (+1200) will take on an increased role in this series because he started in Games 6 and 7 against the Sixers; however, that has not directly translated to rebounds, and he has recorded nine and five rebounds in those starts. I think Williams joining the lineup was the adjustment needed against the Sixers, but from a matchup perspective, this is not an ideal spot for Williams. He has averaged just 24 minutes per game and 6.8 RPG in 9 games against the Heat over the last two seasons.
Horford is a much better on-court fit and has averaged 35 minutes and 9.0 rebounds per game in 12 contests against the Heat over the same time frame. You can hear more about it on Buckets with myself, Matt Moore, and Brandon Anderson, but you should also bet Al Horford over 6.7 Rebounds per Game (-115 DraftKings). He is averaging 7.6 RPG during the playoffs as it is, and. I don't expect this to drop – this bet can fund your Series Leader bet at (+3000).
The other angle I like in this series targets two different players to lead in assists: Jayson Tatum (+700 Bet365) and Kyle Lowry (I got this at +2000 at FanDuel, but DraftKings has the best number currently at +1600). Part of why I love this market is neither team has a true pass-first point guard and rely heavily on some of their primary usage players for assists. Butler could be favored here (-175); however, I think the number is overblown – he is averaging 5.4 assists per game on 11.0 potential assists during the playoffs.
On the flip side, Tatum is averaging 5.2 assists per game on 8.8 potentials per game. Last year, Tatum easily cleared this leaderboard with 39 total assists with 5.6 per game (granted, Boston has added Brogdon which takes away a bit but not as much).
I like Tatum here because of the number (+700) for someone that will always have the ball in his hands, and I expect Miami to sell out trying to stop him offensively. This should force the ball from his hands. I also like Tatum to exceed his 5.0 assists per game average listed at DraftKings. He is averaging 5.2 during the playoffs and has recorded at least five in 10 of 13 games. I'll also play over 4.5 assists in Game 1.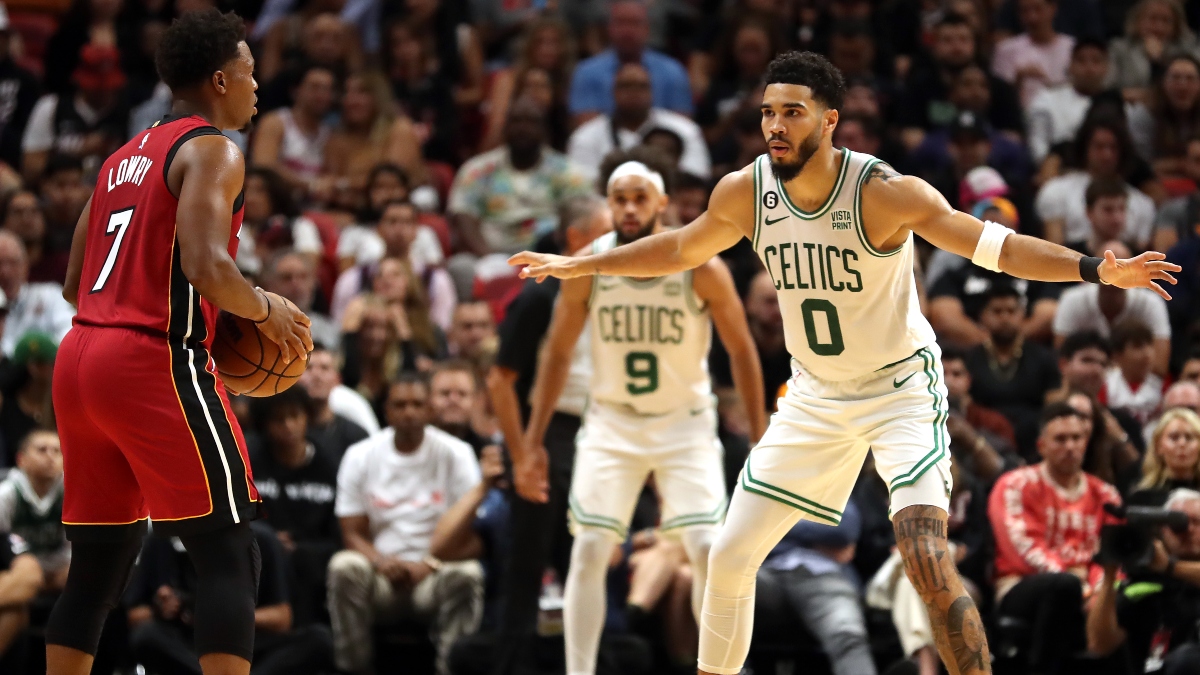 The other player I like is Kyle Lowry (+2000). I like Lowry because we've seen his role increase throughout the playoffs and his shotmaking and grittiness will be valuable against this Miami Heat team. Last round, Lowry averaged 5.7 assists on 11.5 potential assists including a 9 assists game in the Game 6 closeout of New York. This line was as high as (+3000) at the open, and is absolutely worth a sprinkle especially with how thin Miami's rotations are becoming due to injuries.
Bet: Al Horford over 6.7 Rebounds Per Game (-115 DraftKings)
Bet: Al Horford Double Double Game 1 (+1025 Bet365)
Bet: Jayson Tatum over 5.0 Assists Per Game (-115 DraftKings)
Bet: Jayson Tatum Series Assists Leader (+700 Bet365)
Bet: Jayson Tatum over 4.5 Assists in Game 1 (-145, DraftKings)
Bet: Kyle Lowry Series Assists Leader (+1600 DraftKings)
Pick: Al Horford Series Rebounds Leader (+3000)
What is QuickSlip?

QuickSlip is an Action Network feature that allows users to automatically pre-load their bet slip at FanDuel Sportsbook.
---
How would you rate this article?
This site contains commercial content. We may be compensated for the links provided on this page. The content on this page is for informational purposes only. Action Network makes no representation or warranty as to the accuracy of the information given or the outcome of any game or event.