2023 ACC Conference Preview, Odds, Picks: Bets to Make for Clemson, Florida State, UNC & More
Credit:
David Rosenblum/Icon Sportswire via Getty Images, Joe Robbins/Icon Sportswire via Getty Images and Jordon Kelly/Icon Sportswire via Getty Images. Pictured (left to right): Florida State quarterback Jordan Travis, Clemson running back Will Shipley, UNC quarterback Drake Maye.
Changes are coming to every Power 5 conference with the exception of the ACC.
USC and UCLA are moving to the Big Ten, while Texas and Oklahoma will find a new home in the SEC starting in 2024. And now, the Pac-12 will be the Pac-4 with the recent defections of Oregon and Washington to the Big Ten and Arizona, Arizona State and Utah to the Big 12.
Left out of the alignment party is the ACC, which is locked into a media rights deal until 2036 with each team making $23.3 million per year. Those numbers are peanuts compared to the SEC's TV contract that provides each member with more than $50 million per year.
Seven schools are investigating a way out, including Clemson and Florida State. While the drama unfolds behind closed doors, the ACC will move to division-less football in 2023.
The Atlantic and Coastal Divisions are no more, giving some teams (hello, Louisville) a massive advantage in conference scheduling.
This preview will look at the current 14-member slate with odds on national title, College Football Playoff, win total and possible Game of the Year opportunities.
First, a look at the conference and full-season projections for each of ACC teams:
Of the 14 teams in the league, only two stand out as clear favorites to win the conference.
Outside of the top-tier bubble resides Louisville, the clear winner in the easiest conference schedule competition. The Cardinals will dodge projected conference favorites Florida State, Clemson and North Carolina.
Jeff Brohm comes in as head coach after an unsuccessful stint by Scott Satterfield.
Louisville is expected to hit the ground running from an offensive perspective, bringing over the majority of Brohm's staff from his Purdue tenure.
Center Bryan Hudson ranks as the best in the ACC. Former Boilermaker quarterback Jack Plummer transfers in, giving Brohm a signal-caller familiar with the inside zone in 11 personnel.
Running back Jawhar Jordan returns to the backfield after racking up 815 yards and four scores on 5.7 yards per carry. The elusive back not only averaged 3.3 yards after contact, but he's also a threat to take any kickoff back to the house.
While the offense is heavy in experience, the Cardinals return 56% of the defense, per TARP.
Ron English and Mark Hagen are co-coordinators with expectations of running a nickel package with cover 1 and cover 3. Louisville finished 2022 ranked 122nd in tackle grading, a stark contrast from a Purdue defense that finished 31st.
Former Florida State defensive back Jarvis Brownlee also returns after producing seven pass breakups from the left cornerback position.
There are plenty of coin-flips on the schedule, all with the Cardinals a slight favorite. With a projection of 10 wins from Action Network, look to take Louisville Over 8 (-110) or a prop on an undefeated season at 25-1 or better.
There may not be a bigger tempo decrease in college football than what the North Carolina offense will experience. Offensive coordinator Phil Longo has called plays for the fastest teams in FBS but now departs for Wisconsin.
Enter new OC Chip Lindsey, who averaged a rank of 107th in tempo during his tenure calling plays at Troy.
The Tar Heels are still dangerous from an explosive play perspective as Drake Maye enters his third season as quarterback.
As a freshman, Drake Maye impressed with a low 2.4% turnover worthy play rate & made 45 big-time throws, the most in CFB per @PFF.

While Caleb Williams gets the attention, Maye was equally impressive. They could each go 1-2 in the 2024 NFL Draft. #UNCommonpic.twitter.com/yZQuXWwU0v

— Kyle Lindemann (@LuckIsMadeFF) August 3, 2023
Less than 60% of offensive line snaps and receiving targets return from a season ago.
If the North Carolina offense takes a step back in air explosives and protection of its Heisman candidate quarterback, the defense will need to improve.
Defensive coordinator Gene Chizik did nothing to better a defense that fell drastically in all categories. The Tar Heels finished bottom-10 nationally in Success Rate, Finishing Drives and Havoc on the defensive side of the ball.
Despite the potential pitfalls mentioned above, North Carolina projects to be favored in 11 games. Games against South Carolina, NC State and Minnesota will have the Heels as a favorite of under a touchdown.
With so many double-digit favorite spots on the schedule, a North Carolina over 8 ticket is the best investment.
Another team expected to overachieve versus the market price is Syracuse.
Both sides of the ball return more than the national average in experience, per TARP.
New defensive coordinator Rocky Long is tasked with improving a Success Rate that fell outside the top 100. While the Orange were stingy as a top-25 unit in Finishing Drives, the rush defense ranked 100th in opponent first downs.
Linebacker Marlowe Wax returns as the top tackler on the team, generating plenty of Havoc a season ago.
The offensive combination of quarterback Garrett Shrader and tight end Oronde Gadsden will be the bread and butter of the offense in the post-Sean Tucker world. Gadsden nearly doubled every other player in targets last season, generating six touchdowns with 359 snaps from the slot.
The Orange will be heavy favorites in four games with coin-flips in all other games outside of North Carolina, Clemson and Florida State.
Syracuse over 6.5 is the play, especially with three teams experiencing new offensive structures in September. Getting to the bye week with full health is key for sweeping the remaining five games.
The offseason indicators that move power ratings suggest there's pullback on Duke after a nine-win season.
Mike Elko enters his second year following masterful jobs as defensive coordinator at stops including Notre Dame and Texas A&M.
Nickel Brandon Johnson and defensive interior DeWayne Carter are two important pieces to maintaining a top-40 Havoc unit, as nearly every defensive player returns outside of the top two tacklers. The direct reason the Blue Devils surprised last season was the play of the offense.
Quarterback Riley Leonard returns to a Kevin Johns offense that was heavy in inside zone, pulling linemen and RPO. The junior racked up nearly an even distribution of scramble and designed runs to total 776 yards, forcing 20 missed tackles along the way.
The offensive line returns 83% snaps of experience while leading the Blue Devils to a rank of eighth in Havoc Allowed. Many believe Elko cannot duplicate the success of last year with a jump in schedule difficulty.
Action Network projects Duke squarely on 6.5 wins, aligning closely with the market. While the official play is a pass, the over has plus-money juice, giving hedge options through a soft November schedule.
Another pass on the win total comes in head coach Mario Cristobal's second season with Miami.
The roster needed an overhaul in the trenches to execute the schemes desired, as new offensive coordinator Shannon Dawson comes in from Houston.
Quarterback Tyler Van Dyke had Heisman hype a year ago, only to post nearly as many turnover-worthy plays as big-time throws. The obvious correlation to a dip in stats is dropbacks with a clean pocket, as Van Dyke moved from a 25% pressure rate to 30% a season ago.
Dawson will look to get Van Dyke to replicate what Clayton Tune did in Houston, as the offensive line returns 64% of experience heading into 2023.
The big hire in Coral Gables comes on the defense, as Lance Guidry takes over the defensive coordinator position after running one of the best Havoc defenses at Marshall. The Thundering Herd finished top-10 in nearly every defensive category, as Miami will now benefit from his nickel scheme that runs primarily quarters coverage and cover 3.
The defense returns more experience than any other squad in the ACC, so an improvement in tackling fundamentals is expected after the Canes finished 107th in that area last season.
Miami projects below 7 wins, making the heavily juiced under 7.5 a pass. Keep tabs on Texas A&M during fall camp, as the Hurricanes will have eight days to prepare for a revenge spot as host at Hard Rock Stadium.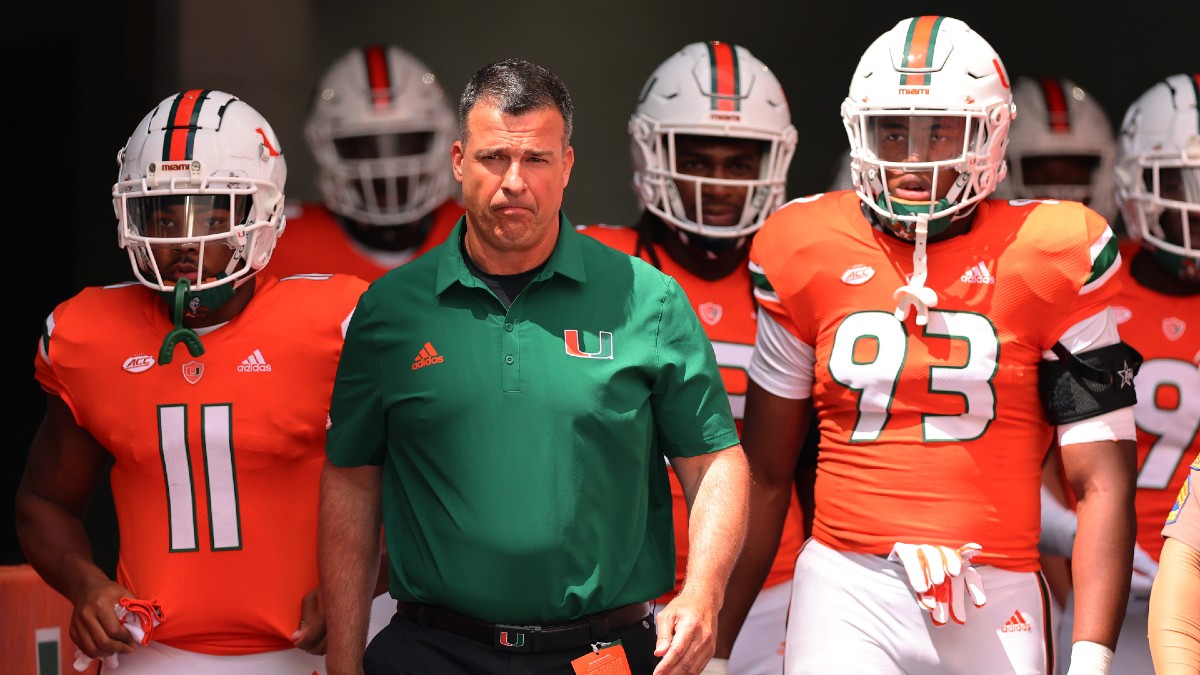 For all the love showered on NC State last season, a small bit of regression is due for the Wolfpack.
The offense will have an identity matching that of an ACC counterpart, as offensive coordinator Robert Anae and quarterback Brennan Armstrong reunite with each other after a number of seasons at Virginia.
The inside and outside zone run schemes with Armstrong's ability to run RPO are deadly against teams with a soft defensive interior.
The problem with the NC State offense is the pieces surrounding the quarterback, as three of the top four targets from last year are no longer with the team. Running back Jordan Houston will play a large role on every down after generating 544 yards on the ground and 25 catches a season ago.
There may never be a drop-off in efficiency with Tony Gibson as defensive coordinator, but the Wolfpack will be tested with only 41% of experience returning on defense. Five of the top six tacklers depart from a squad that ranked top-15 in Havoc and the No. 1 in Stuff Rate.
The edge positions and linebacker Payton Wilson return, but an expected drop in coverage and explosives are expected with a new secondary.
NC State under 6.5 sits at plus-money in the market, while an Action Network projection of 5.9 puts the Wolfpack under the win total.
As Armstrong exits Charlottesville, questions remain about the identity on both sides of the ball for Virginia.
Head coach Tony Elliott heads into his second season after a disastrous three-win campaign in 2022. The Cavaliers beat Richmond before totaling 32 points in a victory over Old Dominion and Georgia Tech.
The offense was expected to improve after Elliott's tenure as offensive coordinator at Clemson, but Virginia fell to 125th in Finishing Drives. The defensive side of the ball had just as many issues, falling to dead last in FBS in Stuff Rate.
Edge Chico Bennett and defensive tackle Aaron Faumui return to the defensive line, but the Cavaliers are far from improving their efficiency in Success Rate and in the red zone.
Offensively, Tony Muskett will likely start at quarterback after Jay Woolfolk decided to focus on his baseball career. Running back Kobe Pace departs Clemson to fill the backfield for Elliott but fell to less than two yards after contact last season.
Virginia took positive marks on defense and negative marks on offense when adjusting its power rating. The Hoos will be favored over James Madison, William & Mary and Georgia Tech. Small underdog games against Boston College and Virginia Tech can put UVA over the win total, but the Cavaliers are a complete pass under Elliott.
The hire of Brent Pry would lead college football fans and bettors to believe the defense would improve for Virginia Tech.
There were improvements last season, including a top-25 rank on third downs and in Success Rate. The Hokies' issues came in the red zone, where they finished with a rank of 124th alongside a mark of 69th in Finishing Drives.
Pry and defensive coordinator Chris Marve will continue to run a four-man front that's light on blitz and pressure, but improvement is needed with a rank outside the top 100 in explosives allowed.
The good news for Virginia Tech is that it brings back plenty of pass breakups, led by cornerback Mansoor Delane.
The quarterback position returns Grant Wells after a 2,100-yard season in which he took a step back in turnover-worthy plays after his transfer from Marshall. Kyron Drones is expected to challenge for starting duties as well, as offensive coordinator Tyler Bowen looks to focus on tight ends Dae'Quan Wright and Nick Gallo and their 49 catches from 2022.
However, the offense finished a dreadful 129th in Finishing Drives.
The Action Network projection puts Virginia Tech a full win lower than the market. Until Finishing Drives becomes a priority in the Pry era, take the under 5 at plus-money on the Hokies.
Another team with a possible setback is Wake Forest.
Quarterback Sam Hartman transferred to Notre Dame, leaving quarterback duties to Mitch Griffis and a brand new offensive line at the interior positions.
Coordinator Warren Ruggiero is expected to tweak an offense that ran one of the highest rates of RPO and play-action pass last season. Wake Forest returns just 41% of experience on the offensive side, leaving plenty of questions at all positions.
Coordinator Brad Lambert was a great hire for the defense, generating a top-30 Havoc ranking while improving red-zone efficiency. Similar to the offense, experience is an issue on the defensive side of the ball for a nickel package that primarily lines up in cover 1.
The categories with the biggest losses are pressures and pass breakups. Wake Forest did not reload in the offseason and enters 2023 with a rank of 75th in the transfer portal. With a win total projection at 5.9, take the under 6.5 at -120.
Injuries played a large role in Pittsburgh's 2022 season. Now, quarterbacks Kedon Slovis and Nick Patti are no long with the program.
Offensive coordinator Frank Cignetti reached into the portal to pull a former Boston College quarterback in Phil Jurkovec. The sixth-year senior has had an underwhelming career in two previous stops with the Eagles and Notre Dame.
Jurkovec generated nearly twice as many turnover-worthy plays as big-time throws last season.
He suffered an injury after facing 127 pressured pockets in 249 dropbacks, which may be a bad omen for what he'll see with the Panthers. Pitt's offensive line returns only 40% of snaps, with center Jake Kradel leading the charge. If Pitt can't protect Jurkovec, expect another underwhelming touchdown-to-interception ratio in his final collegiate season.
The defense also takes several experience hits, losing its top four tacklers. The good news is the return of Bangally Kamara, Shayne Simon and MJ Devonshire, who combined for 23 pass breakups.
New faces will fill the defensive line, but with head coach Pat Narduzzi leading the way, there's never an expected drop from top-10 ranks in Havoc, tackling and coverage.
Our projected win total falls well below the market number. With so many questions at the skill positions and offensive line, take the under 7 at even money or better.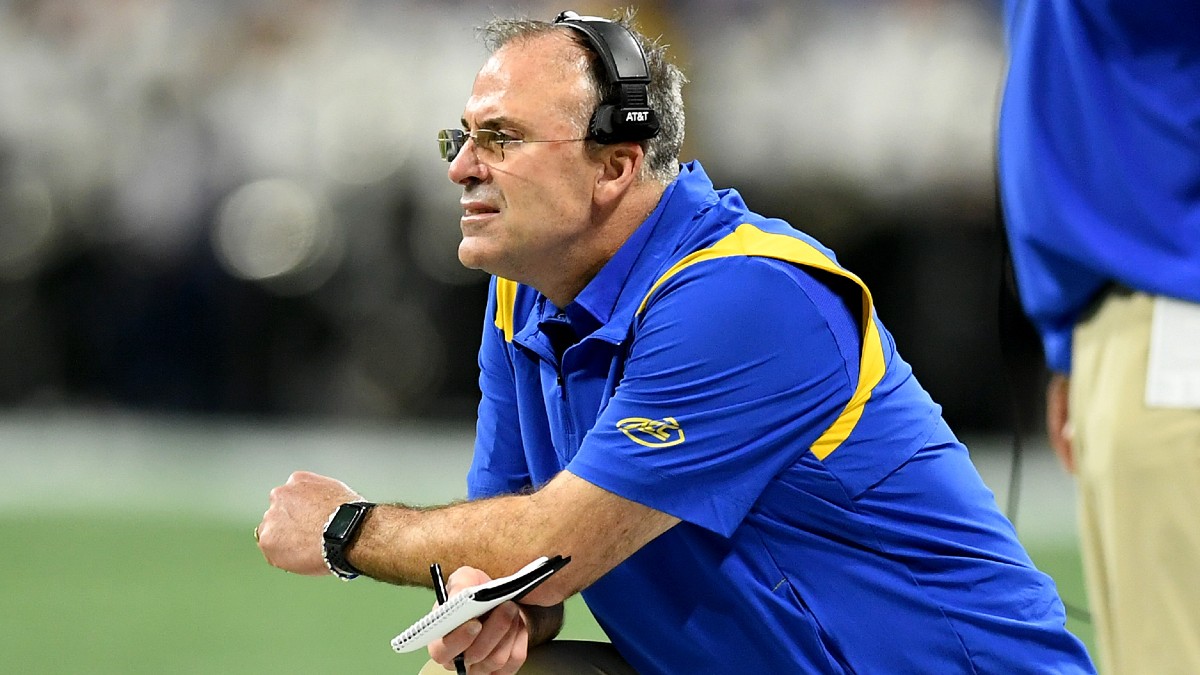 Is there a path for Boston College to overcome low expectations? With the cancellation of the 2021 Military Bowl, head coach Jeff Hafley has yet to coach in the postseason.
After a successful stint as defensive coordinator at Ohio State, Hafley has struggled to gain traction in Chestnut Hill. The Eagles return 45% of a defense that finished bottom-15 in coverage and Finishing Drives, a declining trend year over year.
Steve Shimko enters his second season as offensive coordinator, looking for answers at quarterback. Boston College runs the lowest amount of RPO and has one of the lowest rates of success in play action, leaving the load of production on the running backs.
Boston College does return a number of carries led by Pat Garwo and Alex Broome. Neither running back ranks highly in yards after contact or elusiveness, making this a ground-and-pound offense with questions on long third-down attempts.
UCF transfer wide receiver Ryan O'Keefe averaged two yards per route run and could possibly providing a spark on the outside.
Although the projection is lower than the market, this is a manageable schedule and ultimately a pass on the win total. Games against Northern Illinois, Holy Cross, Army and UConn will put the Eagles as favorites. Any improvement to the passing game or defensive efficiency could get the Eagles over their win total.
Georgia Tech Yellow Jackets
The best motivators in college football may be offensive line assistants turned head coaches, and Brent Key is one of them. Key picked up two underdog victories with Georgia Tech in November last season.
New offensive coordinator Buster Faulkner moves in from Southern Miss, bringing plenty of 10 and 11 personnel to GT's inside zone run scheme.
Dontae Smith is joined in the backfield by Louisville transfer Trey Cooley, adding depth to an offense that's expected to have a massive shift downward in pace.
At quarterback, Texas A&M transfer Haynes King is expected to jump Zach Gibson and Zach Pyron on the depth chart.
The defense will enter a fifth season under Andrew Thacker, who's known for multiple defensive fronts and plenty of cover 3. The Yellow Jackets may be the epitome of bend-don't-break, finishing 107th in opponent first downs but 14th in Defensive Finishing Drives.
Thacker called the highest amount of cover 6 in the nation, ultimately looking to give up the field and protect against touchdowns. The defense does lose its top three tacklers, falling just below the national average in returning experience.
Georgia Tech will be a play-on team in individual games against Virginia, Boston College and Wake Forest but is a pass in the win total market.
No teams are expected to slip into the ACC Championship other than Clemson and Florida State.
The two teams are dead even in numerous categories, as the Sept. 23 Game of the Year is neutral after accounting for home-field advantage.
Both teams took similar power rating adjustments, as the Seminoles gained positive marks on offense while Clemson racked up positive marks on defense. The difference between the two may come down to a hire made at the coordinator position.
Dabo Swinney recognized his offense has regressed in recent years, falling to 81st in Passing Success Rate with a stable of quarterbacks in the post-Trevor Lawrence era.
The offensive line has consistently failed to rank in the top 50 in pass blocking, creating a one-dimensional offense for the Tigers. No target averaged more than 1.75 yards per route run with at least 10 targets last season, giving Clemson no explosiveness in passing downs.
The Tigers' only plan of attack was to let running back Will Shipley find a hole through the offensive line.
Shipley and Phil Mafah return to the offense after averaging 3.3 yards after contact, but the hire of Garrett Riley is expected to elevate Clemson. Riley called the offense for TCU last season, implementing an Air Raid system that finished fifth nationally in explosives.
TCU quarterback Max Duggan entered 2022 as a projected backup but ended the season sitting with other candidates for the Heisman Trophy.
Clemson will be slower on offense, as the old unit had a tempo rank of 44th compared to Riley's TCU offense at 79th.
There's an expectation that quarterback Cade Klubnik will live up to his blue-chip recruiting while elevating wide receivers Antonio Williams and Beaux Collins.
Defensive coordinator Wes Goodwin has kept the elite rankings from a Havoc perspective in the wake of Brent Venables' departure to Oklahoma. Clemson finished top-25 in nearly every defensive category and returns an experience number just above the national average.
Linebackers Jeremiah Trotter and Barrett Carter combined for 17 quarterback hits and 14 pass breakups last season.
If Clemson returns to any level of offensive play close to the Lawrence and Trevor Etienne days, this is a national title contender.
Meanwhile, Florida State looks to put a stop to the Tigers' domination in the ACC.
Head coach Mike Norvell finished top-20 in recruiting and fourth in transfer portal rankings this offseason.
Quarterback Jordan Travis can stake his claim for a Heisman vote with victories over Clemson and LSU after his numbers exploded to 27 big-time throws and just six turnover-worthy plays in 2022.
He has plenty of weapons at his disposal, as running back Trey Benson averaged an eye-popping 4.5 yards after contact.
Although top tackler Jammie Robinson moves on to the NFL, the Seminoles defense returns a plethora of tackles and pressures.
The nickel package called by coordinator Adam Fuller runs 32% blitz with one of the highest rates of success in creating pressure. Both Jared Verse and Kalen DeLoach return to a front seven that produced a high number of quarterback hits.
Florida State is fantastic in pass defense and creating pressure, but defending the rush is still a concern. The Seminoles ranked 80th in Success Rate against the run and well below the national average in Line Yards. An improvement in scoring opportunities is needed after the Roles ranked 91st in Finishing Drives.
Both Clemson and Florida State enter the new season with high expectations, similar power ratings and nearly the same odds in to win the conference.
Because of Clemson's ability to rush the ball at an elite level and Florida State's inability to stop the rush, the Tigers are the pick to win a projected ACC Championship game.
Look for a prop on Clemson to make the College Football Playoff at +320 or better, as even a loss to the Seminoles in the regular season does nothing to its ACC and national title hopes.
As for Florida State, the win total comes down to pick'em games against LSU and Clemson, giving an investor the opportunity to buy a single game as opposed to wrapping up funds in a months-long future.
ACC Win Totals & Futures
Louisville Over 8
Syracuse Over 6.5
NC State Under 6.5
Virginia Tech Under 5
Wake Forest Under 6.5
Pitt Under 7
Clemson to Make College Football Playoff (+320)
How would you rate this article?
This site contains commercial content. We may be compensated for the links provided on this page. The content on this page is for informational purposes only. Action Network makes no representation or warranty as to the accuracy of the information given or the outcome of any game or event.