Alabama vs. Ohio State: Updated Odds & Line Movement for the CFP National Championship
Credit:
Joel Auerbach/Getty Images. Pictured: The College Football Playoff National Championship Trophy displayed at Hard Rock Stadium, host of the 2020-21 National Championship Game.
Alabama vs. Ohio State Updated Odds
Alabama Odds
-8.5
Ohio State Odds
+8.5
Moneyline
-310 / +240
Over/Under
74.5
Time
8 p.m. ET
TV
ESPN

Odds updated Monday, Jan. 11 and via FanDuel.
Two powerhouses will battle it out on Jan. 11 to be college football national champions. Alabama and its star-studded offense will take on a Justin Fields-led Ohio State team that bulldozed Clemson in the semifinals.
You'd think these two programs would have played more often in January, but they haven't met since the 2014 Sugar Bowl semifinal, when the Buckeyes rode 230 rushing yards from Ezekiel Elliott to beat Alabama, 42-35, before beating Oregon in the title game.
Here is a breakdown of the most recent odds updates for Alabama vs. Ohio State, plus what to expect from both teams. Analysis is provided courtesy of the Action Network's Collin Wilson.
---
---
2021 CFP National Championship Odds History & Line Movement
Update: Saturday, Jan. 11 at 8 a.m. ET
With less than 12 hours remaining before the CFP National Championship Game kicks off, the Alabama Crimson Tide is listed as an 8.5-point favorite at FanDuel and several other books around the betting market.
Alabama originally opened at -9 (-105) on Friday, Jan. 1. After a brief dip down to -7.5 during the CFP Semifinal matchup between Ohio State and Clemson, the Tide stabilized around -8.5 or -9 by night's end. Then on Jan. 2, Ohio State made its move: The Buckeyes' point spread shrunk to +6.5 before a substantial steam move pushed the line back out to +8.5.
In the week or so since then, the spread has danced between 7.5 and 8.5 — with some books listing the Buckeyes as 9-point dogs as of writing.
The game total opened at 75.5 and was subsequently bet down to 74.5 by Saturday, Jan. 2. That over/under held at 74.5 through Saturday, Jan. 9 — when it began its small climb back up to its 75.5-point open. But, overnight Sunday, the game total fell back down to 74.5, where it remains as of Monday morning.
---
Update: Saturday, Jan. 2 at 9:30 a.m. ET
Overnight, Ohio State moved inside the key number of 7 to +6.5, juiced at -120. The total also dropped half a point to 75.5.
---
Update: Friday, Jan. 1 at 11:20 p.m. ET
FanDuel has released moneylines for Alabama vs. Ohio State and has pulled Alabama vs. Clemson odds from the board.
Alabama is listed as a -7.5 (+100) favorite vs. Ohio State. FanDuel is now offering a Crimson Tide moneyline of -275 and a Buckeyes moneyline of +230.
Ohio State now leads Clemson by a score of 49-28 with 10:42 remaining in the fourth quarter.
---
Update: Friday, Jan. 1 at 11 p.m. ET
As of late Friday evening, Alabama's listed odds versus Clemson have stabilized at -6.5 (-115). However, the line continues to push further in the Tide's favor in a potential matchup with Ohio State. FanDuel's odds have moved from Alabama -7.5 as of 10 p.m. ET to Alabama -9 at 11 p.m. ET.
The Buckeyes currently lead the Tigers, 42-21, with one minute remaining in the third quarter.
Alabama -9 (-110) vs. Ohio State
---
Update: Friday, Jan. 1 at 10:30 p.m. ET
Listed odds have been updated once again following Justin Fields' interception in the Clemson red-zone, followed by the Tigers' touchdown drive to bring the game to Buckeyes 35, Tigers 21.
Alabama -6.5 (-115) vs. Clemson
Alabama -8.5 (-110) vs. Ohio State
---
Update: Friday, Jan. 1 at 10 p.m. ET
During the first half of the Sugar Bowl matchup between Clemson and Ohio State, FanDuel pulled those odds from the board as the Buckeyes began to establish a commanding lead. FanDuel reposted National Championship odds around halftime of Friday's Sugar Bowl (about 10 p.m. ET):
Alabama -5.5 (-115) vs. Clemson
Alabama -7.5 (-110) vs. Ohio State
---
Update: Friday, Jan. 1 at 7 p.m. ET
Just before 7 p.m. ET on Friday, FanDuel posted point spreads for each of Alabama's potential National Championship opponents: Clemson and Ohio State, respectively.
Alabama -4.5 (-115) vs. Clemson
Alabama -9 (-105) vs. Ohio State
Alabama vs. Ohio State Matchup Analysis
Alabama Crimson Tide
This Alabama team could go down as one of Nick Saban's best since he arrived in Tuscaloosa in 2007.
The Crimson Tide have the best offensive line in football and an elite group of playmakers around it. It all starts with two finalists for the Heisman Trophy: quarterback Mac Jones and wide receiver DeVonta Smith.
Jones has thrived under pressure this season, posting an 83.5% adjusted completion percentage before the Crimson Tide's impressive win over Notre Dame. In 85 dropbacks under pressure, Jones also has a 14:1 touchdown-to-interception ratio.
After posting an incredible 98 catches, 1,511 yards and 17 touchdowns, Smith torched Notre Dame for seven catches and 130 receiving yards. His memorable season has already netted him the Associated Press Player of the Year honors.
The scary part of Alabama? It's the defense that separates it from the rest of college football. The Crimson Tide ranked in the top 25 in defensive Havoc, pass coverage and Finishing Drives. Patrick Surtain II leads a trio of shutdown cornerbacks, while the front seven is one of the best in the nation.
Ohio State Buckeyes
It was tough to get a thorough reading on Ohio State due to a strength of schedule that ranked outside of the top 40.
The Buckeyes' passing game, starring Fields, is their biggest strength.
It's Fields' protection that is the biggest concern, as the Ohio State offensive line ranks outside the top 100 in pass protection. He entered the Buckeyes' win over Clemson with as many sacks taken as he had touchdown passes. A matchup against the Alabama defensive line is not ideal for Ohio State.
Saban will look to the Buckeyes' closest game of the season, a 42-35 win over Indiana, for a game plan. He'll see a defense that ranked outside the top 50 in tackling and pass explosiveness, which doesn't bode well against Jones and Smith.
Another concern for Ohio State: special teams. The unit ranked outside the top 100 this season, according to SP+, and a rotation of kickers hit only 50% of field goal attempts.
---
Collin Wilson's Projection: Alabama (-4.5) vs. Ohio State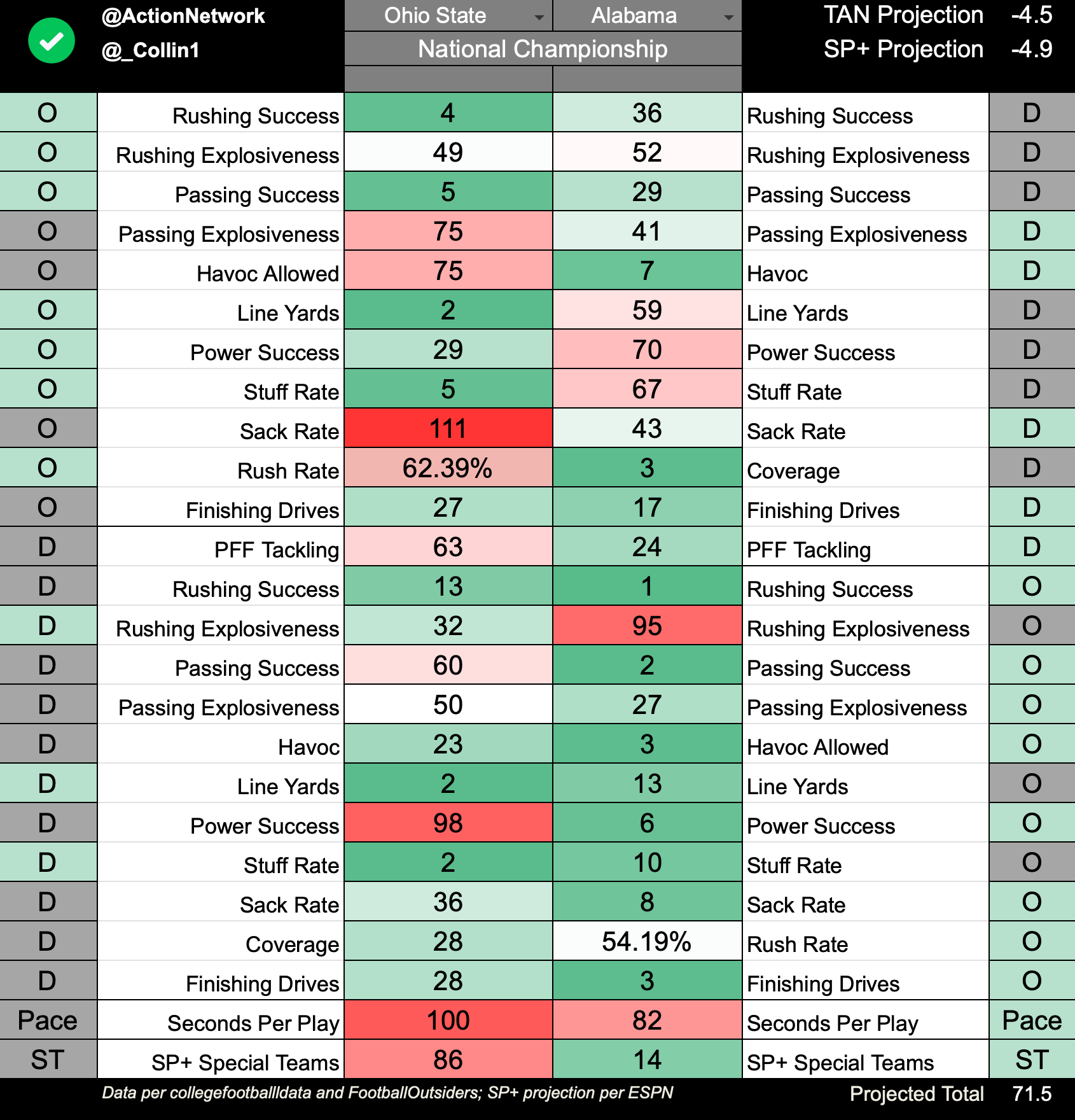 Although the Crimson Tide defense has posted some of the program's highest grades in years, a lack of pass rush on Fields could turn this game into a high-scoring affair.
The Buckeyes are elite in Line Yards on both sides of the ball, translating to Trey Sermon, and Fields gaining chunk yardage on the ground. Alabama should have no issues of its own against a Buckeye secondary that has struggled in a limited number of snaps.
Saban will be sure to study the Indiana game plan and execute against an Ohio State defensive unit that is outside the top 50 in tackling and pass explosiveness. Ohio State can keep this game close, but the difference in Defensive Finishing Drives between the two teams is what gets Alabama to the window.
---
---
How would you rate this article?