Alabama vs Tennessee Picks & Predictions | NCAAF Staff Best Bets for Saturday's Biggest Game
Credit:
Photo: Alabama vs. Tennessee
Alabama vs Tennessee Odds
Alabama Odds
Spread
Total
Moneyline

-8.5

-110

67.5

-115o / -105u

-330
Tennessee Odds
Spread
Total
Moneyline

+8.5

-110

67.5

-115o / -105u

+260

By Dan Keegan
On a titanic slate of Week 7 college football, one game stands out: No. 3 Alabama at No. 6 Tennessee.
This is a rivalry rich with storylines, both on and off the field. Alabama has been the model program in college football for the last decade and a half.
In that same time frame, Tennessee has floundered through embarrassing coaching cycles, NCAA rules violations, a public booster feud, weird meltdowns and more.
The Third Saturday in October has defined "one-sided rivalry" in the Nick Saban era. Saban has never lost to Tennessee and has won this matchup by an average score of 39-13.
This is the first time since 2008 that the spread in this matchup has been closer than Alabama -13.
But Tennessee believes this could be its year. The Vols' offense is a machine, as quarterback Hendon Hooker runs Josh Heupel's system to perfection, distributing the ball to playmakers and forcing a defense to account for every blade of grass on the field.
Hooker has played into Heisman contention and can lock up at least a trip to the Big Apple with a win on Saturday.
But beating the streak won't be about individual accolades, nor will it happen because of one brilliant playmaker. It will take a full team effort to fill the Neyland air with postgame-victory cigar smoke.
The Alabama machine looks vulnerable — it escaped Texas and Texas A&M by one score each.
Heisman quarterback Bryce Young injured his shoulder two weeks ago and sat out the win over the Aggies. The defense is excellent, but it has looked vulnerable when the stellar pass rush isn't getting home. The Tide don't sport their usual stable of thoroughbreds at wide receiver.
But it's still Alabama.
If the pass rush isn't getting home, it's not like the rest of the defenders are slackers. The running game is dynamite and the wide receivers are producing at four-star levels instead of five-star, first-round pick levels.
Alabama's weaknesses would be strengths on most other teams in the country.
One side will be savoring stogies on Saturday at sundown in the Smoky Mountains.
Will Alabama's supposed weaknesses accumulate enough to allow Tennessee to snag a historic victory? Or will the Tide prevail again?
We polled 14 of our college football experts to try to find a consensus and find the best ways to play this SEC showdown. Let's get to their analysis.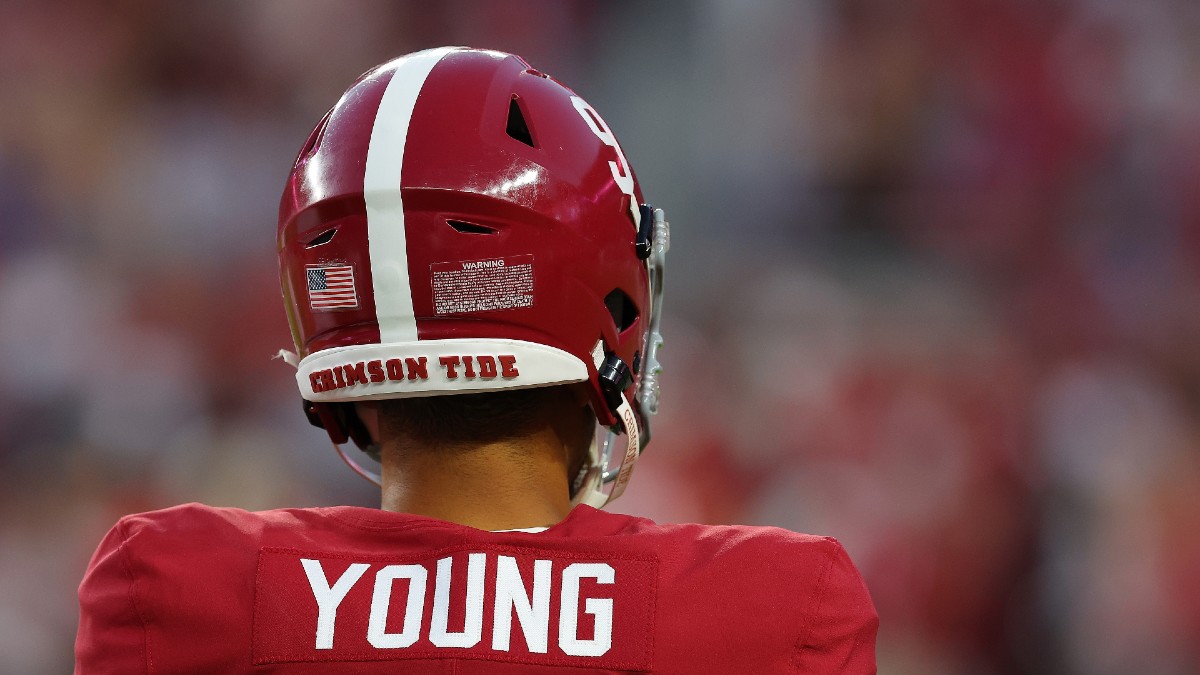 Collin Wilson's Full Alabama-Tennessee Betting Preview
---
Alabama vs. Tennessee Point Spread

Tennessee +7.5
Behind the play of Tennessee quarterback Hooker, the Volunteers are off to one of the best starts in program history. The senior quarterback leads the No. 6-ranked team and an offense that ranks second in the nation, averaging 46.8 points per game.
Hooker has completed 70% of his passes, thrown for 10 touchdowns and is averaging 286.4 yards per game.
Most importantly, Hooker has played mistake-free football heading into this top-10 showdown, throwing his last interception last season.
Hooker has seen a parabolic rise in his Heisman stock as result of the early-season success, going from as high as +15000 before the season to being a front-runner at +1110 now.
Speaking of Heisman candidates, Alabama quarterback Young is still in the conversation, but has dropped, as he has missed time due to an injury to his throwing shoulder.
The Alabama offense is built around Young and his ability to generate an unprecedented aerial attack. However, with a sprained AC joint in his throwing shoulder, Young's status for the game is up in the air.
In true Saban fashion, the coy coach is playing this one very close to the vest, using the ambiguity as a competitive advantage heading into what will be the biggest test of the season for the Crimson Tide.
With or without Young, Tennessee is in an excellent position to cover the seven and hook spread.
The Volunteers' offense is one of the most diversified units in the country, with elite rushing and passing units. But the defense will be the differentiator in his one, namely the rush defense.
The Volunteers' ground defense is the ranked 11th in the nation, giving up just 88.83 yards per game and only conceding five touchdowns this season.
Alabama will have an emphasis on the run game no matter who gets the start at quarterback. Without Young last week against Texas A&M, Alabama out-rushed and outgained its own passing game by a factor of two to one.
Should Young make a return, caution with his arm will likely be warranted.
The outcome of this game will be decided at the line of scrimmage. Look for the Tennessee defensive line — anchored by defensive end Byron Young — to stymie the newfound Alabama rushing emphasis.
Hooker will be able to do enough to keep this game close.
Don't be surprised if Tennessee wins outright in the absence of standout Young.

Staff Pick: Tennessee +7.5
---
Alabama vs. Tennessee Over/Under
Over 65.5
The Volunteers could finally smoke cigars after this one, but it's likely to come in shootout fashion.
Tennessee boasts one of the most dynamic offenses in the country, with only one team scoring more than its 46.3 points per game.
Hooker has been the biggest piece of that, passing for 1,432 yards and 10 touchdowns, all without an interception. Hooker has had no shortage of options, with four receivers that are averaging more than 14 yards a catch.
Heupel runs the sixth-fastest offense in the country, and elects to run the ball 58.4% of the time despite having a Heisman candidate under center.
Tennessee has scored 16 times on the ground and has three players with at least 200 yards through five games.
The Alabama defense is a massive step up in competition compared to past games this season, but the Vols have already hung at least 38 points on two SEC teams this year in Florida and LSU.
The big elephant in the room relates to the status of Bryce Young and his injured throwing shoulder. Having him available here would obviously help the over, but even with Jalen Milroe filling in, the Tide still have the potential to score 30-plus.
In his debut start last week against a Texas A&M defense that is more proven than Tennessee, the dual-threat quarterback generated 265 yards of offense and three touchdowns.
He needs to cut down on the three turnovers, but he's certainly a good enough placeholder against a questionable Tennessee defense.
The Volunteers are allowing nearly 400 yards per game through the air, with the best quarterback they've played this year arguably being Kedon Slovis.
Tennessee's defensive numbers against the run are a little inflated thanks to teams constantly playing catch-up, but it hasn't played a ground game like Alabama.
The Tide will probably lean on Jahmyr Gibbs a little more than usual with Milroe or an injured Young at quarterback. Gibbs is third in the SEC with 532 yards rushing, and the Tide are averaging 6.99 yards a carry.
Both teams typically get off to hot starts, with Alabama and Tennessee combining to out-score opponents 137 to 16 in the first quarter. These offenses aren't afraid to start in a hurry, and it's that type of matching tempo that will lead to a high-scoring shootout.
Expect the Tennessee defense to be stretched thin by Alabama, while Hooker and the offense do all they can to keep pace.

Staff Pick: Over 65.5
---
Other Ways to Bet Alabama vs. Tennessee
Ladies and Gentlemen, this is what SEC Football is all about.
Third Saturday in October with two top-10 teams and major postseason implications for the first time since 2016 — when the Crimson Tide trounced the Volunteers, 49-10, in Knoxville.
Will we see a repeat of that this season?
I've seen a lot of people talk about how this matchup is totally dependent on whether Bryce Young plays or not.
On one hand they're not wrong; Alabama's offense is much better when Young plays. According to PFF, Bryce Young has a 91.7 offensive grade while Milroe has a paltry 49.2.
However, that's not making me shy away from backing the Crimson Tide's offense in this one, with or without Young.
I think the value in this pick is two-fold: If Young is announced as healthy, this total probably shoots up to the 40.5 range.
Even without him, this Crimson Tide offense is still potent. Against Texas A&M, despite having four turnovers, Alabama still managed four points per opportunity and had an EPA/Play of .10.
Both of Milroe's fumbles were extremely careless and is something that can be fixed in practice.
I also expect this Alabama defense to force turnovers. Tennessee's best wins are against Florida and LSU, which are becoming less impressive each week.
And while the offense has looked impressive (as you can see with the metrics in the attached picture), I expect Alabama's pass rush to bring Hooker and this Volunteers offense back to reality with plenty of Havoc plays, giving the Crimson Tide the ball in short-yardage situations.
Pick: Alabama TT Over 36.5 (Play to 37.5)
---
When was the last time that the Volunteers scored less than 29 points in a game?
We have to go all the way back to last season when Tennessee put up 17 points in a losing effort against the generational powerhouse defense of Georgia that was only allowing 10.2 points per game on the way to the national title.
This season, Tennessee is even sharper, as Huepel and Hooker have fine-tuned their repertoire. The Volunteers are second in the nation in scoring offense (46.8 PPG), only behind Ohio State.
Heisman front-runner Hooker leads the passing attack for the Volunteers, averaging 286.4 yards and 2.0 touchdowns per game on a 70.0% completion rate.
The passing offense has been great, but the Volunteers' running game is nothing to scoff at either.
On the ground, Tennessee is averaging 207.4 yards and 3.4 touchdowns per game.
Alabama has an excellent defense, but it has shown susceptibility against Power Five offenses that are much less potent than Tennessee.
The Crimson Tide got off easily a couple of times, too. Against Texas, Alabama gave up 19 points against an injured second-string quarterback.
Last weekend, the Tide allowed 20 points against the lethargic Texas A&M offense that is ranked 109th in the nation.
One last thing, Hooker is very diligent with the pigskin, throwing zero interceptions this season to date. Look for 29 or more points to be well within reach for a Volunteers offense that prioritizes capitalizing on opportunities.
Pick: Tennessee TT Over 28.5 (Play to 29.5)
---
Tennessee has all the momentum it could ask for entering this matchup, winning all five of its matchups to date. Three of those victories have come against Power Five programs, in which the Vols' defense was suspect.
Pittsburgh rushed for 141 yards while passing for 275 yards in its matchup vs. Tennessee.
Florida's Anthony Richardson had a field day, passing for 453 yards and two touchdowns while rushing for another two scores.
The Volunteers' defense is very beatable and hasn't faced an offense to the caliber of Alabama to this point.
Regardless of who is under center for the Crimson Tide, they will be aided by an elite rushing attack. Texas was the only opponent that stood a chance at slowing down Alabama's run game and even still, the Tide rushed for 161 yards on 24 carries (6.7 YPC).
Gibbs is averaging an astonishing 8.3 yards per rush attempt. If Milroe is under center, he will beat the Volunteers the same way Richardson did, with his dual-threat ability.
If Bryce Young is under center, then even better, we're getting value, as this team total would surely be in the 40s.
Tennessee's offense ranks fourth in the nation in Seconds Per Play, which will lead to a faster-tempo game and more possessions for Alabama's offense.
The Volunteers' defense ranks outside the top-80 nationally in Pass Success Rate and 120th in Coverage, per PFF. That's a recipe for disaster matching up against the future NFL receiving core that Alabama boasts.
I'm backing Alabama team total over, as the running game is going to find success all day long, which will open up the deep ball against an unproven Tennessee secondary.
Pick: Alabama TT Over 36.5 (Play to 38)
---
It's not easy to stomach the thought of taking any under involving the high-powered Tennessee squad or Alabama, but that's exactly what I'm doing.
This is more of a cap on Alabama's uncertainty at quarterback involving Bryce Young's injury status.
While it was reported Wednesday that he looks fine in practice, I still have my doubts about him going into this game 100% healthy — let alone letting it fly right away.
Just last week, he was going through the motions underhanded, limiting pressure off the injury.
Even if he starts, I still expect a conservative run-heavy approach from Bama, one that bleeds the clock and gains small chunks at a time against the respectable Vols defense.
Should Young not be able to suit up? Even better. While Milroe is capable of slinging it when called upon, Saban still went conservative with him under center and went run heavy — only allowing him to attempt 19 passes.
While the Vols' offense is elite, it has not gone against a defense like this.
While not a typical Bama dominant unit, the defense still ranks above average in nearly every defensive metric with an advantage on the defensive line.
Expect Hooker to be in more pressure situations than normal, potentially stalling out drives early.
Take the first quarter under at no lower than 14 while both units try to get in a groove.
Pick: Under 14 1Q
How would you rate this article?
This site contains commercial content. We may be compensated for the links provided on this page. The content on this page is for informational purposes only. Action Network makes no representation or warranty as to the accuracy of the information given or the outcome of any game or event.