CW9: Week 5 College Football Betting Guide
The CW9 will take a weekly look at nine of the college football games that I'm interested in from an investment standpoint. I will focus on a number of factors, such as unit specific mismatches, scheduling opportunities and discovering value in the the market perception of teams. You can follow all of my plays for free on the SportsAction App through the App Store or Google Play.
---
Maryland at Minnesota -13
Date: Saturday, September 30th
Notes: Coming off of a bye week, 3-0 Minnesota begins conference play with a home game against Maryland. The Terrapins, who lost starting quarterback Tyrrell Pigrome for the season in their opener, have now also declared backup quarterback Kasim Hill out for the the season. In just three games, Maryland has lost two quarterbacks for the year, both to torn ACLs. Consequently, third string quarterback Max Bortenschlager will get the start against Minnesota. Bortenschlager looked poor after taking over for the injured Hill against UCF, finishing the day 15-of-26 for 133 yards with two interceptions and five sacks. The Gophers' defense, which has been stellar so far this season, ranks fifth in the nation in total yards (239) per game. This stout defensive unit ranks in the top 15 of a number of key metrics, including 4.1 yards per play (10th), 4.8 yards per pass attempt (third) and 2.8 yards per rush attempt (13th). On the other side of the ball, Minnesota has only allowed one sack this season (fourth in the nation). To make matters even worse for the Terps, Minnesota ranks second in time of possession; Maryland comes in at 109th. I expect Minnesota, who I believe is headed to a 7-0 start, to wear down an overmatched Maryland team starting their third string quarterback on the road in conference.
The Pick: Minnesota -13
---
Georgia at Tennessee +7.5
Date: Saturday, September 30th
Notes: If you listened to our podcast, you know it pains me to include this game because of the inevitable harassment I will get from Stuckey, but I have to pull the trigger. This series has featured a number of recent close encounters, with the last six being decided by eight points or less. My power rating makes this game Tennessee +1 (S&P+ at +4, and ESPN FPI at +5), so I'm sure you can recognize the obvious value on the current line of +7.5. Georgia arrives in Knoxville in a prime hangover spot after their massacre of Mississippi State between the hedges last Saturday. The Volunteers' injuries initially made me pause, as wide receiver Latrell Williams is doubtful, and a number of defensive backs and tight ends are listed as either questionable or expected to miss; however, I have to trust the spot and more importantly, my numbers. Quinten Dormady, who threw three interceptions in a heartbreaking loss to Florida, should at least have time to throw against the Dawgs behind a Vols offensive line that ranks sixth in sacks allowed.
The Pick: Tennessee +7.5
---
Navy at Tulsa +7.5
Date: Saturday, September 30th
Notes: This game falls into the buy low, sell high category in the favor of the Tulsa Golden Hurricanes. Last weekend, Tulsa lost as a home favorite to New Mexico, a game in which Chad President could never get the offense going against the Lobos' pass defense. However, the Tulsa rush defense should benefit from seeing the New Mexico triple option the week before they face a Navy team coming off of a bye. The Golden Hurricanes also have revenge from a 42-40 loss last season to Navy, a game they feel they deserved to win. I expect a fully prepared Tulsa rush defense to get a few more stops than the poor Navy pass defense will get against the Tulsa air attack.
The Pick: Tulsa +7.5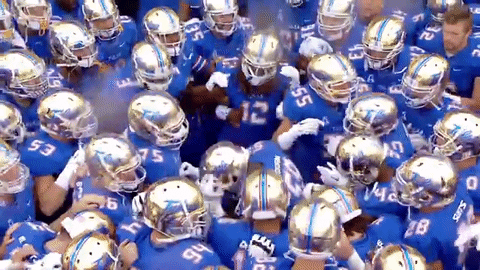 ---
Arizona State at Stanford -17
Date: Saturday, September 30th
Notes: Todd Graham secured his job safety for at least a few more weeks after an upset win over Oregon as two touchdown underdogs. Arizona State only allowed the Ducks to convert on one of their 11 third downs, an impressive feat for a much maligned defense. After enjoying a week as the toast of the town in Tempe, the Sun Devils are at a slight risk of being hungover against Stanford this week. The celebration should come to a screeching halt against quarterback K.J. Costello, who has infused new energy into the Stanford offense. Stanford did win and cover against UCLA last Saturday night, but that game really changed once the talented redshirt freshman took over under center. Arizona State has looked vulnerable against the run, which Stanford can certainly exploit with Costello and Bryce Love. Stanford, ranked second in the nation in yards per rushing attempt, should move the chains at will against a Sun Devils defense ranked 98th in rushing yards per attempt. I expect the Trees, who appear to be hitting their stride on both sides of the ball, to ground and pound Arizona State in the first half, and then bulldoze over them in the second half. My projections have this game at Stanford -19.5, and S&P+ actually has it higher at -21.5. I actually think neither captures the actual value of Costello, and I fully anticipate raising my Stanford numbers next week. Take advantage of -17 or better while before it disappears.
The Pick: Stanford -17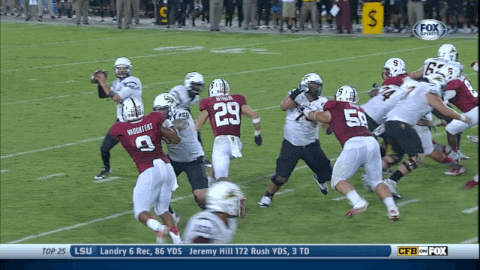 ---
Iowa at Michigan State -3
Date: Saturday, September 30th
Notes: The box scores from Week 4 almost make this an auto-play. I fully expect a completely hungover Iowa, who must recover from an absolutely devastating walkoff home loss to Penn State. In that game, Penn State actually heavily outgained Iowa, who benefited from a few bounces and +1 net turnovers. Conversely, Michigan State outgained Notre Dame by 150 yards, but lost by 28 thanks to -3 net turnovers. The advanced stats favor a Sparty team currently ranked ninth in total defense and 17th in opponent yards per play. The Spartans' secondary, the backbone of their stout defensive unit, ranks in the top 10 nationally in pass yards per attempt and passing touchdowns. This spot screams letdown for Iowa, who should struggle to move the ball all game. Michigan State should rebound from last week with a home win as long as they protect the ball.
The Pick: Michigan State -3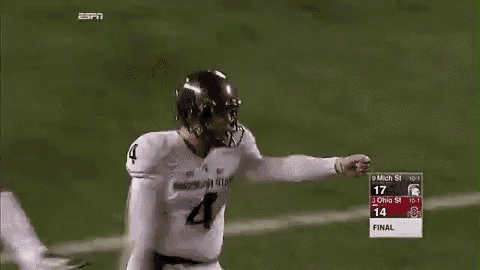 ---
Mississippi State at Auburn -9
Date: Saturday, September 30th
Notes: Generally speaking, I would normally tend to look at Mississippi State in this matchup based on how these two teams performed last weekend, but the matchup advantages for Auburn are simply too overwhelming. Mississippi State came back down to earth after their LSU win last weekend against Georgia, who dominated in all phases. Nick Fitzgerald was contained on offense, and the defense allowed multiple explosive plays. State must recover quickly for a trip to Jordan-Hare to take on Auburn, their third straight tough SEC opponent and second consecutive road game. The War Eagle offense, under scrutiny since the Clemson game, finally had a number of explosive plays against a Missouri defense that can cure all offensive woes. Auburn's defense, ranked fourth overall, allows the fewest yards per play in all of FBS. I expect the Auburn defense to shut down a fatigued Mississippi State team and Jarrett Stidham to take advantage of a poor Cowbell pass defense that ranks 110th in pass yards per attempt.
The Pick: Auburn -9
---
Washington at Oregon State +27
Date: Saturday, September 30th
Notes: This is the type of wager that causes you to immediately start shaking your head, almost as a reflex, the minute after hitting submit. However, you just have to blindly trust the spot. Oregon State, coming off of a much needed bye week, hosts undefeated Washington, who arrives in Corvallis on the second game of a back-to-back road trip. (The Huskies beat Colorado last week). My personal number deviates significantly from this spread, as I make this game Washington -20.5. For a sanity check, other publications are in the same ballpark; S&P+ makes it -22, and ESPN FPI has -18. I see a lot of value in the current number, but make sure, as always, you shop around for the best number. It might make sense to wait to see if public money drives this to 28 or higher. Oregon State, who ranks almost last in the country in turnover margin, may give Washington a few short fields, so catching over four touchdowns could prove crucial. Oregon State has done almost nothing well this season outside of converting on red zone opportunities. The Beavers average 6.56 points per red zone trip, which leads the nation. Pour a stiff drink and sweat this ugly dog out on a secondary screen as you watch Virginia Tech/Clemson.
The Pick: Oregon State +27
---
San Jose State at UNLV -14
Date: Saturday, September 30th
Notes: It seems as if San Jose State peaked in the first half of a Week 0 matchup with a ranked South Florida team. It has been all downhill for the Spartans since they covered that game as a three touchdown underdog. It is astonishing to see how many statistical categories that San Jose State ranks outside of the top 100 in. The Spartans are almost dead last in the country in total offense, turnover margin, time of possession, yards per play, yards per pass attempt, yards per rush attempt, first downs and third down conversion. I could actually name others, but you get the point. UNLV has an elite rushing attack but struggles to defend the run. As a result, the Rebels present a matchup nightmare for teams who struggle with both rushing offense and rushing defense; San Jose State fits the mold. UNLV, who ran for almost 200 yards on the ground at Ohio State last week, owns the NCAA's sixth-best average yards per rushing attempt. UNLV should put up Super Tecmo Bo Jackson type numbers on the ground this weekend.
The Pick: UNLV -14
---
Oklahoma St at Texas Tech +10.5
Date: Saturday, September 30th
Notes: Texas Tech, who narrowly escaped with a road victory at Houston last week, hosts an Oklahoma State team that was throttled by TCU. The Pokes will attempt to rebound from their shocking home loss as a double digit favorite against a team that has put up similar offensive numbers. My numbers make this game closer to a touchdown, so the Red Raiders hold value at +10 or better, especially considering the injuries on the Oklahoma State offensive line; the Pokes lost starter Larry Williams for the season, and starter Zachary Crabtree could miss this week. Texas Tech should be able to keep the chains moving on third downs against an Oklahoma State defense ranked 114th in the nation in third down conversion percentage.
The Pick: Texas Tech +10.5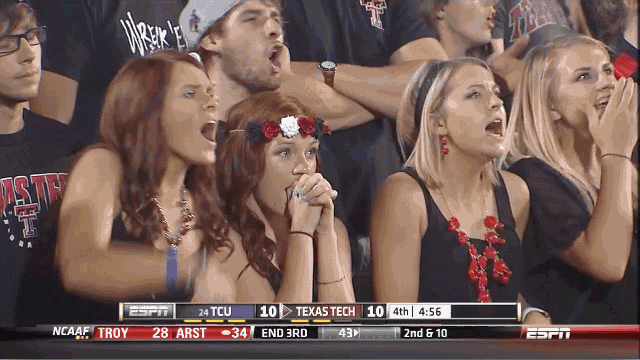 Be part of the Action
Download the Sports Action app at the App Store or Google Play now.