Rutgers Scarlet Knights Betting Preview
Offseason Notes
Rutgers brings back 13 starters from an abysmal 2016 season. Chris Ash returns for his second year as Head Coach still searching for his first Conference win after Rutgers finished 0-9 in the B1G in 2016.
Ash brought in former Minnesota Head Coach, Jerry Kill, as the new Offensive Coordinator. Kill, Rutgers' 8th Offensive Coordinator in the past 8 seasons, will try to turn around an offense that was ranked 128th in the country and didn't score a single point in 4 of their 9 Conference games. I do expect Kill to have an immediate positive impact as he has a history of successfully rebuilding poor offenses and will fix a lot of the basic formation and scheme issues Rutgers dealt with under their previous OC (way too many shotgun sets limiting the possible looks Rutgers could throw at a defense).
Rutgers had zero stability at QB in 2016 using 4 different starters at some point during the season. Kyle Bolin, who joins the team as a graduate transfer from Louisville, should win the starting QB job in camp. However, he has had turnover issues early in fall practices which may lead to Gio Rescigno getting more work with the first team. Johnathan Lewis is the 3-Star dual threat QB who was Rutgers' biggest win of the 2017 recruiting class. He still needs more time to develop before getting on the field for any non garbage time, but he looks to be the QB of the future.
The defense brings back some experience as the unit is ranked within the Top 30 in S&P+ Defensive Returning Production. They have a decent set of linebackers, but not much else to write home about. This unit will get shredded by any offense with a pulse again this year.
Chris Ash has spent a good chunk of fall practices working on Special Teams. Rutgers set a single season Big 10 record punting over 90 times in 2016, and had an FBS worst 32.3 net yards per punt. They added JUCO transfers to help the punt and kick units which will hopefully help starting field position, an area Rutgers struggled with throughout 2016. Additionally, Ash is hoping the return of a healthy Janarion Grant will help in the return game.
Expected Win Totals
CW Projected Total Wins:          2.7
CW Projected B1G Wins:          1.3
Posted Total Wins:                   O 3 -110
2017 Schedule
Home Field Advantage:             2.4
Opening Power Rating:             36.5
Date
Away
Home
CW Line
Sep 1
Washington
Rutgers
RUTG +25.5
Sep 9
E. Michigan
Rutgers
RUTG +2
Sep 16
Morgan St.
Rutgers
RUTG -34
Sep 23
Rutgers
Nebraska
NEB -15.5
Sep 30
Ohio St.
Rutgers
RUTG +31.5
Oct 14
Rutgers
Illinois
ILL -6
Oct 21
Purdue
Rutgers
RUTG +4.5
Oct 28
Rutgers
Michigan
MICH -28.5
Nov 4
Maryland
Rutgers
RUTG +6.5
Nov 11
Rutgers
Penn St.
PSU -31
Nov 18
Rutgers
Indiana
IND -18.5
Nov 25
Michigan St.
Rutgers
RUTG +12.5
Legend:

Off Of Bye

/

Overlook Watch

/

B2B Road Games

/

Neutral Site
Betting Notes
Rutgers should be favored by 30+ against Morgan State so folks in Piscataway can at least take solace in the fact this won't be a winless team. However, it wouldn't shock me if that is their only win in 2017. Their Season Win Total is set at U 3 -110 and their only realistic chances for other wins will come as home dogs against Eastern Michigan, Purdue, and Maryland. A trip to to Illinois appears to be the only road game they will be competitive in.
As I Mentioned in the Illinois preview, look for Rutgers +6 or better when they visit the Illini after their bye. Rutgers outgained Illinois by 65 yards in 2016, but had 5 turnovers in the game (-4 net) that ultimately led to a 24-7 defeat. Rutgers players will see that film for 2 weeks leading up to Illinois, and should be ready for revenge in one of the few games they can realistically win straight up this season.
It does not help that Rutgers plays in the toughest FBS Division. In 2016, Rutgers was outscored 224-0 in the 4 games against Ohio State, Michigan, Penn State and Michigan State. You gotta feel for the guys in charge of the Rutgers cannon…
X-Factors
Trevor Morris and Deonte Roberts (LB) – Both Morris and Roberts represent the top returning tacklers from 2016. Both return to the defense in 2017 with a combined 197 tackles, 5.5 for loss. The Rutgers defense was outside of the Top 80 in almost every defensive category which was skewed somehwat due to the lack of offense and horrendous special teams play to be fairaided by the offense never granting sustaining drives or field position. Morris and Roberts will be the leaders of the defense once again.

Janarion Grant (WR) – Grant was granted a 5th year of eligibility after an injury early last season. He will be Rutgers' most explosive player in the slot on offense and in the return game. Grant actually has a shot at setting the all time NCAA record for return touchdowns.
Useless Trends
Unders are 8-2 since 2013 when Rutgers is a home underdog.
Rutgers is 1-16 straight up against the Big 10 the past 2 seasons, but did at least draw Illinois and Purdue from the West Division on their schedule this year.
It all goes right if…
they win 1 Conference game.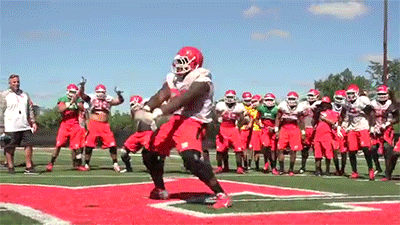 It all goes wrong if…
they step on the field week 1.
Betting Recap
Rutgers +6 against Illinois
For more, check out the full B1G Conference Preview.