Big 12 Conference Picks, Predictions: How to Bet Week 8 Matchups, Including Kansas State vs. TCU
Credit:
Brian Bahr/Getty Images. Pictured: Kansas State football helmets.
Saturday represents a monster day in the Big 12 and will likely play a role in eventually crowning a champion.
Texas vs. Oklahoma State and Kansas State vs. TCU are the two biggest games, but don't forget about two others.
Our staff dives into all four Big 12 matchups on Saturday as part of Week 8.
The Big 12 is one of the most intriguing conferences in college football at this point of the season.
While TCU and Kansas State pace the conference with an undefeated record in Big 12 play, Texas and Oklahoma State aren't far behind with only one loss in the conference.
Week 8 will make the conference picture much clearer, as Kansas State takes on TCU for the top spot in the conference, while Texas and Oklahoma State take the field in what is essentially an elimination game for the Big 12 Championship.
Plus, the conference will see two more big games take place this weekend when Baylor hosts Kansas to kick off the day and West Virginia travels to Lubbock to face Texas Tech.
Our college football experts are betting all four key Big 12 games and share their top picks for this wild weekend below.
---
Big 12 College Football Best Bets
The team logos in the table below represent each of the matchups that our college football staff is targeting from today's slate of games. Click the team logos for one of the matchups below to navigate to a specific bet discussed in this article.
---
Kansas vs. Baylor
After a 5-0 start that led to Kansas captivating the nation and being ranked in the top 25, the Jayhawks have now dropped two in a row, losing to TCU and Oklahoma.
Success has been hard to come by for the Jayhawks over the past few weeks, as they've dealt with both a quarterback injury and a horrific defense. Success may be tough again, as Kansas enters this game as a touchdown underdog.
After being pegged as one of the favorites to win the Big 12, Baylor has immensely disappointed. The Bears are just 3-3 after a loss to West Virginia.
With both of these Big 12 squads reeling, this week serves as a must-win should either team want a puncher's chance at reaching the Big 12 title game.
---
While the undefeated dream was fun for the first five weeks, Kansas has been exposed, and the outlook isn't looking pretty.
The defense has serious issues, and that was on full display against Oklahoma. After conceding 52 points to a reeling Sooners squad, Kansas will have to find answers fast.
This is a unit that is below average in nearly every metric on the defensive side of the ball. The Jayhawks limit extended plays with an elite PFF Tackling grade, but still give up yards at an alarming rate.
Until the defense can figure it out, the Jayhawks will need to rely on the success of their offense to get wins. Even with Jalon Daniels going down, this offense has not skipped a beat, as Jason Bean brings more of a downfield presence with his rocket arm.
He will be poised for another big game as he tries to take advantage of a Baylor secondary that ranks 87th in Defensive Pass Success. Baylor will be hard-pressed to limit this passing attack, as Kansas spreads it around with four pass catchers over double-digit receptions and 200+ yards each.
---
After winning the Big 12 Championship last year, Baylor has grossly disappointed this season.
A major reason for the drop off is a lack of production on defense, mainly in defending the pass. Opposing offenses have been able to throw all over this secondary and put points on the board, as Baylor ranks 77th in Defensive Finishing Drives.
The Bears have also been vulnerable to prolonged drives because of their inability to make the open-field tackle, as they rank 66th in the nation in tackling, per PFF.
Like Kansas, Baylor has had to rely on the success of its offense to stay alive in games. After the injury to Blake Shapen — who is questionable to return for this matchup — backup Kyron Drones did a respectable job.
Even if Shapen doesn't suit up, the Baylor offense will have plenty of opportunities to show out against a Kansas defense that is below average in every defensive metric.
We may see Baylor lean more towards the run — a unit that ranks 19th in Rushing Success Rate — to limit Kansas' possessions on the other end.
---
Kansas vs. Baylor Betting Pick
While Kansas was a feel-good story early in the season, I think its struggles are going to continue. But that's not enough for me to take the points with Baylor in any capacity.
Instead, I think we are due for an ugly one as both backups duel it out.
While both defensive units are poor, the open-fielding tackling and run-heavy scripts may just be enough to bleed out the clock and allow this under to hit.
If we can get Baylor to generate some Havoc against this high-powered Kansas offense, we will be in good position to cash this under.
Take the under at no lower than 58 for a half unit.
---
---
West Virginia vs. Texas Tech
It's a battle of 3-3 football teams on Saturday afternoon at Jones AT&T Stadium. West Virginia heads to Lubbock winners of three of its last four and looking to get over .500 for the first time all season.
Texas Tech enters this one fresh off of a bye week after a difficult two-game road swing at both Kansas State and Oklahoma State.
Both of these teams currently sit at 1-2 in the Big 12, so this is an important game with the winner having a chance to climb back into the mix in the conference race.
Texas Tech currently sits right around a touchdown favorite in this one. Let's discuss where the betting value lies.
---
West Virginia really opened some eyes in its last time out on Thursday night against Baylor. The Mountaineers put up 43 points against a pretty strong Baylor defense, highlighted by a game-winning Casey Legg field goal with just under 30 seconds remaining.
If West Virginia can channel that type of offensive production the rest of the year, this team can make a run and win plenty of games.
Quarterback JT Daniels has started to look the part in recent weeks, and the well-documented USC and Georgia transfer is taking much better care of the football.
Daniels has always had a strong arm, and he's hit some deep plays down the field when the opportunity has presented itself. He completed nearly 65% of his passes against Baylor, and he will need to be similarly efficient against a Texas Tech defense that has been pretty good against the pass.
Neal Brown has typically had some strong defenses throughout his tenure in Morgantown, but this year's team has been pretty mediocre on that side of the ball.
The Mountaineers lost plenty of talent to the NFL in recent years, and the youth has shown itself, particularly in conference play. Two metrics that really jump out are Defensive Pass Success and Havoc, where WVU ranks outside the top 100 in both.
West Virginia is getting torched through the air, and it's not generating many turnovers or negative plays.
Regardless of who ends up starting at quarterback for Tech, this secondary will need to be much better for West Virginia to have a chance to pull off the road upset.
---
There are very few teams in the country that have three legitimate options at quarterback, but the Red Raiders are one of them. Ironically, all three are banged up entering this game, so it's still a bit unclear who Joey McGuire will turn to on Saturday.
Tyler Shough won the job to begin the year before injuring his shoulder right out of the gates. From there, Donovan Smith took over and showed some flashes of strong play, but also produced some costly mistakes.
Smith was injured following the Kansas State game, so against Ok State, Maguire turned to redshirt freshman Behren Morton.
Morton came out slinging it against the Cowboys and actually had a lot of success passing the ball before hurting his ankle in the second half.
Whoever ends up starting Saturday should be in a good position to move the football against a weak WVU secondary.
Tech also needs to continue to feed veteran running back SaRodorick Thompson on the ground to create balance offensively.
On the other side of the ball, look for the Red Raiders to bring plenty of pressure at JT Daniels.
WVU's offensive line has been pretty good all season, particularly in pass protection, which has given Daniels time to find his weapons down the field. Tech will look to get Daniels off schedule, as he's much better as a pocket passer.
Tech has been good at taking away the running game from its opponents, so getting Daniels into third-and-long situations could give this defense a chance to bring some exotic pressure looks.
If they can't get pressure, I have some serious doubts about how the Red Raider secondary will hold up against an efficient WVU passing attack.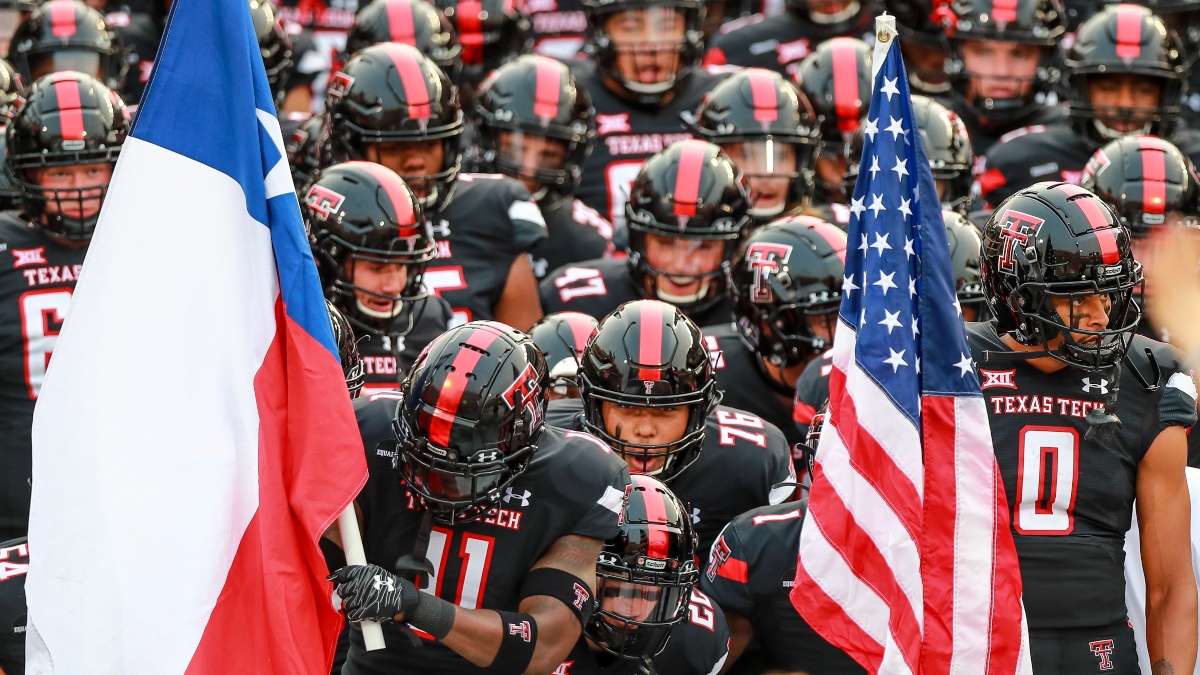 ---
West Virginia vs. Texas Tech Betting Pick
I think both offenses have significant advantages in this game. In addition, both of these teams play pretty fast, particularly Texas Tech, which is one of the most uptempo teams in all of America.
As a result, I expect plenty of points in this one, with both defenses susceptible to allowing big plays down the field. I think this total should be in the low 70s, so I see plenty of value on the number currently sitting at 65.
This should be a high-scoring, back-and-forth affair between two teams thar are pretty similar to each other. Give me the over at 65 in what should be a fun one in West Texas.
---
---
Texas vs. Oklahoma State
There will be no shortage of drama when two Big 12 brand names collide in a knockout round Saturday afternoon.
Both Texas and Oklahoma State have a single loss in the conference standings with TCU and Kansas State undefeated in the pole position.
A loss by the Longhorns or Cowboys will not only send the teams to two losses in the Big 12 standings but also complicate any tiebreaker scenarios that play out through the remainder of the season.
The Longhorns still have both the Horned Frogs and Wildcats in front of them, signifying a Big 12 Championship berth may run through Austin when TCU visits on Nov. 12.
Steve Sarkisian's team receives a bye week after the Pokes, but a close call against Iowa State last week has set a different mentality in the Longhorns' locker room.
Mike Gundy doesn't want to talk about injuries. As heard on the New BCS episode of the Big Bets on Campus podcast, the grizzled head coach will keep practice time and injury status within the program.
While Action Network's own Brett McMurphy said the Cowboys quarterback didn't even ice after last week's game, the point spread took large wagers on Texas throughout Sunday.
An opener of Texas -1 at Circa Sports flew to Texas -4 within three minutes, as another wave of Monday morning money stabilized the Cowboys as 6.5-point underdogs.
---
Texas quarterback Quinn Ewers returned from injury in Week 6 against Oklahoma, blistering the Sooners for four touchdowns and nearly 300 yards passing.
The freshman had a tougher task facing the 3-3-5 stack scheme from Iowa State but added another three passing touchdowns.
Ewers is playing quarterback over Hudson Card because of a higher big-time throw ceiling, but with those plays comes the risk of turnover. Ewers has logged three turnover-worthy plays since returning from injury and also recorded a fumble against the Cyclones.
Opportunities will exist for the Cowboys to force Ewers into turnovers, but weapons at the skill positions are thriving.
Bijan Robinson has 10 rushing touchdowns on the season, averaging 4.2 yards after contact. Only Auburn's Tank Bigsby has a higher elusiveness rating, which is defined by the impact of the ballcarrier independent of blocking.
Robinson is also the second highest-graded running back in receiving grades, trailing only Georgia's Kenny McIntosh.
But is Texas back? The defense has made the case that the Longhorns are indeed a player at the national level.
Defensive coordinator Pete Kwiatkowski has completed a 180 with his unit after spending the 2021 season in the FBS cellar in plenty of advanced statistical categories.
The Longhorns have been especially stout against passing attacks, generating a top-30 rank in pass rush and coverage. The biggest improvement comes in Finishing Drives, allowing just 3.1 points on 27 opponent scoring attempts.
---
A market number close to a touchdown indicates Sanders will not play Saturday. While the information will not be confirmed until kickoff, investors quickly hit early limits to get the best of the number in case starting duties fall to Gunnar Gundy.
Even Sarkisian is looking at every single piece of film possible in diagnosing the status of Sanders, including the fifth-year quarterback's post-game body movement.
Gundy's sample size is limited, as 23 dropbacks against Arkansas-Pine Bluff resulted in two touchdowns with no big-time throws or turnover-worthy plays.
The coach's son showed an ability to scoot, generating 46 yards rushing on four attempts with an even distribution between designed runs and scrambles.
With minimal data available on Gundy, oddsmakers are making Sanders' absence a six-point adjustment to the spread.
There has been a drop-off on the defensive side of the ball after losing a number of key contributors and a coordinator from last season.
New coordinator Derek Mason and the 4-2-5 scheme remain a top-20 team in Defensive Havoc, generating a top-20 pass rush and terrorizing backfields as the fifth-best team in tackles for loss.
The Longhorns' offensive line will be tasked with containing Collin Oliver and Trace Ford at the edge positions, as both rank in the top 125 individually in pass rush productivity.
The Pokes are sixth in Defensive Stuff Rate, one of the more important metrics against a stable of Texas running backs that produce in the trench.
---
Texas vs. Oklahoma State Betting Pick
Action Network projects Texas as a one-point favorite considering full health on both sides of the ball. This number is expected to see minimal climb without Sanders and plenty of Oklahoma State buy-back if the starter is participating in drills around 2 p.m. ET at Boone Pickens Stadium.
There's value in backing Gundy at quarterback on an inflated spread of 7.5 or better, just as value exists on Oklahoma State to +3.5 with Sanders as the starter.
The total is behaving in a similar fashion, as an opener of 68 has decreased a full touchdown as of writing. Both key numbers of 65 and 62 have been crossed, as the total approaches the second-biggest key of all numbers at 59.
With the total dropping from Sanders rumors, there may be value on a Texas team total considering the Longhorns offense won't face Sanders himself.
The Oklahoma State defense ranks 70th in allowing explosive plays, but the Longhorns' advantage in early downs should provide extended drives. Texas has the 14th-highest rate of standard downs thanks to a Success Rate rank of seventh.
Ewers and Robinson will look to bounce outside of the tackles or go over center to avoid the Pokes' chaos creators lined up at the edge position. The two most successful rushing directions for Robinson have been outside the right edge and directly over center, producing five runs of 10 yards or more in both directions.
Texas doesn't have the speed-racer pace that Oklahoma State plays with, but the Pokes' 21 seconds per play will mean extra possessions for the Horns.
Poor second-level fundamentals from the Cowboys will be a factor when Ewers connects with Robinson and wide receiver Xavier Worthy, as Oklahoma State ranks 70th in tackle grading.
Because of a complete mismatch in Finishing Drives, the Horns will score more touchdowns than field goals. The Cowboys are allowing 4.1 points when opponents cross the 40-yard line, so look for Texas to exceed its team total with Sanders' status uncertain.
Pick: Texas Team Total Over 32.5
---
---
Kansas State vs. TCU
I would do absolutely anything to repeat the 3:30 p.m. ET window last week. While Alabama and Tennessee put on an offensive display, TCU was in the midst of a comeback to keep its Big 12 sleeper hopes alive. It turned out to be the most thrilling few hours we could ask for.
After trailing by multiple scores, TCU came back and held on to beat Oklahoma State in overtime.
The Horned Frogs find themselves in another must-win situation against Kansas State this weekend.
The other popular sleeper pick going into the season in the Big 12, Kansas State, has lived up to expectations so far with a 5-1 record.
With major Big 12 championship implications on the line, this one sets up as the premier game of the weekend.
---
In the midst of an Adrian Martinez revival, Kansas State has quickly become a serious Big 12 contender. Martinez has zero interceptions on 138 attempts, a massive difference in efficiency after throwing 30 interceptions in four years at Nebraska.
While his efficiency hasn't translated to a high Passing Success Rate for Kansas State (92nd in the nation), Martinez has been a massive help in establishing an identity behind an effective run game that has gashed opponents week in and week out.
Not only does KSU feature one of the best running backs in football in Deuce Vaughn, but Martinez has also been a man possessed on the ground. The duo has combined for 1,207 yards and 12 touchdowns.
The rushing attack's success can be attributed — in part — to a dominate offensive line that is 37th in Line Yards and 30th in Stuff Rate.
The Wildcats get another chance to run wild, as they go against a TCU defense that has been regressing since the start of the season. Creating minimal pressure from their defensive line, the Horned Frogs rank 66th in Defensive Line Yards and 105th in Defensive Stuff Rate.
On the other end, Kansas State's Defensive Finishing Drives will be the key metric to watch, as it is about even with TCU in this category.
We witnessed TCU put up points in a hurry to crawl back out of a deficit in its last game out, so this is a metric that KSU will have to command to make sure lightning doesn't strike twice.
---
TCU proved it can compete with the Big 12 elites, but it wasn't because of its defense. While the secondary has been elite at limiting the pass, the rest of the unit has been abysmal.
Teams have run all over the Horned Frogs, a theme we may see once again from Kansas State. After looking worn down in their last game out against Iowa State, Martinez and Vaughn are now well rested coming off of a bye week.
Until that side of the ball can improve, the Horned Frogs will need to rely on the offense to optimize every possession they get — which is exactly what they have been doing.
After beginning the season in the midst of a battle with Chandler Morris, Max Duggan has firmly taken control of the job by continuing to dominate under center. Duggan has thrown for 1,591 yards, 16 touchdowns and one interception this season.
Reconnecting with his star receiver has paid dividends, as Quentin Johnston has been a man amongst boys in the open field. Averaging over 14 yards per reception, he will continue to be the main focal point of this offense that specializes in explosiveness.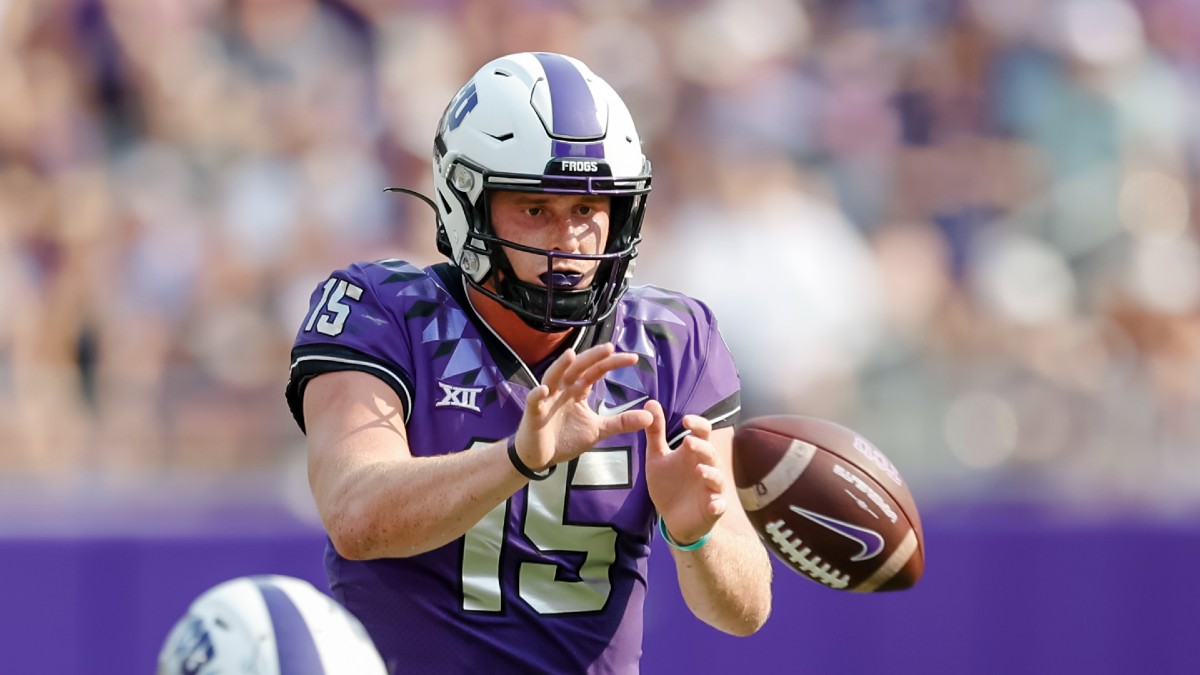 ---
Kansas State vs. TCU Betting Pick
While I am more than pleased with my +1800 TCU Big 12 championship ticket, I am no longer as confident in it as I used to be.
The defense has been free falling off of a cliff, resulting in unsustained, shootout victories that could really go either way. Both Kansas and Oklahoma State were more than capable of running away with their respective games against the Horned Frogs.
Coming off of a much-needed bye week, both Martinez and Vaughn will be well rested to take advantage of the TCU rush defense. TCU's fantastic open-field tackling unit will prove little use when Martinez and Vaughn are both averaging more than five yards per carry.
TCU will need to rely on its offensive scoring output once again. That's a metric that will be tested this time around, as Kansas State is just as equally as good at keeping opposing offenses out of the end zone thanks to an elite Defensive Finishing Drives rank.
Take Kansas State at +3.5 or higher in what will be the premier game of the weekend.
How would you rate this article?
This site contains commercial content. We may be compensated for the links provided on this page. The content on this page is for informational purposes only. Action Network makes no representation or warranty as to the accuracy of the information given or the outcome of any game or event.