Big Ten Championship Game Betting Odds, Pick, Prediction: Ohio State's Speed Too Much for Wisconsin
Credit:
Greg Bartram, USA Today Sports. Pictured: Chase Young
Odds for the 2019 Big Ten Championship Game are moving on Saturday, with Ohio State a 16.5-point favorite vs. Wisconsin. The total settled at 57.5, up five points from its opener.
Our experts break down this game from every betting angle and give their Ohio State vs. Wisconsin picks.
The Buckeyes rolled the Badgers in Columbus six weeks ago, holding star running back Jonathan Taylor in check and limiting Wisconsin to just three trips into Ohio State territory.
2019 Big Ten Championship Odds: Ohio State vs. Wisconsin
Spread: Ohio State -16.5
Over/Under: 57.5
Time: Saturday, 8 p.m. ET
Moneylines: Ohio State -714 | Wisconsin +490
TV: FOX
Location: Indianapolis, Ind.
Ohio State has been historically good this season by almost any measure.
But have the Buckeyes shown some cracks in the last few weeks against Penn State and Michigan?
Saturday, Ohio State will look to prove that's not the case when it takes on Wisconsin as a big favorite in the Big Ten Championship Game.
These two teams met in the wind and rain in October, but will now take to the fast track of Lucas Oil Stadium in Indianapolis. Ohio State won the first meeting 38-7 and outgained Wisconsin 431-191.
---
Odds as of Saturday night and via DraftKings, where Action Network users get a risk-free bet up to $200 and a deposit bonus of up to $500.
---
Ohio State vs. Wisconsin Line Movement
This is one of the biggest spreads on the conference championship slate, but that hasn't stopped bettors from laying the points with the Buckeyes.
In fact, getting 81% of bets in the second-most heavily bet game of the weekend, Ohio State could draw more bet tickets than any other team Saturday. The line hasn't budged a whole lot since opening, though, still sitting in the 16/16.5-point range.
Ohio State games are also generally common landing spots for "over" bets, too, and this one is no different. Of the 181 Ohio State games in our database, 169 have drawn at least 51% of total bets to the over, and this game will bring that number up to 170.
Seventy-three percent of bets accounting for 80% of money have hit the over, sending the total up from 52.5 to 57.5.
Collin Wilson: Will Wisconsin Try to Throw More?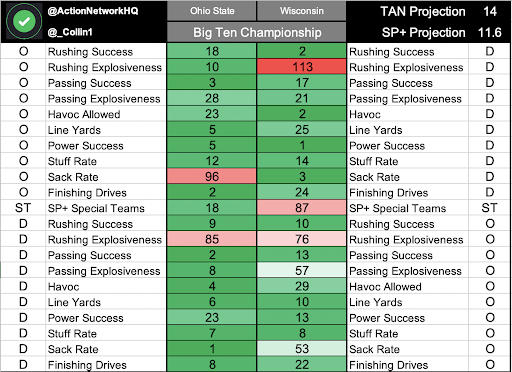 Like a few other conference title games on Saturday, Wisconsin-Ohio State will be a rematch of a blowout from earlier in the season — Buckeyes 38, Badgers 7.
So the big questions for Wisconsin: What went wrong, and how do we fix it?
The Badgers reached Buckeyes territory just three times, and once came from a blocked punt. Those other two times Wisconsin crossed midfield, Chase Young strip-sacked Jack Coan.
That's because the usual ground prowess of Wisconsin just wasn't there against a loaded Ohio State front seven. The Badgers got just 83 yards on 34 carries, and Jonathan Taylor has just 93 rushing yards in two career games vs. the Buckeyes.
So in the Big Ten Championship, something has to change. And I think Wisconsin will have to throw the ball more.
In the first meeting, Ohio State and Wisconsin combined for 84 rushing and 39 passing attempts, as the Badgers threw just 17 times. Since then, the Badgers have eclipsed at least 20 passing attempts in three games.
Last week, Coan went 15 of 22 for 280 yards against Minnesota, his best performance in a Big Ten game this year.
Our projection makes this total 65. Wisconsin must hit a few deep shots to keep a great front seven of the Buckeyes honest, and Ohio State recently gave up 27 to Michigan and 21 to Rutgers, so it's not unreasonable that Wisconsin can get its share of points on the board. — Collin Wilson
Pick: Over 56 [In NJ, Pennsylvania, Indiana or West Virginia? Bet now at DraftKings]
Collin Wilson is 482-404-23 (54.4%) overall betting on college football. You can follow him in our free app.
Kyle Miller: Happy to Lay Points with Ohio State
I was on the Buckeyes laying two touchdowns earlier this season in a 38-7 win over Wisconsin, and I don't see much of anything that's changed since then.
Wisconsin rebounded nicely from their midseason swoon to beat Minnesota convincingly last week and clinch the Big Ten West. While the Badgers are very efficient on defense against the pass and the run, they allow an ungodly amount of explosive runs plays because they're so aggressive. That hurt them in the first matchup when Ohio State averaged six yards per carry and broke off several long runs.
With Fields banged up a bit, I'm expected Ohio State to lean more on JK Dobbins. That could be an issue for Wisconsin because he's in a serious groove right now. While the threat of Fields running might not be there, Dobbins will still be able to hit a few big runs.
Wisconsin's offense has been solid all season and I think a lot of the credit goes to Coan. With their first quarterback since Russell Wilson who can at least throw a football 20 yards, the Badgers are facing defenses that are at least a little concerned about the play-action pass.
Wisconsin still isn't explosive, though, so it relies on slowly moving the ball down the field, hoping the opposition overcommits once so Taylor can break off a big run. Ohio State has the best defense in the nation and won't make any mistakes against the Badgers. Wisconsin will have to earn in on Saturday night.
I make this spread Ohio State -17 so I pounced on the Buckeyes at -15.5 on Sunday when lines came out. I would still suggest backing Ohio State up to -17 because I don't think anything has changed since their last matchup with Wisconsin.
Sure, they aren't one their home field, but their speed will prevail with no weather to slow them down on the fast Lucas Oil turf.
Pick: Ohio State -15.5 [In NJ, Pennsylvania, Indiana or West Virginia? Bet now at DraftKings]
Kyle Miller is 231-198-12 (53.8%) overall betting on college football. You can follow him in our free app.
Stuckey: Looking for a Specific Number
This is an interesting line considering that Ohio State closed a smaller favorite at home when these two teams met earlier this season in Columbus. I thought that line was about right and after subsequent adjustments, I still think this line should only be about a tad under 14 on a neutral field.
That means I don't see any value in the Buckeyes and some slight value in the Badgers.
Now, am I in a rush to fade this Ohio State team indoors on a track that should highlight their speed advantage even more than the first meeting? Not really but the story changes slightly at +17 or +17.5. If the line never reaches that, this is an easy pass for me.
The two potential areas of weakness for Ohio State are allowing explosive runs and giving up pressure, which as you can see from the chart above are really the only red blocks for the Buckeyes.
You'd think the first would be a concern against Jonathan Taylor, but the Wisconsin actually hasn't had that explosive of a rushing game this year and star back only rushed for 52 yards on 20 carries in the first meeting. Without much worry about the Badger aerial attack, the Ohio State defense can key on Taylor and take him out of the game.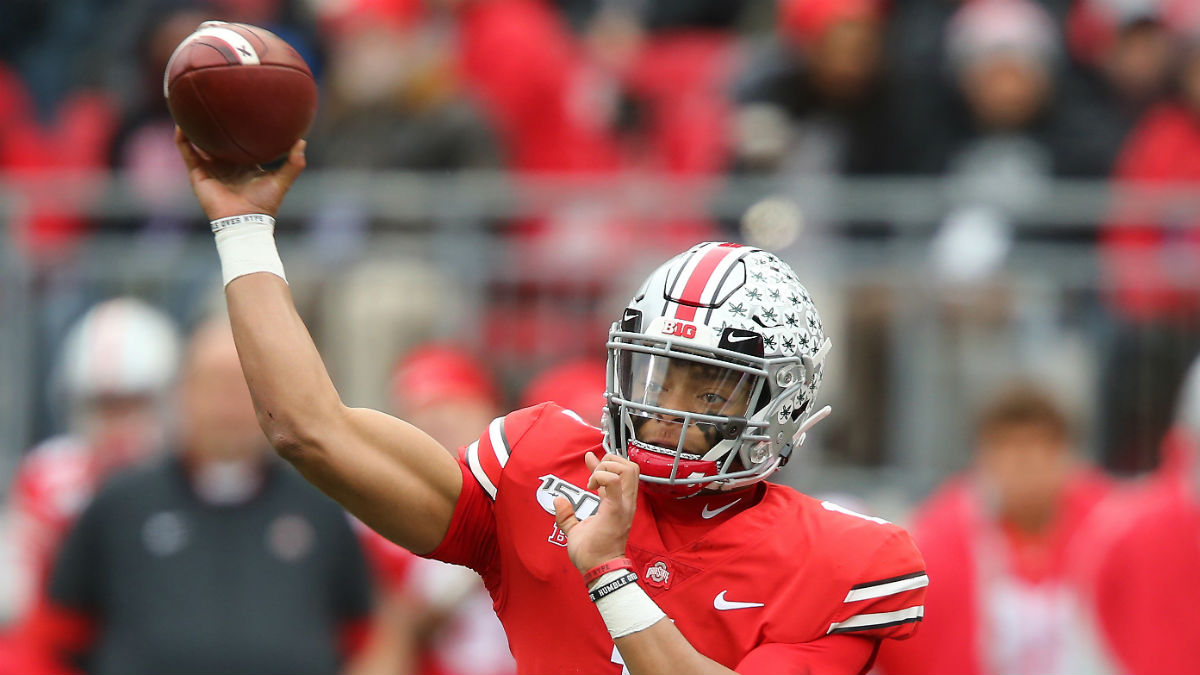 The pressure concern could actually be a factor on Saturday in Indianapolis as the blitz heavy Jim Leonard defense can get pressure with its solid linebacking corps leading a defense that ranks third nationally in sack rate.
We even saw the Badgers get some real pressure a little bit in the first meeting. That could become even more of a concern for Ohio State if Justin Fields isn't fully healthy because of a knee injury he suffered last week.
If he's at all limited mobility wise, the Wisconsin defense could create some real havoc on passing downs against the Ohio State signal caller who tends to hold the ball too long at times.
It's just hard to imagine things going much differently for Wisconsin this time around with its speed disadvantage on offense and in the secondary, in addition to its lack of explosiveness on offense. Ohio State even has a substantial edge in special teams. I hope this number doesn't creep out to 17.5 so I don't even have to wrestle with the thought of playing the Badgers. — Stuckey
Stuckey is 519-478-29 (52.1%) overall betting on college football. You can follow him in our free app.
How would you rate this article?