Saturday College Football Betting Picks: How We're Betting Stephen F. Austin vs. UTEP, Texas State vs. SMU & More (Sept. 5)
Credit:
Matthew Pearce/Icon Sportswire via Getty Images. Pictured: Luke Hogan (46).
Looking to bet Saturday's Week 1 College Football action? Our staff breaks down their favorite plays on the slate.
Collin Wilson and Stuckey double-down on Middle Tennessee +4, while BJ Cunningham and Michael Calabrese offer two ways to bet Texas State vs. SMU.
Read on for our staff's complete betting breakdown including odds, picks and predictions for each of our 4 favorite Saturday spots.
Thursday night's two-game college football slate is now in the books, and it's finally really starting to feel like football season again. With all the pageantry and tradition — AND GOD-FORSAKEN FIRST- AND SECOND-HALF BAD BEATS.
I mean, seriously: What is this???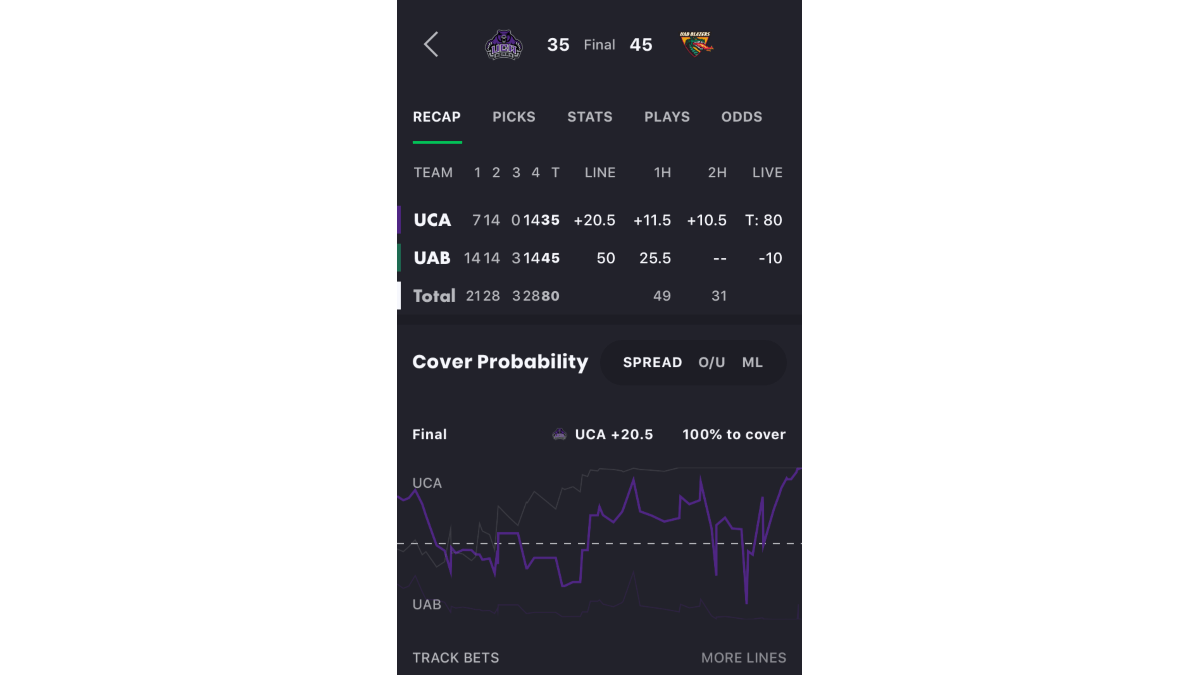 Whew; ok, breathe. Saturday brings us a more diverse and comprehensive seven-game slate to bet on, and our college football staff has you covered with picks from the following games:
1:30 p.m. ET: Middle Tennessee vs. Army
4:30 p.m. ET: SMU vs. Texas State
9:00 p.m. ET: Stephen F. Austin vs. UTEP
All odds below are as of Friday at 1:00 p.m. ET.
---
---
Collin Wilson: Middle Tennessee (+4) vs. Army
Odds available at DraftKings [Bet Now]
Kickoff Time: 1:30 p.m. ET
With a projection of Army -1.5, there was an understandable rush to get money down on the Blue Raiders' +5.5 opening line. At the same time, there are plenty of questions surrounding these teams coming into this game.
How will the Army triple-option function amidst quarterback and offensive line turnover? How are teams that base an offense around physical trench play handling the COVID-19 situation? How quickly can Middle Tennessee prepare for a triple-option after late scheduling of this game?
A new quarterback will be in place after Kelvin Hopkins Jr.'s fantastic career came to a close. Army returns only two starting offensive linemen from 2019 — at center and right tackle. Meanwhile, there is a plethora of offensive linemen on the roster without significant game experience. Offensive line continuity is the single most important aspect to the triple-option, and per Jeff Monken, that might not be where the Black Knights are at this point.
Still, the biggest discrepancy in this game might be via the Middle Tennessee passing attack. Asher O'Hara ran for 1,000 yards and passed for another 2,500 last season, making him one of the better dual-threat quarterbacks in the country.
Army ranked 120th in defensive havoc and 101st in defensive passing expected points last season. The Black Knights secondary is vulnerable, and O'Hara returns nearly all of his offensive weapons for Middle Tennessee. On top of that, Army returns just 44% of a defense that will miss two of its top tacklers in Elijah Riley and Cole Christiansen.
Middle Tennessee's biggest weakness is sacking the quarterback. But luckily for the Blue Raiders, that won't be of concern against an Army team that runs the ball at the highest clip in FBS play. Look for O'Hara to make the plays needed to cover against a rebuilding Army defense.
[Bet now at DraftKings and get a $1,000 sign-up bonus.]
---
Stuckey: Middle Tennessee (+4) vs. Army
Odds available at DraftKings [Bet Now]
Kickoff Time: 1:30 p.m. ET
Middle Tennessee had a very disappointing season in 2019, but the Blue Raiders return some key pieces on both sides of the ball, including dual-threat quarterback Asher O'Hara and star safety Reed Blankenship, who went down with an injury midway through last season.
The Blue Raiders' lackluster rushing attack could also get a boost from a pair of Power 5 running back transfers. And the offensive line, which had some unfortunate injury luck last year, also returns a good chunk of experience. The defense struggled mighty in 2019, but its biggest areas of weakness – pass rush (130th in Adjusted Sack Rate) and coverage – won't really be tested against Army.
The Black Knights have to replace many of their primary starters on both sides of the ball. It doesn't appear that Jabari Laws will be healthy enough to go this weekend, which means Christian Anderson will get the nod at quarterback with Kelvin Hopkins no longer around. The offensive line also has to deal with plenty of turnover, which could become an issue early in the season after a condensed camp.
I think this game is closer to a coin flip, so I'd grab Middle Tennessee at a field goal or better. The limited reports out of Army's camp have not been glowing either, although you can never put too much weight into those.
In general, Army has been an atrocious favorite. In fact, the Black Knights are the least profitable favorite to bet on out of 151 teams in our Bet Labs database. As a favorite of a field goal or more, Army is just 18-33-2 (35.3%) since 2005, failing to cover by fewer than three points per game on average. That's an abysmal negative 31% ROI.
When it comes to season openers, Army is just 4-11 ATS (26.6%) over that span, failing to cover by fewer than four points per game on average.
[Bet now at DraftKings and get a $1,000 sign-up bonus.]
---
BJ Cunningham: Texas State (+23) vs. SMU
Odds available at PointsBet [Bet Now]
Kickoff Time: 4:30 p.m. ET
The Mustangs bring back 75% of their offense from last season, including quarterback Shane Buechele who threw for close to 4,000 yards and 34 touchdowns in 2019. SMU's efficient passing attack ranked 52nd in Passing Success and 53rd in Passing Explosiveness last season.
However, Buechele will have to deal with an inexperienced backfield as the Mustangs lost their top two backs — Xavier Jones and Ke'Mon Freeman — to graduation. SMU should have no trouble moving the ball against Texas State's defense, but the Mustangs can't become one-dimensional on offense if they want to contend for the AAC title.
Their depth will be tested as they had to replace a number of positions on their front-seven, so the Mustangs cannot afford to have any injuries. The secondary is SMU's most experienced unit on defense, but it got ripped to shreds over the final five games of 2019, allowing 9.58 yards per attempt.
The Mustangs defense was exposed over that five-game stretch, allowing 6.55 yards per play against the hardest part of their schedule. Although Texas State's offense is really raw, the Bobcats should be able to have some success moving the ball.
2019 was a transition year for Texas State under first-year head coach Jake Spavital. Spavital implemented a fast-paced offense that was effective at times but lacked any sort of a running game.
The Bobcats will have a new quarterback in Memphis transfer Brady McBride, who according to reports fits Spivatal's system really well. Texas State went through some growing pains with a young wide receiver corps. However, all of them are back in 2020, so the Bobcats should improve its passing success, which ranked 106th in the nation last year.
I think they should be able to throw the ball with some success on SMU's secondary and should be able to stay within striking distance of the +22 spread all game long. I projected the line for this game at SMU -14.65, so I think there is solid value in taking Texas State +22 on Saturday afternoon.
[Bet now at PointsBet and get $250 FREE.]
---
Mike Calabrese: Texas State vs. SMU Over 69 Points
Odds available at DraftKings [Bet Now]
Kickoff Time: 4:30 p.m. ET
The opening weekend of college football usually invites an avalanche of outdated stats that have little to do with future outcomes. After all, coaching and player turnover year-over-year generally renders previous SU and ATS performance mute. But, when you pair sizable returning production on one side of the ball with a consistent coaching philosophy, you start to see some trends that are good markers of future outcomes.
In this case, SMU head coach Sonny Dykes' track record offers tremendous value to bettors who are interested in taking the over. Dykes, a former Mike Leach assistant, has been favored in 12 games since taking the reins in Dallas in 2018. The Mustangs are 5-7 ATS in those spots but have gone over the game total in nine of those 12. That's the highest over-rate for any qualifying favorite (10 or more games played) during that time span. When Dykes has a chance to put his foot down on the accelerator, he does so with gusto.
Does SMU have the Ponies to sprint through the finish line tape again? Without a doubt. The SMU offense returns 75% of its total production from last season, including its starting QB, top WR, No. 1 TE and four starting offensive lineman.
Buzz out of the Dallas metroplex is that Danny Gray, the former Texas 3A State record-holder in the 100m, is primed for a breakout season out of the slot. Dykes said that the junior college import is "probably the fastest college football player I've ever seen week in and week out." Adding Gray to the mix is a scary thought for a team that averaged 490 total yards and 41.8 points per game in 2019.
For all of the continuity and star power the Mustangs can claim on offense, it's nearly the opposite on defense. They rank 97th in returning defensive production from a unit that finished 110th in scoring defense. The only reason that the Mustangs may be shielded from an ugly defensive performance out of the gate is that Texas State is breaking in a new quarterback and offensive coordinator.
That being said, Brady McBride, a Memphis transfer, has received rave reviews in fall camp and is the highest-rated quarterback in the history of Texas State football according to 247Sports. So the talent is there, but we'll see if a roster that is breaking in 53 (not a typo) new players can gel against an opponent with top-25 potential.
In the end, I'm only banking on 17 to 21 points out of Texas State to push this one over the top, because SMU should move the ball with ease against a team that surrendered more than 34 points in half of its games last season. I'm also considering the SMU team total over, which is currently sits at 47.5 points.
[Bet now at DraftKings and get a $1,000 sign-up bonus.]
---
Ryan Collinsworth: Stephen F. Austin Moneyline (+250) vs. UTEP
Odds available at FanDuel [Bet Now]
Kickoff Time: 9:00 p.m. ET
Okay, so let me get this straight:
It's 2017. The UTEP Miners go 0-12 in the regular season and quickly become the laughing stock of the college football world. So, in an attempt to rebuild the Miners program, UTEP athletic director Jim Senter hires Dana Dimel.
Dana Dimel: The man who delivered the University of Houston its only winless season in school history in 2001-02. Yep; sounds like the man for the job.
2018: The Miners' rebound begins in earnest as UTEP goes 1-11 under Dimel's leadership. Their lone win comes against Rice – a team that went 2-11 that season and 1-11 in 2017. Oh, and get this: In 2017, Rice's only win came over … can you guess which school? That's right: UTEP.
2019: Now we're cooking with gas. The Miners go 1-11 for the second straight year with a program-defining 36-34 win against … Houston Baptist .. of the FCS.
Altogether over the past three seasons, UTEP has managed to win two games – by a combined margin of victory of 10 points – over Rice and Houston Baptist. The Miners have lost all 34 of their other regular season games, including a 30-10 loss to FCS Northern Arizona in 2018.
And you're telling me that I have to lay -325 on the Miners to get it done against Stephen F. Austin?! Those odds translate to a 76.45% implied probability for UTEP to win.
No. I don't think so.
The Lumberjacks return two senior running backs, a stellar Freshman All-American wide receiver in Xavier Gipson, and an adept upperclassman at quarterback in Trae Self. Due to NCAA sanctions, 50.5% of Stephen F. Austin's eligible players were freshmen last season, and the Lumberjacks still managed to win more games (3) than UTEP has won in over three years.
UTEP ranks 129th out of 130 FBS teams in returning production this season. The Miners ranked dead-last in average starting field position in 2019. Dead-last in defensive havoc. 126th in defensive success rate on passing downs. Oh, and UTEP also has to break in a brand new transfer QB whose athletic profile couldn't be more different from his predecessor.
Listen, it's fun to dump on UTEP, but it's even more fun to bet against them. Give me Stephen F. Austin +250.
Axe 'em, Jacks!
How would you rate this article?