Saturday College Football Odds & Betting Picks: Our Staff's Top 10 Best Bets for Week 9
Credit:
Tim Warner/Getty Images. Pictured: Devin Duvernay (6).
We open with a message to the night owls fumbling through the morning after staying up to sweat Friday night's Hawai'i vs. Wyoming game deep into the late-night hours:
We're right there with you — and we're also here to help.
Our staff has broken down the odds and highlighted their favorite betting positions for the Week 9 Saturday college football slate. From the noons to the nightcap, we've got you covered with our top-10 bets across the entire slate of college football action on Saturday.
Saturday College Football Best Bets for Week 9:
Check our top Saturday picks below, each of which comes from one of the following 10 games. Click any of the afternoon games below to navigate to a specific matchup.
---
All odds have been updated as of Friday evening.
---
Wake Forest -12.5 (-110) vs. Syracuse

I was surprised to see this line under 17 points, given Syracuse roster upheaval. The Orange, already suffering through a disappointing season (1-5 straight up), are down a staggering amount of players. Most notably, the offense is without starting quarterback Tommy DeVito, running back Abdul Adams — who opted out — and starting guard Patrick Davis.
The Orange defense is also without former All-American Andre Cisco, who was recently lost for the season. When you're already struggling, personnel losses like this are a death knell.
Conversely, Wake Forest is surging. Ever since Clemson hammered the Demon Deacons in the first half of their opener, Wake has been playing at a top-25 level. Since the first 30 minutes against Clemson, WF has outscored its competition 184-108, including its victory over 19th-ranked Virginia Tech last week in Winston-Salem.
Syracuse's 3-3-5 defense is going to be powerless to stop Wake's balanced attack. Against Liberty two weeks ago, the Orange surrendered 520 total yards and 38 points. It could be even worse in this one.
When 'Cuse has the football, it is in an equally tough spot. The offense ranks 111th in SP+ and has been horrific in the red zone (53.8%, 94th). The crazy part is that Syracuse's "success" this season has been tied to one of the country's best turnover margins.
If Wake protects the football, this game has the makings of a bloodbath. And Wake is absolutely elite at protecting the football, with only one giveaway to their credit in five games.
I'll be backing Sam Hartman and the Demon Deacons to torch Syracuse in the Carrier Dome.

Cincinnati -6.5 (-110) vs. Memphis
Coming off a few workmanlike, although not overly impressive, performances against Army and South Florida to begin the season, the Bearcats passed their first real test last week. They buried SMU in the second half and won going away by a score of 42-13.
In doing so, the Bearcats defense held the Mustangs to 229.8 yards under their season average. Not only does the Cincinnati defense stop the run (3.0 yards per carry), but their otherworldly 4.8 yards per pass against leads all of FBS if you take out the teams who have only played one game.
On the other side of the ball, the Memphis defense can't stop a nosebleed. The Tigers are dead last in FBS in yards per game against (567.8). They will give up too many points to keep this game under a touchdown margin.
Get this game early. You never want to lay more than 7 when the opportunity for 6 was available early in the week. I would buy up to -7.

Georgia -17 (-109) at Kentucky

No matter who starts at quarterback for Kentucky, its strength has and will continue to be running the football behind one of the best offensive lines in the country. Only five teams that have played more than one game this season average fewer pass attempts per contest than Kentucky, and three of them are service academies.
The problem for the Wildcats is that Georgia has one of the best defensive lines in the country and defends the run better than anybody. Last season's unit that ranked first against the run surrendered 74.9 rushing yards per game and 2.6 yards per attempt. Well, somehow, that Bulldogs defense got even better this year, conceding a paltry 65.5 yards per game and 2.2 yards per attempt on the ground.
If Georgia is able to take away the run, can Kentucky successfully move the ball down the field through the air? Head coach Mark Stoops announced Thursday that Joey Gatewood will make his first start at quarterback for the Wildcats. Gatewood is just 2-for-5 passing for 18 yards this season, amassing a total of 13 career pass attempts to go along with 40 rushing attempts.
In the past two weeks, the Bulldogs suffered a loss and were idle, while watching Clemson, Alabama, Ohio State and Notre Dame all make big statements. So, look for Georgia to come out motivated to do the same against Kentucky this week.
Georgia had a week off to work out some of the kinks in its offense and has to make sure everything clicks heading into the Cocktail Party with Florida next week. Under head coach Kirby Smart, Georgia is 7-3 ATS after a loss and 5-2 ATS after a bye. The Dawgs have dominated Kentucky as of late, and this one-dimensional Wildcats offense is going to struggle to move the ball.
Rutgers +11.5 (-110) vs. Indiana

Rutgers put up an incredible defensive performance in its opening game in East Lansing last weekend. The Scarlet Knights shot up the Havoc rankings by forcing seven turnovers against Michigan State, including two interceptions and five fumble recoveries.
Neither team impressed much on offense, however. Rutgers saw just one explosive drive in 15 possessions, and only its Success Rate on passing downs rose above the national average. In the run game, the Scarlet Knights averaged just 2.6 yards per carry.
Meanwhile, Indiana recorded just one pass that went longer than 20 yards, and the Hoosiers didn't have a run that reached that mark against Penn State's defense.
---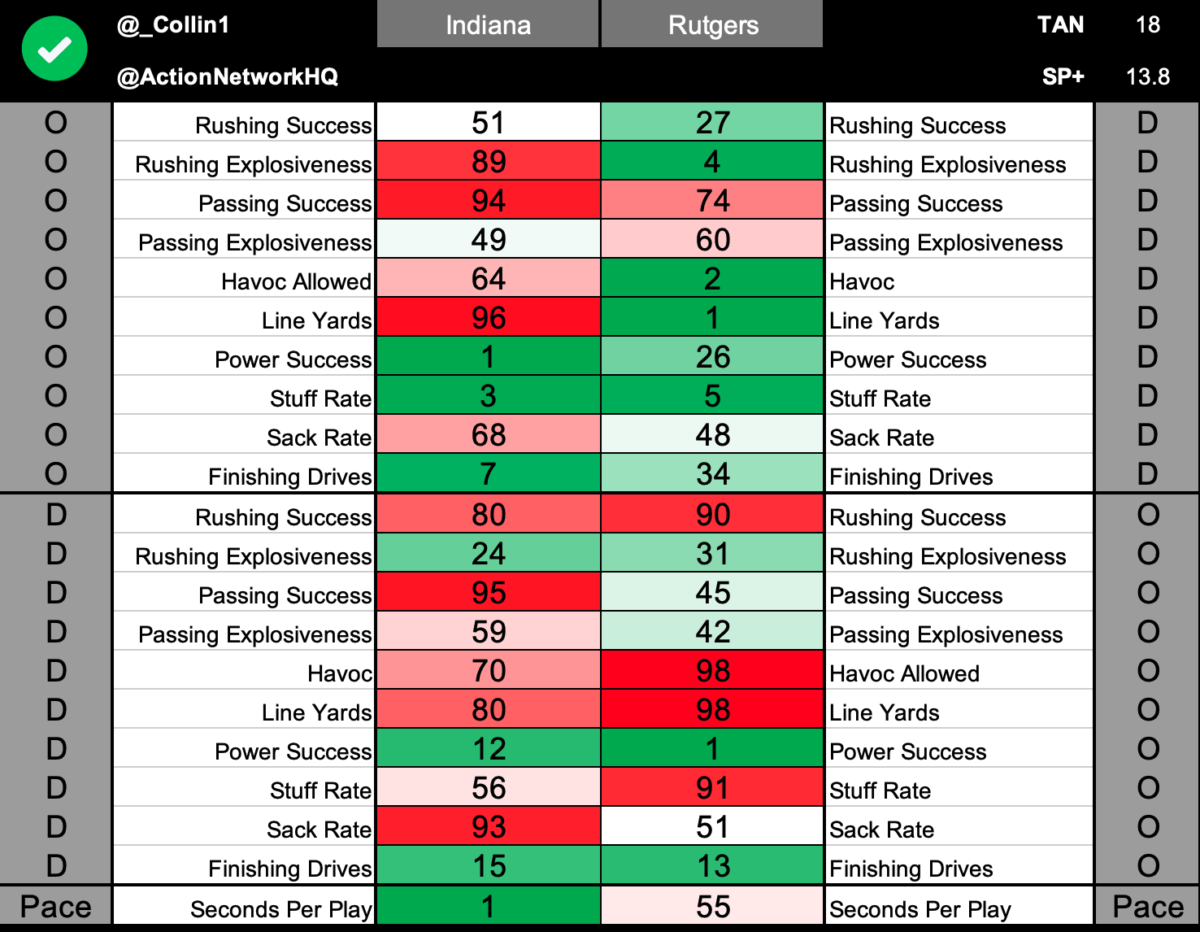 ---
After a huge win to open its season, Indiana could be in a look-ahead spot with Michigan on deck in Week 10. The Hoosiers may sleep through the first half while the Scarlet Knights play with Popeye's spinach in their back pocket.
I also like the over in this game, as both teams rank in the top 13 in Finishing Drives and are facing arguably worse defenses than they did last week. Indiana also jumps off the chart in pace, taking only 19 seconds off the clock in between plays to lead the country in that department.
If there's steam movement past 10, I might look to get on Indiana.

Georgia Tech +20.5 (-114) vs. Notre Dame
by Stuckey

Not my favorite card in the world, but my favorite play on the board is Georgia Tech. I make this line 17.5, so I gladly grabbed some +20.5 and would play anything at +20 or above. I will also look to add some at +21 or better either after some game day steam, or potentially live if Notre Dame goes up quickly.
There's nothing I genuinely love about this matchup in particular. I just think the line is inflated, and it's a good situational spot to buy Tech low and sell Notre Dame in potential lookahead spot with Clemson on deck, which will be the biggest game of the season for the Irish.
What does that mean for the Irish? Well, they could come out a little flat and unfocused on the road against a bad Georgia Tech team. The coaches also could've prepared a little less this week, knowing the team can beat a clearly inferior opponent without needing to game-plan in full, which would give them more time to prepare for the Tigers.
I'd also expect Notre Dame to go extra vanilla from a play calling perspective and not show much of anything from the playbook. Head coach Brian Kelly may also pull his starters a tad bit earlier than normal in advance of the ACC showdown next week.

Virginia Tech -3.5 (-109) vs. Louisville
by Pat McMahon

I think we're getting a discount on Virginia Tech in this spot following the team's loss to Wake Forest last week. As Darin Gardner discussed in his misleading box scores post on Monday, the final score was not indicative of how the teams looked on the field. The Hokies were able to move the football with no issues, but struggled to finish off drives. They were plagued by three Hendon Hooker interceptions and only managed to score six points in four red-zone trips.
Louisville is coming off of its best offensive performance in a blowout win over Florida State last week, but the Cardinals face a tougher task this week against a Hokies defense that's finally starting to find its footing. Virginia Tech was missing a long list of players on the defensive side of the ball for the first four games of the season due to injuries and positive COVID-19 tests.
The secondary was hit particularly hard early on, but that unit is healthier now. The Hokies reported their shortest injury report to date last week and played much better, holding Wake Forest to just 313 total yards.
Louisville benefited from plenty of explosive plays last week against the Seminoles, including touchdowns of 58 and 70 yards. It won't be that easy against a more talented Hokies defense that is better equipped to slow down the Cardinals top play-makers.
Virginia Tech will get back to its roots and try to establish the run early, and its powerhouse ground game should have no issues moving the football against Louisville's below-average rush defense. Among teams that have played more than once, the Hokies rank second in the nation in rushing yards per game, only trailing Army.
Kansas transfer Khalil Herbert leads the way with 656 yards to date on a ridiculous 8.75 yards per rush. Since Hooker took over at halftime of the UNC game, he's been lethal on the ground as well, already accumulating 291 yards and four touchdowns.
Look for the Hokies to keep it simple and thrash the Louisville defense on the ground while controlling the clock. Once they establish a lead, they have the offensive line and weapons to keep their foot on the gas and eventually bury the Cardinals. Don't be afraid of the hook, and back the Hokies to cruise to victory.

Texas vs. Oklahoma State Under 59 (-109)
by Matt Wispe

Arguably, the strongest unit in this game is the Oklahoma State defense, which has contributed in part to the Cowboys' 3-1 under record this year. They allow a 29.5% Success Rate and less than 1.5 points per opportunity. Oklahoma State unders aren't a blind principle; but, given the weather conditions in this game, it's my favorite play of the weekend.
The weather forecast is projecting crosswinds ranging from 8 to 18 MPH. This puts the game into one of my favorite systems on Bet Labs: Windy Unders. The winds will limit the passing games and keep the clock moving. It will also force Texas to attack Oklahoma State's defensive strength. While Texas has Success Rate of 47.4%, it will be tasked with moving the ball against a defense that allows a rushing Success Rate of 28.5% and boasts a Havoc rate of 22.6%.
And on the other side of the field, the Cowboys have been a surprisingly weak rushing team, despite returning the nation's leading rusher from 2019. And their line is at the center of the problem. They provide just 2.59 line yards per attempt and have a Stuff Rate of 22%. The Texas defense has created Havoc on 21.3% of plays, which bodes ominously for Oklahoma State's probability to consistently find success on offense.

Charlotte +9.5 vs. Duke

Charlotte makes the short trip over to Durham on Saturday for an in-state battle. The 49ers have been lighting up the scoreboard in their last two games, scoring 87 points and gaining 7.74 yards per play.
Chris Reynolds has backed up his stellar sophomore season, when he threw for 22 touchdowns, as he's throwing the ball for 8.7 yards per attempt. The reason he's been able to repeat those numbers is that his top three pass catchers from last season are back in 2020 and have already combined for 38 catches and 532 yards through the first four games of the season.
The 49er offense will have a great matchup against a Blue Devils' secondary that hasn't been able to stop anybody, allowing 7.9 yards per attempt. Duke lost a lot of starters on the defensive side of the ball, especially up front and in its linebacking core. Reynolds and the Charlotte passing attack should be able to throw the ball all over the yard on Saturday.
Chase Brice has struggled since transferring from Clemson, throwing 11 interceptions compared to only six touchdowns while averaging only 6.3 yards per attempt.
The running game is also nowhere to be found; the Blue Devils are gaining a measly 3.8 yards per carry. Coach David Cutcliffe took over play-calling duties in the offseason, but so far, the Blue Devils haven't seen any improvements, as they're still near the bottom of college football in Offensive Success Rate. With both the run and pass game being stagnant, it's possible they won't find a way to keep up with Charlotte's offense.
I only have Duke projected at -2.47 favorites at home, so I think there is plenty of value on the 49ers to cover 9.5 points on the road.

North Carolina -7 vs. Virginia

North Carolina's offense has been incredible this year, both in the passing game and the running game.
As a whole, the offense ranks ninth in EPA per play and sixth in Success Rate. Quarterback Sam Howell ranks 13th in the country in EPA per pass attempt. While the offense has been successful on a per-play basis, it has been able to consistently hit explosive plays as well. The Tar Heels rank sixth nationally in percentage of plays that gain 20+ yards (10.1%), and they move up to fourth if only teams that have played more than one game are included.
Virginia's offense, meanwhile, is on the other end of the spectrum. It ranks 70th in EPA, and quarterback Brennan Armstrong ranks fifth-worst in EPA per pass attempt among quarterbacks with at least 100 attempts. In its last four games, Virginia has only put up 20.3 points per game.
On the defensive side, North Carolina has outperformed Virginia this year.
The Tar Heels rank 33rd in EPA per play, while Virginia ranks 64th. The teams are actually posting nearly identical Success Rates on defense, but Virginia has been much more vulnerable against explosive plays. It's allowing the sixth-most 20+ yard gains per play at a 9.9% clip. The Cavaliers also rank 88th in yards per pass attempt allowed, which could be problematic against one of the best passing offenses in the country.
I project North Carolina as an 11.4-point favorite even with a two-point home-field advantage for Virginia, so there's a good bit of value on this line, in my opinion.

San Diego State at Utah State Over 43.5

San Diego State rushed for 287 yards on 46 carries and three touchdowns last week, toppling UNLV, 34-6.
It averaged 6.2 yards per carry behind its veteran offensive line. The Aztecs didn't look to pass much after building an early lead behind the ground attack but still registered one score through the air. The Aztecs are averaging 0.31 Predicted Points Added (PPA) per play, which ranks third in their conference.
The Aztec defense was stalwart, allowing only six points in the first matchup of the season against a rebuilding UNLV offense. After one game, the defense is exhibiting shutdown capabilities, allowing -0.03 PPA per play defensively. This puts it in first place in the Mountain West.
Utah State had a tough opening week matchup against Boise State, losing to the Broncos, 42-13. The Aggies scored twice on the ground and were held to under 100 yards through the air as they replaced quarterback Jordan Love after losing him to the Green Bay Packers in the 2020 NFL Draft.
Utah State put up an offensive PPA per play of -0.01. Defensively, the Aggies found it difficult to contain Boise State's aerial attack, allowing three scores through the air. They also gave up two touchdowns on the ground. The Aggies have a defensive PPA per play of 0.36, which puts them at second-to-last in the Mountain West after the first week.
The Aztecs are committed to the ground game and will continue to leverage that as their game plan this week as they travel to elevation. The Aggies faced a solid Boise State team for the first game of the season and found a way to put up two scores on the ground. Both teams should be able to improve from their first games of the season and find more rhythm passing the ball to supplement their running games. The expected improvement makes 43.5 points too low for the total.
How would you rate this article?