Tuesday College Football Odds & Picks: 3 Bets for Bowling Green vs Toledo, NIU vs Western Michigan & More
Credit:
Getty Images. Design by Cyriel Klitsie/Action Network.
Tuesday's college football slate features another three games, including Bowling Green vs Toledo, NIU vs Western Michigan and Eastern Michigan vs Akron.
Our college football writers came through with three betting previews and picks for each game.
Check out all three picks for Tuesday's MACtion games below.
Looking for Wednesday night's picks? Click the link below.
---
Tuesdays — just like Wednesdays, Thursdays, Fridays, Saturdays, Sundays and Mondays — are for football.
Tonight's slate features three midweek MACtion games: Western Michigan vs. Northern Illinois, Akron vs. Eastern Michigan and Toledo vs. Bowling Green.
Our college football writers broke down each game and came through with a betting pick for each, so let's dive into the analysis below.
---
Tuesday College Football Betting Previews
The team logos in the table below represent each of the matchups from Tuesday's slate of games. Click on the team logos for any of the matchups below to navigate to a specific bet discussed in this article.
Game
Time

(ET)

Pick
7 p.m.
7 p.m.
7 p.m.

Specific betting recommendations come from the sportsbook offering preferred odds as of writing. Always shop for the best price using our NCAAF Odds page, which automatically surfaces the best lines for every game.
---
The MAC West Division has been settled with Toledo holding a three-game lead in the standings. Both Western Michigan and Northern Illinois failed to win the division, but there's everything to play for in Week 12 MACtion, as both teams sit at 4-6 on the year.
Midweek MACtion has been unkind to the Huskies, who suffered a loss at Central Michigan two weeks ago and at home to Ball State last week. Northern Illinois failed to get off the bus in those contests, taking a 21-point deficit into halftime against the Chippewas.
Western Michigan has experienced a different path, winning two consecutive conference contests over Eastern Michigan and Central Michigan. The Broncos have had no issues finding the end zone in the last eight quarters, generating 83 points against the Eagles and Chippewas.
Western Michigan will look to win this game on the road, as the visitor has won this series in each of the last two years.
---
Lance Taylor is striving for a bowl in his first year as the Broncos' head coach.
The offense has been a balanced attack of run and pass, electing to go inside zone on rushing attempts. Running back Jalen Buckley has topped 100 yards four times this season, logging four rushing touchdowns over the past two games.
Old Dominion transfer Hayden Wolff took over starting quarterback duties in Week 8 against Ohio, nearly defeating the Bobcats before coming through with two consecutive wins.
Wolff has thrown five touchdowns to two interceptions with the 11-personnel offense since taking over as the starter. Western Michigan is a top-20 team in Havoc Allowed, a statistic that tracks tackles for loss allowed, interceptions and fumbles. The Broncos offense rarely makes the catastrophic mistakes that are associated with midweek MACtion.
The nickel defense plays multiple fronts from three and four down linemen. Defensive coordinator Lou Esposito prefers coverage in quarters, often pivoting to Cover 3 depending on down and distance.
Western Michigan has had consistent issues on defense in defending the run and stopping the explosive play. The Broncos rank outside the top 100 in Defensive Quality Drives and Finishing Drives, often leaning on the offense to take over conference games.
---
The offense has stalled over NIU's past two losses in MAC play.
The clear issue is a lack of efficiency when it gets knocked off schedule, recording a Success Rate better than 60% in standard downs but less than 25% in passing downs. This has been an issue the entire season, as the Huskies rank 106th in Passing Downs Success Rate.
The first step for any defense is to stop running back Antario Brown on inside and outside zone rushing attempts.
The struggles in passing downs are linked to quarterback Rocky Lombardi and his top target, Trayvon Rudolph.
The junior is one of the more explosive targets at the Group of Five level, averaging more than two yards per route run. Rudolph moved to slot wide receiver after Week 7 and has generated 31 targets in the last three games.
Head coach Thomas Hammock has seen the Huskies defense slip to the cellar of FBS in 2023. The 3-3-5 scheme ranks 130th in generating Havoc, ranking near dead last in Defensive Stuff Rate.
Coverage has been a strong point for the nickel defense that plays zone on 70% of opponent passing attempts with plenty of Cover 3.
A shining aspect of the Northern Illinois defense is its prevention of pass explosives, ranking top-15 in Defensive Pass Expected Points. The Huskies have allowed the fifth-fewest 10-yard passes this season.
---
The Western Michigan offense continues to get better each week, starting with Buckley on the ground.
With Northern Illinois likely to face a heavy amount of inside zone, it must improve on its defensive run statistics, including marks of 118th in Line Yards and 110th in Success Rate.
The Huskies have been poor at defending inside zone, posting a low 40% Success Rate.
Another advantage for the Broncos is the rate of mistakes allowed. Western Michigan sits top-20 in Havoc Allowed, so Wolff should have a clean pocket against a Huskies defense that ranks 130th in Havoc.
Western Michigan should score, but will Northern Illinois be able to counter on the offensive side of the ball?
The Huskies have struggled to move the chains in passing downs, ranking 79th in third-down conversions.
The Broncos have a coverage grade of 78th, per PFF, electing to run quarters on most passing attempts. Lombardi has struggled with quarters coverage this season, posting a 44% Success Rate while the Huskies get taken down behind the line of scrimmage on 12% of those plays.
In a battle between two teams striving to keep their bowl chances alive, Western Michigan has been the most consistent over the past several weeks.
Northern Illinois has struggled offensively to stay on schedule, and it's expected to struggle against WMU's quarters coverage.
The Western Michigan offense will run plenty of inside zone with Buckley, a run concept Northern Illinois has struggled to defend all season.
Pick: Western Michigan +5 or Better
ESPN Bet Sportsbook will soon be another option to maximize your midweek MACtion. Starting November 14, you can use our ESPN Bet promo code for a new user welcome.
---
---
By Brett Pund
Eastern Michigan welcomes Akron to Rynearson Stadium on Tuesday night for weekday MACtion in a push for bowl eligibility.
The Eagles have dropped three straight to fall to 4-6 overall on the season and 2-4 in the MAC.
Meanwhile, the Zips have struggled this year, securing only two victories under head coach Joe Moorhead.
With only two weeks remaining in the regular season, every contest has higher significance for the teams involved. I also see great betting value in this one in Ypsilanti, Michigan.
---
In a disappointing season, the one thing Moorhead's squad can boast its the victory over rival Kent State to bring the Wagon Wheel back to Akron.
The Zips ended the game with 21 unanswered points, which all came in the fourth quarter. It also ended a run of six consecutive losses.
In the victory, the top performer was Jeff Undercuffler Jr. The quarterback was named MAC Player of the Week after racking up 298 yards passing and two touchdowns with an additional score on the ground.
The Zips also had three players with over 100 yards of offense in their best performance of the season.
Akron can't reach bowl eligibility this season, but a couple of wins to close out the year would be great momentum to take into the offseason.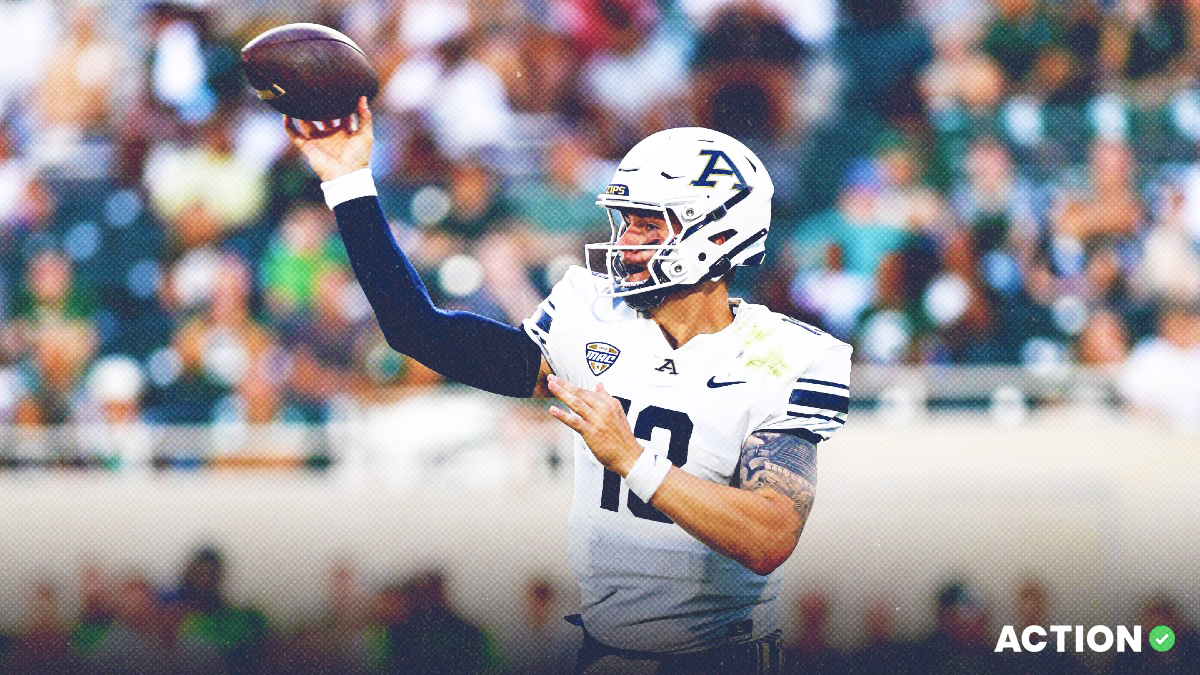 ---
Following back-to-back seasons with bowl trips, Eastern Michigan head coach Chris Creighton has the chance to send the program to a third straight bowl game for the first time in program history.
However, the Eagles have hit a skid at the worst time, losing the last three games to Northern Illinois, Western Michigan and Toledo.
Creighton should have a motivated team for this game, as the team will be honoring 18 seniors playing their final home contest.
One of those key veterans is offensive lineman Brian Dooley, who recently made his 57th career start while playing in his 59th game at EMU. To put this into perspective, he now has more collegiate starts than Oregon's Bo Nix.
Meanwhile, Creighton's Eagles have also been very good in midweek MACtion in his tenure. In 17 games, Eastern Michigan owns an 11-6 record, and this should be a great spot to add to the win column.
---
When I look at this game, the home and road splits for these teams lead me to only want to back EMU in this spot, but I have a better way to do so other than the full-game spread.
With that said, my best bet is to take the Eagles on the first-half spread at -2.5, which I would bet to -3.
If you start first with the home team, Eastern Michigan has won all four of its games at Rynearson Stadium this season, averaging more than double the number of points compared to its games on the road.
With strong home metrics, EMU would've covered this same opening-half spread in four of its five contests at home. In fact, the Eagles rank in the top 20 in FBS with a 7-3 against-the-spread record in the first half this season.
On the other side of the field, Akron has struggled on the road. The Zips have lost seven straight road games, the fourth-longest active FBS streak.
This includes Moorhead's team failing to cover this first-half spread in four of its six road games.
As far as how the teams stack up, EMU is the squad that has the better coach, special teams unit and tackling rating, according to PFF.
Once you add in how these teams have stacked up in the first half throughout the year, I like the Eagles to get off to a hot start in this matchup.
Pick: Eastern Michigan 1H -2.5 (Play to -3)
Soon, you'll be able to use Action's ESPN Bet promo code as the new ESPN Sportsbook comes online. The planned launch is Tuesday, November 14.
---
---
By John Feltman
Let's head out to Bowling Green, Ohio, where the Bowling Green Falcons will host the Toledo Rockets.
The Rockets have already clinched their spot in the MAC title game, but they've yet to show signs of losing motivation.
Just like in any other MAC matchup, I'm sure we're in for some bizarre action. So, let's look at the odds and come up with a Toledo vs. Bowling Green pick and prediction.
---
The Rockets offense has been far and away the most consistent in the MAC. Toledo is led by its explosive rushing attack, but it was the aerial attack that did the majority of the damage last week.
Quarterback Dequan Finn might've had his best game of the season, as he threw for over 400 yards with a trio of touchdown passes. It was an impressive performance for Finn, who has the matchup this week to repeat that type of performance.
Toledo is eighth in the nation in Passing Success Rate, and although the Falcons have a decent secondary, I have no doubt the Rockets will have success through the air.
However, I have a feeling they may not need to rely on Finn's arm in this game.
Toledo's running backs have likely been licking their chops for this week's matchup.
This offense, which ranks 26th in Rushing Success Rate and 13th in Line Yards, should be able to consistently move the chains against the Falcons' dreadful defensive front. The Falcons come in at 113th in Defensive Rushing Success Rate and 104th in Line Yards.
I don't see Toledo's offense getting stopped unless there are some self-inflicted wounds; they just have way too many advantages on this side of the ball.
Defensively, this group isn't as elite, but there are some key metrics that lead me to believe they'll shut down any sort of offensive threat. Most notably, the Rockets are top-25 in both Defensive Finishing Drives and Quality Drives.
The Rockets can be susceptible to giving up some explosive runs, but Falcons running back Terion Stewart is a game-time decision.
Even if Stewart plays, he won't be 100%, so I have no worries about the Rockets in this matchup.
---
I was completely wrong about the under in last week's game against Kent State. The Falcons shredded the Golden Flashes defense and cleared the total by themselves.
Bowling Green put up 476 total yards and simply couldn't be stopped. Quarterback Connor Bazelak threw for only 188 yards, and he will have his hands full this week.
The Rockets defense ranks 10th in Passing Success Rate, an area the Falcons have struggled in all season. Bowling Green is also going up against the No. 1 team in the nation in PFF coverage grading, so these receivers are going to have a hard time finding separation.
Despite the offensive explosion last week, this offense is in big trouble.
I mentioned above that Stewart is a game-time decision, and he really is crucial for this offense. I doubt he'll be fully healthy if he ends up playing, but he'd at least help out Bazelak in early-down situations.
The Falcons' defensive front is bound to get pushed around by the Rockets, so I doubt they'll have any success running the ball. This group is also 124th in Havoc Allowed, so Bazelek could be facing heavy pressure throughout the game.
---
I'm a bit surprised to see the lack of respect the Rockets are getting in the market. I may wait to take them before kick, but I love Toledo in this spot.
They have nothing to play for, but they have way too many advantages on both sides of the ball. Toledo could likely run its way to a victory without Finn doing any heavy lifting.
The Falcons are getting way too much respect from the public in this game, and I don't think people realize how fraudulent their 6-4 record is. If Stewart was completely healthy, maybe it would be a different story.
I'll wait to see if Stewart is active, as we may be able to get an extra point or two of value. Regardless, the Rockets should absolutely roll here.
Pick: Toledo -10 (Play to -11)
ESPN is launching a new sportsbook November 14. Register with Action's ESPN BET promo code for a welcome offer today!
How would you rate this article?
This site contains commercial content. We may be compensated for the links provided on this page. The content on this page is for informational purposes only. Action Network makes no representation or warranty as to the accuracy of the information given or the outcome of any game or event.