Friday College Football Picks & Predictions: How to Bet Tonight's Games, Including Virginia vs Syracuse and Bosie State vs UTEP (Sept. 23)
Credit:
Brett Carlsen/Getty Images. Design by Ryan Collinsworth/Action Network.
There's something special about Friday night lights, and this week is no exception. Week 4's Friday college football slate features three intriguing games from a betting perspective.
First, undefeated Syracuse hosts Virginia, as Brennan Armstrong and the Cavaliers look to get back on track after a rough start to the new season. Then, Air Force attempts to right its wrongs from last week after a shocking defeat at the hands of Wyoming.
Finally, to close out the night, Boise State finds itself in a tricky situational spot on a short week against a nonconference opponent in UTEP — just one week before the Broncos' key conference game against San Diego State.
Our staff broke down all three games below and shared their analysis and top betting picks. So, enjoy this Friday night appetizer — and be sure to come back tomorrow for Action Network's full Week 4 college football betting coverage ahead of Saturday's monster slate.
---
Friday College Football Picks
The team logos in the table below represent each of the matchups that our college football staff is targeting from today's slate of games. Click the team logos for one of the matchups below to navigate to a specific bet discussed in this article.
Game

Time

Pick

7 p.m. ET

Virginia +9

8 p.m. ET

Over 45.5

9 p.m. ET

UTEP +15 · Under 45.5

Specific bet recommendations come from the sportsbook offering preferred odds as of writing. Always shop for the best price using our NCAAF Odds page, which automatically surfaces the best lines for every game.
---
Virginia vs Syracuse
Syracuse entered Year 7 of the Dino Babers era with a win total of 4.5 games and plenty of questions about what its offense would look like with Garrett Shrader at quarterback.
The Orange then upset Louisville on home turf to begin the year and beat Purdue in dramatic fashion with a touchdown in the final seconds last week.
Their preseason win total was 4.5 games. They're now 3-0 and solidly favored to start 4-0 for the first time since 2018, when Syracuse won 10 games in the only winning year under Babers.
Virginia has barely scraped by thus far and has not looked impressive in doing so. The Cavaliers are 2-1 but have failed to cover the spread this season. A 24-3 loss to Illinois looks ugly on the early-season résumé, and the Cavaliers needed a last-second field goal to beat Old Dominion at home last week.
Despite the advantages in some of the matchups here for the Orange, Syracuse is a fortunate 3-0, and the box score from the Cavaliers' last win against Old Dominion was a bit misleading.
The number has inflated too far on the Orange, and that creates value on the Hoos.
While the sample is a bit small in college football since 2005, teams that are 0-3 against the spread tend to fare well against teams that are 3-0 against the spread.
---
Virginia's offense has struggled mightily in the red zone to begin the 2022 season, and it's a decent bet that some of that will positively regress going forward.
The Cavaliers rank 32nd in Rushing Success Rate, which is the bigger weakness of the Orange on paper. Louisville and Purdue couldn't do much on the ground, but neither team is built around rushing attacks and is generally pass first.
The ability to successfully run the ball would, in theory, help them inside the 20, and I'm more inclined to believe that the Cavaliers' struggles inside the opponent's 40 will correct itself a bit going forward.
Even though the game did come down to the final kick, Virginia had a 98% post-game win expectancy in the two-point victory. The Cavaliers still moved the ball at will with eight trips past ODU's 40-yard line; they just turned that into only 16 points.
Syracuse does have a bend-don't-break defense historically under Tony White, but the Cavaliers should have plenty of success moving the ball from a Success Rate perspective.
The biggest weakness of the Cavaliers offense has been the offensive line. UVA ranks 126th in pass blocking, but the strength of the Orange's defense is not the pass rush. Syracuse couldn't get anywhere near Aidan O'Connell last week and didn't even get much pressure on Malik Cunningham in Week 1.
Brennan Armstrong had a terrible game on the road in Week 2 at Illinois, and that's a concern heading into a difficult road environment in Syracuse's dome.
I also don't think you can just throw out his past two seasons of effective and efficient quarterback play, either, though. Yes, the Cavaliers lost both their offensive coordinator and QB coach, but Armstrong ranked extremely highly in PFF's metrics and had 48 big-time throws to just 21 turnover-worthy plays in the last two seasons.
---
Babers hired both Robert Anae and Jason Beck from Virginia to be his offensive coordinator and quarterbacks coach. The goal was to try to improve Shrader as a passer in his first full season as Syracuse's starting quarterback.
Through three games, the results have been encouraging. He didn't fare quite as well in a home game against Purdue last week, but Shrader was the top-graded passer in all of the Power Five conferences after two weeks, per PFF.
The offense still runs through star running back Sean Tucker, even though he too was bottled up by the Purdue defense last week. But the Orange have a more explosive passing attack in 2022.
The cracks started to show when Shrader was finally pressured last week.
Looking at our matchup matrix below, we can see that Virginia does have an advantage in the defensive line pass rush battle. The Cavaliers should be able to get to Shrader, who has been considerably less consistent when pressured. He averages four fewer yards per attempt and has three turnover-worthy plays in these situations.
That hasn't resulted in an interception yet, but Shrader was quite fortunate to avoid a turnover last week against Purdue. In fact, the Orange were fortunate to avoid defeat. Purdue won the box score pretty clearly, gaining 180 more yards for a 78% post-game win expectancy.
The Orange could just run all over Virginia, and that's the major concern with backing Virginia at a solid underdog number here. Tucker is extremely dynamic and explosive even though he had a poor game against Purdue.
It's a positive for the Orange knowing that Illinois ran for 4.5 yards per carry and 198 total yards against the Hoos two weeks ago.
---
Virginia vs Syracuse Betting Pick
From a buy-low and sell-high perspective, Virginia has to be the side here.
The Cavaliers have vastly underperformed to this point and have yet to cover a spread. They entered the season with a win total of seven, albeit on the weaker side of the conference and with an easier nonconference schedule.
The Orange's preseason win total came in at 4.5.
After three weeks of football, which includes a fortunate win for Syracuse, the Orange are now laying more than a touchdown. I understand that Virginia's offense has been terrible in the red zone and the offensive line has underperformed, but Syracuse's defensive line is not one that induces Havoc.
Plus,  Virginia's defense should know its former coordinator's offensive plan well.
I'm highly confident the Cavaliers will not finish the season as one of the 10-worst teams in Finishing Drives in the country. Virginia will have enough success on the ground to keep this game competitive, and its offensive line won't buckle as much as it has in recent games.
The market has come down off of the key number of 10, but I still like Virginia at nine or better.
Pick: Virginia +9 or Better
---
---
Nevada vs Air Force
By Keg
The Air Force Falcons are back in Colorado Springs and looking to get back on track after an embarrassing loss to Wyoming last week on the road.
The Falcons lost outright, 17-14, as a 17-point favorite at Wyoming. Wyoming seemed to do everything right, while Air Force couldn't find a rhythm on either side of the ball.
It marked the fourth-straight home win in the series for Wyoming.
Now the Falcons will look to another opponent that has given them issues recently: The Nevada Wolf Pack.
Nevada has previously squared off with Air Force six times, with the Falcons leading the series 4-2. And while the Falcons have won three of the last four meetings, neither team has won by more than seven points during that time.
Last year's matchup saw the game go into triple overtime before Air Force pulled off a 41-39 win.
However, this is a Wolf Pack team that is very different from those of recent years. With a new head coach and ranking of 127th in return production, most of the Wolf Pack will have their first experience with the Air Force triple option on Friday night.
Coming off of two straight losses and listed as a 23.5-point underdog against the Falcons, do the Wolf Pack stand a chance?
---
Nevada came out of the gate hot, winning its first two games by impressive margins. However, those wins came against two of the worst teams in college football: New Mexico State and Texas State.
Things have taken a severe turn since dropping a game to FCS-opponent Incarnate Word, as the Wolf Pack lost a seven-hour shutout to Iowa last week, 27-0.
The Wolf Pack offense ranks amongst the 25-worst in the nation, posting just 290 yards per game. They are also the 16th-worst passing offense, averaging just 151 yards per game.
Defensively, there are some bright spots, most notably their fifth-place ranking in turnover margin at +8. Creating turnovers may be one of the few opportunities for this Wolf Pack team to score.
Turnovers have been an issue for the Falcons, whose turnover margin currently sits at 0.33. Air Force surrendered five fumbles in its first two games. However, it did avoid turnovers while not registering a single penalty against Wyoming.
---
Just how bad was the loss to Wyoming? Well, it was just the second game in Brad Roberts' three-year career where he did not surpass 60 rush yards. The Cowboys came in with a plan, and they executed it perfectly.
Can the Wolf Pack try to duplicate that plan? Sure. Do I think they will have the same success? Absolutely not.
Air Force ranks 12th nationally after last week when it comes to run success, and will be matched up with a Wolf Pack team that comes in at 89th in defensive rush success.
Air Force has had issues with Finishing Drives and comes in roughly evenly matched against Nevada, but I think the Falcons will have the upper hand when you consider some of the teams the Wolf Pack have played.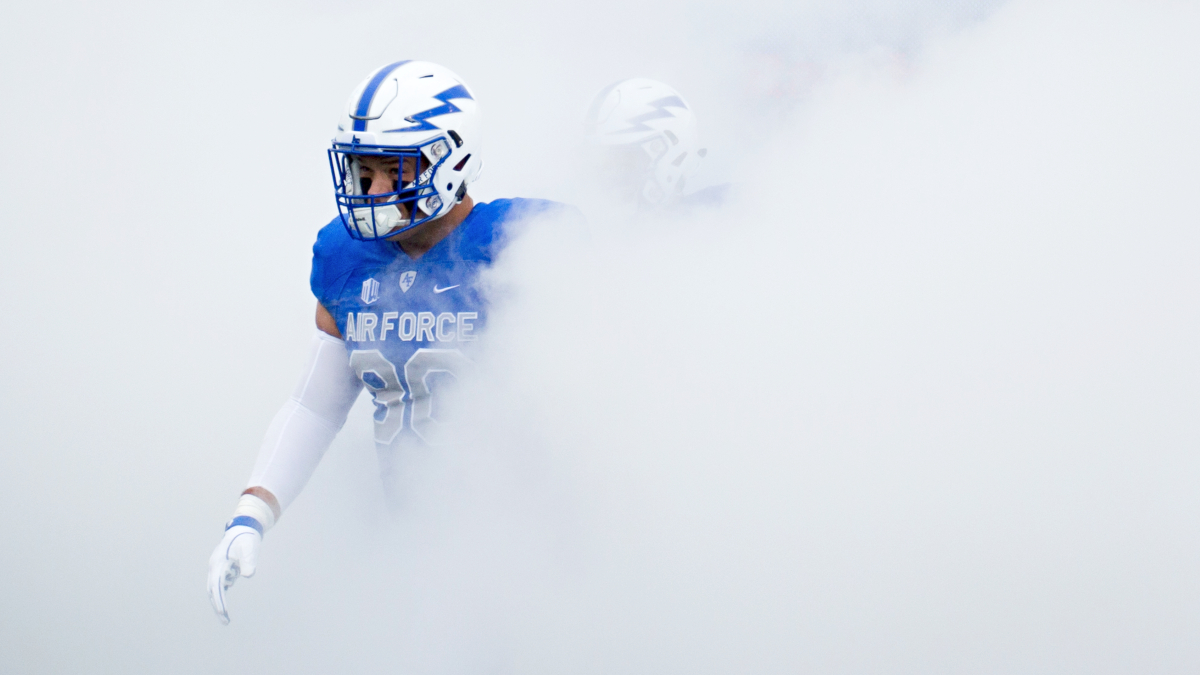 ---
Nevada vs Air Force Betting Pick
Last week was a wrinkle in the 2022 season for the Falcons. I overlooked it then and learned my lesson the hard way. No one has more experience with Troy Calhoun or the Falcons than Wyoming.
And it showed.
Nevada does not have that same familiarity. First-year head coach Ken Wilson was still at Nevada in 2012 for its first-ever matchup with Air Force, but I don't see that becoming a factor.
More importantly, Air Force is better than the Wolf Pack in almost every game aspect.
Our Action Network projections make Air Force a 24.9-point favorite, so I don't think there's much value there — not to mention I'm hesitant to back the Falcons as this big of a favorite after last week.
Because of that, I'm taking the over at 48 or better. I bet this total at 48.5, which has since dropped to 45. It has garnered a considerable amount of steam on the under — getting 72% of bets and 93% of the money as of this writing.
I can understand why given both teams rank outside the top 50 in pace of play, and inside the top 30 in rush rate, but I think we see Air Force return to the output it was able to produce in the first two weeks.
The Falcons have always played considerably better at home under Calhoun. Now facing a team they outmatch on both sides of the ball — not to mention wanting to make a statement after last week's loss — I expect the Falcons to bounce back in a big way.
Pick: Over 45.5 (Play to 48)
---
---
Boise State vs UTEP
By Stuckey
After meeting in Idaho last season, UTEP and Boise State will meet for the second-consecutive season — this time down in El Paso.
After a surprising seven-win season, optimism has subdued around the UTEP program after a very disappointing start.
Last year, Boise State rolled over UTEP at home by a final score of 54-13 in large part due to six turnovers and a punt return for a touchdown. Can UTEP limit the mistakes this season and keep this closer? Let's take a closer look.
---
After a disappointing blowout loss at Oregon State to open the season, Boise State (2-1) has picked up back-to-back wins albeit against subpar competition in New Mexico and FCS UT Martin.
The offense has struggled mightily at times with inconsistent quarterback play from Hank Bachmeier, who did get shaken up late last week in the game for what it's worth.
Making matters worse, the offensive line has been shaky and the receivers are failing to get much separation. The Broncos really miss wide receiver Khalil Shakir, who's now with the Bulls.
Fans in Boise are starting to get fed up with offensive coordinator Tim Plough's play calling. Speaking of which, Plough stated earlier this week he wants to huddle more and lean more on running back George Holani. That could be influence from Andy Avalos, a defensive-minded head coach,
Defensively, Boise State had questions coming into the season along the defensive line and at linebacker. However, both units have exceeded expectations.
In contrast, the secondary, which was supposed to be the strength of the defense, has allowed a few too many explosive plays. Additionally, it must now potentially deal with a few injuries on the back end after safety Jared Reed and cornerback Caleb Biggers left last week's game with injuries.
---
Things have not been pretty for the Miners to start the year. They're 1-3 this season and have yet to cover a game with their sole win coming over lowly New Mexico State.
Things may have hit rock bottom last week after losing, 27-10, at New Mexico, primarily due to seven turnovers, including a pick-six.
Offensively, Gavin Hardison returned this season under center along with running back Ronald Awatt., but the offensive line is an absolute mess. Wide receiver Tyrin Smith can hit some big plays on the outside, but he's no Jacob Cowing, who transferred to Arizona in the offseason.
Cowing was essentially the entire offense last season for UTEP, which was horribly inefficient and remarkably explosive in large part due to Cowing's talent and ability. All you need to know about the state of this offense is that UTEP has yet to score more than 13 points in a game through four contests.
On the other side of the ball, UTEP has a very strong defensive line, led by edge rusher Praise Amaewhule and a pair of run-stuffing tackles.
Defensive coordinator Bradley Dale Peveto — who I think does a good job overall — likes to blitz his linebackers to create pressure but still doesn't have the services of Breon Hayward, who remains ineligible after leading the team in tackles in 2021.
The secondary has the most question marks after having to completely rebuild with transfers. Injuries also haven't helped the makeover.
---
Boise State vs UTEP Betting Pick
I like the Miners catching over two touchdowns at home.
This isn't the best situational spot for Boise State. The Broncos head out on the road for a nonconference opponent on a short week prior to a date with San Diego State.
UTEP's offense is horrendous, but it will have chances to hit explosive passing plays against a beat-up Boise State secondary. Meanwhile, BSU's offense has major issues right now, making it a very unappetizing option to need to win by three possessions on the road.
This is simply too many points in a game with a low total, especially since I also fancy the under. Let's just hope UTEP doesn't turn it over six times like it did last year against Boise — and especially not seven times like last week.
UTEP is an absolute snail with an inept offense. Meanwhile, Boise State wants to now play slower and is very limited offensively. This shouldn't be a pretty watch.
If the Miners do hit a bunch of explosive passing plays, the under could get dicey, but I'd assume the side would be safe in that scenario.
Pick: UTEP +15 or Better · Under 45.5 or Better (For Smaller)
How would you rate this article?
This site contains commercial content. We may be compensated for the links provided on this page. The content on this page is for informational purposes only. Action Network makes no representation or warranty as to the accuracy of the information given or the outcome of any game or event.