College Football MACtion Odds, Picks: 2 Betting Previews for Tuesday's MAC Games
Credit:
Joshua Bessex/Icon Sportswire via Getty Images. Pictured: The Buffalo Bulls.
Tuesday night college football returns with the 2022 kickoff of MACtion.
Tuesday's slate features two games in the MAC: Ball State vs. Kent State and Buffalo vs. Ohio.
Check out our full betting previews and picks for both Tuesday MACtion games below.
Looking for Wednesday's MACtion games? Click the "Read Now" button below.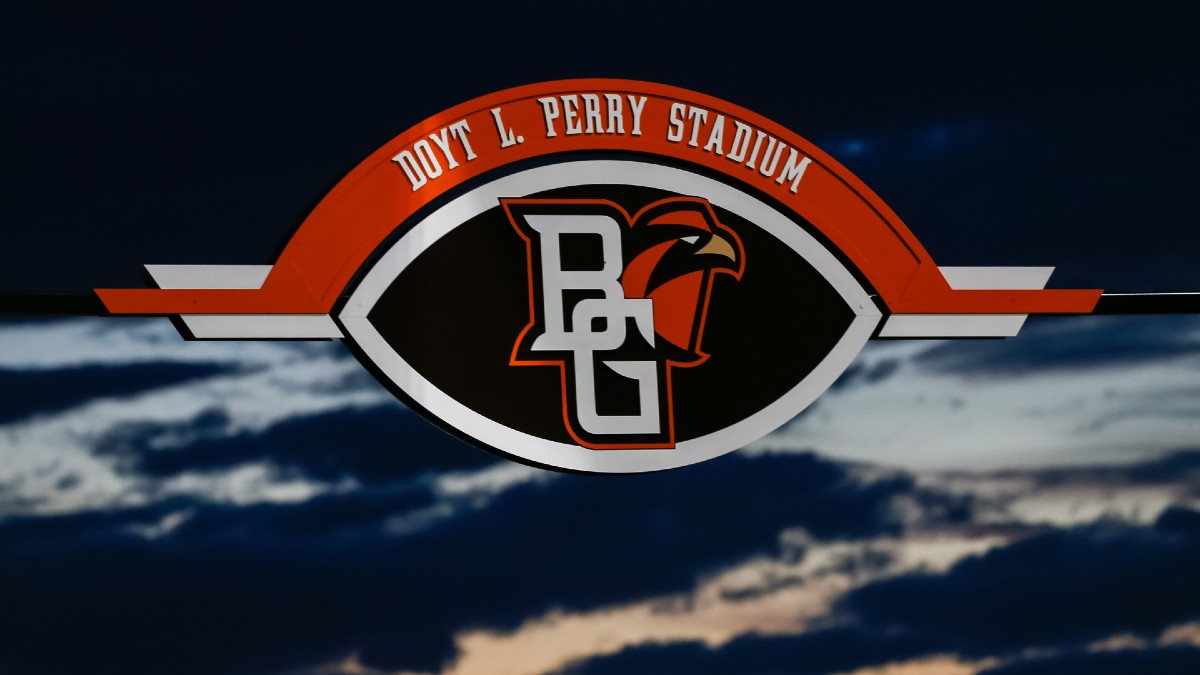 Our Bets for Wednesday's 2 MACtion Games
---
It's finally here. We've waited 11 weeks to watch college football on Tuesday and Wednesday nights, but we don't have to wait any longer.
MACtion is back, and the MACtion Network is here to help you bet each and every weekday game along the way.
That has to be the most beautiful 21-word sentence ever written in the English language. After all, what could be better than watching the likes of Ball State, Kent State, Buffalo and Ohio play this incredible sport on a Tuesday night?
Nothing. Because Tuesdays are officially for football.
Two of our writers — Collin Wilson and Keg — broke down each game below and dished out a bet for each. And if that isn't enough for you, our very own Stuckey penned over 7,500 words on the MAC at large, along with betting recommendations for the weeks to come.
So, read on for our full Tuesday analysis, and be sure to come back tomorrow for even more MACtion coverage.
Let's have ourselves a Tuesday (man, that feels good to say)!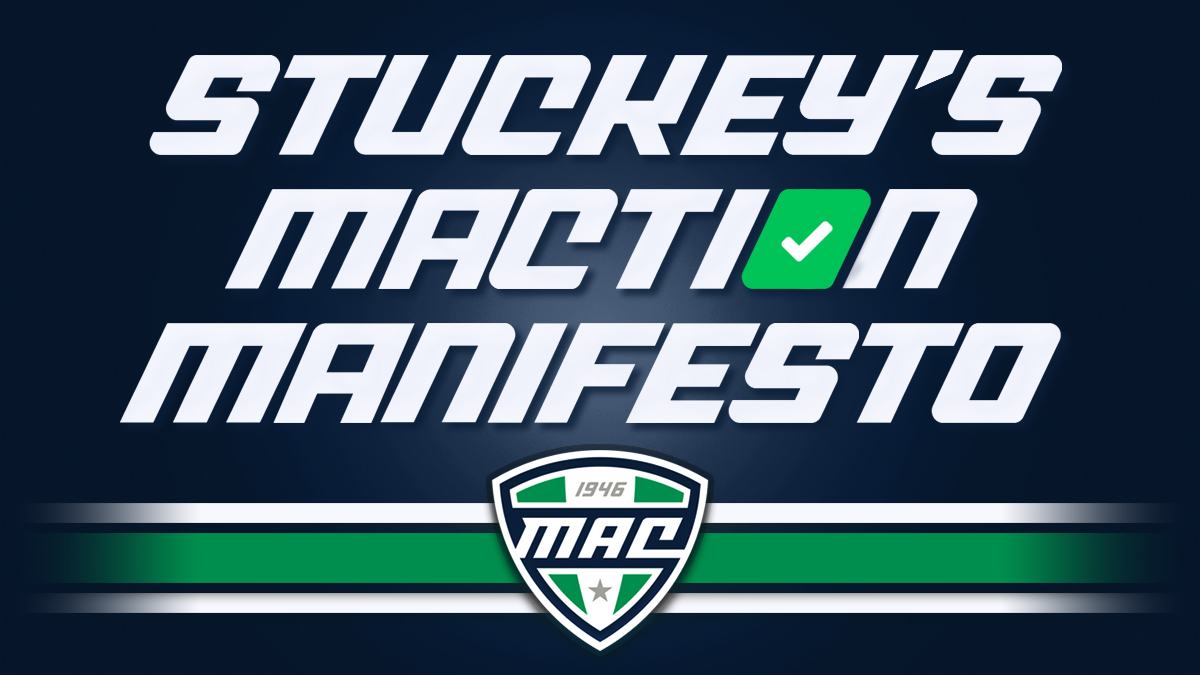 Stuckey's Midseason MAC Manifesto
---
Tuesday MACtion College Football Best Bets
The team logos in the table below represent each of the matchups that our college football staff is targeting from today's slate of games. Click the team logos for one of the matchups below to navigate to a specific bet discussed in this article.
Game

Time

Pick

7 p.m. ET

Over 62

7:30 p.m. ET

Over 59

Specific bet recommendations come from the sportsbook offering preferred odds as of writing. Always shop for the best price using our NCAAF Odds page, which automatically surfaces the best lines for every game.
---
Ball State vs. Kent State
By Keg
MACtion finally returns on Tuesday night when the Ball State Cardinals face the Kent State Golden Flashes. The Cardinals are looking to get back on track after dropping their last game to Eastern Michigan at home.
Kent State, meanwhile, is looking to get a winning streak rolling after taking down Akron, 33-27, its last time out and keeping its rivalry Wagon Wheel in Kent for a fourth straight season.
The Flashes are 3-5 on the year with all three wins coming at home, while they have yet to win a single game on the road.
Can they keep their perfect home record intact and kick off MACtion with a win?
---
Junior quarterback John Paddock leads the Cardinals offense, and while he isn't the most accurate, Ball State hasn't shown any signs of limiting his passing.
Paddock ranks second among all MAC quarterbacks with 325 passing attempts on the year, racking up 1004 yards and 14 touchdowns. However, he's completing just 61.8% of passes and has thrown nine interceptions.
Ball State ranks 40th in pass play rate and averages 248 passing yards per contest. It should take advantage of a Kent State pass defense that's second-worst among MAC teams, allowing 287.9 passing yards per game.
On defense, the Cardinals will be faced with stopping the top rushing offense in the conference. Kent State ranks 12th in the nation in rush rate and averages 4.8 yards per rush and 209.6 yards per game on the ground.
Ball State has struggled to stop the run so far this year. The Cardinals rank second-worst in the MAC, giving up an average of 185.4 rush yards per contest. Outside of their struggles stopping the run, they haven't been strong on the defensive end overall.
Ball State comes in at 72nd in Defensive Success Rate and 114th in rush play explosiveness.
---
The Golden Flashes run the ball more than almost any team in the country, opting for the rush on 62% of plays. This is a big reason why I have little concern regarding their questions at quarterback this week.
Collin Schlee missed the last game against Akron due to a lower-body injury and is questionable for this week's matchup with Ball State. True freshman backup Devin Kargman led the Golden Flashes to a win over Akron while completing 14-of-25 pass attempts.
Kent State doesn't pass the ball much, but regardless of who starts, the Golden Flashes could find success the few times they do throw the ball. The Cardinals rank 79th when it comes to Pass Play Success Rate.
The Golden Flashes have been challenged by injuries all year on the defensive side. They'll hope to get some players back following the extra rest that comes with the MAC schedule flipping to weekdays.
But even then, I'm not confident in their ability to stop the Cardinals.
Only Ohio is worse than the Golden Flashes when it comes to defending the pass. Kent State allows opponents to complete 69.4% of passes and rack up 287 yards per game. Both are higher than what Ball State is averaging on the season.
Kent State has been OK at stopping opponents in the red zone, allowing teams to score on 81.3% of trips. Ball State, meanwhile, ranks third in the conference behind only Ohio and Toledo on the offensive side.
The Flashes managed to hold Ohio to just 24 points, but more recently, Toledo racked up a season-high 52 points on Kent State.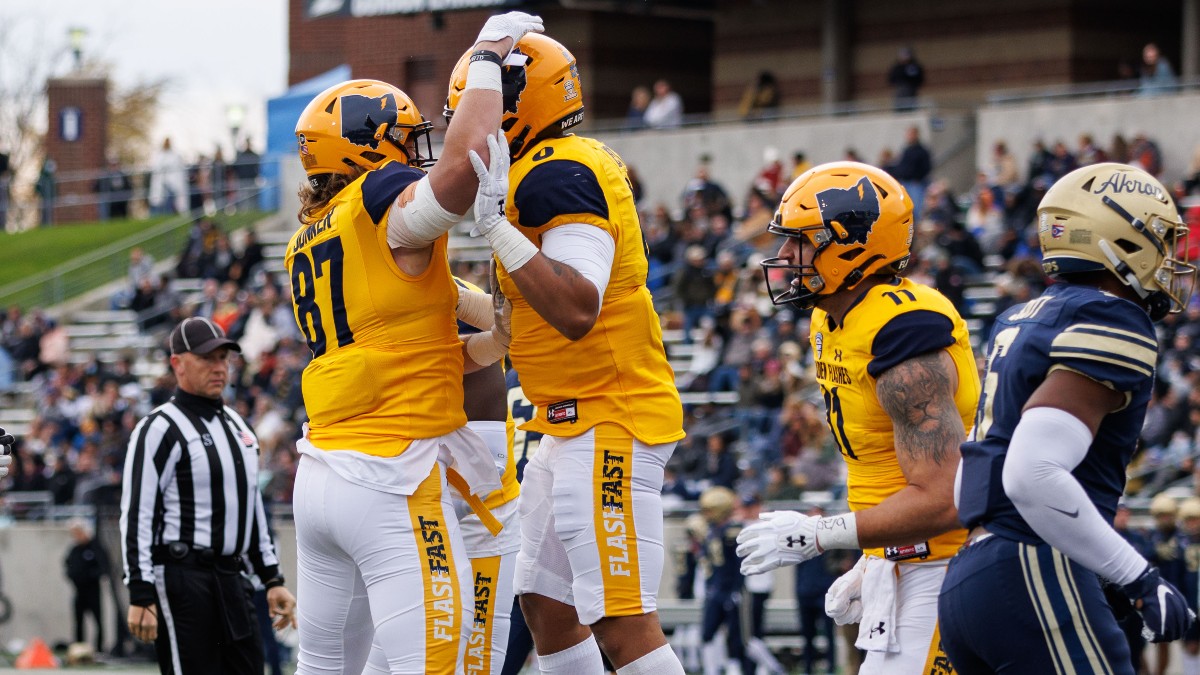 ---
Ball State vs Kent State Betting Pick
The Golden Flashes are the better team, but given that they have yet to cover the spread in MAC play this season, I'm in no rush to back them here — especially after they moved from a 4.5-point favorite up to a 6.5-point favorite.
Instead, I'll be backing these two to go over the total of 62.
Both defenses are matched up against units that can take advantage of their most significant weakness, with Kent State struggling to stop the passing attack and Ball State finding no success in stopping the run.
Both teams struggle with Finishing Drives on offense, but their opposing defensive units have been even worse.
The offenses have also been among the fastest in the country as well; Ball State ranks eighth in seconds per play, while Kent State comes in at 13th.
I would feel comfortable backing the over as high as 63.
Pick: Over 62 ⋅ Play to 63
---
---
Buffalo vs. Ohio
Glorious MACtion returns to our Tuesday nights with a prime-time showdown between two contenders for the East Division.
Buffalo is undefeated in conference play and has been an absolute freight train at the window, covering in every FBS game on the schedule.
Head coach Maurice Linguist didn't have much time to prepare last season, taking over after the spring game when Lance Leipold left for Kansas.
Regression was expected with plenty of roster turnover and the fact that Linguist had spent his entire career as a secondary coach.
After dropping the first three games this season, including a matchup against Holy Cross, the Bulls have been on fire in rattling off five straight winners. A tiebreaker win over Bowling Green and a victory over Ohio all but seals the Bulls' trip to the MAC Championship.
Ohio is experiencing a renaissance of its own in the wake Frank Solich's retirement. Like Buffalo, the Bobcats missed a bowl in 2021 after Tim Albin was named head coach in the summer with little notice.
Ohio now holds a similar record to Buffalo at 5-3, with the only conference loss coming to Kent State. A win here places the Bobcats in the driver's seat for a MAC Championship berth with Bowling Green as the only remaining hurdle.
---
There may not be a more opportunistic team in the Mid-American Conference than the Bulls.
Buffalo has been full of good fortune in games against teams with a chance to win the conference. The Bulls trounced Bowling Green, winning the box score from a yards-per-play and money-down perspective, but a gratuitous four turnovers assisted the landslide.
The same set of events took place in a Week 8 victory over Toledo. The Bulls, who trailed 27-10 entering the fourth quarter, snagged six total turnovers and scored 24 unanswered points to stay at the top of the MAC East.
Quarterback Cole Snyder has led a balanced attack on the ground and through the air, posting 12 passing touchdowns this season. Although Snyder has thrown just five interceptions, the Rutgers transfer has more turnover-worthy plays than big-time throws in every single FBS game this year.
Wide receiver Quian Williams leads the team in targets, but the explosiveness of slot receiver Jamari Gassett has been crucial for the Bulls.
There's plenty of depth at running back, with both Mike Washington and Ron Cook Jr. receiving over 100 attempts this season.
The strength of the defense comes against the rush and in creating Havoc. The Bulls rank top-30 in Stuff Rate and Success Rate against opponents on the ground.
Powering the Havoc numbers are nine forced fumbles and a top-20 rank in passes defensed. Safety Jahmin Muse has been the biggest chaos creator on the team, leading the MAC in forced fumbles while pacing Buffalo in coverage grading.
The Bulls are also one of the best teams in the MAC in getting opposing offenses off schedule.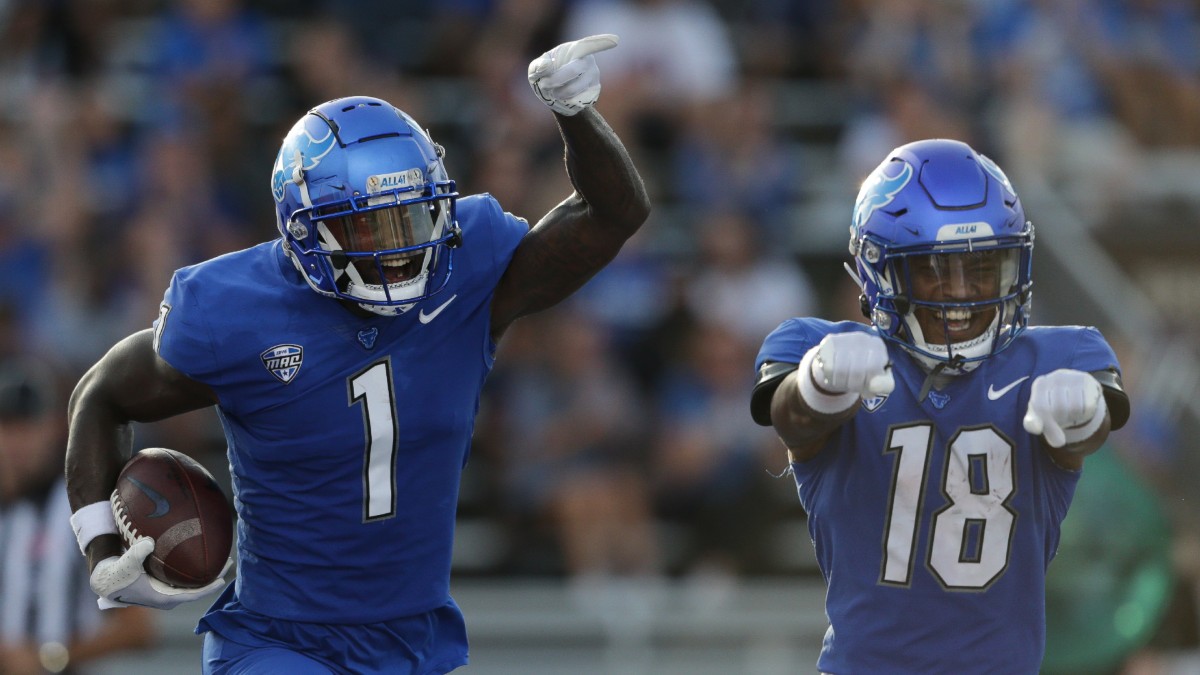 ---
Although the Bobcats have a 46% rush rate on the season, this is a balanced attack that prefers to establish the run.
Running back Sieh Bangura was limited in the victory over Northern Illinois, as Albin called the leading rusher day-to-day.
Backup Nolan McCormick has been underwhelming on 61 rushing attempts this season, averaging just 2.6 yards after contact and creating only eight missed tackles.
While Ohio wants to run the ball, the team's primary success has come from the arm of quarterback Kurtis Rourke.
Albin made it clear in his presser for the Buffalo matchup that Rourke must give Ohio State transfer wide receiver Sam Wiglusz more targets. The junior has the second-highest mark in yards per route run of all MAC wide receivers at 2.7, ranking as the most dangerous slot target in the conference.
Ohio has generated plenty of yards and points entering this game, but the struggles on defense have been readily available for exposure.
The ineptitude of Western Michigan and Northern Illinois has made Ohio's defense look satisfactory, but allowing 34 points to Akron reveals more in the analytics. Playing the 108th-ranked strength of schedule, the Bobcats sit near dead last in tackling and coverage.
Defending passing downs has been a nightmare with a bottom-15 rank in Success Rate and defending explosiveness.
Ohio has enjoyed two weeks of low-scoring games, but Buffalo presents a stiffer offensive challenge than its October schedule.
---
Buffalo vs Ohio Betting Pick
Bangura's health must be monitored for Ohio, as the running back and Rourke look to keep the chains moving with a mixture of inside and outside zone read.
With the health of the running back in question, combined with Albin's request that Wiglusz receives additional targets, there's an expectation that Ohio puts the ball in the air plenty.
This effort will lead the Rourke-Wiglusz connection to Bulls slot cornerback Keyshawn Cobb when Buffalo elects to run man coverage. Ohio ranks top-10 nationally in first downs through the air, which may increase given the Bulls' struggles to implement man coverage.
For Buffalo, Snyder has escaped pressured pockets all season with 137 scramble yards. Another 90 yards from designed runs have helped him score four rushing touchdowns, but Snyder has struggled to hold onto the ball.
The Bobcats have played behind the line of scrimmage on defense with a rank of 20th in Stuff Rate. Ohio has mid-FBS ranks in generating Havoc, but a higher mark in tackles for loss suggests that Buffalo may have issues in early downs.
The Action Network projection makes the home team the favorite by a single point, but it's the methodology of the Bobcats offense that suggests the total is in play.
If Bangura is unable to go, Ohio will have no other option in the backfield to run quality zone-read attempts with Rourke. If Wiglusz targets take place on standard downs, Buffalo will struggle to keep points off the board, ranking 130th in FBS in defending standard downs explosiveness.
Conversely, Buffalo may have success in long down and distances when Snyder scrambles. Ohio has been one of the worst teams in the nation at pass defense, signaling that Gassett will generate big plays from the slot.
Furthermore, Ohio ranks near dead last in all analytics when defending passing downs, suggesting that scrambles from Snyder will turn into easy first downs.
The biggest key number in totals is 59, and this total is expected to steam. Both offenses have options in the pass game, where the defenses have no proven track record.
Considering the inability of both teams to tackle or defend the explosive play, we'll start the first evening of MACtion with an over.
How would you rate this article?
This site contains commercial content. We may be compensated for the links provided on this page. The content on this page is for informational purposes only. Action Network makes no representation or warranty as to the accuracy of the information given or the outcome of any game or event.