College Football Betting Odds, Predictions: 3 Wednesday Picks for Weekday MACtion
Credit:
Scott W. Grau/Icon Sportswire via Getty Images. Pictured: A Bowling Green sign at Doyt Perry Stadium.
What a beautiful night of MACtion we had on Tuesday — but we're still not done for the week.
Wednesday's college football slate features two more MACtion matchups with a spread within a touchdown: Western Michigan vs. Bowling Green and Central Michigan vs. Northern Illinois.
But this is MACtion, so it only makes sense that our betting analysts — Collin Wilson and Kyle Remillard — like the underdogs for both games.
And if you want even more MAC betting coverage, be sure to check out Stuckey's 7,500-word Midseason MAC Manifesto, which breaks down every team in the conference in-depth for all of your midweek betting needs.
So, let's have ourselves a day and make a trip to Green Dot City.
---
Wednesday MACtion College Football Best Bets
The team logos in the table below represent each of the matchups that our college football staff is targeting from today's slate of games. Click the team logos for one of the matchups below to navigate to a specific bet discussed in this article.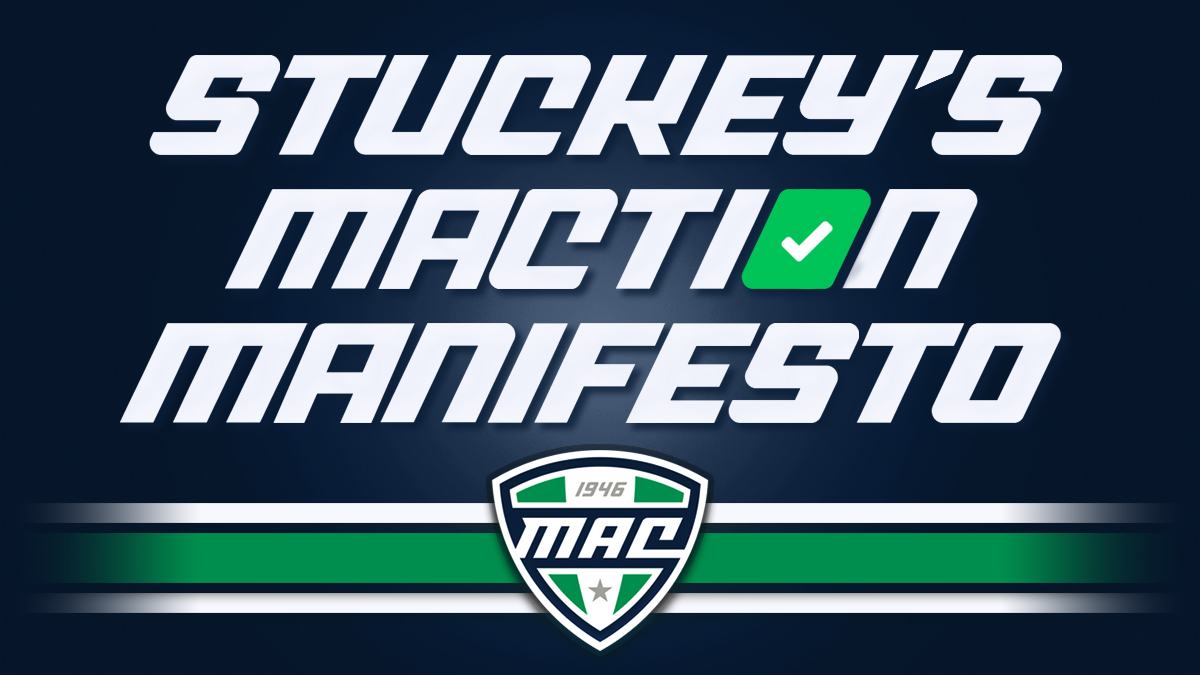 Stuckey's Midseason MAC Manifesto
---
Western Michigan vs. Bowling Green
Wednesday's MACtion slate features two teams going in complete opposite directions.
Bowling Green hasn't won more than five games since 2015, as the coaching transition since Dino Babers left has not been smooth. Mike Jinks compiled a 9-27 record before the Scot Loeffler era began in 2019.
The 2020 pandemic season consisted of five games and no victories. With a chance to go to a bowl game, any victory from here on out is a celebration after oddsmakers set the Falcons' season win total at 4.5.
While the Falcons are in flight, Western Michigan has moved in the opposite direction. With the exception of a 4-2 pandemic season, head coach Tim Lester had the Broncos in a bowl game in three of four seasons.
The foundation laid by P.J. Fleck rolled into the Lester era with the best season coming in 2021 with eight wins and a Quick Lane Bowl victory over Nevada.
As Big Bets on Campus co-host Stuckey wrote, Western Michigan has suffered in the wake of being one of the lowest-ranked teams in terms of TARP (Transferring Assets and Returning Production).
Although the team has underachieved, there's still a path to winning the division. The Broncos hold the tiebreaker over fellow two-loss team Ball State, as the season concludes against a Toledo team in the pole position.
A hot run from the Broncos will get Lester to another bowl and a possible MAC Championship appearance.
---
After consecutive losses by three scores to Ohio and Eastern Michigan, the Broncos bounced back with a victory over Miami (Ohio). The RedHawks returned quarterback Brett Gabbert after a Week 1 injury, but it was the junior's legs that provided the only touchdown of the game.
The Broncos' victory covered up some poor numbers, as Miami (Ohio) recorded a better yards-per-play mark. Western Michigan had six offensive drives extend past the 40-yard line with only 13 points to show.
Freshman Treyson Bourguet got the nod at quarterback after Jack Salopek suffered a knee injury.
Behind a retooled offensive line that swapped nearly every position, Bourguet was under duress the entire game with 11 RedHawk pressures on just 33 passing attempts from Western Michigan. Bourguet logged two turnover-worthy plays, as the signal-caller posted a completion percentage of 54% from a clean pocket.
There isn't much of a ground game with La'Darius Jefferson and Sean Tyler each averaging less than 2.8 yards after contact. The Broncos own a top-30 ranking in passing downs explosiveness, but that number is held up by three plays that exceeded 70 yards this season.
If there's a saving grace to the season, the defense has generated pressure on opposing quarterbacks. Western Michigan ranks top-25 in Defensive Havoc, led by high rankings nationally in sacks and tackles for loss.
Edge Andre Carter and linebacker Corvin Moment lead the team with a combined 59 pressures and nine sacks.
The Broncos also rank top-30 in tackle grading, per PFF, limiting explosive plays on the ground.
Western Michigan has not been the most successful unit in limiting first downs, but top-25 Havoc and third-down numbers are primary reasons the team has a shot to win the division.
---
The driver behind the return of a quality Bowling Green team is the defense.
Coordinator Eric Lewis was promoted in March 2021, starting a turn that would lead to a victory over Minnesota that same year.
Bowling Green has flashed an aggressive style of defense along with multiple coverage schemes. Lewis calls a defense that ranks top-10 nationally in pass rush and top-30 in Rushing Success Rate.
Bowling Green has been inept at defending the run with bottom-10 ranks in Line Yards and Stuff Rate. The Falcons thrive in passing downs, as defensive backs Jordan Oladokun and Jordan Anderson lead the team in pass breakups.
While the offensive numbers don't fly off the page, the number of downfield attempts by quarterback Matt McDonald does.
The senior is vastly improved from seasons past, setting career numbers with an increase in big-time throws and a decrease in turnover-worthy plays. He's tossed 16 touchdowns to just three interceptions, but an important note is the passing depth.
Bowling Green is just as aggressive on offense with downfield passing as the defense is with blitz and pressure.
McDonald has attempted nearly as many passes over 20 yards as passes behind the line of scrimmage. On 32 attempts over 20 yards, McDonald has yet to throw an interception or post a turnover-worthy play while tossing seven touchdowns.
A large portion of targets go to the slot receivers of Odieu Hilaire and CJ Lewis, with Tyrone Broden hauling in four touchdowns out wide.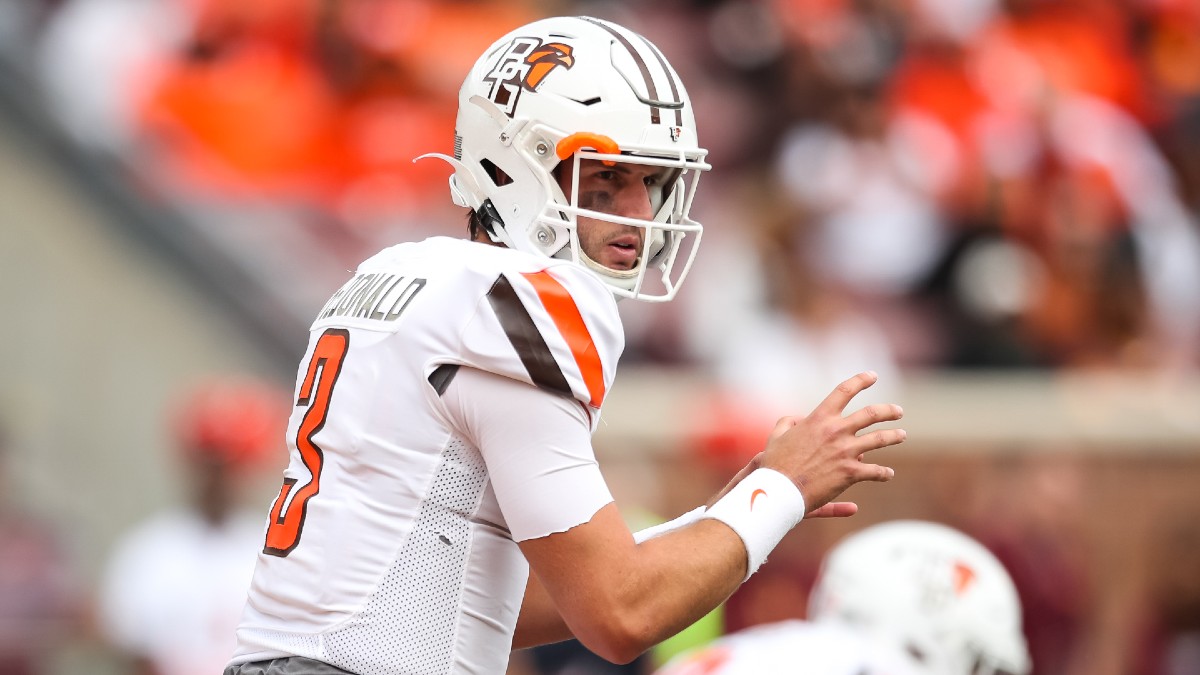 ---
Western Michigan vs Bowling Green Betting Pick
There are similar ranks for both teams in terms of putting pressure on opposing quarterbacks, making the handicap in this game completely about the execution of the offensive line.
While both offensive lines field similar grades in pass blocking, it's Western Michigan's run blocking that ranks third in the MAC, per PFF. In comparison, Bowling Green sits eighth in the conference in run blocking.
Both teams are expected to be in passing downs frequently, an area that heavily favors Western Michigan from an explosiveness perspective.
Steam has hit the market on a Bowling Green team playing at home against the Broncos with a reshuffled offensive line and inexperienced freshman quarterback.
Action Network projects this game as a pick'em, while SP+ calls for a four-point victory by Bowling Green. Any number -3.5 or less should be played on Bowling Green, while plenty of buy-back will hit the market just short of kickoff if Western Michigan +6 pops at a book.
The play for the game lands on the under. The total projection of 41 comes from two teams that rank bottom-20 in Offensive Finishing Drives.
Western Michigan has the better defense in terms of limiting scores in the red zone, placing top-30 in opponent conversion rate. While McDonald will attempt more than a half-dozen explosive passing attempts, the Broncos defense has limited opponents in coverage.
As of writing, the total is steaming from an opener of 44.5 through 47. A bevy of key numbers are in range and should be taken into consideration from a bet sizing perspective, with both 48 and 51 ranking in the top five when it comes to college football totals.
Look to take an under at 48, and increase that bet size through 51 or in the live betting market at 55 and 59.
Pick: Under 48 or Better ⋅ W. Michigan +6 or Better
---
---
Central Michigan vs. Northern Illinois
Central Michigan and Northern Illinois both enter midweek MACtion off of a much-needed bye week.  
Northern Illinois finished 0-6 in 2020 before an unprecedented 9-4 season led the program to a MAC Championship. The Huskies were one of the luckier teams last season and got outscored, 425-410, in total points despite taking home the trophy.
The program finished last season 7-3 in one-possession games. The luck appears to have run out this year, as the Huskies have gone 1-4 in one-score games.
Now, they match up against a Central Michigan squad that has followed a similar trend. After a 9-4 season last year, the Chippewas have won just two of their first eight games this season.  
Only one of these two programs will keep their bowl hopes alive after this matchup.
---
The Central Michigan offense has taken a massive step back from last year's success. The 2021 offense averaged 32 points per game behind a dominant rushing attack that opened the passing lanes.
The run game was expected to take a slight hit after two starting tackles were drafted in the second and third rounds of the 2021 NFL Draft. But their loss has had a lasting effect on the offensive production this season. 
Running back Lew Nichols III was the engine of the Chippewas offense last season. He rushed for over 100 yards in his final eight games last year, averaging 180 yards and 5.6 yards per carry in that span.
This year, the sophomore has eclipsed the 100-yard mark in just one of his six starts. Nichols dropped his production down to just 3.5 yards per carry after averaging 5.4 in 2021.
The inability to run the football consistently has impacted the aerial attack as well. Quarterback Daniel Richardson has thrown 13 touchdowns to four interceptions on the season, but he's completed just 56% of his passes and averaged 6.1 yards per pass attempt.
He was replaced last time out by Jase Bauer, who possesses more dual-threat ability. Bauer completed 18-of-25 passes for 186 yards against Bowling Green last week. He also displayed his running ability by rushing for 109 yards on 16 attempts.
---
Northern Illinois' luck has finally run out. After winning seven of their 10 close games last season, the Huskies have won just one of their five games decided by one score this year.
Despite losing all three nonconference games to FBS opponents, the Huskies kept those games close. They lost to Tulsa by three, Vanderbilt by 10 and Kentucky by just eight points.
Injuries at the quarterback position have plagued Northern Illinois this season. Quarterback Rocky Lombardi has averaged 8.6 yards per attempt while tossing five touchdowns to one interception in his four starts this season.
Backup Ethan Hampton has surpassed Lombardi in pass attempts due to the starter's injuries. Hampton is averaging just 6.5 yards per pass attempt and has tossed six interceptions to seven touchdowns in his four starts. The quarterback decision could be a pivotal factor in the outcome of this matchup.
The Huskies' run game is the bread and butter of this offense. Head coach Thomas Hammock runs a slow-paced offense that rushes the ball on 60% of its plays.
The group averages 4.9 yards per carry on the season, which ranks 30th in the country. 
But the Central Michigan defense has been strong against opposing running attacks, allowing just 3.3 yards per carry. Moving the ball on the ground won't be easy against a CMU defensive line that ranks second nationally in Line Yards.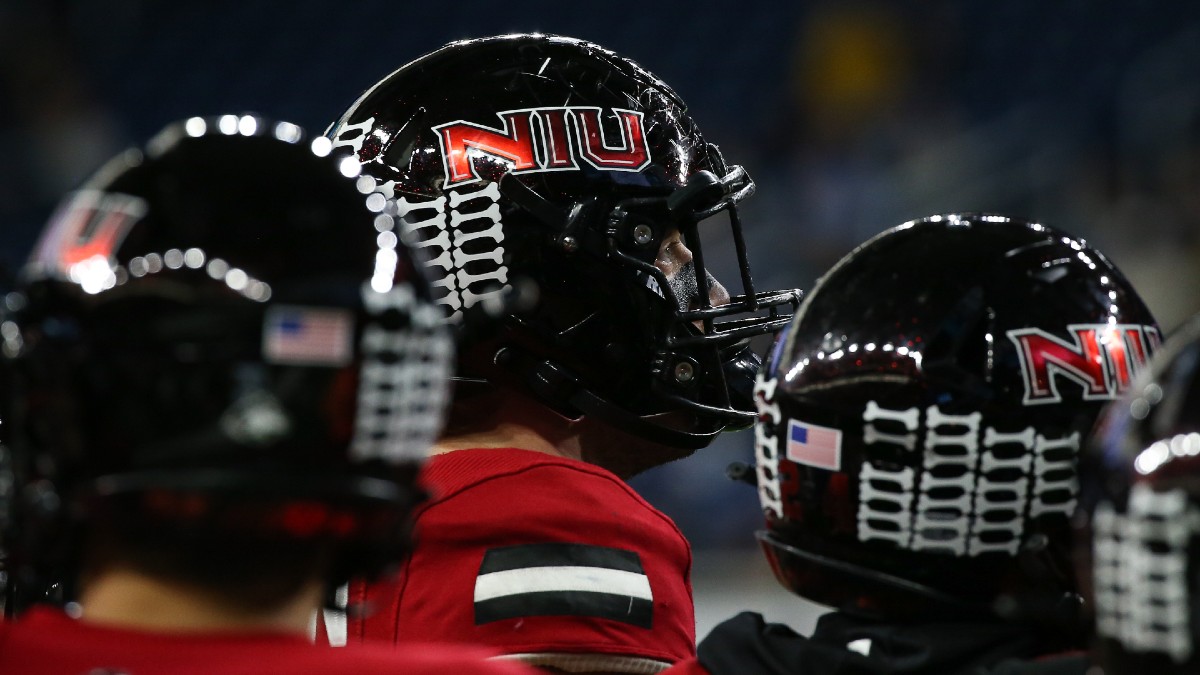 ---
Central Michigan vs Northern Illinois Betting Pick
The way to expose Central Michigan's defense is through the air and not on the ground.
The Chippewas are allowing just 3.3 yards per carry this season, which ranks among the top 25 in the nation. But the group ranks outside the top 100 nationally through the air, allowing an average of 7.4 yards per pass attempt.
Both Lombardi and Hampton missed last week's game against Ohio. Justin Lynch, who had one career pass attempt, started in that matchup and completed 9-of-18 passes for 110 yards. He failed to lead his team to a game-tying touchdown drive in two attempts in the fourth quarter.
Northern Illinois' defense has failed to improve this season and is allowing 34 points per game to FBS opponents. The Huskies have been solid against the run but horrid defending the pass, allowing 8.7 yards per pass attempt against FBS teams (119th).
They've also given up points on 94% of opponents' drives inside the 20.
I also question the motivation for Northern Illinois in this matchup. The Huskies are the reigning MAC champions but now need to win out just to become bowl eligible.
This number has jumped up to Central Michigan +6, which has given value to the Chips. CMU covers this number on the road.
Pick: Central Michigan +6 ⋅ Play to +4.5
How would you rate this article?
This site contains commercial content. We may be compensated for the links provided on this page. The content on this page is for informational purposes only. Action Network makes no representation or warranty as to the accuracy of the information given or the outcome of any game or event.