College Football Odds, Picks | Collin Wilson's Week 11 Full Betting Guide
Credit:
Adam Davis/Icon Sportswire via Getty Images. Pictured: Texas wide receiver Tarique Milton.
What a wild week we had in Week 10.
Georgia blew up Tennessee between the hedges, and in turn, did the same to the College Football Playoff rankings, while LSU downed Alabama at home and essentially knocked the Crimson Tide out of contention.
Now, we have more opportunities to see the same thing in Week 11.
One of the biggest games of the week takes place in Austin, as Texas looks to knock TCU out of the College Football Playoff picture while keeping its hopes of a Big 12 title alive.
A huge conference matchup also takes place in the American Athletic Conference, as UCF travels to New Orleans to take on Tulane. The Green Wave can keep their hopes for a New Year's Six Bowl alive with a win, while the Knights could propel themselves to the AAC title game with a victory.
And before all of that, LSU looks to overcome a major letdown spot after beating Nick Saban's Crimson Tide in overtime as it travels to Fayetteville to face Arkansas.
Read on to see how I'm betting all three games — and be sure to check out the rest of Action Network's Week 11 college football betting coverage.
---
Collin Wilson's Week 11 College Football Best Bets
The team logos in the table below represent each of the matchups that Collin Wilson is targeting from today's slate of games. Click the team logos for one of the matchups below to navigate to a specific bet discussed in this article.
---
LSU vs. Arkansas
The "Battle for the Golden Boot" has a long history of upsets since the SEC added Arkansas in 1992.
An AP Top-10 team has lost this rivalry game on five different occasions since 2007. From the Miracle on Markham to a BCS knockout, this trophy game generally has implications at the national level.
This will be Brian Kelly's first game in the series, a must-win if his Tigers have aspirations to play in the SEC Championship and potentially make the College Football Playoff.
LSU fits the bill in the hangover department after a titanic upset over Alabama as a near two-touchdown underdog. Kelly did not hesitate in calling a two-point conversion play to end overtime, stating if given the chance to have one play to beat Alabama he would have taken the attempt "100 times out of 100."
Now, Arkansas and Texas A&M are all that stand between LSU and a trip to face Georgia for the conference championship.
Razorbacks head coach Sam Pittman went trophy hunting in 2021, sweeping every rivalry game and concluding with an Outback Bowl victory.
In less than a calendar year, the direction of the on-field product is nowhere near the roster that won a game on New Year's Day to start 2022. The Razorbacks are fighting for a sixth win to make a bowl, fresh off of a home loss to Liberty.
Despite a scoreless second half, the Flames never trailed even after their best offensive weapon suffered an injury in the second quarter.
Arkansas will have other chances to secure a sixth win, but an early kick against the SEC West division leader is a gut check for Pittman and the Hogs.
---
Brian Kelly had never beaten Nick Saban in over 30 years as a head coach before last week.
This is by far his masterpiece of a season even with two previous trips to the College Football Playoff and a BCS National Championship game loss to Saban in 2013.
Kelly hit the transfer portal early and often during the offseason, gaining more than 13 players and 15,000 snaps of experience — the highest mark of any team entering this season.
A winning path puts the Tigers in the SEC Championship game, but can the former Notre Dame coach avoid a hangover after defeating Alabama?
Kelly has avoided letdown scenarios more times than not in his career, a trend that includes Ole Miss and New Mexico this season.
The Tigers have thrived under quarterback Jayden Daniels, who torched the Alabama defense for nearly 100 yards on the ground with three combined touchdowns.
The youth movement on the offensive line has created holes for Daniels in rushing attempts. Half of Daniels' zone-read rushes have come in the past two games against Alabama and Ole Miss. The former Arizona State quarterback averages 4.5 yards after contact and has created 37 missed tackles this season.
But more impressive is a 14:1 touchdown-to-interception ratio through the air.
Meanwhile, LSU's defense has struggled on the back end in coverage grading, but defensive coordinator Matt House is building a fierce trench against opposing offensive lines.
House brought a complicated playbook after several seasons as a linebackers coach with the Kansas City Chiefs. LSU ranks top-20 in Defensive Finishing Drives and Passing Success Rate.
The emergence of linebacker Harold Perkins has allowed LSU to utilize multiple personnel, as the freshman has lined up in the box, on the line and against opposing slot receivers.
---
The Razorbacks suffered an embarrassing loss to Liberty with numerous factors contributing to the defeat.
The Flames shut down the Hogs in the first quarter, allowing a Standard Downs Success Rate of zero.
Passing downs were at the center of problems in the second quarter, as the Razorbacks generated a Success Rate of just 17%.
The powerful rushing attack of quarterback KJ Jefferson and running back Raheim Sanders was stuffed the entire game. Sanders posted his lowest yards-per-carry mark of the season after facing a schedule of defenses that includes Alabama, Cincinnati and Texas A&M.
The Hogs have lit up opponents through the end of October because of passing in standard downs. With Jefferson at full strength, offensive coordinator Kendal Briles should return to an open playbook in early downs.
The Razorback defense did its job well, shutting Liberty from scoring in the second half after the Flames lost running back Dae Dae Hunter to injury.
Arkansas coaches have directed nothing but praise to wide receiver-turned-defensive back Quincey McAdoo.
The emergence of McAdoo is critical for the Razorbacks with an off-field incident keeping one of the best defensive players on the bench against LSU. Safety/cornerback combo Myles Slusher was involved in an incident early Sunday morning, earning a suspension from Pittman for the LSU game.
McAdoo will be expected to fill Slusher's shoes, as the junior from Oklahoma has lined up at every position this season with a heavy emphasis at slot cornerback.
---
LSU vs Arkansas Betting Pick
Throwing out the hangover narrative on LSU after the win against Alabama, there are advantages for the Tigers offensively.
Arkansas has fallen to 115th in Rushing Success Rate on defense, an issue that will come against an LSU rush attack that's the best in the nation in terms of Stuff Rate.
The Tigers' offensive line has been owning the trench with the fortification of Emery Jones, Miles Frazier, Anthony Bradford, Charles Turner and Will Campbell as the starting rotation.
The loss of Slusher to injury earlier this season allowed numerous passing attacks to find success against Arkansas. The Hogs rank 117th in coverage but have improved a tackling grade to just inside the top 100.
The statistics speak for themselves for a defense that allows teams to convert from any down and distance. Arkansas has fallen hard, ranking bottom-10 nationally in Passing Downs Success Rate and third-down defense.
The handicap in this game is if a "sore" Jefferson can return to full strength. There were signs of life from the Hogs' passing offense in the second half, as Jadon Haselwood led with eight catches and Matt Landers gained more than 100 yards.
LSU will face an Arkansas offensive line that's sixth nationally in pass blocking, neutralizing a strength for the Tigers. Explosive plays will be there in passing downs for Arkansas, as LSU ranks 111th in allowing explosiveness against teams behind schedule.
Action Network projects LSU as a four-point favorite with a total of 65, both near the market consensus.
LSU will be allowed to dictate pace with an offensive line that's creating large holes for the rushing attack. The Tigers have dominated scoring opportunities, an area in which the Razorback defense continues to fall.
The Hogs will follow up with mild success on the ground, looking for explosives through the air against LSU's secondary.
LSU may need a few series to get the offense moving with an 11 a.m. local kick and temperatures in the 30s.
The wind blows in from the open north side of Razorback Stadium with a swirl in the south end zone, as 10 MPH sustained winds may limit each kicking game.
Look for a slow-starting game to be filled with explosive plays in the second half, as LSU will leave Fayetteville with the Boot thanks to a rising rushing attack.
---
---
UCF vs. Tulane
UCF will travel to New Orleans to keep hopes of competing for a conference championship alive.
A victory by the Knights will all but guarantee a conference title game on their home soil at the Bounce House. A loss to Tulane would bump Cincinnati into second place in the conference with a projected trip to Yulman Stadium for a crawfish boil and a chance to win the AAC.
Outside of competing for the conference, these three teams also have a stake in making a New Year's Six bowl. Tulane is projected to win the AAC and compete against LSU at the Cotton Bowl in Brett McMurphy's latest bowl projections.
The Green Wave have been a wagon for investors in 2022, covering eight of their nine games this season. Tulane has not won a conference title since the 1998 season in Conference USA.
Head coach Willie Fritz would bring Tulane a conference championship for only the second time since winning an SEC title in 1949. 
---
After throwing 17 touchdowns last season, Mikey Keene was ready to step in and start after John Rhys Plumlee remained in concussion protocol. The sophomore did enough against Memphis to secure the win, recording four big-time throws and just one interception.
The Knights leaned into their heavy rush attack, putting up more than 200 yards with RJ Harvey and Isaiah Bowser. Any opponent looking to beat Central Florida must deal with a top-20 rushing attack.
Defensive coordinator Travis Williams is the subject of coaching searches, most recently at nearby South Florida.
The Knights have been excellent when opponents reach scoring position, allowing just 3.1 points on 47 attempts so far this season. Central Florida comes in as the top defense in the nation in terms of red-zone defense, as the Knights have allowed a score on just 61% of opponent attempts. Only Georgia has forced a higher rate of field goals.
---
No other team is on better a roll than Tulane this football season. The Green Wave have covered five straight games, beating the best in the American Athletic Conference.
Fritz is sure to be a top candidate for Coach of the Year, with the strength of the team coming on the defense.
Coordinator Chris Hampton is responsible for a coverage unit that ranks top-10, highlighted by a top-20 rank in Success Rate and Explosiveness against opponents in passing downs.
Linebackers Dorian Williams and Nick Anderson have started most of the Havoc, both leading the team in tackles. The Green Wave have excelled in limiting explosive plays, allowing just nine plays from scrimmage to exceed 30 yards.
While the defense has been Tulane's stable entity, the offense is led by quarterback Michael Pratt.
Although the Green Wave struggle in Success Rate with the rush, the offense moves the chains through the air. Tulane ranks 25th in Passing Success Rate, with Pratt recording 14 touchdowns to just four interceptions this season.
Duece Watts continues to be a leading target each week, ranking up more than 16 yards per catch despite having the highest number of contested targets.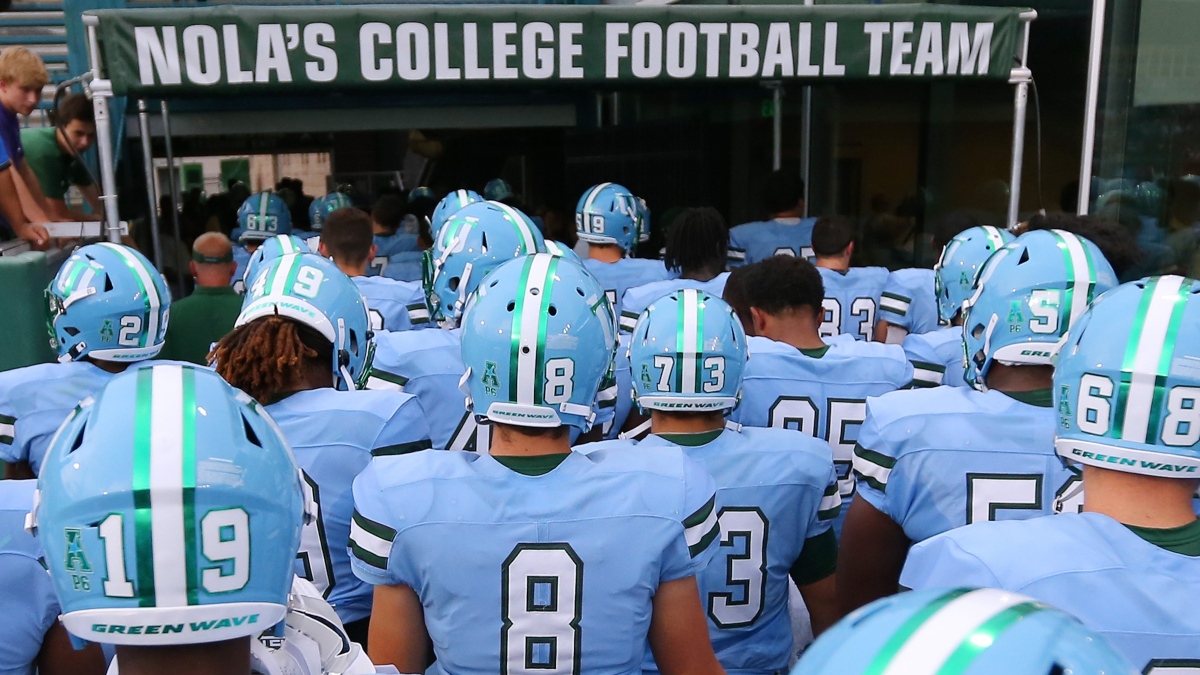 ---
UCF vs Tulane Betting Pick
Action Network projects Tulane as a small favorite in a game to determine who will play in the American Athletic Conference Championship.
Central Florida will have advantages rushing the ball, as Tulane ranks outside the top 80 in Line Yards and Defensive Stuff Rate. Plumlee's return at quarterback would further enhance the rush advantages, as he has nearly three times as many yards from designed runs as scrambles.
The advantages for Tulane exist in the passing game, with the Central Florida defense ranking mid-FBS in coverage. While the Green Wave aren't explosive in passing downs, Tulane is one of the most successful teams in moving the chains after getting behind schedule.
Both of these teams have statistical advantages in limiting scoring opportunities and red-zone defense.
Despite the defenses stiffening when opponents are in scoring position, getting points in this game is the desired investment.
Central Florida doesn't have to worry about Havoc or a pass rush no matter which quarterback plays under center. Tulane will meet a Knights defense that is elite in stopping the run, as the Green Wave prefer to pass when off schedule.
Look for points with UCF as it looks to take control of the AAC.
---
---
TCU vs. Texas
The state of Texas will be focused on Austin on Saturday, as undefeated TCU looks to remain unbeaten when it takes on the Longhorns.
The Horned Frogs moved into the top four of the latest College Football Playoff rankings, putting pressure on a first-year coach and a roster that was expected to win only half of its games.
Head coach Sonny Dykes has covered three straight games in Big 12 play and is looking to swerve the November history of the "Sonny Swoon."
This conference game may be the biggest the Longhorns have played in several years. Head coach Steve Sarkisian is in search of his first conference championship appearance but must win out to have a chance in Arlington.
Texas avoided a second-half letdown last week and held on for a victory over Kansas State. With former TCU head coach Gary Patterson serving as a defensive analyst for the Longhorns, there's plenty of familiarity between the two teams.
A win in this game puts Sarkisian on the path to a New Year's Six bowl, but a loss may have the Horns playing in a lesser bowl with plenty of questions on the recruiting trail.
---
The offensive numbers have been impressive, especially considering TCU put up numbers in the bottom 10 of FBS last year. Dykes has leapfrogged plenty of Power Five teams in getting TCU into the playoff discussion.
Thanks to quarterback Max Duggan and a laundry list of explosive targets, the Horned Frogs prefer to play in weekly high-scoring affairs.
Duggan is having the best dual-threat season of his career. He previously fumbled 18 times in three seasons but has fumbled just once this year in a Week 4 game against SMU.
The passing has been just as efficient, tossing just two interceptions after throwing a total of 20 in the three previous seasons.
The Horned Frogs don't generate a pass rush and rank mid-FBS in coverage.
Teams with downfield passing attacks have had success in racking up scoring opportunities. TCU continues to fall in Defensive Finishing Drives, allowing 4.5 points to opponents that cross the 40-yard line.
The one shining light on the defense has been Dylan Horton, who has generated 31 pressures this season.  The junior has produced 26 hurries, while no other defensive player has reached double digits.
---
The one component that doesn't show up in the stat sheet for Texas is pure physicality.
The Longhorns are dominating opponents in the trench on both sides of the ball. A highly-graded pass rush is assisted by a run-stopping unit that ranks 31st in Line Yards.
Seven different defenders have recorded at least 10 quarterback hurries, a factor because of Texas' ability to get offenses behind schedule. The Longhorns rank 17th in Defensive Standard Downs Success Rate.
Freshman quarterback Quinn Ewers continues to evolve. He threw three interceptions in a loss to Oklahoma State but didn't throw one at Kansas State last week.
The difference in efficiency is directly related to pressure, as Ewers has just one big-time throw and a 22% drop in adjusted completion percentage with a crowded pocket.
The great news for Ewers is that his teammate in the backfield, Bijan Robinson, is one of the best players in college football.
Robinson has been the primary driver for an offense that ranks top-20 in Havoc Allowed and 10th in Standard Downs Success Rate.
The Longhorns don't get off schedule on offense easily, which pays dividends in scoring opportunities. Texas enters top-30 in Finishing Drives, averaging 4.4 points for every drive that crosses the 40.
---
TCU vs Texas Betting Pick
Reports have surfaced that Duggan is dealing with a calf injury.
The numbers show the injury is limiting the quarterback's numbers, as he's gained only 20 yards rushing from designed runs over the past two weeks. The injury came against West Virginia, where Duggan didn't record any scrambles.
The limitation puts focus on an offensive line that ranks 85th in pass blocking. Duggan saw a season-high 17 pressures against a solid pass rush in Texas Tech, which resulted in four sacks. This will be the point of attack for Texas, which boats a pass rush grade of ninth, per PFF.
Duggan isn't the only explosive TCU player dealing with a nagging injury. Wide receiver Quentin Johnston has an ankle issue that may limit his playing time.
TCU is ultra-reliant on explosive plays with expected points rankings of 26th in rush and fourth in pass. Texas has been middling in defending explosive plays, but this is a team with a strength of schedule that ranks third nationally.
There may be other factors to consider, too. TCU has a much lower ranking than Texas in "game control," a stat defined as an average top-25 team controlling games from start to finish compared to that team's performance.
Texas not only ranks higher in the adjusted schedule metrics the playoff committee considers important, but there's also a massive gap in second-order win total between these two teams. TCU has played a number of teams with quarterback injuries and has built up wins against second-string signal-callers.
The Horned Frogs offense may not be as explosive as usual because of injury, and the defense won't get any pressure on a freshman quarterback. When Ewers is given time and a clean pocket, opponents have taken a loss.
Expect Texas to score a bevy of points given the massive differences in red-zone efficiencies between these teams.
How would you rate this article?
This site contains commercial content. We may be compensated for the links provided on this page. The content on this page is for informational purposes only. Action Network makes no representation or warranty as to the accuracy of the information given or the outcome of any game or event.