NCAAF Odds & Picks: Collin Wilson's Betting Card for Week 2, Including Stanford vs. USC, Nebraska vs. Colorado
Credit:
Getty Images. Design by Matt Roembke/Action Network. Pictured (left to right): Texas A&M's Ainias Smith, Colorado's Deion Sanders, USC's Caleb Williams, ALabama's Nick Saban and Texas' Quinn Ewers.
College football Week 2 is here, and Action Network senior writer Collin Wilson has some bets to get down.
Wilson broke down four of his favorite picks for Saturday, including USC vs. Stanford and Colorado vs. Nebraska.
Check out Wilson's best bets for Week 2's college football slate below.
After five straight days of college football to officially open the season, Week 2 is upon us.
While the weekday slate was cut down quite a bit to accommodate the return of the NFL on Thursday night, Week 2's schedule isn't lacking on Saturday. That's especially true when it comes to big-time showdowns throughout the day.
From Coach Prime and Colorado looking to defend Folsom Field against Nebraska to Steve Sarkisian and Texas hoping to exact revenge against Nick Saban and Alabama, we have plenty to look forward to — and that doesn't even include the rematch between Texas A&M and Miami or the expected high-scoring affair between Stanford and USC in their Pac-12 opener.
It's going to be a fun week, so let's try to make it even better by getting a few tickets to the window.
---
Collin Wilson's College Football Best Bets
The team logos in the table below represent each of the matchups that Action Network senior writer Collin Wilson is targeting from Saturday's slate of games. Click on the team logos for any of the matchups below to navigate to a specific bet discussed in this article.
Game
Time

(ET)

Pick
12 p.m.
3:30 p.m.
7 p.m.
10:30 p.m.

Specific betting recommendations come from the sportsbook offering preferred odds as of writing. Always shop for the best price using our NCAAF Odds page, which automatically surfaces the best lines for every game.
---
Two programs with first-year head coaches meet in a Week 2 showdown between former Big Eight rivals.
Colorado had the biggest opening weekend of any FBS program after closing the offseason with a meager win total of 3.5. The Buffaloes' upset over TCU in Fort Worth as a three-touchdown underdog propelled them into the AP Top 25 for the first time since 2020.
Head coach Deion Sanders turned over an entire roster in the offseason, a decision that came with plenty of critics. Thanks to the win over the Horned Frogs, Sanders has two players in Heisman contention along with a pocket full of receipts.
Nebraska head coach Matt Rhule now leads the Cornhuskers into a new week after the program suffered another excruciating one-possession loss to Minnesota in the opener. There's a legitimate argument that Nebraska cost itself the victory with four turnovers and seven penalties.
Rhule was pleased with the Huskers' physicality running the football, but they will look for more of a passing game even with a season-ending knee injury to a primary target in Isaiah Garcia-Castaneda.
These teams last played in 2018 and 2019, with Colorado winning both games.
Let's break down this game and make a pick and prediction in this Nebraska vs. Colorado college football betting preview.
---
Nebraska will get extra rest after starting Week 1 on Thursday night in a heartbreaking loss to Minnesota. The Gophers failed to generate any kind of rushing attack, averaging just 3.1 yards per play.
The Cornhuskers were equally as disruptive in passing downs, with Minnesota completing only two passes over 20 yards and posting just a 33% Success Rate on those downs.
Nebraska interior defensive lineman Ty Robinson generated five pressures, while cornerback Omar Brown provided a crucial interception in the loss.
Expectations for the Nebraska offense were limited entering the season after transfer quarterback Jeff Sims recorded a plethora of turnover-worthy plays at Georgia Tech.
The Huskers were excellent running the ball against the Gophers, generating an impressive 70% Success Rate on 35 carries between Sims, Gabe Ervin Jr. and Anthony Grant.
The rushing attack gained 6.1 yards per play, setting up easier field position for later downs. Five of Nebraska's nine drives featured at least two first downs, and two drives saw 10 or more plays.
The Huskers struggled to throw the ball, generating just four yards per play on 22 passing attempts. Sims threw three interceptions — a factor that kept Nebraska from cashing in on a 94% post-game win expectancy.
If Sims can limit the mistakes on passing downs, the Huskers' rushing attack will continue to take advantage of inferior front sevens.
---
Colorado fielded 46 players wearing the school's jersey for the first time in its Week 1 victory over TCU.
Most believed that the Buffaloes were not ready for FBS play with an undersized offensive line entering Week 1. The rushing statistics alone support that take, as half of their 30 rushing attempts were stuffed at or behind the line of scrimmage.
Colorado posted a meager 2.9 yards per rushing attempt — a number that produced an average of 11 yards to go in passing downs.
In general, teams that rely on converting long third downs are gambling with Success Rate and scoring opportunities. Colorado absolutely thrived in this scenario, producing an unsustainable 71% Success Rate on passing downs.
Quarterback Shedeur Sanders tallied 510 passing yards and four touchdowns, assisted by Dylan Edwards' three touchdown catches.
Two-way sensation Travis Hunter caught 11 of his 14 targets for 119 yards and added three pass breakups and an interception at cornerback.
As mentioned, TCU's ability to consistently stuff Colorado behind the line led to low-percentage third-down attempts for the Buffaloes. To stop this Sean Lewis offense, the Nebraska defense must also tackle soundly while limiting explosives through the air.
The Colorado win may have hidden poor results on defense, as it allowed TCU to gain 72% of available yards. The Horned Frogs pieced together multiple explosive and methodical drives, averaging the same number as Colorado in overall yards per play and Points per Opportunity.
---
There couldn't be more contrasting approaches to rebuilding a program than Nebraska and Colorado. The story in Boulder has caught the public eye, but from an analytics perspective, there are plenty of hurdles remaining for Colorado.
The defense failed to produce a single sack or tackle for loss, allowing TCU to convert 10 of its 16 third-down attempts. Colorado failed to stop TCU's rushing attack, stuffing just eight of the Frogs' 37 attempts while allowing 7.1 yards per play.
There's a reason to think Nebraska will have plenty of success establishing the run and creating scoring opportunities.
Colorado's power rating improved more than 10 points after its victory at TCU, one of the largest bumps in grading history. With the new transfer portal rules and Sanders turning over an entire roster, there was a large gap in expectations from the program's ceiling to its floor.
College football investors are now faced with backing Colorado against teams that can't stop explosives or third-down conversions.
Nebraska falls into both categories, as it allowed Minnesota to convert eight of its 17 third downs from an average distance of 7.8 yards. The Cornhuskers contained any explosives from a lifeless Gophers ground attack, but they did give up a trio of passes that exceeded 15 yards.
Colorado doesn't fit the profile of a team an investor wants to ride at the craps table. The offense doesn't boast a productive rushing attack, nor does the defense play behind the line of scrimmage.
Nebraska will find ways to move the ball down the field methodically. If Sims can limit mistakes, the Cornhuskers have every chance to win this game.
But because turnovers are generally a part of Sims' profile, look for Colorado to win solely on Defensive Havoc and explosive plays on long third downs.
The Buffaloes will get one more wager from this investor before facing Colorado State in a sandwich spot ahead of a loaded Pac-12 schedule.
---
---
A rematch between Texas A&M and Miami is set for Week 2.
The 2022 version saw a grinding slog littered with dysfunctional offense that resulted in a 17-9 victory for the Aggies in College Station.
Miami head coach Mario Cristobal was in the beginning stages of changing the roster, inheriting undersized players in the offensive and defensive trenches that limited Miami to just five wins a season ago. The Hurricanes finished seventh in transfer portal rankings over the past offseason and entered 2023 by lighting up Miami (OH) in the season opener.
Texas A&M was active in the coaching portal, electing to hire former Arkansas coach Bobby Petrino as offensive coordinator. Plenty was made in the offseason about who would call plays for the Aggies, but an outburst of quarterback play and points against New Mexico has the fanbase hopeful for a playoff-contending season.
Steamy Hard Rock Stadium will be the site for the conclusion of the series, as each head coach is desperately in need of a strong nonconference win.
---
Head coach Jimbo Fisher could not have asked for a better start to the season, especially on the offensive side of the ball.
Quarterback Conner Weigman connected on 18 of his 23 pass attempts for five touchdowns. Two of those passing touchdowns came on dropbacks with pressure, as Weigman didn't record a single turnover-worthy play.
Dating back to last season, the second-year quarterback hasn't thrown an interception in 185 dropbacks.
The Aggies were stuffed on just four of their 27 rushing attempts, while they averaged nearly nine yards per play in passing downs. Texas A&M also achieved two or more first downs on nine of its 11 drives — more than double the national average.
Three different players averaged double digits in yards per target, giving the Aggies an upgraded offense in the methodical and explosive drives categories.
The defense continued to be a constant, recording six quarterback hurries and 10 tackles for loss. The 4-2-5 personnel ranks top-five in the early Havoc ratings despite blitzing on just 19% of snaps.
New Mexico struggled in passing downs as well with an average of 2.9 yards per play.
The Aggies were just as extortionate on defense in Week 1 in comparison to the bar set from previous seasons.
---
The Hurricanes blew out the RedHawks in the battle of Miami in Week 1.
Cristobal and Co. emphasized their happiness with the rushing attack, giving at least eight carries to four different rushers. The Hurricanes ran hot in standard downs, posting a 59% Success Rate while averaging 7.9 yards per play.
Henry Parrish Jr. averaged more than four yards after contact, but the most elusive award goes to Donald Chaney Jr. and his six missed tackles created on eight rushing attempts.
Quarterback Tyler Van Dyke, also known as Tyler Van Dime, experienced a renaissance from the pocket, connecting on 17 of his 22 attempts with three explosive passes.
The Hurricanes now have weapons not only in the backfield but also at the wideout position with Colbie Young.
The defense jumped in on the fun, limiting the RedHawks to just three points on three possessions the Canes' crossed the 40-yard line. Miami stuffed a ridiculous 17 out of 22 rushing attempts, limiting its opponent to just 4.4 yards per play.
The RedHawks left plenty of offense on the sidelines, gaining 15% less than the national average in available yards.
Hurricanes linebacker Francisco Mauigoa packed the stat line with four tackles and two pressures.
---
There are bumps and bruises on the Miami side, as Van Dyke started a buzz after being seen with tape on his finger. Cristobal indicated the quarterback has no limitations and that Young is "OK" even after leaving the second quarter against the RedHawks.
The head coach was more concerned with the explosiveness of Texas A&M's offense during his weekly press conference.
The Aggies drilled their layup game against New Mexico and made the tempo worth monitoring. Texas A&M increased its pace by two seconds per play, meaning the number of plays per game is on a sharp increase with Petrino manning the offense.
Weigman attempted six passes over 20 yards in Week 1, a contrast from throwing just 16 in all of 2022. With an average depth of target increase from 9.8 to 14.4 yards, there's no reason to think Texas A&M isn't going to target Miami's back seven, whose PFF coverage grade ranks 82nd.
The Aggies defense did give up an explosive drive — defined as a drive that averages 10-plus yards per play — to New Mexico. The Lobos connected on three passes over 15 yards but struggled to put points up in scoring position.
Texas A&M allowed its Week 1 opponent to exceed the national average in methodical drive rate while posting a better Success Rate in standard downs. The Hurricanes cooked in standard downs on offense, ranking top-25 in early analytics.
Week 1 box scores are always skewed when a Power 5 team routs a Group of Five opponent.
Miami struggled with tackling, coverage and explosives in standard downs against Miami (Ohio), while Texas A&M struggled defensively in Standard Downs Success Rate and allowed a number of explosive passing attempts.
Considering the Aggies want to push the tempo with their new appetite for downfield targets, look for Miami to keep it close by creating explosive plays against the A&M defense.
---
---
All eyes will be on Tuscaloosa Saturday night, as a sizzling rematch is in store when Texas visits Alabama in the game of the week.
The Longhorns played the role of host a season ago, leading the Crimson Tide late in the fourth quarter before ultimately losing by a single point. Texas won the battle in the trenches, harassing Heisman Trophy winner Bryce Young with constant pressure and a pair of sacks.
Alabama would go on to miss the SEC Championship game, ultimately taking on two regular-season losses.
A pair of lackluster hirings at the coordinator position and a training camp quarterback battle produced plenty of questions over the summer about the dominance of the Tide. Head coach Nick Saban relished the role, keeping the details of the quarterback room quiet while blowing out Middle Tennessee in the opener.
Texas produced similar results with an in-state scrimmage against Rice. Only two of the three quarterbacks battling in training camp attempted a pass, as head coach Steve Sarkisian saw eight different players generate a target and six different players attempt a rush.
These two teams are loaded with next-level talent, and the winner in Tuscaloosa will vault into a true national title contender.
---
In an opening victory over Rice, the Texas defense earned honors as the best unit on the field. The Owls were stuffed on half of their rushing attempts and posted a low 20% Success Rate in passing downs. Rice recorded just a single methodical drive, scoring on two of its four drives that crossed the 40-yard line.
Texas cornerback Malik Muhammad recorded a team-high five tackles, and just one starter was guilty of a missed tackle.
JT Daniels was flushed from the pocket on multiple occasions, leading to five tackles for loss and four pass breakups for the Horns defense.
While the defense was executing on all cylinders, the Texas offense had issues controlling the line of scrimmage. Rice didn't field any defensive analytics rankings in the top half of FBS during 2022, but it stuffed the Longhorns on 11 of their 37 rushing attempts.
Texas fell behind on standard downs, averaging only 4.8 yards per play. More importantly, Texas couldn't convert scoring opportunities into points, recording just 3.4 points per trip inside the 40-yard line.
Despite the hurdles in the red zone, quarterback Quinn Ewers moved the ball down the field on 19-of-30 passing without logging a turnover-worthy play.
Xavier Worthy took in 10 targets for 90 yards, while Ewers connected with three different receivers for a touchdown.
A lack of explosives plagued rushing attempts, as Texas logged just a single 20-yard run on 37 attempts. The inefficiency of the run game affected passing downs, as Texas averaged a whopping 8.9 yards on 15 attempts on third down.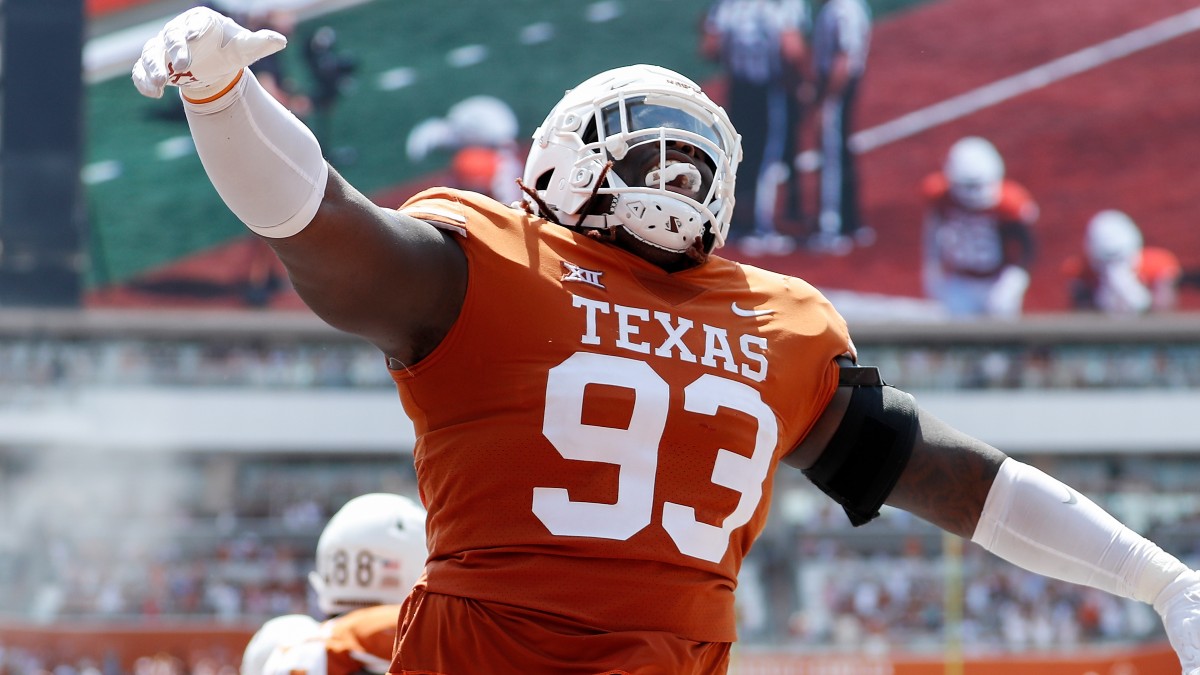 ---
Nick Saban was pleased with Alabama's execution and physicality in the opening win. Both of the elements are needed after the Tide were beaten in the trenches by the Longhorns last season.
Offensive coordinator Tommy Rees called 38 rushing plays versus 26 passing against Middle Tennessee, gaining 5.8 per rush with a 66% Success Rate.
The Tide were rarely jammed at the line of scrimmage, dominating in early downs with only 17 snaps from passing downs.
Jalen Milroe won the training camp quarterback battle over Ty Simpson and Tyler Buchner. The third-year quarterback was harassed on just three dropbacks and didn't make a mistake on any passing attempts.
The wheels are still there for the dual-threat signal-caller, as Milroe was one of six rushers for the Tide to log a 10-plus yard gain vs. MTSU.
More importantly, the offense scored a touchdown on every drive that crossed Middle Tennessee's 40-yard line.
The Crimson Tide allowed just a single touchdown to the Blue Raiders, but there were opportunities left on the table. Middle Tennessee posted a 53% Success Rate on standard downs, the national average for offenses.
Only seven of its 23 rushing opportunities were stuffed, as the Blue Raiders gained an average of 4.5 yards per rushing attempt.
While no explosive drives were logged, Middle Tennessee did have a methodical drive lasting over 10-plus plays.
The Tide forced a couple of turnovers and capitalized on the offense end, but they must improve in creating longer distances for opponents on passing downs.
---
There are a number of handicaps in a game filled with NFL talent — and one that features two coaches who had success working together.
The defense was the difference-maker for Texas in its opening game, but it remains to be seen if Barryn Sorrell and Kristopher Ross can set contain from the edge position.
The numbers are in the infancy stage, but the Texas defense already ranks as one of the 10 worst in FBS when it comes to allowing explosives in passing downs.
Another element in favor of the Tide is the offense's success when in scoring position. While Texas allowed Rice to convert opportunities to points, Alabama scored a touchdown on every drive that crossed the Middle Tennessee 40-yard line.
If Texas is unable to contain Milroe on busted plays or passing scrambles, the Horns could have their backs to the end zone frequently.
The Alabama offensive line versus the Texas defensive line is good-on-good, but the other side of the ball presents many questions for the Longhorns. Rice terrorized the Texas offensive line, meeting the national average for stuffed rushing attempts.
Outside of CJ Baxter's 32-yard run, the running back generated six yards on four other carries. Jaydon Blue was the most elusive rusher with 4.4 yards after contact on 10 attempts, which could eat into Jonathon Brooks' attempts.
If the rushing aspect of Texas' offense doesn't improve, Alabama will force the Horns into passing downs longer than nine yards per attempt. Ewers completed just one pass in eight attempts with pressure against Rice. Three of the pressured pockets resulted in a sack of Ewers, which resulted in a poor pass-blocking rank outside the top 60.
There's just a one-game sample, but the offensive line generating a Line Yards rank outside the top 100 — while not protecting the quarterback in passing downs — could be a recipe for a long evening in Tuscaloosa.
The market has more love for Alabama than the Action Network Power Ratings. The question is if Alabama is an oversold stock or one that will continue to rise.
Sarkisian echoed sentiments that a Milroe-type quarterback could give the Horns defense plenty of trouble. The ability to contain Milroe in the pocket and push him off his hot read in passing attempts is the most crucial aspect when Alabama has the ball.
If the Rice game is any indication, the Crimson Tide should have success generating yards and scoring opportunities.
The Texas offensive line had trouble against Rice's front seven. The Owls contained a lackluster effort on the ground, stuffing attempts at a national average pace. Rice generated enough of a presence in standard downs to get Texas well behind the chains.
If the Owls could create eight tackles for loss and three sacks, the Alabama defense will have plenty of success if the Horns' rushing attack remains impotent.
---
---
A pair of undefeated teams will meet in their Pac-12 Conference opener on Saturday when the Stanford Cardinal take on the USC Trojans.
Stanford opened the season at Hawaii with new head coach Troy Taylor, formerly of FCS Sacramento State. Many of the details of the Cardinal offense and defense — from the playbook to the depth chart — were unknown heading into the season.
However, Taylor had to have been pleased with the opener as Stanford led Hawaii by as many as three touchdowns late in the game.
USC has dominated the Mountain West through two games. The Trojans have outscored Nevada and San Jose State, 122-42, and Caleb Williams has already thrown nine touchdowns.
The offense is the most potent in the country, though there's some concern about the defense, which struggles with missed tackles and stopping the rush.
Let's dive into the Stanford vs. USC odds and find a pick and prediction in this college football betting preview for Saturday, Sept. 9.
---
For those who follow the FCS, there was never a doubt that Taylor could design an offense with enough scoring to compete in the Pac-12. The Cardinal showed that against Hawaii, running 52 plays in standard downs to just 18 in passing downs.
Not only did Stanford exceed national averages in Success Rate, but three of its 11 drives were methodical with another three being explosive.
Quarterback Ashton Daniels made a name for himself at the national level with five explosive passes in the process.
Tight end Benjamin Yurosek was impossible to cover and amassed 138 receiving yards on 11 targets. Stanford ran an even distribution of pass and run, as Casey Filkins averaged 11.2 yards per carry for a ground attack that averaged 4.7 yards per play.
Daniels didn't log a single turnover-worthy play on 14 passing attempts that exceeded 10 yards.
The defense also came to play, taking advantage of a Hawaii team that was on short rest. After producing several explosive drives against Vanderbilt in Week 0, the Warriors were limited to just a single explosive drive against Stanford.
The more eye-popping statistic comes from the run game, where Stanford stuffed nine of Hawaii's 10 rushing attempts. Offensive lines must account for edge David Bailey, who had three sacks and seven pressures in Week 1.
---
Williams has been on fire and has connected with his whole roster, as 10 players have received at least four targets.
Solving a Rubik's Cube may be simpler than stopping the USC offense, but if there's a path to keeping the Trojans off the board, it may start at the slot position. Mario Williams, Zachariah Branch and Makai Lemon have taken in most of the targets, and all three run the majority of their routes from the slot.
The rushing attack has been de-emphasized so far this season, as USC has thrown the ball on 57% of snaps.
MarShawn Lloyd, Quinten Joyner and Austin Jones have generated five explosive runs from the backfield, but until a defense is capable of taking away the passing lanes, expect USC to continue sending targets in four verticals.
The defense is showing signs of improvement. Coordinator Alex Grinch has USC positioned as the top team in the nation in Finishing Drives after Nevada and San Jose State produced just three red-zone trips.
The Trojans haven't created as many turnovers as a season ago but still reside in the top 50 when it comes to Havoc.
Georgia transfer Bear Alexander showed up against Nevada and generated six pressures — a welcome sight for the Trojans after a rougher showing against San Jose State.
---
Stanford's offense flashed multiple personnel with plenty of misdirection in an electric Week 1 performance. The size at tight end, along with Daniels at quarterback, is going to generate plenty of points and some late-season upsets in the Pac-12.
However, asking Taylor and the Cardinal to stop the reigning Heisman Trophy winner and the most commanding offense in the nation may be a tough task.
USC head coach Lincoln Riley announced that guard Gino Quinones has suffered a season-ending injury after the second-year player logged 208 snaps a season ago. Alani Noa is expected to fill in, but he allowed two pressures on 12 pass blocks against Nevada.
Expect Riley to tailor the offense to the right side of the offensive line if efficiency becomes an issue. Also, keep in mind that Stanford's Tobin Phillips and Anthony Franklin combined for eight pressures and five quarterback hurries against Hawaii.
Stanford was fantastic at stopping the run against Hawaii, but it seems USC will be able to throw at any point in this game, as the Cardinal rank outside the top 100 in tackling and stopping explosives in passing downs.
There are similar issues with the Trojans defense, a unit that ranks 119th against passing downs explosives through two games.
With USC headed toward a bye week and Stanford having an extra day of rest, look for a full four-quarter game from both offenses.
How would you rate this article?
This site contains commercial content. We may be compensated for the links provided on this page. The content on this page is for informational purposes only. Action Network makes no representation or warranty as to the accuracy of the information given or the outcome of any game or event.