College Football Odds, Picks for Week 9: Collin Wilson's Betting Card, Featuring Georgia vs Florida & Tennessee vs Kentucky
Credit:
Bryan Lynn/Icon Sportswire via Getty Images. Pictured: Tennessee's tunnel to the Peyton Manning Locker Room Complex at Neyland Stadium.
Another week of college football brings with it some more bets from Collin Wilson for Saturday's biggest games.
Wilson's Week 9 betting card features four games on Saturday: Ohio State vs Penn State, Arkansas vs Auburn, Georgia vs Florida and Kentucky vs Tennessee.
Check out Wilson's top bets for four of Saturday's biggest college football games below.
Week 8's college football slate was fantastic, and we have another stellar docket of games in Week 9.
That's especially true in the SEC, as the top-ranked Georgia Bulldogs take on the Florida Gators in another edition of the World's Largest Outdoor Cocktail Party from Jacksonville and the No. 3 Tennessee Volunteers welcome the No. 19 Kentucky Wildcats down for a trip to Neyland Stadium.
Plus, Auburn hosts Arkansas in an SEC West matchup that could feature plenty of explosive points.
But the most high-profile matchup of the day may take place in the Big Ten. The No. 2 Ohio State Buckeyes, led by Heisman hopeful CJ Stroud at quarterback, will march into Beaver Stadium in Happy Valley for a Big Ten battle against the No. 19 Penn State Nittany Lions that could have big repercussions in the East Division.
Read on to see how I'm betting all four of these big-time Week 9 games below — and be sure to check out the rest of Action Network's betting coverage for Saturday's wall-to-wall college football slate.
---
Collin Wilson's Week 9 College Football Best Bets
The team logos in the table below represent each of the matchups that our college football staff is targeting from today's slate of games. Click the team logos for one the matchups below to navigate to a specific bet discussed in this article.
---
Ohio State vs Penn State
Only two legitimate hurdles remain before Ohio State finds itself in a de facto national quarterfinal branded as the Big Ten Championship.
Michigan will come on the last weekend of the regular season, but a victory over highly-ranked Penn State would inch the Buckeyes closer to the pole position when the first College Football Playoff rankings are announced.
Head coach Ryan Day has built a solid resume, having only been challenged by Notre Dame in the opening game of the season.
As for the Nittany Lions, head coach James Franklin rebounded from a blowout loss to Michigan with a blowout of Minnesota in Week 8. The emergence of a running game has bolstered an offense that formerly relied on the quarterback to win games.
Penn State has aspirations of winning the Big Ten East, but a victory over the Buckeyes is a must to have any shot at the conference title.
---
The Buckeyes have yet to be challenged as we head into the final weekend of October. An opener against Notre Dame is the closest call Ohio State has had in the upset department, but second-half scores notched a double-digit victory.
Six other victories have been smooth sailing, which is even more impressive considering the Buckeyes have the 13th-toughest strength of schedule.
New defensive coordinator Jim Knowles has supplied the remedy to previous Ohio State teams that allowed too many explosive plays.
Knowles' impact can be seen all over the defensive metrics, as Ohio State boasts a top-10 rank in nearly every category. Only Boise State has allowed fewer plays to go over 10 yards on the season.
Surprisingly, the Buckeyes have allowed more points than the national average when opponents are in scoring position. Those numbers are directly linked to a small sample size, as 11 opponent trips to the red zone have resulted in 10 scores.
Quarterback C.J. Stroud may be having the quietest Heisman campaign in the history of the award. The sophomore is on pace to shatter his 2021 numbers with 28 touchdowns on just 189 passing attempts.
If there's an area to monitor, it's his turnover-worthy play rate, which now sits at 4.7% after achieving a mark of 2.5% last season. Stroud has posted a turnover-worthy play in every game this season, including three in the victory over Iowa last week.
Those issues are not related to drops. Despite losing two first-round NFL Draft picks at wide receiver, Stroud has seen his drop rate move from 6.2% to just 2.2%.
Head coach Ryan Day has spent the majority of the season creating a blue-collar rushing attack. Miyan Williams and TreVeyon Henderson form arguably the best backfield in college football.
Williams enters as the eighth-best running back in PFF elusiveness grading, and Henderson averages over three yards after contact.
---
Quarterback Sean Clifford is coming off of his best game of the 2022 season, throwing for nearly 300 yards and four touchdowns against Minnesota.
Although his turnover-worthy play rate is the highest of his career, the Gophers defense produced just five pressures the entire game. Penn State ranks 49th in pass blocking, as pocket pressure has long been the kryptonite in Clifford's five-year career.
One of the weapons in the victory over Minnesota was rarely-used tight end Theo Johnson. The third-year pass-catcher had previously recorded 34 career targets but caught all five targets, including a touchdown, versus the Gophers.
Considering starting tight end Brenton Strange has caught 17-of-18 targets on the season. Offensive coordinator Mike Yurcich could have success running 12 personnel — formations with one running back and two tight ends — against an aggressive Ohio State front.
Penn State's Manny Diaz-led defense was torched on the ground for 418 yards against Michigan. The Nittany Lions recovered last week, allowing just 3.6 yards per carry while loading the box against a backup quarterback.
PSU ranks 63rd defensively in Rushing Success Rate and 104th in tackling. While the Nittany Lions own a top-25 number in Stuff Rate, rushing attempts that reach the second level often create first downs.
---
Ohio State vs Penn State Betting Pick
There are plenty of aspects in the head-to-head numbers that suggest Penn State will have some fortune against Ohio State.
Stroud has made mistakes at a rate that continues to climb and the Nittany Lions are fifth in Defensive Havoc. The strength of that chaos comes from pass breakups, as Penn State not only leads the nation but no other defense is close to producing the same number of knockdowns.
Both cornerbacks, Joey Porter Jr and Kalen King, rank in the top 10 individually in forced incompletions.
One area the Buckeyes will not struggle in is running the ball. Not only is Penn State mid-FBS in Success Rate against the ground game, but the Nittany Lions are also 90th in expected points against the rush.
Ohio State is the top team in the nation in Offensive Finishing Drives, averaging 5.8 points per quality drive. Penn State has a top-25 defense in terms of scoring opportunities and red zone, but the Buckeyes' rushing options are the primary reason for the two-touchdown spread.
Clifford continues to struggle in pressured passing attempts, having notched just one big-time throw in 47 attempts with a crowded pocket. A large drop in adjusted completion percentage, along with a steep incline in turnover-worthy plays, creates a formula for the Buckeyes to get Penn State in passing downs as quick as possible.
Ohio State has three defenders in the top 200 for individual grading in pass rush productivity, including edge Zach Harrison. To avoid any of this, running back Nick Singleton must have a career day to keep Clifford out of long down-and-distance situations.
Action Network projects Ohio State at -14.5 with a total of 64. Both numbers are shade off from the market, indicating minuscule value on Penn State and the over.
As mentioned on Green Dot Daily, the best bet in this game is on Miyan Williams rushing props to the over, as Penn State consistently struggles with ground attacks.
The early action has all been on Ohio State, but considering the history of closeness between these two teams, there will be plenty of wagers for Penn State as the number approaches 17.
---
---
Arkansas vs Auburn
Dark clouds surround the head coaching position at Auburn, as Bryan Harsin is on the hottest seat in college football.
A six-win season sent the Tigers to the Birmingham Bowl last season, and they took a loss to a Group of Five school in Houston. Rumors of an unverified affair with an employee made the rounds and became a punchline for Harsin in every interview.
Players have quietly hit the portal, while defensive coordinator Derek Mason took a lateral job at Oklahoma State. With a new athletic director soon to be named and no indication of improvement, Harsin's days on the plains are short.
There are no job security issues in Fayetteville, as Arkansas comes off of a much-needed bye week after an offensive domination of BYU. The Hogs have taken hits up and down the roster, but none are more severe than what has taken place in the secondary.
Head coach Sam Pittman got some recruiting in while the Razorback roster looked to mend injuries. Arkansas is 4-1 against the number coming off of a bye week since Pittman took over as head coach.
The Hogs will need to win every one of the final five games if they hope to reach a high-profile bowl game.
---
There are reinforcements coming for a secondary unit that lost leader Jalen Catalon early in the season. Safeties Myles Slusher and Latavious Brini are considered questionable, while fellow defensive backs Khari Johnson and Jayden Johnson will return.
Although wide receiver Jadon Haselwood will take part in no-contact drills this week, there's an expectation that one of the most explosive targets on the team will be available.
After three consecutive losses in SEC play, Arkansas had a renaissance against BYU. The defense didn't allow a point in the fourth quarter, while the offense put up 52 points against an underachieving Cougar defense.
Quarterback KJ Jefferson had five touchdowns and connected with 10 different targets, while Raheim Sanders logged 175 yards while averaging over five yards after contact.
The biggest difference in the BYU game was coordinator Kendal Briles' offensive play-calling. Pittman was pleased to see the playbook open up in early downs. Arkansas has the ability to rush Sanders behind a fierce offensive line, but Briles elected to start half of possessions with a passing attempt.
Arkansas is one of the best squads in staying in standard downs on offense, ranking 16th in that area. The Hogs also show explosiveness with a rank of eighth in expected points on passing attempts and a top-10 mark in passing plays over 30 yards.
The problems with the Razorbacks have come on defense.
Coordinator Barry Odom has multiple issues with ranks outside the top 100 in tackling, Line Yards and coverage. Those warts tend to pop when teams get behind schedule, as the Hogs rank 125th in Defensive Success Rate on passing downs.
Although the statistics indicate a decent pass rush, the Razorbacks did not record a sack against BYU or Mississippi State. Even with a number of starters returning to the defense, fundamentals continue to plague the Razorbacks in high-scoring affairs.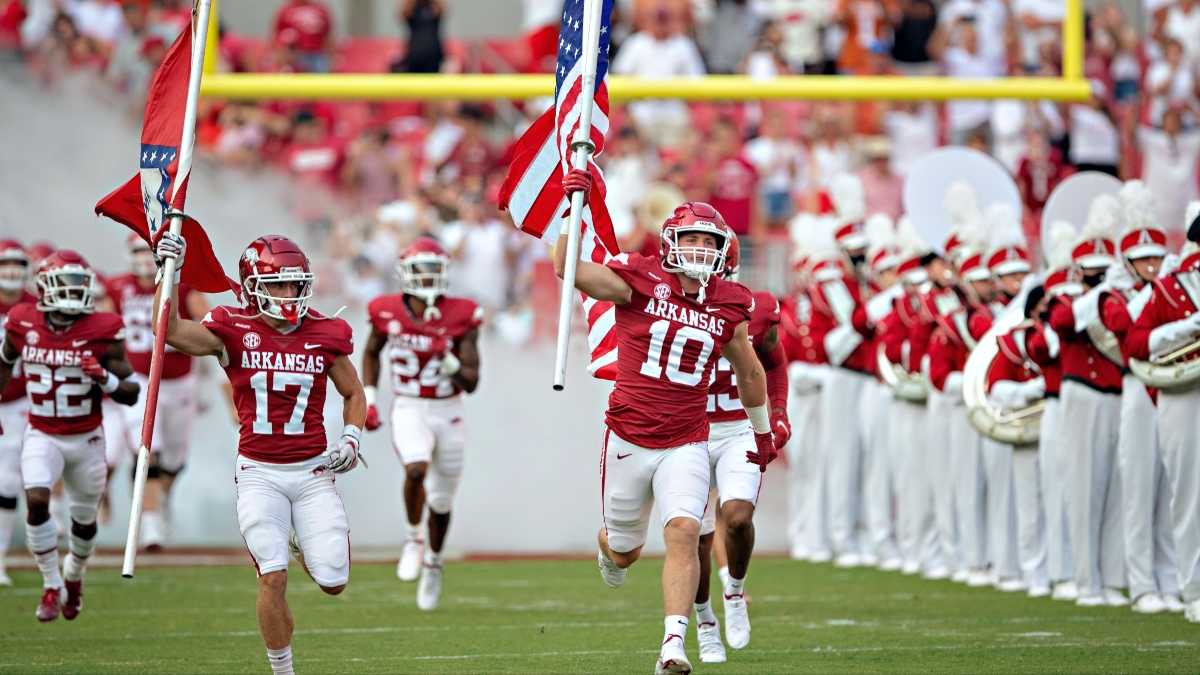 ---
Teams on the verge of firing a head coach generally don't put up much of a fight on the field. However, Auburn has covered two of its last three games against Ole Miss and LSU.
This particular series has belonged to the Tigers over the past decade, as they've won eight of the last 10, including a drubbing of the Hogs in Fayetteville last season.
Since taking over as the starter in Week 4 against Missouri, quarterback Robby Ashford has made the Auburn offense competitive. Although the passing game averages as many turnovers as touchdowns, the rushing attack with Ashford serves as the primary concern for any defensive coordinator.
Ashford has 194 yards apiece in designed and scramble rush attempts. Offensive coordinator Eric Kiesau has implemented a mix of zone read, designed draw and more than 50 passing attempts utilizing screen or play action.
The Tigers not only have a quarterback with a high ceiling for explosiveness but an anchor at running back in Tank Bigsby. The junior averages 4.7 yards after contact, more than any other running back in college football with at least 100 attempts.
The Auburn defense has been just as troubled as Arkansas but with a lower strength of schedule. The Tigers rank bottom-10 in FBS in Havoc, Line Yards and Finishing Drives.
The defense allows an average of 4.5 points to opponents that cross the 40-yard line, while the front seven rarely tackles ballcarriers behind the line of scrimmage.
Want an illustration of how far the defensive unit has fallen? Ole Miss and Georgia combined to put up 740 rushing yards on the Tigers.
---
Arkansas vs Auburn Betting Pick
One look at the defenses suggests this game is a definite over play on the total.
Both of these teams are two of the worst defensive units in the nation in Stuff Rate, signaling that Bigsby and Sanders will run wild. Arkansas' poor coverage and tackle grading suggest Ashford will lead Auburn's top-15 explosive attack to quick scores.
The issue with both of the offenses is mistakes in critical situations. Arkansas has climbed to 115th in penalties, while Auburn sits outside the top 100 in third-down conversions.
Ashford is a pure dual-threat talent who could torch the Hogs on the ground. The last quarterback with the same qualities to face Arkansas was Alabama backup Jalen Milroe, who averaged 15 yards a carry in relief of Bryce Young.
Auburn may elect to use Ashford and Bigsby much like Alabama used Milroe and Jahmyr Gibbs, but fumbles have been a consistent issue. No team in FBS has fumbled the ball more than Auburn.
The Razorbacks have struggled against explosive plays this season, as only Charlotte has allowed more 30-yard plays from scrimmage. Those numbers are more present in passing downs, as Arkansas ranks 125th in Defensive Success Rate and 123rd against the explosive play. Auburn has been outstanding when behind the chains, ranking 18th in passing downs explosiveness.
The Action Network projection makes this game Arkansas -4 with a total of 58.5. Both numbers are close to the market, but Auburn's offense in long down and distances will make the difference.
Considering Arkansas has produced close to no pressures or sacks the past two weeks, Auburn will score enough on explosives to keep up with the Hogs.
---
---
Florida vs Georgia
Another chapter in the World's Largest Outdoor Cocktail Party is set to be written from Jacksonville on Saturday afternoon.
Georgia leads the all-time series, 54-44-2, since the first meeting in 1904. The Bulldogs have won four of the last five in this series, but the neutral-site extravaganza may be a look-ahead spot. Undefeated No. 3 Tennessee heads to Athens next week as the showcase game of Week 10.
But first, the Bulldogs must face the Gators with a new coach.
Billy Napier has experienced high and low points through his first seven games in Gainesville. A red-zone interception sealed a victory over Utah, but losses to Kentucky and LSU give the Gators no shot to win the SEC East.
With South Carolina, Vanderbilt and Texas A&M on the remaining schedule, there will be every chance for Napier to keep Florida competing in postseason play.
Although an upset of Georgia does nothing to deter the Bulldogs' chances of winning the division and conference, it would serve as the biggest upset of the college football season.
---
Napier approached the bye week with full focus on the defensive side of the ball. The Florida coaching staff believes the problems have been identified and that getting consistency is the next stop.
There are a number of areas that need relief, as the Gators rank outside the top 100 in Success Rate against the rush and the pass.
The biggest gaping hole in the defensive numbers is the ability to generate Havoc. While rankings for fumbles and tackles for loss sit mid-FBS, the Gators are 129th in passes defensed, recording just 10 pass breakups this season.
Free safety Trey Dean III has just one forced incompletion on the season. Florida spends nearly 70% of coverage snaps in zone and gave up 349 passing yards in their latest game against LSU.
Quarterback Anthony Richardson and running back Montrell Johnson Jr. had plenty of success on the ground against LSU, posting 6.4 yards per carry. While those numbers are great on paper, they can be deceiving, as 77% of Richardson's rush numbers come from scrambles.
Opponents have been willing to give up the field to Richardson when running the offense, electing to stiffen in the red zone. Florida ranks 69th in Offensive Finishing Drives thanks to a healthy red-zone touchdown percentage.
Any team that excels in limiting explosive plays in standard downs while playing zone has had success in containing Richardson.
---
Every golfer gets a case of the yips, but in the case of college football, that can come through in the form of an inexplicable game result.
Kent State faced just a 10-point deficit against Georgia in the fourth quarter, while Missouri held a 10-point lead on the Bulldogs in the final frame. The reigning national champions won those games with high post-game win expectancies, but questions remain about whether or not Kirby Smart's team is vulnerable.
Georgia boasts the highest Offensive Success Rate mark in all of college football, along with a top-10 number in Finishing Drives.
Daijun Edwards leads a potent ground attack that ranks 13th in Stuff Rate behind a solid offensive line, but it's the tools of tight end Brock Bowers that makes Georgia a national power.
Bowers can line up at any position on the field, playing 116 snaps in the slot, 19 as a wideout and 60 as a traditional tight end.
Darnell Washington may not have as many targets as Bowers, but the 6-foot-7 mammoth tight end has assisted in generating single coverage for all targets.
Many expected the Georgia defense to see a cut in production across the board entering the season. Plenty of players from the national title team hit the NFL Draft, and coordinator Dan Lanning left for the head coaching position at Oregon.
New coordinator Glenn Schumann has filled in admirably, as the Bulldogs rank top-10 in Defensive Success Rate and second nationally in Finishing Drives. Opponents have crossed Georgia's 40-yard line only 22 times this season, averaging a minuscule 2.3 points per trip.
---
Florida vs Georgia Betting Pick
Florida has struggled with teams that play zone coverage and have a high grade in tackling.
Georgia runs zone on a healthy amount of coverage snaps but has seen a dip in tackling compared to last season's squad. The Bulldogs sit 45th in tackle grading, but more importantly, rank in the bottom half of the country in generating Havoc.
Richardson may not see as much blitz as the Bulldogs look to eliminate chunk plays. Just as Florida is the most explosive team offensively in early downs, Georgia ranks fourth in limiting explosiveness in standard downs.
The bigger question for the Gators is the lack of playmakers on the backside of its defense. Not only do they possess poor ranks in coverage and Finishing Drives, but Florida is also 129th in opponent Success Rate in passing downs.
If Georgia gets behind the chains, Bowers and Washington will be the primary targets for quarterback Stetson Bennett. To this point, the national champion quarterback has not been asked to do much with only eight completions beyond 20 yards.
Action Network projects Georgia as a 21.5-point favorite, just shy of where the market has steamed. That can be justified when considering Florida's defensive numbers.
The handicap comes on whether or not the Gators can score enough to keep the game close. The Bulldogs rely heavily on four or fewer defenders for a pass rush — an area Georgia has struggled with all season, ranking 124th in sacks.
Richardson will do enough for Florida to generate scores. At the same time, there might not be a defense in college football prepared to stop Bowers and Washington in routes down the hashes and a rushing attack that features multiple backs.
With a projection of 63, look for Georgia to have its best offensive day while allowing Richardson to find a half-dozen scoring opportunities.
---
---
Kentucky vs Tennessee
On the weekend before the first College Football Playoff rankings are announced, Tennessee must defend Rocky Top once again as division rival Kentucky makes a visit to Neyland Stadium.
The Volunteers are experiencing a magical season with plenty of similarities to the 1998 championship run. An undefeated record includes a cover on the road at LSU and at home against Alabama. Tennessee owns a strength of schedule in the top five, indicating there's no fluke in this championship run.
The Wildcats, meanwhile, have been rolling with the punches since the season began.
Head coach Mark Stoops had several players suspended to start the season, while an injury at quarterback resulted in a loss to South Carolina. There have been positives for Kentucky that will lead to a quality bowl, including victories over Florida and Mississippi State.
The Vols represent the biggest hurdle to date on the Wildcats' schedule, as Kentucky has just a single win in its last 13 trips to Neyland.
---
A narrow loss to Ole Miss may have provided the practice session Kentucky needed to prepare for Tennessee's uptempo offense.
Stoops acknowledged the Rebels don't have quite the same dynamic from a play-calling standpoint, but handling the quick nature of the opponent was a part of drills in fall camp.
Ole Miss couldn't find success on offense, as 20% of drives ended in a three-and-out punt. The Wildcats' zone defense that stymied Florida's Anthony Richardson also limited Jaxson Dart to a low 31% Passing Success Rate.
Kentucky's defense once again flexed its muscles against Mississippi State's Air Raid, allowing a single touchdown and just four plays from scrimmage in the red zone.
Running back Chris Rodriguez Jr. was suspended for the first month of play but has attacked the October schedule in fifth gear. The senior has logged nearly 200 yards on the ground behind an improving offensive line.
Will Levis returned under center after a foot injury kept the quarterback out of action against South Carolina.
The missing element from Levis this season is the ability to evade pressure, posting only 32 yards on designed runs and just 11 scramble yards against Power Five competition.
---
Tennessee's offense is the top scoring bunch in the nation, averaging 50.1 points per game. Only Ohio State has scored more touchdowns, as the Volunteers are a top-10 unit in Offensive Finishing Drives and Success Rate.
Quarterback Hendon Hooker has thrown just a single interception, posting the seventh-lowest turnover-worthy rate of any FBS passer with 200 attempts.
Despite the absence of wide receiver Cedric Tillman, there have been plenty of other stars to emerge from the offense.
Jalin Hyatt is one of the most explosive wide receivers in college football, averaging 3.7 yards per route run with 90% of snaps coming from the slot. The junior has the third-highest explosiveness numbers of all slot wide receivers with at least 35 targets.
Bru McCoy and Ramel Keyton have been productive targets at wideout while Tillman is still considered day-to-day.
Defensive coordinator Tim Banks is looking to get the defense on par with the offense, but a leaky secondary has allowed opponents to compete.
Tennessee ranks outside the top 100 in Havoc and coverage, as Alabama and Florida each put up over 400 yards of passing. The Volunteers have an even split playing man and zone coverage and have struggled to stop the chains from moving no matter which personnel usage is selected.
Thankfully for Banks, the rush stop unit has overperformed. Tennessee sits top-15 in both Defensive Rushing Success Rate and Stuff Rate, forcing opponents into passing downs quicker than most defenses in college football.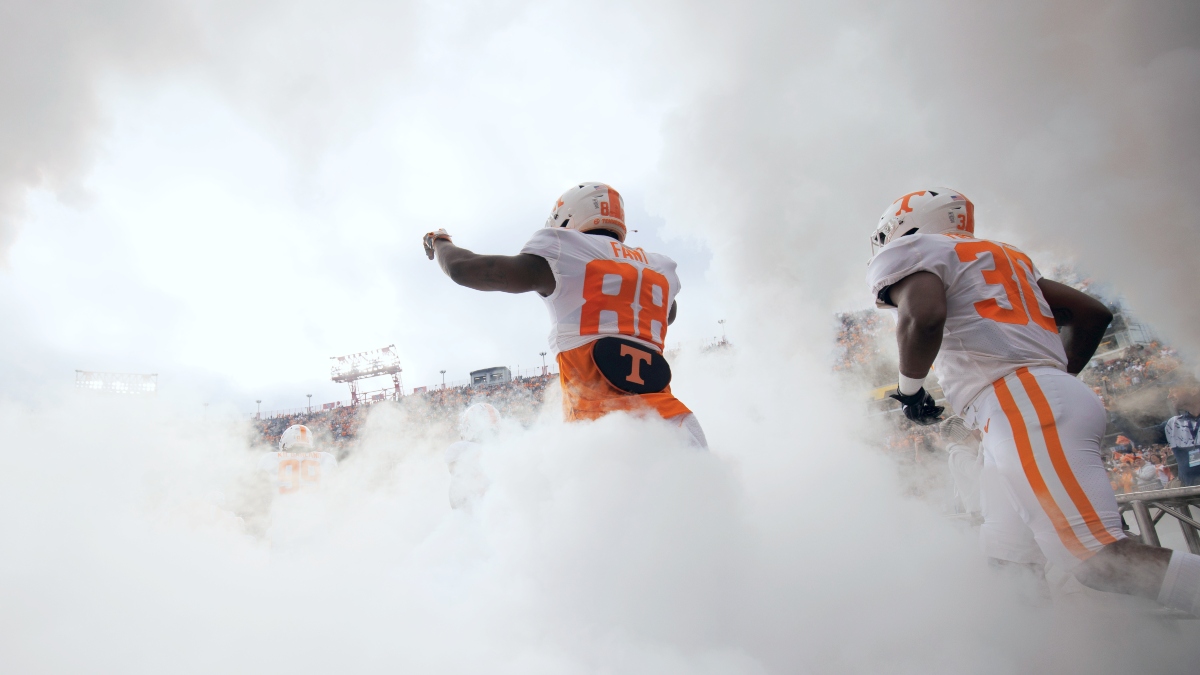 ---
Kentucky vs Tennessee Betting Pick
Oddsmakers are not in the habit of giving away money when the hottest team in the country has a game lined. Kentucky sat above two touchdowns on the spread of the look-ahead line last week. An opener of 14 points was immediately chopped down into the dead zone of Tennessee -12.
Stoops is saddled with the task of slowing down the best offense in the country while leaning on the arm of Levis to beat the Volunteers' secondary.
There are a few hidden advantages for Kentucky in this game, starting with the penalties. Kentucky ranks sixth in the nation in flags per game, a stark contrast to Tennessee's rank of 129th.
Third-down defense is also a plus in favor of the Wildcats, who own a rank in the top 20.
One long-lasting trait of any Kentucky defense in any season is the ability to stop the explosive play. The Wildcats are fantastic when opponents find themselves in passing downs, ranking top-25 in Defensive Success Rate and defending explosiveness.
Action Network projects Tennessee as a 9-point favorite, giving plenty of value to the Kentucky number. There's no haste in taking the Wildcats until a 13 or better pops in the market.
This was a highly competitive game last year, as Stoops elected to score as often as possible in lieu of stopping Tennessee's uptempo offense. Stoops will look to implement the same offensive game plan as last season after Kentucky entered the fourth quarter trailing by only three points.
Look for tempo to be present on both sides of the ball as Kentucky tests the waters against an unproven Tennessee secondary.
How would you rate this article?
This site contains commercial content. We may be compensated for the links provided on this page. The content on this page is for informational purposes only. Action Network makes no representation or warranty as to the accuracy of the information given or the outcome of any game or event.