Rovell: Baylor's Cover Doesn't Save Sportsbooks From Losing Saturday
Credit:
Jerome Miron, USA Today Sports.
Saturday Night Update
11:30 p.m. ET: Oklahoma's stunning 28-point comeback over Baylor was a decent result on a tough day for sportsbooks in Vegas. This morning, two different bookmakers — Matt Lindeman at Circa Sports and Tony DiTomasso at CG Technology — told us they needed Baylor to cover more than any other team on Saturday.
They got the cover, the Bears lost 34-31 to cover the 10.5-point spread, but it was close to being a big boost for the books. Had Baylor held on to win, plenty of parlays would have ended up in the trash.
"Baylor and the Under was a good result for us," Tony DiTomasso of CG Technology said. "We lost a lot of games and we are a loser to parlays, which about sums up the day for us."
While the books were losers on Saturday, perhaps the biggest winner of the late games was a bettor at South Point who easily won $40,000 on a $44,000 bet on Texas A&M to cover as 11-point favorites over South Carolina. The Aggies won by 24.
Saturday Afternoon Update
7 p.m. ET:  Ohio State, the biggest road favorite since 2005, failed to cover Saturday afternoon after the Buckeyes only beat Rutgers, 56-21.
Only one other team this season scored 21 against the Buckeyes — Florida Atlantic in the season opener.
The Buckeyes opened as 50.5-point favorites and got up as high as 53 points. The historic spread helped balance out some of the action for some sportsbooks.
At the SuperBook in Vegas, 52% of the money was actually on Rutgers.
"When you have a 52.5-point spread, it sure evens things out," said SuperBook oddsmaker Ed Salmons.
The SuperBook took a few big bets on both sides.
---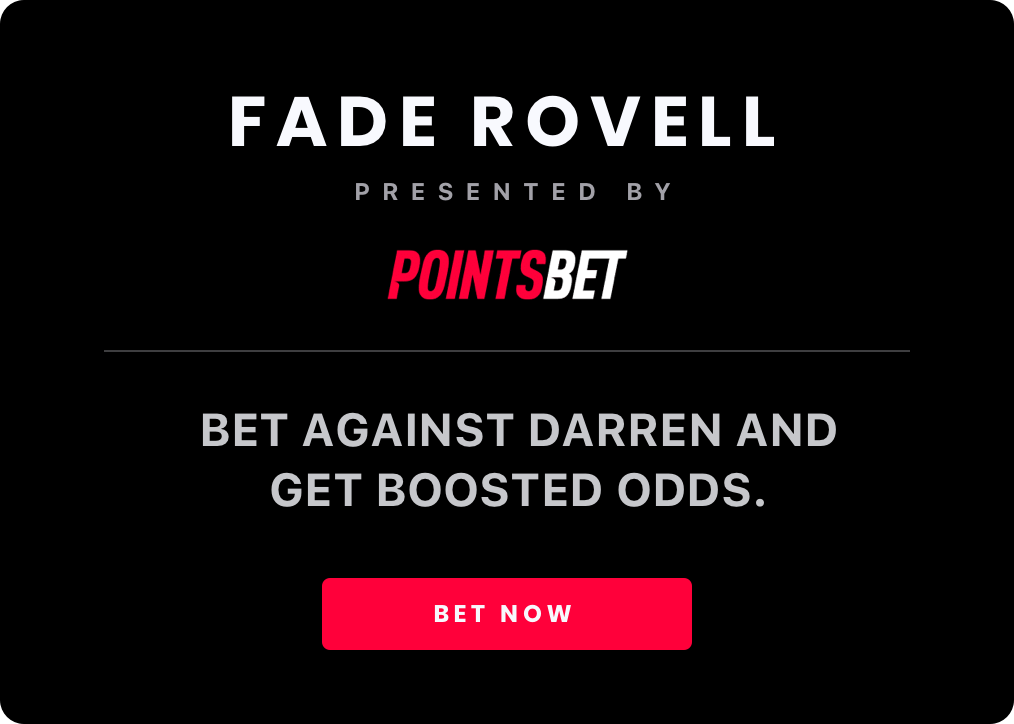 Darren Rovell loves the Patriots to cover against the Eagles this week. PointsBet is giving everyone in New Jersey boosted odds to Fade Rovell and bet on the Eagles' spread at +110. New customers get an exclusive promotion: Deposit $50, bet with $150. No strings attached. No rollover required.
---
On Wednesday, the book got two separate wagers from one bettor on Ohio State. They cumulatively added up to $11,000 to net $10,000. Half of the wager was placed on Ohio State -51.5, the other half on -52.
The SuperBook also reported that it took a $13,750 bet on Rutgers +53 on Friday night. The wager paid out $12,500.
While the SuperBook was split, William Hill bettor preferred Ohio State — 78% of the money there was on the Buckeyes, who were playing without Chase Young, as a 53-point favorite.
Before the game, Ohio State was 8-1 against the spread, tied for best in the nation with Louisiana-Lafayette.
3:41 p.m.: The biggest bet we heard about today came through: One bettor had $50,000 on a Michigan-Florida parlay, which cashed pretty easily and netted $29,000.
3:27 p.m. ET: The most interesting bet of the first slate of games might have been 1-8 Northwestern versus 1-9 UMass. Entering Saturday, the most points Northwestern had scored in a game was 30 against UNLV, but the Circa Sportsbook's Matt Lindeman opened the Wildcats as a 40-point favorite.
I don't bet Northwestern games because I'm an alum and feel like there's enough on the line, but all my Northwestern friends joked how they were going to bet their mortgage on the game. For their sake, I hope they didn't.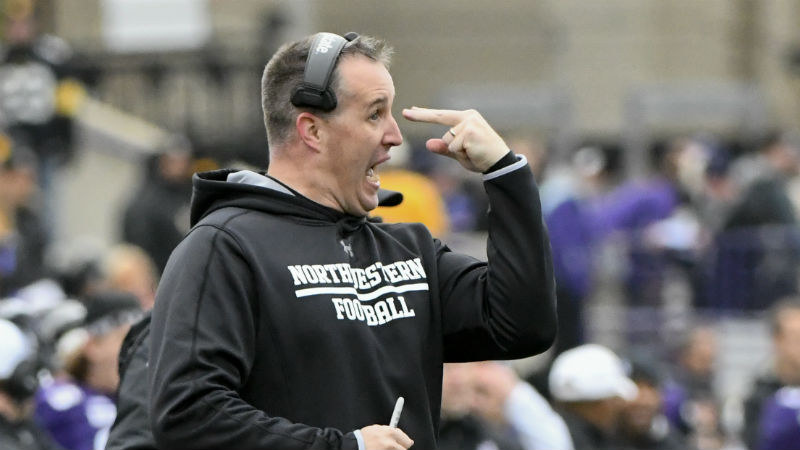 The game, which closed with a spread 39.5 at some books and 38 at others, came down to the wire for bettors. UMass, trailing by 39 in the final minute, got all way down to Nothwestern's 6-yard line in the final seconds, but it opted to run the clock out instead of trying to complete a backdoor cover for +38 or +38.5 backers.
3:15 p.m. ET: Let's look at the most lopsided games at William Hill sportsbooks and how they played out:
Alabama -18 (92% of the money) covered
Wisconsin -14.5 (82% of the money) covered
TCU -3 (81% of the money) didn't cover
Northwestern -41 (80% of the money) didn't cover
Biggest Needs of the Day
All the sportsbooks we've talked to today seem to have one thing in common — they need Baylor to cover as 10.5-point home underdogs against Oklahoma.
Circa's Matt Lindeman and CG Technology's Tony DiTomasso both cited the Bears as a need and PointsBet reports that even though 62% of the bets are on Baylor, 70% of the money is on the Sooners.
Lindeman said Circa will also need South Florida (+14) against Cincinnati, Duke (-10.5) against Syracuse and Wake (+34) against Clemson. DiTomasso said CG will be rooting for Temple (+6) against Tulane, Texas (+7) against Iowa State, Vanderbilt (+10) against Kentucky and Washington State (-10) against Stanford.
Wake Forest Hail Mary
Wake Forest is a 34.5-point underdog at Clemson, but one bettor decided to skip right past the points and head right for the moneyline. PointsBet reports that they took a $1,280 bet on the Demon Deacons (+1800) to pull the outright upset.
The punter stands to win $22,500 if Wake does the unthinkable.
Most Lopsided Games of the Day
According to our market-wide data, Alabama is the most popular bet of the day. Eighty-eight percent of the bets are on the Crimson Tide to cover against Mississippi State.
FanDuel reports 91% of the dollars are on Alabama at their sportsbooks.
PointsBet's most lopsided sides are Notre Dame (-7) against Navy and Auburn (+3) against Georgia. The Irish are getting 85% of the dollars while the Tigers are attracting 84% of the money.
Will Ohio State Run It Up?
Casual sports fans may not get it, but Ohio State at Rutgers is one of the most intriguing matchups of the season for sports bettors. The Buckeyes are 52-point road favorites in Jersey.
Lindeman said he had no issue coming up with the spread for this game, but the total was a challenge.
"I just can't imagine Rutgers scoring," he said.
He originally opened the game at -50.5 with a total of 55, but after one bet came in on the Buckeyes to cover, he moved the total to 59.
The Westgate SuperBook in Las Vegas reported that they took a $13,750 bet on Rutgers (+53) on Friday night. The wager would pay out $12,500 if the Scarlet Knights can keep it within the number.
Big Money
The biggest bet we've heard about today is a $50,000 Michigan-Florida moneyline parlay at CG. The bet would net $29,000. Michigan is a 14-point favorite against Michigan State and Florida is laying 6.5 points against Missouri.
---
Thursday Updates
Vegas Hates Miracles
Thursday, 3 p.m. ET
Jimmy Vaccaro got the attention of the gambling world earlier this week when his South Point Sportsbook posted a moneyline for the Ohio State-Rutgers game. The South Point was the only book bold enough to post a straight-up price on this Big Ten showdown.
The reason that other operators didn't bother posting the moneyline on a 52-point underdog is that a Rutgers win would be so outrageous that it wouldn't be worth the exposure.
But Vaccaro admits he has fun "seeing our name in the papers."
Vaccaro opened the Rutgers' moneyline at 2000-to-1 ($1 to win $2,000). One person bet $5 to win $10,000. More money started to come in.
"If Rutgers pulls this off, which we can't imagine, we'll lose $430,000," Vaccaro said.
The South Point didn't pull the moneyline off the board, but made it low enough, 200-to-1, so that no bettor would be tempted to take it.
For context, Collin Wilson — our lead college football analyst and the gatekeeper of our power ratings, projects this spread at Ohio State -52.4.
Big upsets do happen in college football. Howard upset UNLV as a 265-to-1 underdog in 2017.
"The odds of the lottery are 175 million to one, I mean we have to start there," Wilson said. "I'm not sure whatever sports we could compare a Rutgers' upset to — maybe some crazy tennis shit."
A Trendy Dog
Thursday, 3 p.m. ET
The Baylor Bears are quite the story. Baylor is the only undefeated team left in the Big 12 and the Bears have a very outside shot at making the College Football Playoff. That could all change this Saturday against Oklahoma.
The Sooners have one loss on the season, but they are 10.5-point road favorites against the Bears.
According to PointsBet's Matt Chaprales, recreational bettors can't pass up the chance to bet an undefeated team this late in a season.
"Our ticket count is currently 9-to-1 in favor of the Bears and they have taken 85% of the money," Chaprales said.
The Bears are ranked 18th in our Power Ratings. Oklahoma is No. 5.
Michigan Back in Good Standing
A terrible start to the season caused bettors to leave Michigan, typically a very public team, alone. But the Wolverines have been steadily cashing tickets lately.
The Wolverines are 13.5-point favorites against Michigan State this Saturday and bettors are more than happy to lay the points.
"Three-quarters of the tickets and 70% of the money is backing Michigan," Chaprales said.
Bettors Sticking by Alabama
Wednesday, 3 p.m. ET
LSU's win over Alabama last weekend changed the landscape of the college football season. Ed Orgeron's Tigers are now well on their way to the SEC Championship Game and the College Football Playoff, while the Crimson Tide are in real danger of missing out on the playoff entirely.
How are bettors reacting to the Tide's first regular season loss since 2017? They are undeterred. According to our data, Alabama is getting 89% of the bets as 20-point road favorites against Mississippi State.
It's still early and most of the money won't show up until we get closer to kick, but at the moment the Crimson Tide are the most popular side on the board for Week 12. So much for recency bias.
How High Is High Enough?
Wednesday, 3 p.m. ET
The challenge for bookmakers this week is figuring out how high is high enough. I am, of course, referring to the historically high spread for Ohio State at Rutgers.
The Buckeyes are 52-point favorites over the Scarlet Knights on Saturday, making them the largest road favorite since at least 2005. According to our Bet Labs data, just 53 college football teams have closed as favorites of more than 50 points since the 2005 season. The only road team to get close to 50 was Baylor, which was a 46-point favorite against Kansas on Oct. 10, 2015.
Without any historical precedent to work off of, bookmakers are trying their best to answer a couple of questions. How bad is Rutgers? Will Ohio State take their foot off the gas pedal after it puts the game away?
Ohio State hasn't been the type of team to "take it easy" on teams after the game is out of hand. The Buckeyes are fresh off a 73-14 win over Maryland last weekend and have won six games by at least 40 points this season. Ohio State has scored 50 points on four times and 70 points twice.
Rutgers, meanwhile, lost to Maryland by 41 points, has been shutout three times and has not scored more than 10 points against a Big Ten opponent this season.
It's no wonder that nobody wants to put their money behind the Scarlet Knights, even at this ridiculous number.
According to our market-wide data, 87% of the tickets are on Ohio State in the early going. And this game is on pace to generate a decent handle. As of Wednesday afternoon there are more bets on Ohio State at Rutgers than all but two of Saturday's games.
---
Check out PointsBet, where Action Network users can access an exclusive promotion to get a 200% deposit match (deposit $50, bet with $150). No strings attached. No rollover required.
---
Ed Salmons of the Westgate SuperBook said that they are also seeing support for Ohio State, including an $11,000 bet to net $10,000 on the Buckeyes (half the bet was placed on Ohio State -51.5 and the other on -52). They did take a bet on Rutgers. It was a $10 ticket on the spread.
The Westgate is not offering a moneyline on this game, but the South Point Sportsbook did post moneyline odds on Wednesday afternoon. They made Rutgers a 2000-1 underdog. It didn't long for one bettor to bet on Rutgers, wagering $5 to win $10,000.
The Strangest Spread of the Week
Wednesday, 3 p.m. ET
Week 12 could go down as the weirdest betting week of the season.
Not to be outdone by the huge spread in Ohio State-Rutgers, UMass at Northwestern is crazy in its own right.
Northwestern, a team that averages 12.5 points per game this season, is a 40.5-point favorite over UMass.
Just how bad is UMass? Well, they already lost to Rutgers, 48-21 in August and Salmons said the Minutemen would be a nearly a four-touchdown underdog against the Scarlet Knights if they met again.
This spread also feels historic, but there was no way to check whether a team has ever been favored by 10 points more than their highest point total this late in the year. Northwestern could meet that criteria on Saturday.
The Wildcats' biggest output this season was a 30-point effort against UNLV and are currently 40.5-point favorites over the Minutemen on Saturday.
Believe it or not, this game isn't attracting much action at the Westgate yet. Through Tuesday afternoon, only $410 had been bet on UMass and there was not a single bet on Northwestern yet.
How would you rate this article?