Saturday College Football Week 3 Betting Odds & Picks: Louisville and Miami in an ACC Knockout Bout (Sept. 19)
Credit:
Michael Reaves/Getty Images. Pictured: Louisville quarterback Micale Cunningham (3).
Collin Wilson breaks down his 5 favorite betting picks for Saturday's college football slate, starting with Tulane-Navy and Oklahoma State-Tulsa kicking off at noon ET.
The Week 3 college football slate features fantastic betting opportunities down the card and serves as a tasty appetizer before SEC conference play begins in earnest next weekend.
Check out Collin's full breakdown for all five of his favorite Saturday betting positions below, including his picks for some of the slate's most highly-bet games.
Editors Note: This betting guide was originally published on Friday, but all reported odds herein have been updated as of Saturday morning.
---
College football's Week 3 slate can aptly be considered, 'the calm before the storm,' as multiple tropical storms may disrupt college football games this weekend. Week 3 also marks the last weekend before the SEC takes showcase. Moreover, the Big Ten announced a return to competition this fall, which definitively makes Week 3 the shortest slate of games for the rest of the year.
Plenty of teams are dealing with COVID-19, notably including Tulsa and Louisiana Tech, each of whom temporarily suspended offseason preparations due to program outbreaks. The suspension of each team's offseason training schedule resulted in postponements for each of their season openers. The Golden Hurricane and the Bulldogs will both officially return to action this weekend.
Georgia Southern, Arkansas State and Texas State continue to play despite multiple failed tests on the Friday before Week 2 kickoff. Expect more COVID-19 rumors to circulate, but be hesitant to act unless those rumors pertain to starting quarterbacks. Brady McBride may have made the difference for Texas State last week, while Arkansas State beat a Big 12 team without its defense.
Our Week 2 picks resulted in one of the best betting weekends since this column started in 2017. Now, on to Week 3:
---
Check out the Action Network Power Ratings for all Week 3 games and follow me on the Action App for the latest updates.
---
Tulsa at Oklahoma State
| | |
| --- | --- |
| Tulsa Odds | +23.5 [BET NOW] |
| Oklahoma State Odds | -23.5 [BET NOW] |
| Over/Under | 66 [BET NOW] |
| Time | 12:00 p.m. ET |
| TV | ESPN |
---
Odds updated Saturday morning and via PointsBet, where you can get $250 FREE instantly after signing up AND your bets automatically sync to the Action app. Learn more about BetSync here.
---
Coming into 2020, Tulsa was a team that we believed could take the next step in the American Athletic Conference. The Golden Hurricane brings back 88% of its offensive production from 2019, including quarterbacks Zach Smith and Seth Boomer.
The offensive line returns 63 starts, which should help Smith and Boomer operate from a clean pocket. Plus Tulsa's QB tandem gets back its top-two third-down receiving targets in Josh Johnson and Keylon Stokes. The Golden Hurricane ranked top-30 in success rate last season, which constitutes a massive year-over-year increase under first-year coordinator Joseph Gillespie.
Yet despite the positivity surrounding the Tulsa program, there are also causes for concern in its first game against Oklahoma State. Tulsa has only covered five times in its last 21 games against Big 12 opponents. But more importantly, the team's lack of offseason practice time may significantly hinder Philip Montgomery's team. After missing nine practices during the month of August, Tulsa conducted its first padded practice on August 29th. Tulsa continued to have issues with COVID-19 through the beginning of September.
Tulsa AD Derrick Gragg: "The safety and health of our student-athletes is always at the core of all of our discussions and decisions. Without time to properly prepare physically we would be putting our student-athletes at a greater risk of injury. …

— Kelly Hines (@KellyHinesTW) September 8, 2020
As for Oklahoma State, head coach Mike Gundy may field one of the best offenses in his career at Stillwater. Heisman Trophy contender Chuba Hubbard returns at running back to serve as the ultimate safety blanket for QB Spencer Sanders. Tylan Wallace returns at wide receiver after fully recovering from a season-ending knee injury in 2019.
The Pokes return even more players on defense. Oklahoma State retained 86% of its defensive production from a group that ranked 72nd in success rate last year. Gundy has made statements that he wants the Tulsa opener to be an "uptempo, physical game" to start the season.
The Action Network's Week 3 projections have this game at Oklahoma State -17, but this is the age of COVID-19. Both Eastern Kentucky and Navy dealt with COVID-19 throughout August practices by limiting contact. That lack of physicality was obvious in their first games, as each team was steamrolled by Marshall and BYU, respectively.
Tulsa has had just a handful of padded practices heading into its season-opening road test against Oklahoma State. If history teaches us anything during the pandemic, then the Golden Hurricane may be ill-prepared to tackle some of the best skill position players in the country on Saturday.
The Bet: Oklahoma State -23.5
[Bet the Oklahoma State Cowboys to cover now at PointsBet and get $250 FREE.]
Link your PointsBet and Action accounts so your Oklahoma State vs. Tulsa bets automatically sync over to the app.
---
Navy at Tulane
---
Odds updated Saturday morning and via BetMGM. Get an INSTANT $500 deposit match at BetMGM today or see more offers and reviews for the best online sportsbooks.
---
What happened to Navy in Week 1 creates a tough handicapping scenario for anyone that generates a power rating. Do we throw out the 55-3 loss to BYU? Can we gamble on an offense that had only three scoring opportunities and converted them to only three points? Navy did not post a single explosive drive, achieved a low 27% success rate and averaged 3.1 yards per play.
After splitting snaps with Dalen Morris against BYU, Navy quarterback Perry Olsen decided to transfer.
The biggest issue for the Navy offense wasn't the play of quarterback, but the run disruptions allowed by the offensive line. An average FBS offensive line will have a run disruption of 5% or less. The Midshipmen offensive line had three linemen post a run disruption rate in the double-digits.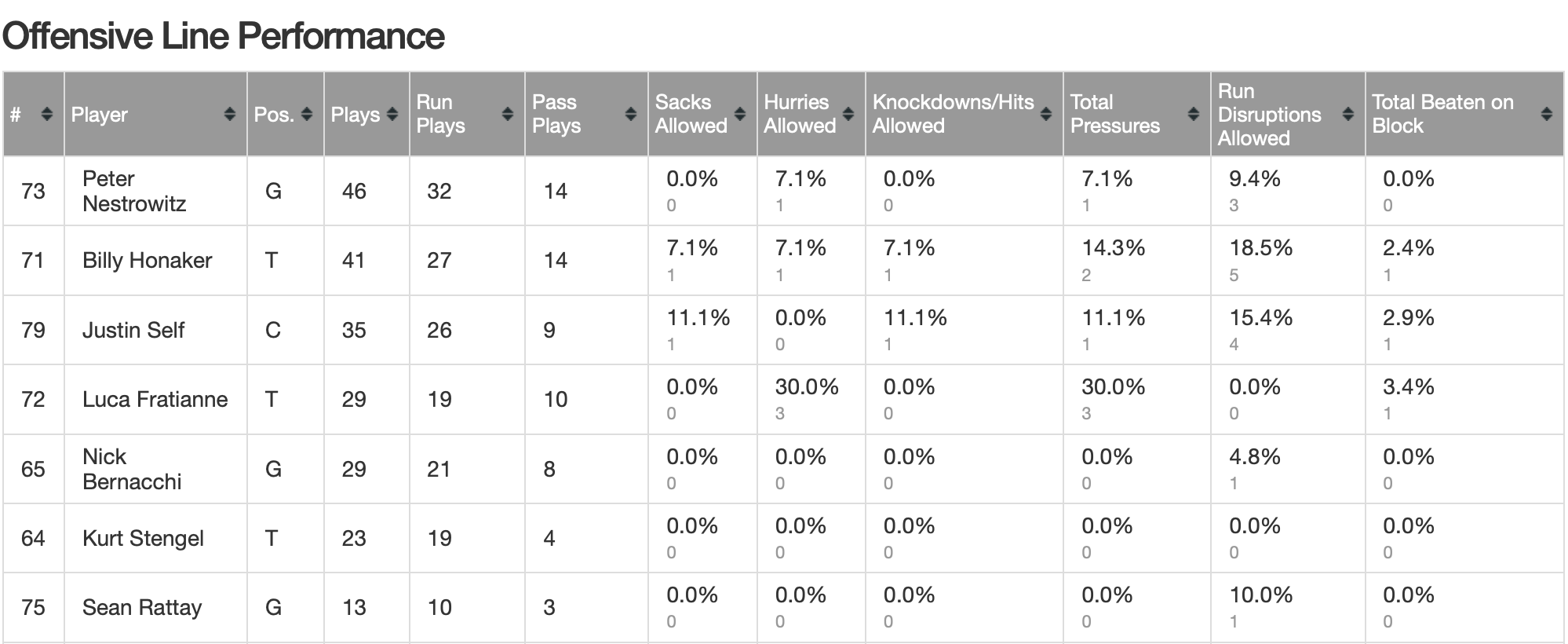 Navy has since returned to physical practices, but will that be enough against a Tulane defensive front that put on a run-stuffing clinic at South Alabama? Down 24-13 to the Jaguars, the Green Wave defensive line took over the game. Tulane finished with 12 tackles for loss, five sacks and numerous quarterback hurries.
Don't expect the Navy triple-option to stop Willie Fritz's defense from being prepared. Tulane was practicing for Navy well before the opening trip to South Alabama.
As for the Green Wave offense, its largest concern entering 2020 was the team's woefully low 31% returning offensive production from the previous season. Tulane stumbled out of the gate with three drives ending in a punt and another a turnover on downs in the first half. However, offensive coordinator Will Hall made adjustments at halftime and outscored South Alabama 21-10 in the second half.
Look for Navy to struggle with another physical defensive front, as Tulane is fifth in tackles for loss. Yulman Stadium will have double-digit winds whipping from sideline to sideline, which increases the probability for this game to go under the projection. Considering Navy just returned to tacking in practice a week ago, laying the number with Tulane is the safer bet.
The Bet: Tulane -6.5
[Bet the Tulane point-spread now at BetMGM and get an INSTANT $500 deposit match.]
---
Appalachian State at Marshall
| | |
| --- | --- |
| Appalachian State Odds | -4.5 [BET NOW] |
| Marshall Odds | +4.5 [BET NOW] |
| Over/Under | 59.5 [BET NOW] |
| Time | 3:30 p.m. ET |
| TV | CBS Sports Network |
---
Odds updated Saturday morning and via FanDuel. Get up to a $1,000 risk-free bet at FanDuel today or see more offers and reviews for the best online sportsbooks.
---
This matchup pits two of the nation's most efficient teams early in the season. The Thundering Herd triumphed 59-0 against Eastern Kentucky in Week 1, posting a 70% success rate and an explosive drive percentage of 36%.
Appalachian State had a bit more competition from Charlotte, scoring 14 points in the fourth quarter to win by 15. Still, the Mountaineers had an offensive success rate of 60% with six passes eclipsing 15 yards.
Marshall quarterback Grant Wells excelled throwing out of 11, 12 and even 13 personnel against Eastern Kentucky. Wells also achieved a quarterback rating of 155.2 on his eight pass attempts against the blitz — a better rating than his 15 other passing attempts against a standard pass rush. Zac Thomas did not perform as well under pressure, but that's less consequential because the Appalachian State offensive attack is based on pre-snap motion and a heavy dose of rushing.
Doc Holliday mentioned the importance of stopping the run, as the defensive line struggled in spots against rush-dominant teams in 2019. Appalachian State runs their rush-heavy offense in an even split between 11 and 12 personnel. Two other teams that are similar in personnel and rush rate include Central Florida and Charlotte, both of whom beat Marshall late in 2019.
Per the Action Network Power Ratings, the line is projected at Appalachian State -3.5, giving no value to the side. But, there may be value in the total.
Appalachian State allowed zero points on four Charlotte drives that entered Mountaineers territory. The 49ers had an abysmal 2.6 points per trip past the 40-yard line. Eastern Kentucky passed the Marshall 40-yard line three times with no conversions to points in Week 1.
While both defenses have been good at finishing drives against subpar competition, these are two teams that love to run the ball. Based on pace and plays per game with these head coaches in 2019, the total would be around 54.5. A small play on the Under is based on those numbers and the fact both offenses will face tougher competition that their season-openers.
The Bet: Under 59.5
[Bet the Appalachian State vs. Marshall under now at FanDuel and get a $1,000 risk-free bet.]
---
Central Florida at Georgia Tech
| | |
| --- | --- |
| Central Florida Odds | -7.5 [BET NOW] |
| Georgia Tech Odds | +7.5 [BET NOW] |
| Over/Under | 63.5 [BET NOW] |
| Time | 3:30 p.m. ET |
| TV | ABC |
---
Odds as of Wednesday evening and via DraftKings. Get up to a $1,000 sign-up bonus at DraftKings today or see more offers and reviews for the best online sportsbooks.
---
Georgia Tech opened Year 2 of Geoff Collins' tenure with a straight-up victory as an underdog against Florida State. From our ACC Conference Preview article, we knew the Yellow Jackets would be scrappy on defense with a rise to 80th in success rate and returning 94% of their 2019 production. Also unsurprising was a shortage of success in finishing drives. Out of 14 trips past the opponent 40-yard line, Florida State and Georgia Tech averaged just 2.15 points.
The game signified the emergence of quarterback Jeff Sims. The Georgia Tech freshman added 64 yards on the ground in addition to his 277 yards passing. The Yellow Jackets had five passes of over 15 yards and a 64% success rate on standard downs — well above the national average of 47%. The defense emulated Collins' previous units at Temple and Florida: Havoc-minded defenders that forced two fumbles, six tackles for loss and seven passes defensed.
The Yellow Jackets now find themselves in a non-conference sandwich game against Central Florida. Georgia Tech draws a matchup against Syracuse in Week 4, while Central Florida gets a warm-up before conference play with East Carolina.
The Knights had a few spring practices before the pandemic shutdown activities. After resuming practices in August, 10 players opted out of the season. Among them was Kalia Davis, who ranked third on the team in sacks and hurries last season.
On the offensive side, Darriel Mack Jr opted out of the season, leaving Quadry Jones as the new backup quarterback. Although Mack was behind Dillon Gabriel on the depth chart, the 230-pound quarterback was essential in short-yardage attempts on third-downs and in the red zone.
Despite the loss of Mack, UCF still returns 67% of an offense that ranked 41st in success rate in 2019. Moreover, Central Florida was one of the most explosive teams in the country last year, boasting more 30-plus yard plays than team in the FBS.
Our Action Network projections have UCF favored by 11 points as the spread has moved north of a touchdown most of the week. Considering that we have seen a number of teams with a game under their belt win decidedly against teams playing their first game this year, Central Florida may not offer value until -6.5. Arkansas State, South Alabama, Army and Houston Baptist all covered in Game 2 against opponents making their season debuts.
The better wager may come on the over in a sandwich spot for Georgia Tech. One hidden aspect of Georgia Tech's performance in its win over Florida State is the Yellow Jackets' marked decrease in seconds per play. Georgia Tech was dead-last in plays per game last season, but in Week 2, Georgia Tech averaged 24 seconds per play. For the sake of comparison, the Yellow Jackets have the same pace as Memphis and are just one second slower than the new uptempo philosophy implemented at Miami.
We know Central Florida will run the fastest pace in the country under Jeff Heupel, but if there is an uptick in pace from Georgia Tech as well, then this number should sail to the over. Any offensive success rate and finishing drive improvement from Jeff Sims will help our wager.
The Bet: Over 60.5
[Bet the over on UCF-Georgia Tech now at DraftKings and get a $1,000 sign-up bonus.]
---
Miami at Louisville
| | |
| --- | --- |
| Miami Odds | +1.5 [BET NOW] |
| Louisville Odds | -1.5 [BET NOW] |
| Over/Under | 65 [BET NOW] |
| Time | 7:30 p.m. ET |
| TV | ABC |
---
Odds as of Thursday night and via PointsBet, where you can get $250 FREE instantly after signing up AND your bets automatically sync to the Action app. Learn more about BetSync here.
---
If we are looking for an ACC contender to emerge and compete with Clemson, consider this game a playoff. Miami solved its yearly issue of quarterback play with transfer D'Eriq King, who guided the Canes to a 45% success rate in passing downs against UAB. Offensive coordinator Rhett Lashlee led his offense to an explosive drive rate of 31%, well above the national average of 13%. Over half of the Hurricanes drives had at least two first downs.
The D'Eriq King show has arrived in Miami🍿

— PFF College (@PFF_College) September 11, 2020
Louisville had similar offensive success in its Week 2 victory over Western Kentucky. The Hilltoppers finished top-20 in success rate last season, but the Cardinals offense still exploited them. Louisville achieved an explosive drive percentage of 17%, and half of the Cardinals' drives produced at least two first downs.
Quarterback Michael Cunningham continued to be a terror in space, completing 56% of his passes and accumulating four total touchdowns. Per Sport Source Analytics, the offensive line did not miss a beat with the departure of Mekhi Becton. Three offensive lineman were never beaten off the block, while Cunningham was hurried just four times in 180 total personal passing plays. 

Neither Western Kentucky nor UAB provided the offensive firepower to challenge as an underdog in Week 2. The Blazers were held to zero explosive drives against Miami, while the Hilltoppers only had one explosive drive after being spotted average starting field position at the 40-yard line. Western Kentucky gained 222 hidden yards, a stat based on the difference in starting field position between the teams and penalty yardage.
This handicap comes down to which defense can tackle the opposing team's premier quarterback in space while shoring up any special teams mishaps. Miami certainly shored up their special teams issues with transfer Jose Borregales, who hit a 25-yard field goal and drilled all four extra points against UAB. Lou Hedley has added stability to the punt unit, averaging 47.5 yards on six punts against the Blazers.
In a game that should be of the narrowest margin, Miami's D'Eriq King should have much more success against the Louisville front-seven in busted plays. Cunningham can burn the Hurricanes secondary, but getting through the Miami front-seven will be as difficult as it was in Louisville's 25-point loss last season.
I will look to back the Hurricanes' offensive explosiveness and special teams, while live-betting an over with any offensive drives not resulting in points.
The Bet: Miami +2.5
[Bet the Miami Hurricanes to cover now at PointsBet and get $250 FREE.]
How would you rate this article?