Wilson: 3 Opening College Football Win Totals I Bet Immediately
Credit:
Jeremy Brevard-USA TODAY Sports. Pictured: Dino Babers
Plenty of Las Vegas operators have announced the July 4 holiday weekend as the opener of all college football win totals. New Jersey took notice, as FanDuel Sportsbook decided to release all FBS totals on Tuesday (with the exception of Rutgers).
Most Las Vegas-based sports books have $1,000 limits on college football openers, but FanDuel has $250 on Power Five, $150 on Group of Five and a limit of less than $20 after multiple wagers.
As we move through the summer, the Action Network will continue to bring content as numbers are released. Oregon and USC highlighted our coverage in March, while more recent Group of Five and Power Five articles specify futures on over a dozen teams.
This article will look at three new teams listed by FanDuel on Tuesday and compare our projected win totals to the numbers posted to find betting value.
Using our power ratings, you can determine how many games each team should win based on their projected spreads.
Advanced statistics courtesy of Football Outsiders
Syracuse Orange
FanDuel Win Total: Over 5.5 -102 | Under 5.5 -114
Action Network Win Total: 7.3
Syracuse finished 10-3 in 2018, scaring eventual national champion Clemson and winning the Camping World Bowl. A Second Order win total of -1.5 suggests the Orange were a bit lucky, finishing +13 in net turnovers.
Still, a drop to 5-7 in 2019 would be a shock to Syracuse and head coach Dino Babers. This number officially opened with juice at a win total of 5.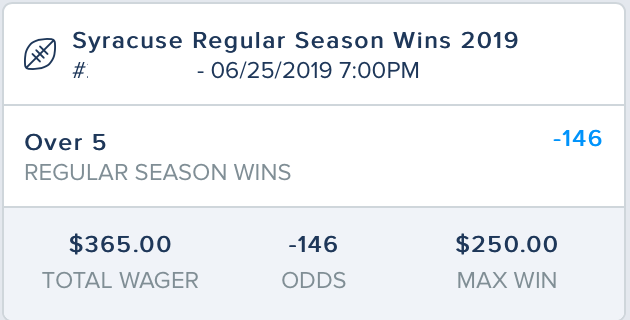 Syracuse is still an over team at the current number of 5.5. The Orange will be more than 6-point favorites against Liberty, Western Michigan, Holy Cross, Boston College, Louisville and Wake Forest.
Coin flip games come against NC State, Pitt, Florida State and Duke. Syracuse would have to lose every coin flip scenario and a couple of games they will be a favorite to go under the win total.
The Orange were not a team I planned on betting to go over, with a negative offseason rating in returning production, second order win total and net turnovers.
Regardless, Babers has increased a team's win total at every single stop. The defense will be a strength in 2019 with Alton Robinson and Andre Cisco leading the way.
Win Total: Over 5.5, take it through 6.5
Houston Cougars
FanDuel Win Total: Over 7.5 -108 | Under 7.5 -108
Action Network Win Total: 5.9
The hiring of Dana Holgorsen is seen as the move needed to cross that 8-4 hurdle into a truly elite Group of Five team. There is reason for optimism with a healthy D'Eriq King, who sent this gambler in a scramble for the best Heisman number available, at quarterback.
No matter what Holgorsen cooks up on the offensive side of the ball, last year's demolition of the defensive line is still an issue in 2019.
For those of you keeping score at home, Army scored a touchdown on 10 of 11 drives. Defensive tackle Ed Oliver is gone, as well as the Cougars top three tacklers at linebacker. While Houston retains both safeties, new defensive coordinator Joe Cauthen inherits the loss of three cornerbacks and a starting nickel back.
Oklahoma, Washington State and Memphis could put up 70 on Houston this season. Road trips to North Texas and Central Florida will present excellent offenses.
While the best bet is an over the total in each weekly game, asking this defense to win 8 games may be too much.
Win Total: Under 7.5, take it through 6.5
South Florida Bulls
FanDuel Win Total: Over 8 +140 | Under 8 -182
Action Network Win Total: 4.9
Last year could be summarized as two different seasons for Charlie Strong. South Florida went 1-5 in its first six games against teams that participated in a bowl.
The Bulls ended 2018 on a six-game losing streak, capped by a loss in their backyard at the Gasparilla Bowl. The defense allowed 38 to Marshall, 30 to UConn and 42 points to UMass.
The Action Network power rating for South Florida is bearish compared to other ranking systems, but the Bulls actually got positive bumps in the offseason. Returning production and power rating regression to their AAC mean added to the Bulls number.
A new offensive coordinator in Kerwin Bell is looked at as an upgrade after the spring game.
But despite the offseason uptick, South Florida is projected to miss bowl season in 2019.
Wisconsin, Memphis and Central Florida represent the Bulls' toughest games. A healthy Zach Wilson and BYU coming off a bye week will be no walk in the park. Temple and East Carolina should be well acclimated to their new coaches  by late October.
Until South Florida can improve upon a defensive IsoPPP rating of 94th, wins will only come in a shootout. The steam has moved on this number, but continue to take the under.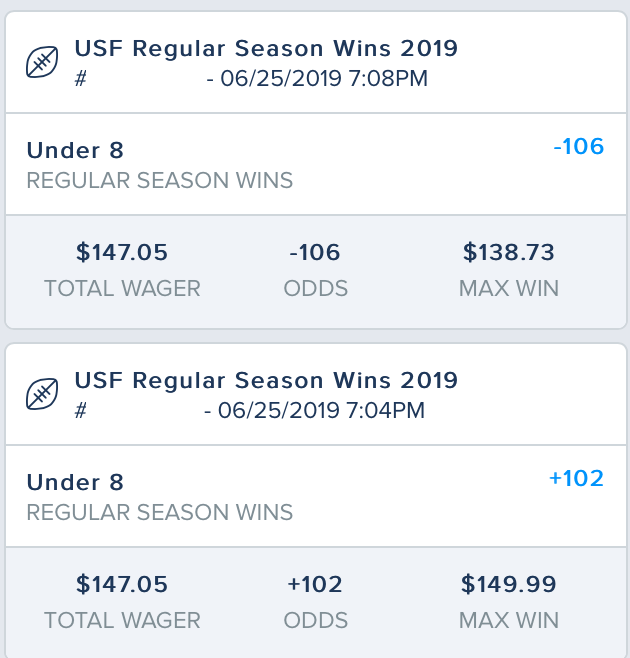 Win Total: Under 8, take it until 6
How would you rate this article?