Colorado State vs. Wyoming Betting Odds, Picks and Predictions: Are Rams Turning a Corner?
Credit:
Brian Losness, USA Today Sports.
Wyoming is a 5-point betting favorite over Colorado State in the latest odds for Friday's matchup, though the spread is falling close to game time.
Rams bettors were heartbroken by a bad beat against Air Force last week, but CSU has been much improved over the last month.
Wyoming has given some of the Mountain West's best teams a scare, but isn't built to play from behind.
Our experts break down Wyoming vs. Colorado State and give their betting picks and predictions for the game below.
Colorado State at Wyoming Betting Odds
Spread: Wyoming -5
Over/Under: 51
Time: 9:30 p.m. ET
TV: ESPN2
Colorado State at Wyoming Odds Movement
Bets are close to split on this spread, with a slight majority landing on the underdog. Fifty-four percent have hit Colorado State, and our money percentages have shown them to be of the bigger variety.
They've accounted for 64% of actual money, revealing them to be coming from sharper bettors, and oddsmakers have responded by dropping the Rams from openers as high as +8.5 (though later releases came at +7) down to +5 as of Friday night.
The total, which sits at 51, similarly hasn't moved much from late opening numbers, though it's up a couple points from earlier openers around 49. — Danny Donahue
Collin Wilson: Can Wyoming Contain Colorado State's Explosiveness?
The total for this game has ticked up from 50 to 50.5 or 51, which is interesting since Wyoming has only had two games go over 51 points this season thanks to a defense that ranks fourth in red zone scoring, sixth in rush efficiency, 18th in line yards and 29th in havoc, thanks to 54 passes defenses.
Those numbers are in stark contrast to the Cowboys' offense, which ranks 110th in passing success rate and 90th in rushing success rate.
Colorado State is 4-6 and will be playing for their postseason lives after a heartbreaking loss to Air Force. The Rams led that game, 14-0, and then plenty of things went wrong, including a missed field goal, a fumble, a turnover on downs and a 99-yard pick-six that cost Colorado State backers a cover.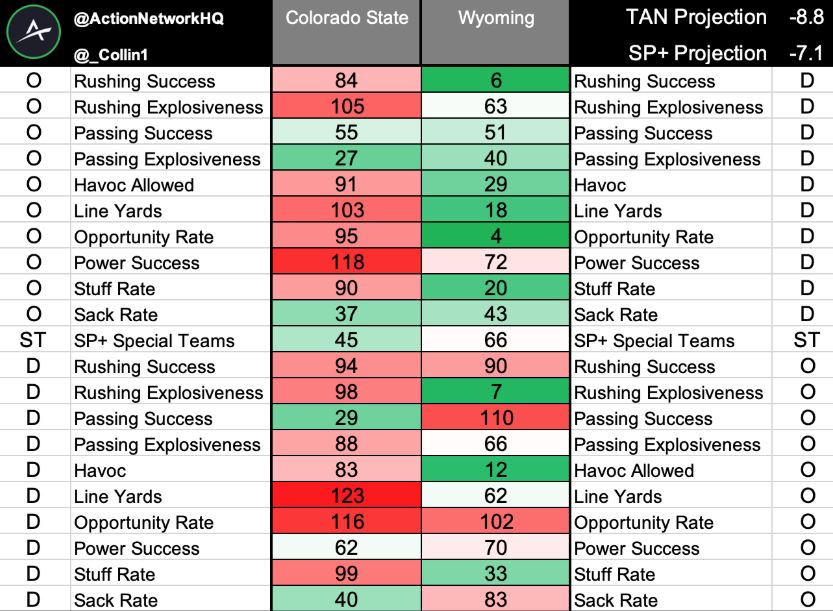 Our Action Network projections make this spread Wyoming -8.8, so there's value on Wyoming at any number below 7. Our projected total, which weighs plays per game and yards per play, is 53 points, so I think it's Over or nothing there.
[In New Jersey? Bet now at PointsBet]
Kyle Miller: Have the Rams Turned Things Around?
Just the mention of Colorado State football will make certain bettors shudder following their debacle against Air Force last week but, we're back on the Rams in this spot.
As someone with an over ticket in that game I'd like to think that I can commiserate with those that had Colorado State, but it's not nearly as bad of a beat as the Colorado State moose.
Before collapsing last week, this Colorado State team had really turned things around. The win on the road against Fresno State was the first sign that things had taken a turn for the better in Fort Collins and the Rams followed that up by dominating UNLV.
Wyoming, meanwhile, is 0-2 since losing starting quarterback Sean Chambers for the season with an injury. Taking Boise State to overtime is no small task, but I blame that more on Boise State and their own quarterback problems.
Tyler Vander Waal has been tasked with the starting job now and he's just really, really bad. That's the nicest way that I can describe Tyler Vander Waal on this website.
Colorado State's offense should be able to find some holes in an excellent Wyoming defense behind quarterback Patrick O'Brien and future NFL wide receiver Warren Jackson. As good as the Cowboys have been on that side of the ball, their biggest "weakness" is defending the pass.
I make this game right around the current number, but these two teams are moving in starkly different directions of late, so I'm happy to take the points with the road dog.
[In New Jersey? Bet now at PointsBet]
Steve Petrella: Colorado State' Offense Keeps Getting Better
Like Kyle mentions, Colorado State is moving in the right direction. The defense has been much better, and despite an average effort against a good Air Force defense, the offense has been improving week to week.
Here are CSU's 3-game rolling averages for offensive and defensive yards per play, and yards per play differential, which has been the most encouraging sign. It excludes a blowout of Western Illinois early in the season.
The Rams can sling the ball all over the field, which shouldn't be too big an issue against a Wyoming defense that's much better against the run than the pass. This Cowboys team was also not meant to play from behind given their desire to run the ball.
I like Colorado State to keep it close and will be looking to back the Rams in the second half, as well.
How would you rate this article?