Florida Gators vs. Miami Hurricanes Betting Odds, Guide: So Many Offensive Question Marks
Credit:
Jasen Vinlove-USA TODAY Sports. Pictured: Lorenzo Lingard
Florida Gators vs. Miami Hurricanes Betting Odds
Spread: Florida -7
Over/Under: 47
Time: 7 p.m. ET
TV: ESPN
Location: Orlando, Fla. (neutral site)
All odds as of Friday morning
---
In-state rivals Miami and Florida meet in Orlando on Saturday night, with the Gators favored by a touchdown. This renews a rivalry that's more than 80 years old but hasn't been played since 2013.
Both teams return lots of pieces from excellent defenses, but Miami will be breaking in a new quarterback, head coach, playcaller and offensive tackles.
Let's dive into this matchup to find some betting value.
Our Projected Odds for Miami vs. Florida
EDGE members can get Collin Wilson's full power ratings here to project the spread between any two teams.
Spread: Florida -8.5
Total: 50.5
Market Report
Both the spread and total have done some roller-coastering since opening more than two months ago.
The earliest books to market had Florida -8, or even -8.5. That was quickly deemed too large a number by some bettors, who bet Miami down to +7.5. From there, the professional action was far more gradual, but was still hitting the same side, getting the Canes to within a touchdown (+6.5) by early August. Florida buyback then took the line back to -7.
After the over/under held steady at its opener of 50.5 for about a month, it took off in the first week of August, reaching a high-water mark of 54. While there was certainly some sharp action helping it along that rise, the heaviest dose of pro money was yet to come.
Since that point, sharps — along with the majority of overall bettors — have been all over the under, triggering several steam moves to drop this number all the way to its current listing of 47. The under is currently taking in 68% of bets accounting for 84% of money. — Danny Donahue
Coaching Familiarity May Play a Role
Florida coach Dan Mullen knows the Miami staff well.
Mississippi State had Manny Diaz as defensive coordinator on two separate occasions under Mullen, once in 2010 and again in 2015. While Mullen said he had plenty of respect for Diaz, Mississippi State dropped from 26th to 42nd in S&P+ defense with a final success rate rank of 77th. Diaz moved on to be the defensive coordinator for Miami under Mark Richt.
Mullen also made the comment about new offensive coordinator Dan Enos, whom he faced when Enos was at Arkansas.
The Bulldogs beat the Hogs in two of their three meetings, allowing less than 100 rushing yards in each victory. The 2017 game was the only matchup between Enos and Florida defensive coordinator Todd Grantham, whose defense gave up just 221 yards.
I think Florida has a clear coaching edge in this game. — Collin Wilson
Is Miami's Offense Ready?
The Hurricanes will be starting freshmen at quarterback and both offensive tackle spots. While breaking in those freshmen against an SEC defense is certainly not ideal, Miami does have some experience and talent at the skill positions.
Running back DeeJay Dallas, tight end Brevin Jordan, and 2018 leading receiver Jeff Thomas all return. They also picked up Buffalo transfer WR K.J. Osborn.
We'll see if new offensive coordinator Dan Enos eases freshman quarterback Jarren Williams in on Saturday night in Orlando or let's him loose immediately. — Kyle Miller
A lot of people were surprised when Williams beat out Ohio State transfer Tate Martell for the starting job, but let's not pretend that Williams is some slouch.
He was the No. 5 pro-style prospect in the 2018 class, played at a highest level of Georgia high school football and got this job when everyone expected him not to.
I've seen a lot of public sentiment assuming Williams will be a disaster in this game behind a green offensive line and against a solid Florida defense. Maybe seeing Miami quarterbacks look so awful for the last two seasons has created some biases and misconceptions about a guy we don't know a lot about.
Miami OC Dan Enos has a better history of developing quarterbacks than the Canes' old staff, so you have to place some faith in the decision. — Steve Petrella
Stuckey: How I'm Betting This Game
The total doesn't hold as much value as it once did, but I still like the under. However I wouldn't go much lower than 47… if at all.
These two coaches are extremely familiar with each other, especially on defense. So, normally, I might look at an over in Week 1, knowing each coach had all summer to prepare an attack for a familiar defensive scheme.
However, I'm just not sure how either team will consistently move the ball.
Let's start with Florida. Head coach Dan Mullen is well known as an offensive guru and quarterback whisperer. And both of those terms of endearment proved true in his first season in Gainesville, as Florida's offense improved dramatically, increasing its 2017 5.2 yards per play (101st nationally) by a full yard to 6.2 (25th). And quarterback Feleipe Franks looked like a completely different player.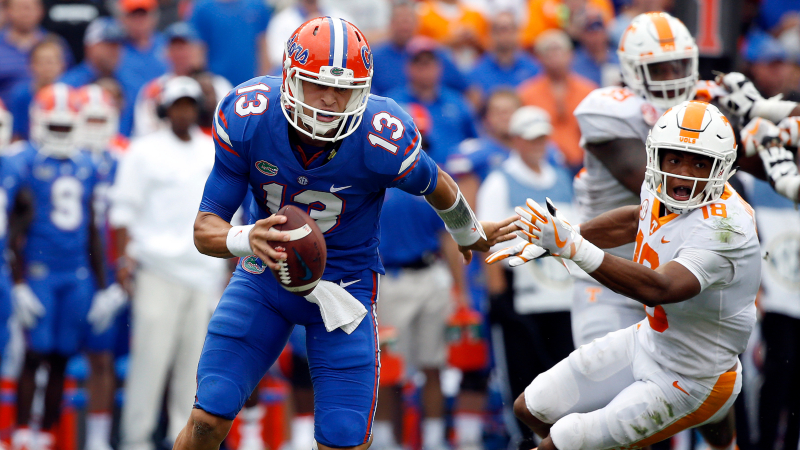 Franks and almost all of their skill positions players return this year but the offense could take a step back (at least early on) with departures along the offensive line.
Mullen's scheme is predicated on the offensive line preventing pressure, so it has time to identify and exploit the mismatches. Last year, the offensive line was excellent, led by two stud offensive tackles Martez Ivey and Jawaan Taylor. Well, both are now on NFL rosters and Florida will have to replace four OL starters in total.
That doesn't bode well against an excellent Miami defensive front seven, which includes one of the best linebacker groups in the nation. No team was better at getting in the backfield last year than Miami, which led the country with 10.5 tackles for loss per game.
Florida ranked 10th in the country in tackles for loss allowed last year, which was one of the driving factors of their offensive improvement.
Maybe the offensive line will pan out as the season progresses, but putting out four new starters against this Miami front seven is certainly not ideal.
Now, let's look at Miami, which will not only have a freshman quarterback making his first career but also two freshmen offensive tackles.
That could spell doom against the aggressive, blitzing Todd Grantham 3-4 defense that returns plenty of production from last season. Defensive end Jabari Zuniga could prove to be a menace all night. Plus, the secondary should be excellent as it always seems to be in Florida.
I just can't see the Miami offense sustaining many drives. As a result, I think Manny Diaz and Dan Enos (whose offenses have always been snails in the past) will go with a very conservative game plan to limit the mistakes that killed Miami throughout 2018.
Plus, neither team played particularly fast last year, with Florida ranking 61st in Adjusted Pace and Miami 84th. And as I mentioned before, Miami's punting game should be better, which will be beneficial to the under.
As long as we don't see a bunch of flukey turnovers that lead to quick scores, I like the chances of the under hitting in a game that should be controlled by both defensive fronts. — Stuckey
Stuckey's Plays:
How Collin Is Betting Miami-Florida
I agree with Stuckey. Assuming there are no defensive touchdowns, both offenses should start slow because of offensive line play. Williams will get his first action in a college game behind a line that loses 88 career starts. That is not a good formula against a Florida defensive line that has started a combined 122 games and was 14th in defensive line havoc in 2018.
Florida is in a similar position, losing 152 career starts on the offensive line. Center Nick Buchanan returns for Feleipe Franks, but the remaining positions have little experience. The projected tackles for the Gators offensive line have a combined 154 snaps from 2018.
My projection for this game is 50.5, which was key in making a pick for the full game under 49.5 earlier in August on the Action Network App. The defensive front seven for both squads should feast to start the game which prompts first quarter and first half under plays, as well.
As for the full game total, I'll be hitting the over if it gets down to 45 or so. This is only suggested for bettors that were able to get under 49 or better. At some point, Mullen is going to find a way to protect Franks, while Williams should shake off jitters and rely on an arm that made him a 4-star pro style recruit ranked just below Trevor Lawrence and JT Daniels. — Collin Wilson
Collin's Plays:
Under 49 or better
First half under 23.5
First quarter under 10
Special Teams Advantage: Florida
You know I have to get a word in on the special teams. Not only was Miami's offense dreadful for long stretches last year, turning the ball over relentlessly, the Hurricanes also had an abysmal punting game. In fact, the U ranked 130th in punt efficiency, which did the defense no favors.
The punting can't get any worse and has the potential to improve dramatically with new starting punter Louis Hedley. You won't miss the Aussie when he first comes on the field on Saturday night.
When it came to returning punts, Miami certainly didn't struggle, as it had one of the most explosive return units in the land last season. And the Hurricanes have both dynamic returners back plus they added another terrific returner in K.J. Osborn from Buffalo.
So, keep your eyes out for a big play in the Miami return game.
That said, Florida will have an excellent special teams unit once again (11th S&P in 2018), led by kicker Evan McPherson (third-team preseason All-SEC) and punter Tommy Townsend (second-team preseason All SEC) — two of the best at their position in the SEC. It's one of the reasons Florida had so much success in close games last year. Don't sleep on the special teams!
As long as Hedley can produce in the punting game, Miami will be much better on special teams and this won't be as big of a mismatch as the numbers from last year may imply. — Stuckey
Trends
— Since 2005, the SEC is 52-45-1 (54%) ATS vs. the ACC in regular season games, including 10-5 ATS on a neutral field and 32-21-1 ATS as a favorite. — John Ewing
— In Mullen's career as a head coach at Florida and Mississippi State, his teams have excelled early in the year against the spread, but tend to fade away later in the year. — Evan Abrams
How would you rate this article?