Wilson's 2019 MAC Betting Guide: High Expectations For A First Time MACtion Winner
Credit:
Credit: Christopher Hanewinckel-USA TODAY Sports. Pictured: Ohio Bobcats quarterback Nathan Rourke (12).
The Mid-American Conference is returning some talented teams and adding some coaches with strong resumes heading into the 2019 season.
Collin Wilson breaks down what to expect this season in the MAC.
The list of accolades include a Big 12 Championship, two time Big 12 coach of the year and four MAC East division titles. Ohio head coach Frank Solich has had achieved plenty in his career that began at an Omaha high school in 1967.
The one missing accomplishment on his resume is a MAC championship.
With Eastern Michigan being the only team to never take a trip to Ford Field for the conference championship game, the crown to rule MACtion is wide open.
In this piece I will look for value on MAC East and West division futures, give out my projected win totals compared to what sportsbooks have posted and break down my favorite futures bets for the conference.
MAC West Schedule Notes
The team earning the highest grade for returning production in all of FBS is Western Michigan. The Broncos may be the most talented through each unit with the exception a Special Teams S&P+, where it finished 130th in 2018. Head coach Tim Lester, who is 9-15-1 against the spread at Western Michigan, got the Broncos back in bowl season after PJ Fleck's move to Minnesota.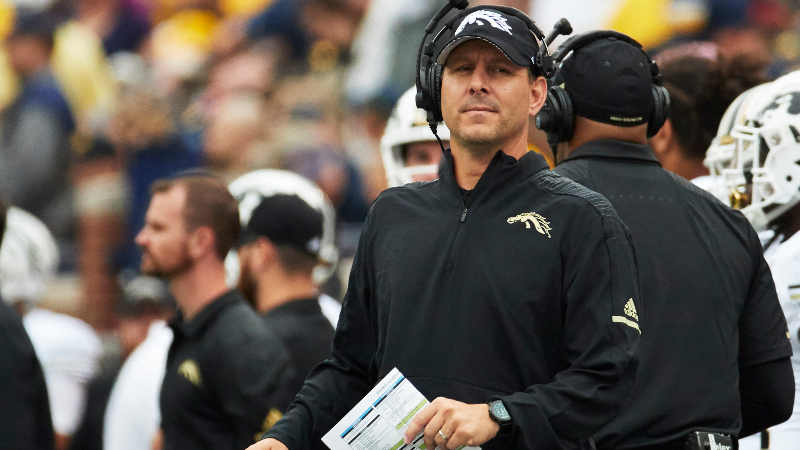 The schedule is what makes the difference in the MAC conference odds. Western Michigan must visit four of the top five power rated teams per The Action Network. In addition to Michigan State and Syracuse, the Broncos will hit the road against Toledo, Eastern Michigan, Ohio and Northern Illinois.
Keep an eye out for quarterback Jon Wassink, who should be fully healthy from a 2018 ankle injury. Wassink led the Broncos on a six-game winning streak before the injury derailed Western Michigan's chances at winning the MAC.
The team with the best odds to win the MAC is also the team with the easiest schedule. Toledo is outside the top 100 in offensive returning production, but return two experienced quarterbacks. Ranking 12th in rushing S&P+ in 2018, the Rockets return Bryant Koback at running back along with double-digit career starts at Center and Left Tackle on the offensive line.
The Toledo defense is where things begin to be problematic. The Rockets were 120th in defensive Rushing S&P+ and 111th in passing downs. Fortunately, road games against Bowling Green, Ball State, Central Michigan and a depleted Buffalo may be path of least resistance to the MAC Championship game.
Northern Illinois will attempt to keep winning conference games after losing a head coach and one of the best defensive players in the country with Sutton Smith. Thomas Hammock takes over for the Huskies, previously working as the Ravens running backs coach.
New offensive coordinator Eric Eidsness did a fantastic job of creating offense at the FCS level, but may introduce scheme change to every offensive unit. There will be an adjustment period, as Northern Illinois ranked 128th in offensive explosiveness in 2018.
As stated before, Eastern Michigan is the lone team in the current MAC landscape to not play in a conference championship game. The Eagles had negative power rating adjustments in the offseason due to net turnovers and returning production. After plenty of close losses in previous years, the Purdue victory helped the Eagles achieve a negative mark in second-order win total.
The schedule isn't conducive to winning the West, as Eastern Michigan will not play a home FBS game until homecoming on October 12th against Ball State. The Eagles will be on back to back travel for three separate games. The best place to lay a wager on Eastern Michigan are the road underdog spots, as head coach Chris Creighton is 13-2 against the spread the past three years.
The turning point was supposed to be the Notre Dame cover for Ball State in 2018. Whether it was injury or roster turnover due to graduation, head coach Mike Neu never had any luck getting the Cardinals to the next level. Neu now stands at 7-17 against the spread in MAC play through three years. Ball State will need to avoid injuries as an Oct. 5 five-game consecutive stretch comes against the toughest teams in the conference.
Central Michigan is under new management, as former Florida Gators head coach Jim McElwain arrives. This will be a complete rebuild on defense with a returning production rank of 124th. The offense will also have a teardown after a 2018 Success Rate and IsoPPP rank of 129th.
MAC East Schedule Notes
Any discussion in the East starts with Ohio. The Bobcats rank 113th in overall returning production, but bring the most important piece in quarterback Nathan Rourke. With 38 total touchdowns in 2018, Rourke loses his top rushers, receivers and offensive lineman.
The schedule sets up nicely for the Bobcats. Road trips to Buffalo, Ball State, Bowling Green and Akron are not exactly murders row in MACtion. The latter of the two end the season, setting up for a fresh roster in Detroit for a potential MAC championship game. Ohio is projected to be favored in 7 of 8 conference games.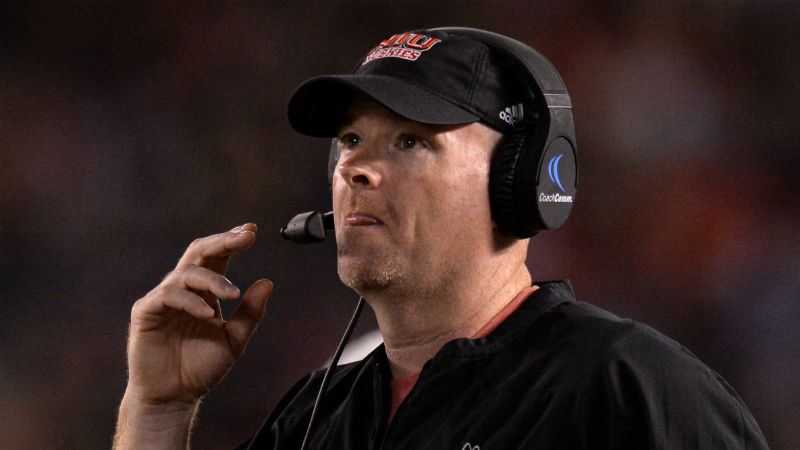 Both Miami of Ohio and Buffalo lose multi-year productive quarterbacks in Gus Ragland and Tyree Jackson, respectively. While the Redhawks rank 95th in overall returning production the Bulls have a double whammy. Buffalo is 127th in overall returning production, taking losses in every unit on both sides of the ball.
The team looking to take the next step up is Kent State. The hire of Sean Lewis in late 2017 was considered a step in the right direction. Lewis had played under Barry Alvarez and coaches as an assistant offensive coordinator under Dino Babers. The Golden Flashes have already benefit from two recruiting classes ranked in the top 5 of the MAC conference.
Kent will certainly be improved, but a trip to Athens to face Ohio will keep them from winning the division. This young roster will be a contender in 2020, where a non-conference schedule includes three SEC teams in September.
Akron fielded one of the worst offenses in the nation during 2018, with an S&P+ rank of 128th. Kato Nelson returns for his third season, but a completion rate of 52% last season in combination with a new scheme from head coach Tom Arth could be a horrific adventure. Expect Nelson to make plenty of plays in designed runs this season.
The Zips defense was decent on MAC levels in the area of success rate and defending explosiveness. That unit is 115th in returning production, giving new 27 year old defensive coordinator Matt Feeney a blank canvas to work with in 2019.
When coaches are hired from coordinator positions to head coach, one of my immediate tasks is to look at the success rate and IsoPPP trend of that coach over the span of his time at the previous employer. Bowling Green hired Scot Loeffler, who did not leave Boston College's offense in any better shape after a three-year run as offensive coordinator.
The same can be said for Loeffler's previous three years as Virginia Tech's offensive coordinator. Journeyman defensive coordinator Bryan VanGorder spend 2018 at Louisville coaching one of the worst defenses in the Power 5.
With the exception of three games, the Falcons will be at least touchdown underdogs in nine games. Akron and Central Michigan will serve as coin flip games, while FCS Morgan State returns 17 starters to a rising 4-7 team. One thing Loeffler has going for him is approval from former Bowling Green head coach Urban Meyer.
Bets to Watch
Bowling Green Under 3: Player turnover, new coaches, new schemes and no depth in the program are all factors leading to this wager. There are three realistic chances at a win with Akron, Central Michigan and Morgan State. The Chipps new head coach Jim McElwain may get this ticket to the window in mid-October.
Kent State Over 4: Shop around as 3.5 does exist in some shops, but the extra plus-money juice on four is worth a gamble. Besides excellent marks in returning production, the Golden Flashes face most of their winnable games at home with Kennesaw State, Bowling Green and Ball State. A road game at Akron is good for four wins, while coin flips with Buffalo and Miami of Ohio will make this a winner.
Ohio to win the MAC +350: Toledo was the pick when the number opened +300 on the Rockets, but at +150 there is little to be desired when a potential MAC Championship game may have Toledo as a pk. The Bobcats and quarterback Nathan Rourke should win the East, as division rivals Miami of Ohio and Kent State come to Athens. There is room to hedge the +350 if needed. Western Michigan and Northern Illinois possess enough talent in the defensive front 7 to contain Rourke.
How would you rate this article?