College Football Odds, Prediction for NC State vs. Notre Dame: Which Side Holds Holds Value?
Credit:
Matt Roembke/Action Network.
The NC State Wolfpack and Notre Dame Fighting Irish meet in college football action in Week 2.
Our bettors debate which side of Saturday's spread to bet — NC State +7 or Notre Dame -7.
Read on full their full betting breakdown and predictions for NC State vs. Notre Dame.
NC State vs. Notre Dame Odds
NC State Odds
Spread
Total
Moneyline

+7

-112

49.5

-104o / -118u

+225
Notre Dame Odds
Spread
Total
Moneyline

-7

-108

49.5

-104o / -118u

-278
Why You Should Bet Notre Dame
It's felt like Notre Dame has been a quarterback away for over a decade. Despite seven 10-win seasons since 2012 — including a trip to the National Championship game and two College Football Playoff appearances — the Fighting Irish haven't been able to get over the hump.
Well, now they have that quarterback.
No disrespect to Ian Book, Tommy Rees or Jimmy Clausen, but Sam Hartman is the best quarterback this team has had since Brady Quinn. He might even be better.
In 1,602 pass attempts, Quinn had 11,762 yards with 95 touchdowns. Hartman has 1,637 pass attempts with 13,412 yards and 116 touchdowns. Quinn has the single-season Notre Dame record with 37 touchdown passes (2006). Hartman has tossed more than that in each of the last two seasons.
Through two games, Hartman has completed a ridiculous 82.5% of his passes. He's thrown for 445 yards and has six touchdowns and just seven incompletions.
This team was 20th in the country in Success Rate last season and has always been able to move the ball. But the Irish have consistently lacked explosiveness. Through two games, they've already picked up 13 explosive plays.
Sure, it was two cupcakes, but this isn't a true freshman. Hartman is a 24-year-old in his sixth season and has proven he's one of the best quarterbacks in college football. Even if he's a psychopath who wears his own rib bone as a necklace like a serial killer, he's a top-tier quarterback who can take this offense to the next level.
Not only does Hartman have the ability to take the top off any defense, but that threat prevents teams from putting eight guys in the box, which opponents have been able to do for years against Notre Dame.
Through two games, the Irish are averaging 206 rushing yards per game. They finished 23rd in Rushing Success Rate last season and have picked up right where they left off.
Audric Estime is a 230-pound tank that gets the ball and runs straight downhill. He averaged 5.9 yards per carry last season and has already racked up 211 yards and two touchdowns this year. His 3.65 yards after contact per rushing attempt last year was 16th in the nation for all backs with at least 150 carries.
The Irish might have the best tackle combination in the country, with Joe Alt and Blake Fisher on either side of this offensive line. Alt was PFF's highest-graded tackle in the country last year. These two anchor a line that will keep Hartman upright and clear space for Estime to run through all season.
So, for those keeping track at home, Notre Dame has a 63.6% Success Rate when passing the ball and a 56.3% Success Rate when rushing the ball.
So, go ahead and pick your poison.
---
Why You Should Bet NC State
Simply put, I think this is an awesome situational spot for the Wolfpack.
NC State has two extra days of preparation and rest after playing on Thursday last week. They also have two full games of film on Notre Dame, courtesy of the Irish playing in Dublin in Week 0.
Meanwhile, the Pack looked like they kept their playbook close to the chest against UConn. They ran the ball 46 times to only 26 passing attempts, with quarterback Brennan Armstrong rushing 19 times alone.
I doubt Armstrong and offensive coordinator Robert Anae keep up that pace. They passed the ball 54.5% of the time at Virginia last year, the 28th-highest rate in FBS.
The Anae-Armstrong duo will have some tricks for Marcus Freeman — tricks the Irish won't be prepared for.
The biggest wrinkle in this game is Hartman against NC State defensive coordinator Tony Gibson. Hartman played against a Gibson-led defense three times at Wake Forest, and he came away with six touchdowns, six interceptions and 13 sacks on 156 drop backs (8.3%).
Against everyone else, Hartman has 100 TDs, 35 INTs and a 5.8% sack rate.
Gibson might have Hartman's number.
Finally, in another situational wrinkle, teams that have won and covered their first two games (e.g., Notre Dame) are 21-38-1 ATS as road favorites of over a field goal in their next game.
Notre Dame is the more talented team, but the Irish are in a brutal spot. Armstrong and Anae boast a potent enough offense to catch Freeman and Co. in a sleepy spot, keeping this one close for 60 minutes.
---
Ianniello: Did NC State keep its playbook close to its chest against the Huskies, or did it just struggle?
It wasn't like the Wolfpack were just coasting against an FCS school. They were playing a UConn team that went to a bowl last season on the road, with a new offensive coordinator and new quarterback to break in. The score was just 24-14.
Yes, NC State leaned on the run, but outside of Armstrong's legs, it didn't have much success. Jordan Houston managed just 57 yards on 13 carries. Take out Armstrong scrambling, and the Wolfpack had 113 yards on 27 carries.
That came against a UConn defense that ranked 92nd in yards per carry last year.
What do you think the Pack are going to be able to do against this Notre Dame front seven led by linebackers JD Bertrand and Jack Kiser?
Meanwhile, Victor Rosa ran the ball for 99 yards and two touchdowns on just nine carries against this NC State defense. Five of the Wolfpack's top six tacklers are gone, and it's clear they're going to take a step back defensively.
They already showed the run defense is suspect, and Estime should run all over this unit.
But while UConn doesn't have the passing attack to take advantage of three new pieces in the secondary, Notre Dame certainly does.
Everybody thinks Armstrong and Anae reuniting is going to magically make Armstrong a great quarterback again. But if Anae was that magical, he would probably be at a better job.
Armstrong was one of the worst quarterbacks in the country last year. He completed less than 55% of his passes, with seven yards and 12 interceptions. Anae isn't a magician.
In their first game back together, Armstrong was just 17-for-26 with 155 yards. Oh yeah, what a lethal combination. It's the second coming of Tom Brady and Bill Belichick.
This Notre Dame defense is elite, and cornerback Benjamin Morrison is one of the best defensive backs in the country. Also, Cam Hart returns on the other side after dealing with a shoulder injury last season.
The two of them will be able to clamp down on an NC State passing attack that's replacing three of its top four receivers and has a new quarterback with a ton of questions.
---
McGrath: Hit the music!
They ain't played nobody Pawl!
Notre Dame rolled over Navy and Tennessee State, but we can't conclude anything from those performances.
The Mids looked out of sorts under new head coach Brian Newberry, and they failed to top seven points in their season opener for the fourth straight season.
Meanwhile, Tennessee State plays in the Ohio Valley.
Again, you can't take anything from those performances. So, take your Success Rates and shove it.
Meanwhile, let's not get overly excited about this Hartman thing. I'm not sure the Irish are a quarterback away. I still have questions about the roster.
Specifically, two questions.
First, the pass rush. The Irish lost their top three pressure creators from last year's team, Isaiah Foskey and the Ademilola brothers. Even with those guys, the Irish were roasted on the ground last season by USC, Ohio State and (checks notes) Marshall.
Virginia faltered last year, but Armstrong posted a 91.2 PFF passing grade when kept clean in 2021, posting 29 Big Time Throws to 15 Turnover Worthy Plays with a 10.8 aDOT and a 75.7% adjusted completion percentage.
And as alluded to, Armstrong is a solid dual-action quarterback.
I expect Armstrong will have a clean pocket to throw and plenty of lanes to run through.
Second, the pass-catching corps. Four of the top five targets from last season are gone, including all-world tight end Michael Mayer. The one guy with any FBS experience is slot receiver Jayden Thomas, who had 38 targets last year. Otherwise, it's freshmen and fresh faces.
I think the Irish are wildly overvalued after their first two performances against faux opponents.
This team is so overhyped. Do you know how many pictures I saw of that damn rib necklace? A friend approached me at the bar last weekend asking about it – in Canada. I didn't even know they knew about College Football north of the border.
(As an aside: The necklace is just weird, man. How can you put your hard-earned money behind that guy?)
The Irish are laying over a touchdown on the road against their first Power 5 opponent this season on a short week. That's a lot to ask from a team that still hasn't developed a clear identity.
---
Ianniello: Cupcakes or not, Notre Dame took care of business. The Irish went 9-4 last year and it was considered a down year, and a disappointment. Now they add a Heisman-caliber quarterback. NC State goes 8-5 and it's a great season, and it lost its top-tier quarterback.
Yes, I already addressed the rib cage necklace. It's weird. You win that point, no arguments here. My only hope is that maybe he'll use it as a weapon to pick up a key first down.
Armstrong really struggled under pressure, as you mentioned. Yes, losing the Ademilola brothers is big, but Howard Cross III and Rylie Mills are game-wreckers in the middle. Javontae Jean-Baptiste transferred over from Ohio State to help shore up the defensive line and redshirt freshman Joshua Burnham already has two tackles for loss and a sack.
This NC State offensive line isn't exactly a brick wall. It has two new starters and allowed 25 total pressures against UConn last week. The Wolfpack were bullied up front.
Notre Dame does have some questions at receiver, but I'm not overly concerned. For starters. I think Hartman will elevate everybody's play on offense. The Irish have a nice group of pieces and due to the easy schedule, they were able to get everybody involved early.
16 different players have already caught passes for Notre Dame. Thomas seems poised for a monster season. He was second on the team last year, despite not having a competent quarterback. He's a former four-star recruit with a big frame and solid hands.
Jaden Greathouse is another big-bodied four-star recruit who's already caught two touchdowns as a true freshman. Tobias Merriweather is a young and talented kid, and Chris Tyree is a converted running back who provides a great change of pace as a shifty slot receiver.
Replacing Mayer will be hard, but NC State is replacing Thayer Thomas, Devin Carter and Darryl Jones. Both teams might have questions at wide receiver, but I trust the Notre Dame quarterback to get his guys the ball more, and I trust the Irish secondary to lock things down more.
---
McGrath: Yeah, Rosa crushed it. 99 yards and two touchdowns! Wow!
If you erase this 71-yard broken touchdown run by Rosa:
…he posted 28 rushing yards on eight carries, good for 3.5 yards per rush. Outside of that play, the whole team picked up 202 total yards on 3.3 yards per play.
And since you're so into Success Rates:
In Week 1, UConn had a 42% Success Rate overall, including a 29% Success Rate on Passing Downs. Meanwhile, NC State checked in with a whopping 60% Success Rate, including 59% on Standard Downs and 62% on Passing Downs.
Moreover, the Pack finished that game with a 98% Postgame Win Expectancy. They allowed UConn only two scoring opportunities (drives past the opponent's 40-yard line), with the Huskies coming away with seven points on those drives.
NC State generated five such opportunities and produced 24 points, good for 4.8 points per opportunity, which would've ranked fourth nationally in 2022 (Ohio State, Washington, Tennessee, Alabama).
NC State had 23 first downs to UConn's 15. The Wolfpack outgained the Huskies 364 to 273.
That's a rock-solid road victory for a team that wasn't really trying. UConn didn't prove that NC State's defense, or offense, is suspect. If anything, the Huskies proved the opposite, getting bailed out by one explosive play.
Yes, NC State's defense is replacing some talent and will take a step back. But the Pack featured a dominant rush defense last season (fourth nationally in Rush Success Rate Allowed, third nationally in Standard Downs Success Rate Allowed), so they can survive some regression and still be a top unit.
Most of the lost production comes in the linebacking unit, too. The defensive line is fine, as it lost only one starter (Cory Durden) and a backup, while returning Savion Jackson from injury and adding Cincinnati transfer Noah Potter. The Pack can go toe-to-toe with the Notre Dame offensive front.
Estime ran all over two essentially non-existent teams. Hartman has passed all over two essentially non-existent teams. Both are about to take a monster step up in competition, and it won't be a walk in the park.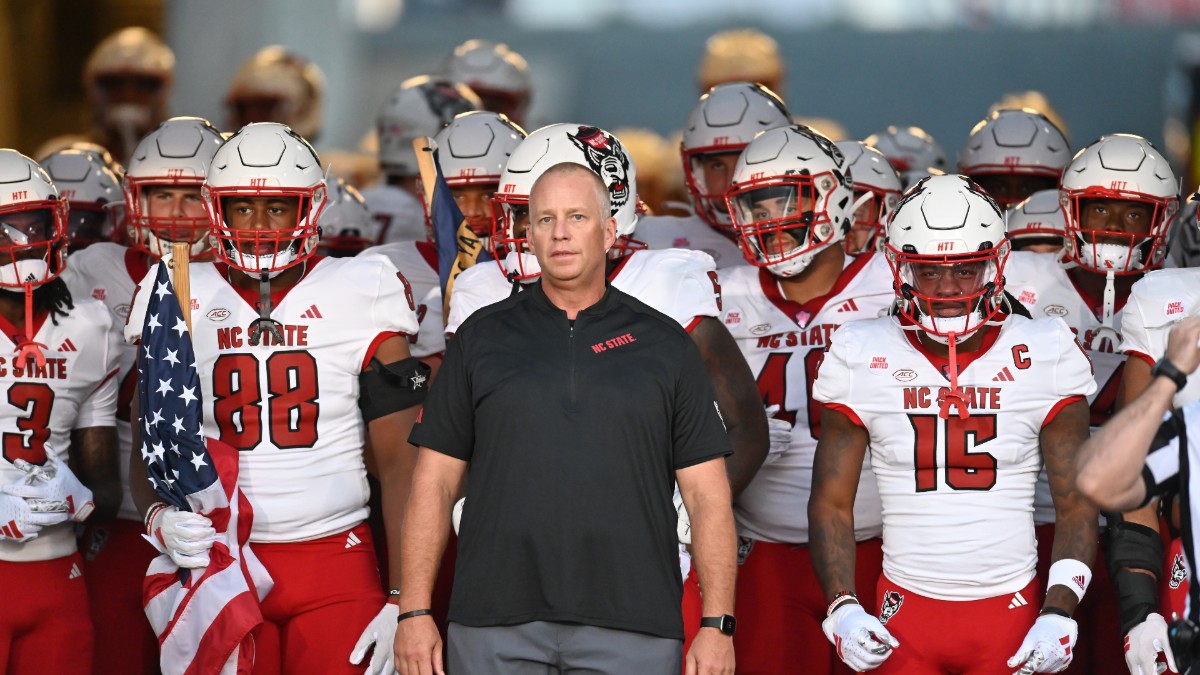 ---
Ianniello: Bet Notre Dame -7
Even if you throw out the two early cupcakes, Notre Dame is a consistent top-25 team that just added a Heisman-caliber quarterback, a talent-level under center it hasn't had in nearly 20 years. Whether you put stock into the first two games or not, he elevated this team's ceiling the moment he stepped on campus.
Hartman and this Notre Dame offense now have the balance to beat teams through the air and on the ground. I expect the Irish to take the top off of this inexperienced Wolfpack secondary and run the ball like they always do.
NC State is replacing its quarterback with a guy that it's hoping will regain his old form. He certainly didn't show in Week 1, though. This Irish's defense will be able to slow down the running game, and they have terrific corners that will force Armstrong to make mistakes — as he's commonly done in the past.
I get it. Notre Dame fans are annoying, they're fun to root against and Rudy jumped offsides. But the Fighting Irish have the better quarterback, running back, offensive line and defense.
They will pull away in this one.
---
As mentioned, this is an excellent situational spot for NC State. It will be far better prepared than Notre Dame, and I expect the Wolfpack coaching staff to scheme circles around Freeman and Hartman.
The Wolfpack looked fine, if not good, against UConn and will pull out all the stops for Week 2.
If you have any remaining doubts about NC State's offense, look at what Anae and Armstrong did in 2021. The combo put up 514 YPG and 35 PPG. They can do it again.
Meanwhile, we need to pump the breaks on Notre Dame. It's not some wagon because it waxed Navy and Tennessee State. We don't know what's in store for the Hartman-led Irish, but the market values them like they're penciled in for a CFP appearance.
This game will be much more competitive than Mike and the public (because he's a square) expect.
Besides, everyone knows taking the touchdown home 'dog is sharp. I'm the eldest sharp!
How would you rate this article?
This site contains commercial content. We may be compensated for the links provided on this page. The content on this page is for informational purposes only. Action Network makes no representation or warranty as to the accuracy of the information given or the outcome of any game or event.