NCAAF Odds, Predictions: BJ Cunningham's Week 2 Picks for Oregon vs. Texas Tech & More (Saturday, Sept. 9)
Credit:
Photo by Josh Hedges/Getty Images. Pictured: Tyler Shough (Texas Tech)
Week 2 is here, and that means a better understanding of teams across the nation, creating more potential betting value.
I'm breaking down five top spots for Week 2, including picks, odds and predictions for Oregon vs. Texas Tech and more.
Dive in below and get set for another great week of football.
---
BJ Cunningham's College Football Best Bets
The team logos in the table below represent each of the matchups that Action Network senior writer Collin Wilson is targeting from Saturday's slate of games. Click on the team logos for any of the matchups below to navigate to a specific bet discussed in this article.
Game
Time

(ET)

Pick
12 p.m.
12 p.m.
3:30 p.m.
7 p.m.
7:30 p.m.

Specific betting recommendations come from the sportsbook offering preferred odds as of writing. Always shop for the best price using our NCAAF Odds page, which automatically surfaces the best lines for every game.
---
Notre Dame looks to move to 3-0 on the season when it takes on NC State in Raleigh on Saturday.
Sam Hartman has taken South Bend by storm in his first two games and now has Irish fans thinking about the College Football Playoff. However, I think we need to pump the brakes given the competition they've faced.
After playing Navy and Tennessee State, this will be Notre Dame's first big test before it squares off against Ohio State in Week 4.
NC State had a real lackluster performance on the road at UConn, coming away with a 24-14 win. The Wolfpack are coming off an 8-5 season, which was a disappointment given the hype surrounding them going into the season.
They have to replace quite a bit of production on both sides of the ball, so it may take a bit for them to find their stride.
Let's dive into the odds for Notre Dame vs. NC State and find a betting pick and prediction in this college football betting preview on Saturday, Sept. 7.
---
Hartman has put up two outstanding games against Navy and Tennessee State. He's gone 33-for-41 for 445 yards and six touchdowns. So, as you can imagine, his PFF passing grade sits at a staggering 91.2 through two games.
Hartman has been one of the best quarterbacks in college football for a few years now after putting up fantastic numbers for Wake Forest. In his time in Winston-Salem, Hartman posted an 87.5 PFF passing grade, averaged 8.5 yards per attempt and had 70 big-time throws in three seasons.
The question with Hartman isn't so much about his talent but rather about how he would perform changing schools and offensive systems. But so far, that hasn't been an issue.
However, once he faces a decent secondary, things may not be as easy as they've been for him so far.
Coming into the season, Notre Dame returned just one of its top four pass-catchers from last season and lost one of the nation's best tight ends in Michael Mayer.
The good news for Hartman is he has a great offensive line in front of him with two NFL-caliber tackles.
The Notre Dame defense gave up a lot of chunk plays last year, but it was one of the best teams at preventing teams from scoring once they had the opportunity. The Irish finished last season fifth in the country in Finishing Drives and will have eight starters returning.
They're stacked at linebacker with their top three players coming back. Plus, head coach Marcus Freeman added transfers on the defensive line and in the secondary to help maintain the level of production they had last season.
---
NC State is going to have a lot of new faces on the offensive side of the ball, and one of them is a familiar one in Virginia transfer Brennan Armstrong.
Armstrong is one of the most fascinating quarterbacks in college football because of the variance he plays with.
Two years ago, he was one of the most dynamic quarterbacks in the country, putting up a PFF passing grade of 90.9 with 35 big-time throws while also averaging 7.6 yards per carry on the ground.
But last season, he changed offensive systems and played behind a terrible offensive line that put him under pressure on 40.4% of dropbacks. As a result, his PFF passing grade dropped all the way down to 56.7 and he averaged only 6.6 yards per attempt.
For Armstrong to be successful, it's pretty clear he needs a good offensive line in front of him — or at least one that doesn't put him under duress on over 40% of his dropbacks.
Only two starters and 63 starts came back on an offensive line that was 31st in terms of PFF pass-blocking grade.
Armstrong found himself under pressure on 37.8% of his dropbacks against UConn, so it may be another long season if that holds up.
It doesn't help that NC State lost three of its top four pass-catchers as well.
The Wolfpack couldn't run the ball to save their lives last season. They averaged just 3.3 yards per carry while ranking 116th in EPA/Rush and 111th in Offensive Line Yards.
They do return their top back in Jordan Houston, but with only two starters back on the offensive line, it's hard to see them being effective against a solid Notre Dame front seven.
The Wolfpack defense is going to have to replace some production. They lost five of their top six tacklers from on a unit that was one of the best in the nation against the run and ranked inside the top five in Defensive Line Yards, Stuff Rate and rushing explosiveness.
The defensive line should maintain the same type of production after adding some high-value transfers, but the linebacking room and secondary took big hits, so it may be a long day against Hartman.
---
Hartman could not have played better in his first two games. However, this is going to be a much better defense, and it's one he's struggled against in the past.
NC State defensive coordinator Tony Gibson has somewhat had Hartman's number, as the quarterback has thrown six interceptions and held an average PFF passing grade of 73.1 in those three meetings.
The Wolfpack aren't going to be able to run the ball, so it's up to Armstrong to beat a good Notre Dame secondary through the air. The good news for Armstrong is he's back with his old offensive coordinator from Virginia, Robert Anae.
But if he's going to constantly be under pressure, he's not going to be effective.
I only have 45.2 points projected for this game, so I like the value on under 51 points and would play it down 49.
---
---
Georgia looks to extend its win streak to 19 games when it takes on Ball State in Athens on Saturday.
Ball State opened up its season against another SEC foe in Kentucky in Week 1. The Cardinals looked like they were going to cover until this happened:
The Cards are projected to be a mid-level MAC team. While they're almost assuredly not going to win this game, they do have some talent that could help them cover.
Georgia took care of business in its opening game against Tennessee Martin, 41-7, but failed to cover as 50-point favorites.
The Bulldogs have one of the easiest schedules in the SEC, and they legitimately may not be tested until Nov. 18 when they travel to Knoxville to take on Tennessee.
They have South Carolina on deck, so it's all about about getting past Ball State on Saturday.
---
Ball State lost its opener to Kentucky, 44-14, and we saw two different quarterbacks in Texas State transfer Layne Hatcher and true freshman Kadin Semonza.
At the time of writing, Mike Neu has not named a starter and has said both quarterbacks — along with rushing threat Kiael Kelly — will see action against Georgia.
He hasn't named a starter because Semonza was slinging it after he took over for Hatcher, going 15-of-20 for 166 yards and a touchdown. However, whoever sees action is going to struggle against one of the best secondaries in the nation.
Ball State really struggled to run the ball against Kentucky, averaging just 1.8 yards per carry.
The unit should improve, though, as Neu landed first-team All-MAC running back Marquez Cooper from Kent State in the offseason.
Cooper stands at just 5-foot-7 but is incredibly difficult to tackle. He forced 81 missed tackles and had 43 runs over 10 yards last season. Both of those numbers were good enough to rank top-10 in the country.
The Ball State defense did a great job limiting big plays and defending in its own territory last year. The Cardinals ranked 12th in explosiveness allowed and 41st in Finishing Drives Allowed.
They return seven starters, with the majority coming back in their front seven. The main problem is that their secondary could get torched in this game.
---
What more can you say about Georgia other than it's now the best program in the country?
There are some new faces on the offensive side of the ball, as Stetson Bennett has finally moved onto the NFL. That means last year's backup, Carson Beck, will take over as the starting quarterback.
Beck was close to perfect in mop-up duty last season, going 26-of-35 for 310 yards and four touchdowns. He wasn't a top-tier recruit coming out of high school as a four-star prospect and the fifth-ranked pro-style quarterback.
He put up a solid performance against Tennessee Martin, but there are a few concerning signs. He went just 3-of-12 on throws over 10 yards and put up a PFF passing grade of just 68.8, which you'd expect to be better considering he was pressured on only three of his 35 dropbacks against an FCS defense.
Georgia's top running back, Daijun Edwards, missed the opener, but at the time of writing, it looks like he's probable to play in this game.
Edwards was a beast last season, averaging 5.5 yards per carry in tandem with Kenny McIntosh. With Edwards being the lead back now, he should be able to flourish, but I wouldn't be surprised if Kirby Smart limits his carries.
The Georgia defense was incredible last season outside of one game against Ohio State. The Bulldogs finished top-10 in Success Rate Allowed, Finishing Drives Allowed and EPA/Play Allowed.
They return seven starters and four of their top five tacklers from last season, so they'll once again be among the nation's best.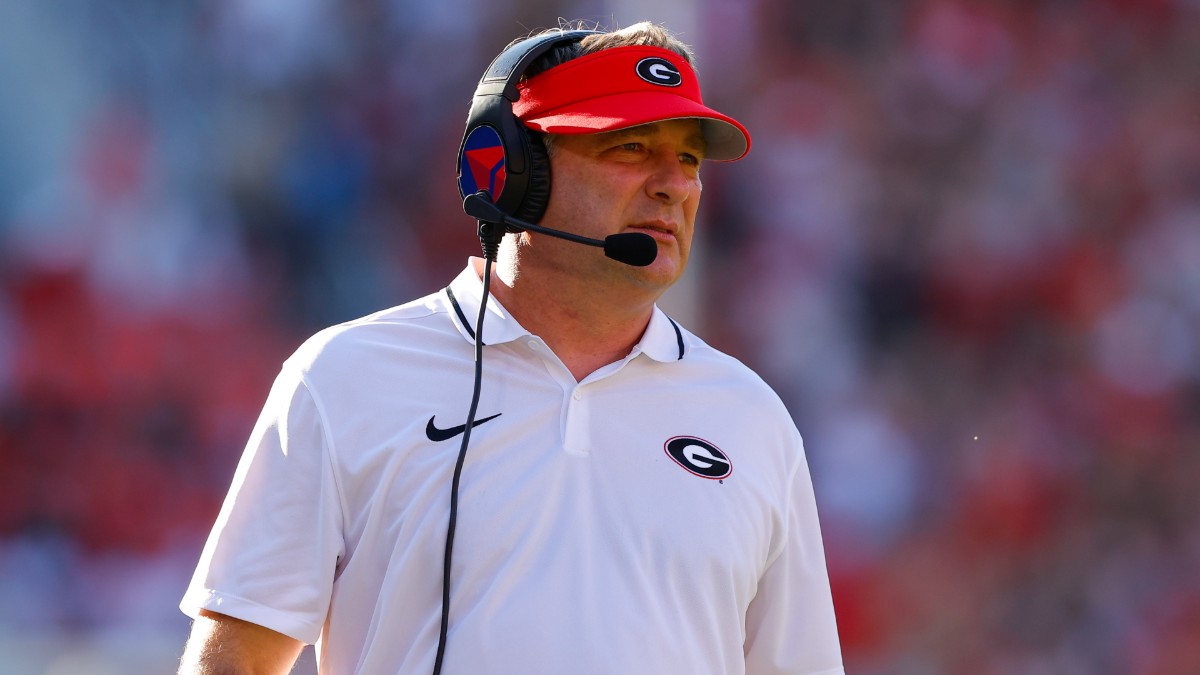 ---
Ball State's final score against Kentucky was a tad misleading, and the Cardinals really should have covered. But Kentucky simply took advantage of its scoring opportunities while Ball State didn't.
The Cardinals had six drives end inside Kentucky's 40-yard line, but they came away with only seven points.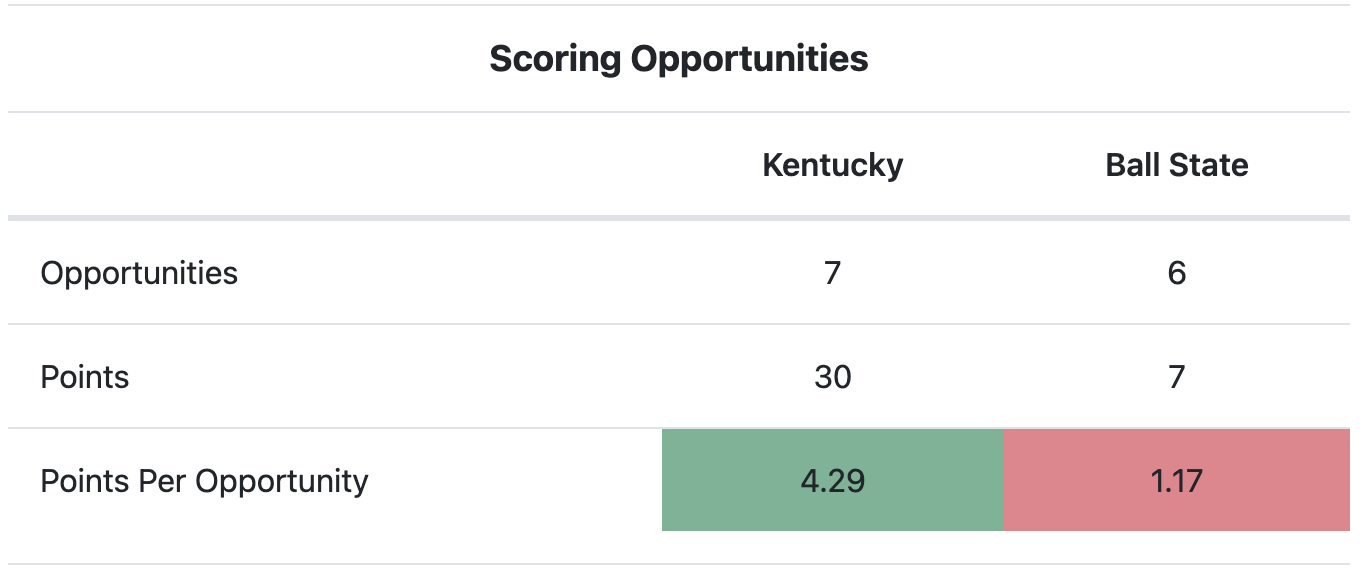 The Cardinals are at least capable of moving the ball on an SEC defense. They may not be able to do it against Georgia's starters, but once the backups come in, they should have a great shot here to cover.
Plus, Smart hasn't been great at covering as a huge favorite.
I only have Georgia projected as a -37.8 favorite, so I like the value on Ball State at +43.5 and would play it down to +42.
---
---
The battle for the Cy-Hawk Trophy takes place in Ames this year, as the Iowa Hawkeyes battle the Iowa State Cyclones.
Iowa started out hot before the offense went back to what we've seen over the past few seasons. It beat Utah State, 24-14, but it was hardly an impressive victory.
The Hawkeyes lost this game to Iowa State last season because of extremely poor offensive play, and that unit can't get going again, Iowa State may make it two in a row.
It's unfortunate, but all of the news with Iowa State is happening off the field. Quarterback Hunter Dekkers, along with a couple of other players, have either been suspended or are awaiting a decision from the NCAA for gambling violations.
The Cyclones won their opening game against Northern Iowa, 30-9, which is a positive. But it's going to be really hard for them to get to a bowl game if they're going to be without their starting quarterback for the duration of the season.
Let's take a look at the odds and find a pick and prediction for Iowa vs. Iowa State in the college football betting preview in Saturday, Sept. 9.
---
Cade McNamara was perfectly fine in the opener, but he's dealing with a quad injury that he admitted this week is going to keep him limited. He went 17-for-29 for 161 yards and two touchdowns with a PFF passer rating of 74.5 in the win over Utah State.
The level of improvement on the offensive line is the main thing that matters for the Hawkeyes.
Last season, Iowa was very inexperienced, and it fielded one of the worst offensive lines in Kirk Ferentz's tenure as head coach. Iowa finished 126th in PFF pass-blocking grade and 54th in PFF run-blocking grade, despite Iowa typically being among the nation's elite at developing offensive linemen.
McNamara was pressured on 16.1% of his dropbacks against Utah State, which is an improvement for the Iowa offensive line.
Iowa's defense was historically strong last year, as the Hawkeyes finished second in EPA/Play Allowed, third in Finishing Drives and allowed just 4.1 yards per play, which was the best in the nation.
They played a fantastic game against Utah State in the opener, holding the Aggies to just 4.6 yards per play and just 14 points on their five trips inside the 40-yard line.
There was a potential void at linebacker after Jack Campbell and Seth Benson departed, but the Hawkeyes brought in Virginia middle linebacker Nick Jackson — who has compiled over 300 tackles in his career — to help fill that.
The secondary was a huge strength for the Hawkeyes last season, ranking inside the top five in EPA/Pass Allowed, Passing Success Rate Allowed and PFF coverage grade.
The secondary loses two key starters, but Cooper DeJean and Quinn Schulte are back. Plus, five-star recruit Xavier Nwankpa is now a full-time starter and picked off a pass in Week 1, so there really shouldn't be a steep drop-off in this unit.
---
The Cyclones' final score against Northern Iowa is a bit misleading. Iowa State actually got outgained by the Panthers and had fewer trips inside the 40-yard line than UNI.
The difference was Iowa State capitalized on theirs, and Northern Iowa didn't.
With Dekkers out of the lineup, starting quarterback duties fell to redshirt freshman Rocco Becht. Becht didn't attempt many passes, as Iowa State handed the ball off on 27 of its 45 plays on offense. He finished 10-of-13 for 113 yards and two touchdowns, but it was pretty clear Iowa State didn't want to show anything to Iowa on film.
Iowa State lost Xavier Hutchinson at wide receiver after he caught over 100 balls last season but returned the next three pass-catchers and added Eastern Kentucky transfer Jayden Higgins.
Without Dekkers, this offense is going to be built on running the ball, which is something the Cyclones could not do last season. Iowa State averaged only 3.3 yards per carry as a team while rankong 123rd in Rushing Success Rate and 126th in EPA/Rush.
The Clones do return four offensive linemen, but this is a line that finished 126th in Offensive Line Yards and 108th in Stuff Rate Allowed last season.
Six starters return on the defensive side of the ball, but they lose both of their starting defensive ends, including first-team All-Big 12 performer Will McDonald IV.
Iowa State brings back its two top tacklers and loses only one member of the secondary, so McNamara may have a difficult time throwing the ball against a unit that ranked 11th in coverage grading last year.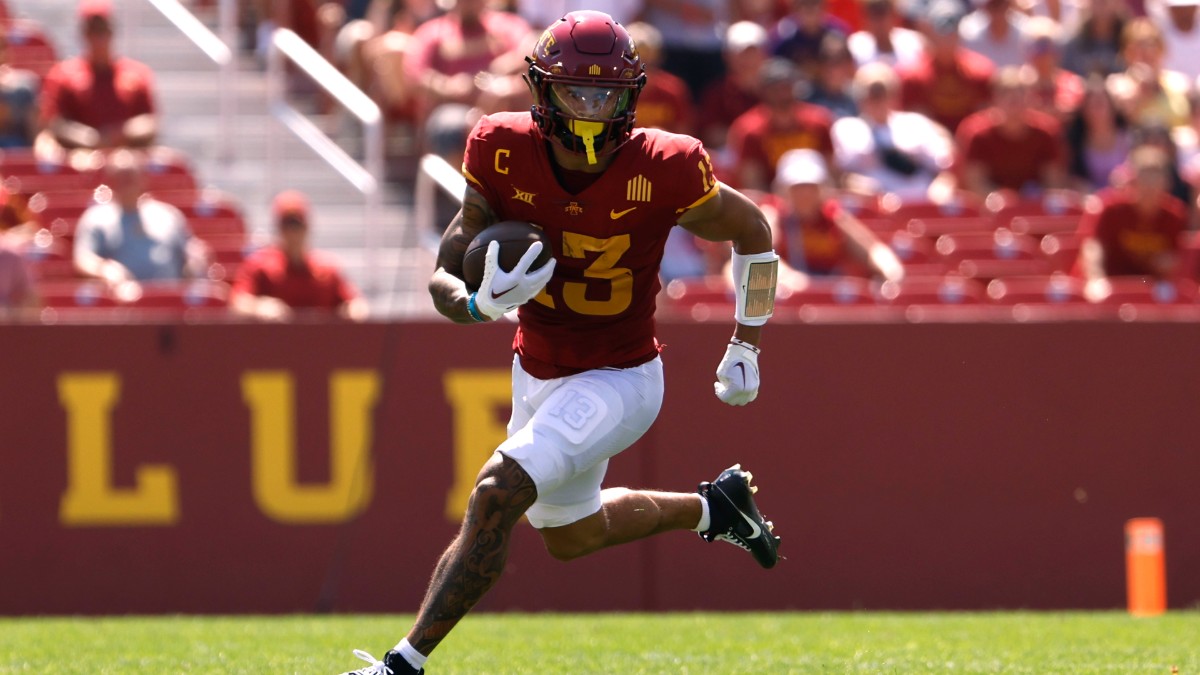 ---
The Iowa offense needs to improve even with McNamara limited. Establishing the run is going to be key here because that will free up space in the secondary for McNamara in the passing game.
Iowa State's 21-point victory over UNI in the opener was pretty fraudulent given the facts that it got outgained, ran only 45 offensive plays and had only four drives end up inside Northern Iowa's 40-yard line.
With Dekkers out, this offense is extremely limited. After starting one game against an FCS opponent, Becht will now face what was a top-five secondary last season.
That means Iowa State is going to have to find success on the ground to move the ball, which it hasn't been able to do consistently as one of the worst teams in the Power 5 in that area.
Therefore, I'll lay the 3.5 with Iowa, which has the better defense and better quarterback.
---
---
Oregon travels on the road for a tough test in Lubbock to take on Texas Tech in what should be one of the most exciting games of the weekend.
The Ducks put 81 points on the board against Portland State in the opener, which really isn't a shock when you consider the amount of talent they have returning. The Ducks are poised to win the Pac-12 in their final season with Bo Nix under center, but if they want to put their name in the College Football Playoff picture, they have to win this game.
Texas Tech lost outright as a 14-point favorite in Laramie to Wyoming in Week 1. The offense came out firing and scored back-to-back touchdowns in the first quarter, but then was only able to score three more points in regulation before losing in double overtime.
The Red Raiders are going to be one of the most fast-paced teams in the country, but are they a live underdog here at home against the Ducks?
---
Nix season is in full effect right now. The Ducks are set up to once again be an offensive force in the Pac-12. Nix had a fantastic year last season, and it was an offense that fit him very well.
The Oregon offense isn't built on big plays down field. The Ducks used the short passing game better than anyone, which allowed Nix to flourish. He led college football with an 82.7% adjusted completion percentage and only had 16 big-time throws for the entire season.
In fact, 71% of his pass attempts were less than 10 yards in the air. Oregon ended up ranking fifth in Passing Success Rate, but 128th in Passing Explosiveness.
He gets four of his top-five pass catchers back, so he's set up very well to have success again.
The rushing attack was amazing last year, ranking second in the entire country in Rushing Success Rate and EPA/Rush. The Ducks get their top two running backs back and 96 starts across the offensive line, so this offense is loaded once again.
The defense had some major issues last year, which is putting it lightly. Oregon allowed a whopping 5.8 yards per play, ranked 99th in Success Rate Allowed and 108th in Finishing Drives Allowed.
They struggle against both the run and the pass.
And with only eight starters returning, I have a hard time seeing how they're going to slow down Texas Tech's offense.
---
The Red Raiders played at one of the fastest paces last season, averaging 87 plays per game and 20.2 seconds per play, which is not shocking with Zach Kittley as the offensive coordinator. The former Houston Baptist and Western Kentucky offensive coordinator runs an up-tempo Air Raid system that can give any defense problems.
The thing is that Texas Tech was really good offensively when Tyler Shough was the quarterback. He got hurt in the Red Raiders' first game against Murray State, but returned and started the final four games of the season. One of those starts was 458-yard passing performance against Oklahoma.
Shough will certainly benefit from all 11 starters returning on offense and now being comfortable in Year 2 of Kittley's system.
Against Wyoming, the Red Raiders were fine moving the ball until they got in Wyoming territory. They only were able to get 20 points off of seven trips inside the Wyoming 40-yard line, with their kicker missing three field goals.
The Texas Tech defense was actually above-average, finishing 31st in Success Rate Allowed, 48th in EPA/Play Allowed and 33rd in Finishing Drives Allowed.
The defense is only returning six starters, but the Red Raiders added a lot of transfers with starting experience, so there really shouldn't be too big of a drop-off.
Despite giving up 35 points, they held Wyoming to just 4.1 yards per play and limited Wyoming quarterback Andrew Peasley to 18-of-34 for 149 yards through the air.
---
This is a revenge game for Shough, who transferred to Texas Tech after getting beat out for the starting job at Oregon.
Nix and the Oregon offense are a dangerous combination, but Texas Tech being above-average in Passing Success Rate Allowed and EPA/Pass Allowed is a good match — especially when Nix isn't able to take advantage of the Red Raiders' one weakness last year, which is giving up chunk plays in the passing game.
The Texas Tech offense should start to show improvements in Year 2 of Kittley's offensive system. That's especially the case when going up against a defense that was quite frankly terrible.
This is a classic situational spot to buy low on the Red Raiders at home when they're coming off an embarrassing loss. I like Texas Tech at +6.5 or better.
---
---
Arizona travels to Starkville looking for revenge after last season's 39-17 beatdown in Tucson.
The Wildcats took care of business in their opening game and beat Northern Arizona, 38-3.
Arizona narrowly missed out on a bowl game last year, but winning just three games in the Pac 12 is cause for concern.
The offense will again be dynamic with Jayden de Laura at quarterback, but can the defense stop anybody?
Zach Arnett is the new head coach at Mississippi State after Mike Leach tragically passed away last year. Arnett was previously defensive coordinator and oversaw a lot of improvement from the Bulldogs' defense.
Offensively, Mississippi State will be making a pretty drastic change, going away from the Air Raid in favor of a more balanced attack.
---
De Laura is back at quarterback and remains extremely erratic. He had 29 total touchdowns last year, but threw 13 interceptions and fumbled 13 times.
He also really struggled against Mississippi State last season, going 23-for-45 for 220 yards with three interceptions.
He averaged 8.4 yards per attempt, but put up a PFF passing grade of just 72.7 because of all the turnovers.
Seven other offensive starters return, including most of the skill-position players. Top back Michael Wiley, who averaged a whopping 6.8 yards per carry, returns alongside five of the top six pass catchers.
The only problem with the offense is it brings back just three starters on an offensive line that struggled and ranked outside the top 70 in both PFF run blocking and pass blocking grades.
Arizona couldn't stop anybody last season. The Wildcats allowed 6.5 yards per play while ranking 130th in Success Rate Allowed, 129th in EPA/Play Allowed and 123rd in Finishing Drives Allowed.
The Wildcats bring back just three starters on defense, and even though they brought in a few transfers, I don't know how they're going to stop Mississippi State's offense.
---
Mississippi State is going through a transition period on offense as it shifts to a more balanced attack.
Offensive coordinator Kevin Barbay comes over from Appalachian State, where he had a run rate over 55%. It will also be a new system for quarterback Will Rogers, but that may be a benefit.
Rogers posted a 72.5 PFF passing grade last year, but threw the ball over 40 times per game. Meanwhile, Barbay's App State offense ranked top-25 in both Rushing Success Rate and EPA/Rush last season.
Top running back Jo'Quavious Marks returns after averaging 5.2 yards per carry and helping Mississippi State rank in the top 50 in Rushing Success Rate last year.
In addition to Marks, 113 starts return on the offensive line. So, although this offense will look different, it should be pretty solid.
Arnett turned Mississippi State into a formidable defense last year — the Bulldogs finished top-40 in Success Rate Allowed, EPA/Play Allowed and Finishing Drives Allowed. They return only four starters, but their top three tacklers and most experienced defenders are back, which is huge when there are a lot of new faces.
---
Arizona may have the better quarterback in this matchup, but given how unbelievably awful the Wildcats were defensively last season, I don't have much confidence in them hanging with Mississippi State.
Mississippi State is going through an offensive transition, but I think that will benefit Rogers as he gets more help from the rushing attack.
I have Mississippi State projected as a -17.3 favorite, so I like the value on the Bulldogs at -9 (BetMGM), and I would play it up to -13.
How would you rate this article?
This site contains commercial content. We may be compensated for the links provided on this page. The content on this page is for informational purposes only. Action Network makes no representation or warranty as to the accuracy of the information given or the outcome of any game or event.