Georgia Southern vs. Louisiana Tech New Orleans Bowl Betting Odds & Picks: Time to Fade the Bulldogs (Wednesday, Dec. 23)
Credit:
David J. Griffin/Icon Sportswire via Getty Images. Pictured: Georgia Southern quarterback Shai Werts.
Georgia Southern is favored over Louisiana Tech in Wednesday's New Orleans Bowl.
Can the Eagles cover the 5.5-point spread against a Bulldogs team that has possibly the worst offense of any bowl-eligible team?
Stuckey breaks it all down for you on the Bayou and gives his best bets:
Georgia Southern vs. Louisiana Tech Odds
We saw Appalachian State kick off bowl season with a lopsided victory over North Texas. That took its current bowl winning streak to six, tying Louisiana Tech for the nation's longest streak.
The Bulldogs will look to take back sole possession of that record Wednesday with a victory over Georgia Southern in the New Orleans Bowl.
Let's take a closer look at the matchup and how I'm attacking this game from a betting perspective.
Georgia Southern Eagles
The Eagles finished the regular season with a 7-5 record in a campaign characterized by close games. Nine of their 12 games were decided by a single possession. Half of those did come against bowl teams, but Georgia Southern only managed to finish with a 1-5 record in those games.
However, the Eagles were in every contest:
Lost to Louisiana on a last-second 53-yard field goal
Were tied 14-14 with Coastal Carolina in the fourth quarter
Lost to Army by one after a blocked XP and time running out on a field goal attempt
Blew a double-digit fourth-quarter lead to Georgia State
Beat Florida Atlantic, 20-3
Were tied going into the fourth quarter with App State before losing QB
Georgia Southern was tied or led in the fourth quarter of all 12 games.
If you're not familiar with the Eagles, they run a triple-option offense that averaged 5.4 yards per carry (12th nationally). They boast a senior-laden backfield that benefits from a strong offensive line, ranking 22nd in Line Yards and 14th in Stuff Rate, per Football Outsiders.
Georgia Southern should dominate the line of scrimmage against a Louisiana Tech defensive line that ranks below average in both metrics.
The biggest question headed into the game is who will play quarterback. Senior starter Shai Werts, who has missed the past two games with a shoulder injury, is listed on the depth chart along with third-string quarterback Miller Mosley. Second-string quarterback Justin Tomlin was lost to injury last game.
It's worth noting that Georgia Southern did play a bit faster with Mosley in the game for the first time this season last time out against Appalachian State.
It's a complete guess as to who plays how many snaps, but my guess (and it's a complete guess) is we see a rotation as we have in many Georgia Southern games this year. Offensive coordinator Doug Ruse, who took over the job in late November was recently quoted:
"I don't think it's tough to rotate guys," Ruse said. "I know that goes against what a lot of guys will tell you. A lot of people will say if you're playing two (quarterbacks) you don't have any."
I imagine Werts, a senior, will do everything in his power to play. However, from everything I've read, he won't really be able to throw. So, if at any time Georgia Southern needs to throw, we would definitely see Mosley and could regardless.
On the other side of the ball, Georgia Southern has really shined all year. It ranks in the top 35 in Success Rate against both the pass and run. The Eagles' run defense has been particularly strong, holding opponents to just 3.4 yards per attempt, which ranks 20th in the country. The unit features a very stout front seven, led by senior linebacker Rashad Byrd.
The defensive line, which recently got back starting nose tackle CJ Wright from suspension, ranks 15th in Line Yards and eighth in Stuff Rate.
The secondary has been stingy overall from an efficiency standpoint but has allowed a few too many explosive passes. However, that's simply not that big of a concern against Louisiana Tech. Safety Kenderick Duncan also may not suit up again.
Outside of who will play quarterback, one of the biggest concerns I have for Georgia Southern is its special-teams play, which has been horrifying all season.
That's partly due to the fact that Tyler Bass, who kicked the game-winning field goal in the 2018 bowl victory, now kicks for the Buffalo Bills. Freshman Alex Raynor is simply nowhere close to as reliable. The punting has also been subpar.
---
Louisiana Tech Bulldogs
By my most recent power ratings, Louisiana Tech is the worst team to make a bowl. Yes, the Bulldogs did compile a 5-4 record during the regular season, but let's throw out the one win against an FCS opponent (Houston Baptist) and focus on their eight other games.
As you can see from above, Louisiana Tech lost the yards-per-play battle in all eight games against FBS opponents this season. In those contests, the Bulldogs averaged a pitiful 4.16 yards per play. Only Kansas and UMass averaged fewer on the season. I could easily argue Louisiana Tech should've gone 0-8 in those games.
You might be asking yourself how did such a meager offense ranking outside the top 100 in almost every possible offensive category manage to average 24 points per game, beat four FBS opponents and score more than 30 points three times.
Well, an easy schedule helped, but it also took plenty of luck in a few different departments.
Louisiana Tech's anemic offense somehow finished in the top 25 in both Finishing Drives and red-zone production. It also went an insane 16-for-18 on fourth downs, which leads the nation in fourth-down conversion percentage out of all teams with at least two attempts. Neither is sustainable based on its offensive output.
The Bulldogs also had a few non-offensive touchdowns and played a double-overtime game against UAB. This offense scored more than a touchdown per game more on average than what its statistics would imply.
You have to remember that this team had to replace its starting quarterback from last year. Plus, leading rusher Justin Henderson, who ran for more than 1,000 yards in 2019, opted out during the season, as did leading receiver Adrian Hardy.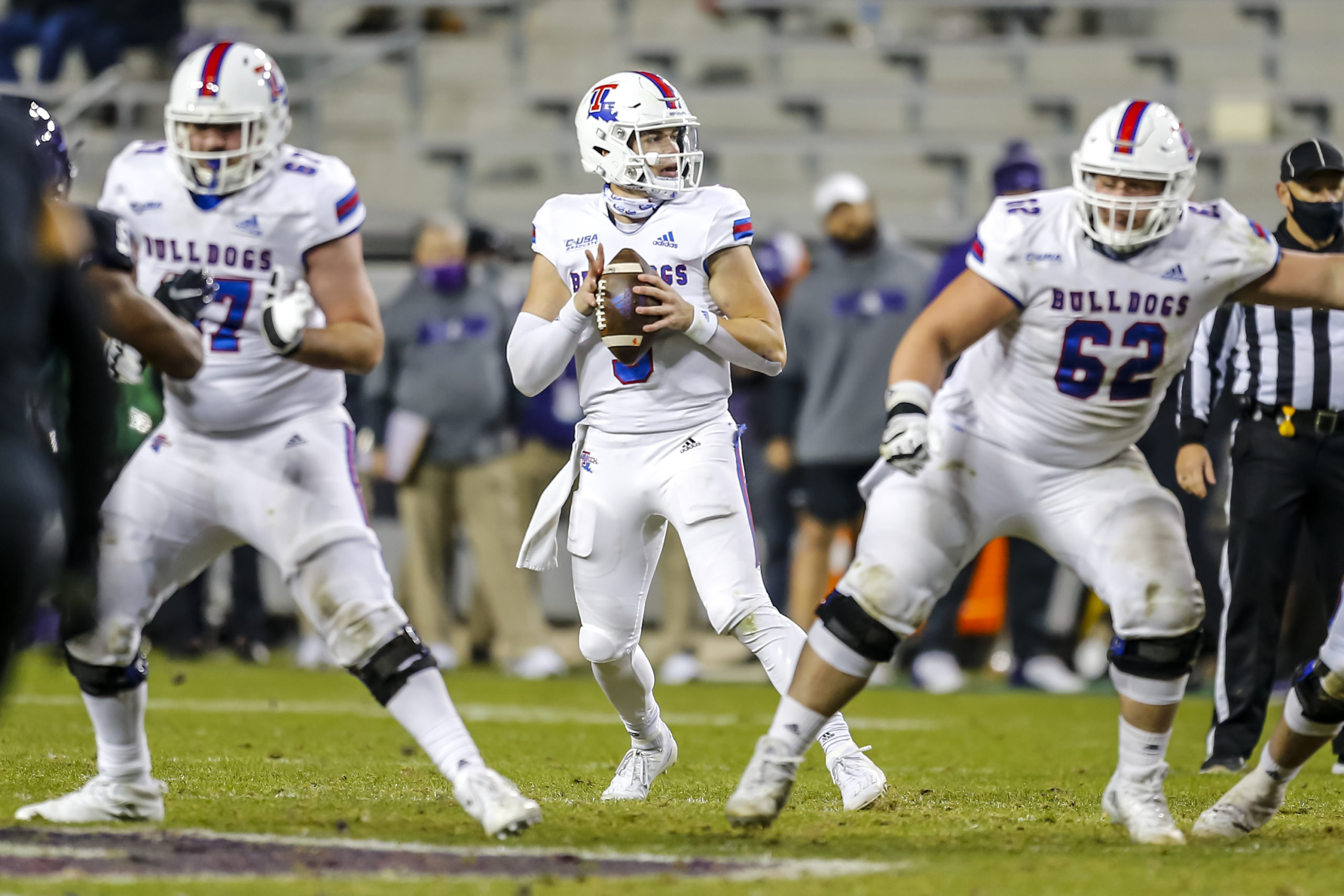 And to adding insult to injury, the Bulldogs lost primary quarterback Luke Anthony to injury toward the end of their last game. They have been playing with two quarterbacks all year, but Aaron Allen has only 97 passing attempts to Anthony's 221 and worse overall metrics.
There just aren't many positive things I can say about this offense. Even the offensive line has been a mess, ranking outside the top 100 in Line Yards and Passing Downs Sack Rate, per Football Outsiders. (Starting left tackle Donavaughn Campbell opted out in mid-November to prepare for the NFL Draft.)
Things weren't as bleak on the defensive side of the ball, but they weren't great either. Louisiana Tech still allowed more than six yards per play, ranking outside the top 90 in most advanced metrics. It did excel at limiting explosive passing plays, but that doesn't mean much against Georgia Southern's triple-option offense.
Betting Analysis & Picks
With Werts at full strength, I make this line Georgia Southern -11. However, with his status and snap count in doubt, I had to adjust this line down but still make it more than a touchdown.
I'm just extremely low on this Louisiana Tech team, which I think has used smoke and mirrors to pull out almost all of its victories.
I also just think Georgia Southern matches up well and should dominate the line of scrimmage on both sides of the ball.
From a pace perspective, Georgia Southern is one of the slowest teams in the nation with Werts under center. Again, it's hard to pinpoint how often he'll play, but I'm projecting him to participate in half the drives, so I do fancy the under here. I simply can't see Louisiana Tech doing much on offense. And that looming fourth down and red-zone regression doesn't hurt.
I respect Skip Holtz and the Louisiana Tech staff, but I have to fade the Bulldogs here.
Pick: Georgia Southern -6 or better | Under 48 or better.  
How would you rate this article?