Pac-12 Win Totals, Futures | Action Analytics 2023 Betting Preview
Credit:
Stephen Lam/Getty Images. PIctured: The Pac-12 logo.
Out of all the Power 5 conferences, no one has done a worse job of protecting its league during realignment than the Pac-12.
Colorado will return to the Big 12, and a number of teams may join. The conference's media rights deal won't do anything to help matters, and I would imagine any program that's able to leave will, in fact, leave.
But now is the time to discuss the upcoming season, not how the conference will be a ravaged shell of itself in two years.
The Pac-12 is coming off another season without a College Football Playoff appearance, with the last coming in 2017. The conference has the best college football player in the country in USC's Caleb Williams, but its other quarterbacks are no slouches either.
Oregon's Bo Nix and Washington's Michael Penix Jr. are not going to go into the night quietly. Those two have been dominating college football headlines for seemingly the last 10 years, and both will be looking to play their way into the first round of the NFL Draft.
Outside of those two, it'll be interesting to see whether or not DJ Uiagalelei can rebuild his career with Oregon State after being pushed out at Clemson.
There are so many interesting storylines this season, and not just from players. The Pac-12 has six teams with over 8.5 wins projected: USC, Oregon, Washington, Oregon State, Utah and UCLA.
This should (possibly) be one hell of a last hurrah for the conference!
---
Brace yourself, Stanford fans. This season is going to be a rough one.
The Cardinal have the perfect trifecta for a dreadful season: a new coach, terrible returning production and a tough schedule.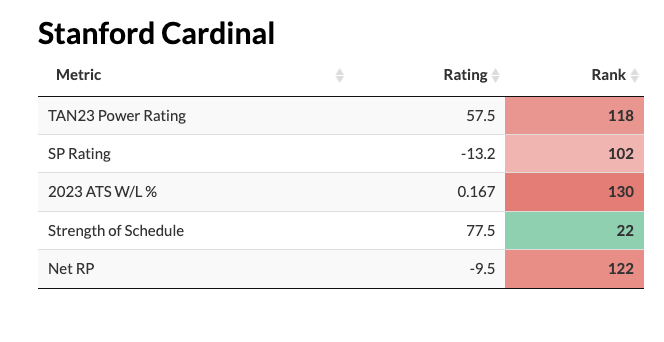 When you dig into the schedule, it's difficult to see where Stanford will pick up wins. Its first game comes against Hawaii on the island, which always a tough game, and then it goes straight into USC.
Its best chance is against Sacramento State and Colorado, but I don't think there's any chance the Cardinal win all three of those games.

They had some of the worst metrics in the country last season, and call me crazy, but I don't see these improving in their first season without David Shaw.
Ironically, new Stanford coach Troy Taylor's old team is Sacramento State, setting up a perfect revenge game for the Hornets. Taylor may have shot himself in the foot a bit with how well he built up the Hornets, seeing as they could easily hand him an embarrassing home loss.

Taylor is a good football coach, and I'm sure he will turn things around. Stanford fans may just have to hold their nose and get through this season.
---
C'mon, you think I was going to talk all that trash about Stanford and not fade the Cardinal in their first game of the season? On the island?
These are two terrible teams, and we have this projected closer to a pick'em. I am happy to take the points with the dog.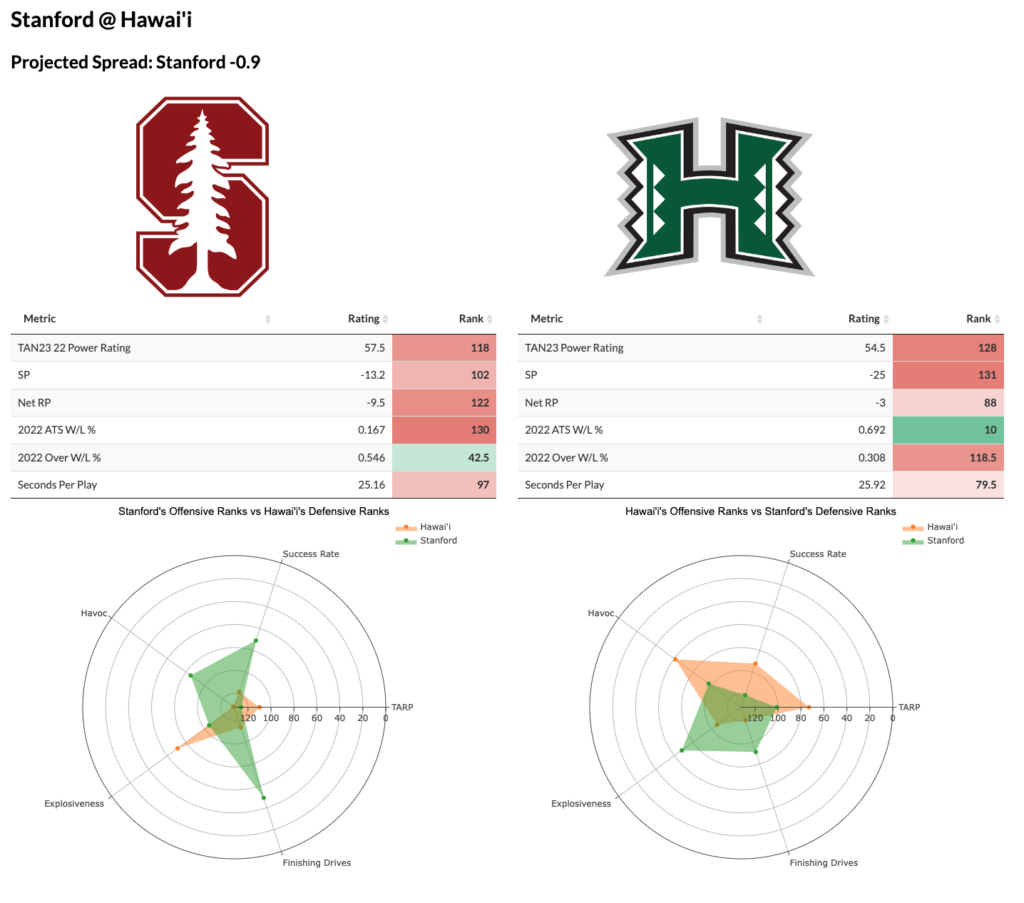 ---
Every factor that applies to Stanford having a brutal season also applies to Colorado. The only difference is that head coach Deion Sanders brought some talent with him.
Shedeur Sanders, Shilo Sanders and Travis Hunter are a good start, but the Buffaloes need some time to gel. This is a completely new roster and coaching staff.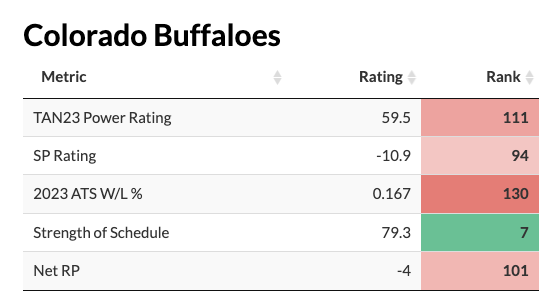 One thing we can be assured of is that the 2023 Buffaloes will look nothing like the 2022 iteration. Because of that, I don't want to look at Colorado's metrics from last season because of the fact that Deion completely cleaned house on the program.
New offensive coordinator Sean Lewis will ensure the offense looks different, bringing one of the fastest paces in the country over from Kent State. If he can harness the athleticism of Sanders and Hunter, this could be an extremely fun team to watch.
Unfortunately for CU, it plays a gauntlet of a schedule.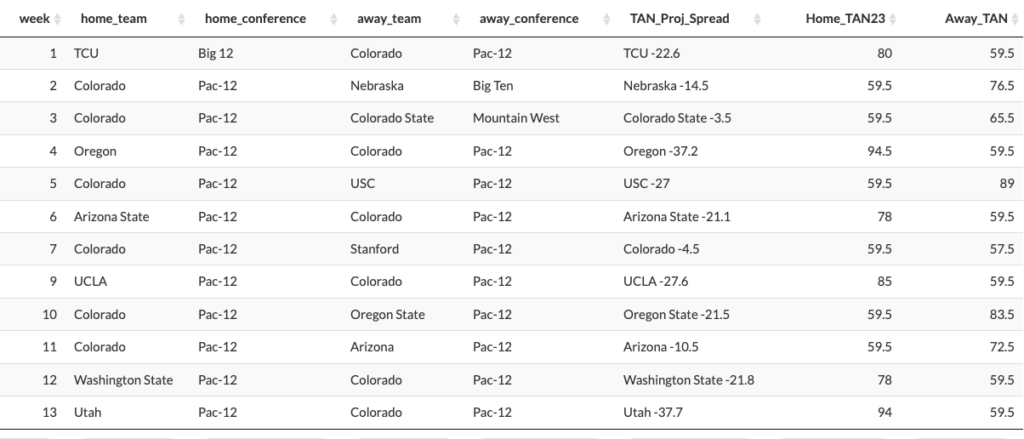 I see exactly four winnable games on this schedule: Colorado State, Stanford, Nebraska and Arizona. And I do not think Colorado goes 4-0 in those games, as I think Nebraska and Arizona are longshots for the Buffs — especially after starting out with TCU, which has every chance to be a demoralizing bloodbath.
And if you read my Mountain West article, you know how I feel about that Colorado-Colorado State matchup.
Add in the fact that the public is all over the Buffaloes, and I'm happy to fade.
---
We talked about Michael Penix Jr. being one of the elite quarterbacks in the nation, and I'm looking at him to rocket onto the Heisman stage.
The Huskies have the perfect start for a stellar season: excellent coaching and production continuity. However, their schedule is a gauntlet, which is not uncommon for the Pac-12 this season.

Looking at their schedule, I see nine probable wins. That leaves three games against Oregon, USC and Utah in flux. If Penix and the Huskies want to make the jump to the Pac-12 Championship and the College Football Playoff, they need to win two of those. To hit 10 wins? They only need one.
And I think this team is more than capable of squeezing one out. Two wins, however, seems like a tall order, which is why I'm taking the Washington win total and nothing else.
Look for the Huskies' high-flying offense to carry them through this schedule. Not only were the Huskies a top-five team in Success Rate, but they also finished second in the country in points per opportunity and first in Havoc.
Most of the offense returns, so expect this team to pick up right where it left off. There are going to be some high-scoring games out West this season.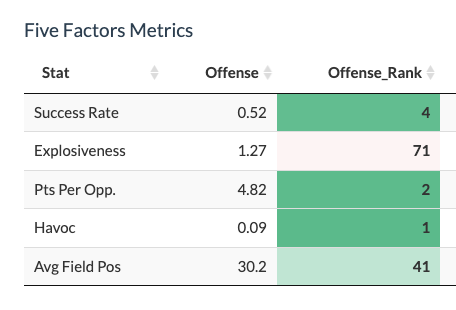 ---
Hopefully we saved the best for last.
The Utes travel to the Swamp to take on the Gators in Week 1, and let me tell you: I'm incredibly excited — both for the game itself and the value on the spread.
As of right now, we have Utah projected at -15.
The Utes return a ton of talent, ranking 10th in net returning production. This is extremely good news for a team with a stellar offense that ranked in the top 20 in Success Rate and Havoc Allowed last season.
Meanwhile, Florida's defense was less than stellar — and it barely brings anyone back.
Billy Napier has a tough job ahead of him in Year 2 because Anthony Richardson isn't going to be bailing him out with superhuman plays in 2023.
I think the Gators are going to be a mess this season, so I'm happy to fade them against a complete, experienced Utah team.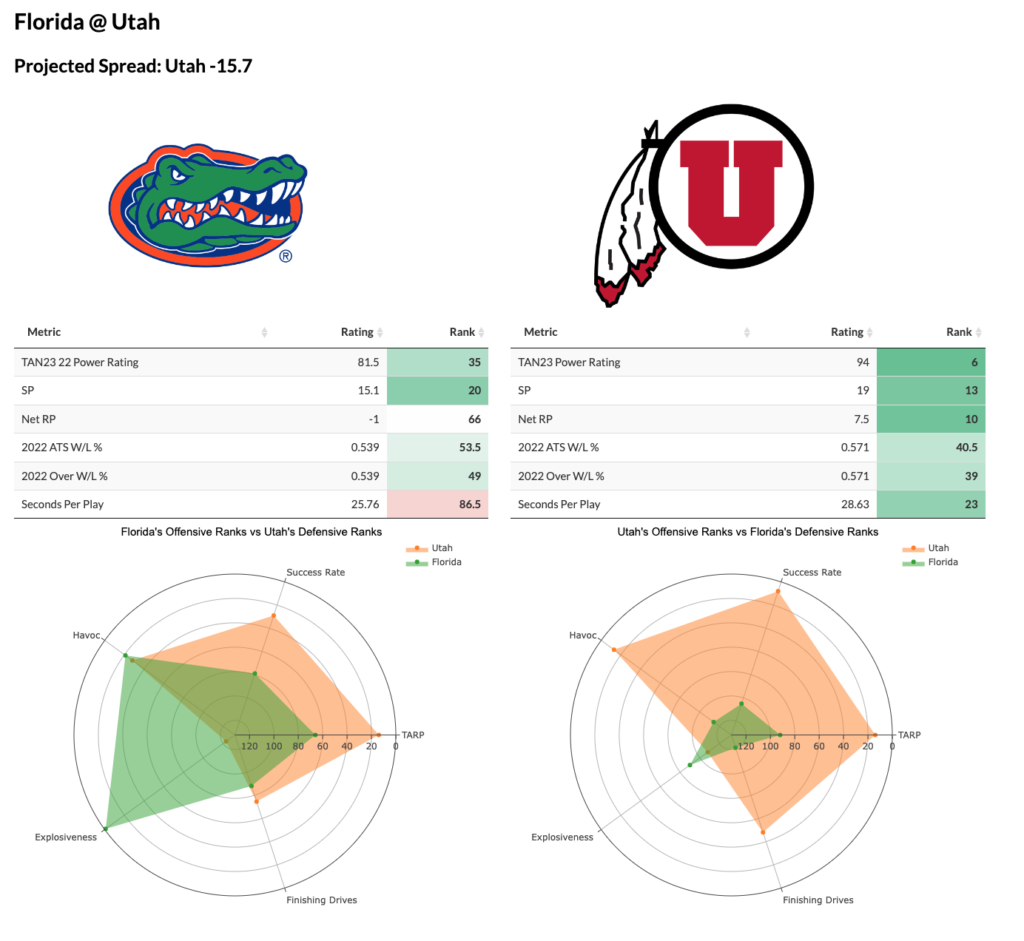 How would you rate this article?
This site contains commercial content. We may be compensated for the links provided on this page. The content on this page is for informational purposes only. Action Network makes no representation or warranty as to the accuracy of the information given or the outcome of any game or event.