Wilson's 2019 Big 12 Betting Guide: Can You Profit Off the Coaching & Scheme Changes?
Credit:
Credit: Kevin Jairaj-USA TODAY Sports. Pictured: Oklahoma Sooners head coach Lincoln Riley.
The Big 12 has gone through constant change as a conference. The end of the Big Eight era came around the same time the Southwest Conference went defunct.
If you are new to the college football landscape, Oklahoma and Texas were not conference opponents until the mid-1990s. Since the formation of the Big 12, Sooners and Longhorns have won or shared the conference title in 15 of 23 seasons.
Based on odds for 2019, Oklahoma and Texas will be right there again. The Big 12 plays a round robin schedule, ensuring a rematch in the conference championship. While the likelihood of the Sooners finishing third in the regular season standings is rare, the second spot in Arlington is definitely up for grabs this year.
This article will look for value in Big 12 championship and division futures, give out my projected win totals compared to what sportsbooks have posted and break down my favorite futures bets for the conference.
The Big 12 Contenders
Defending conference champion Oklahoma has lost three conference games in the past four years. In that same span, the Sooners have lost three College Football Playoff games.
Oklahoma was the first team in College Football Playoff history to cover and not win straight-up as an underdog to Alabama in last year's semifinal.
In our Oklahoma preview, we mention the issues from last season have gotten attention in the offseason. Jalen Hurts transfers from Alabama after two consecutive Heisman winners have transitioned from Norman for the NFL. The offensive scheme may change somewhat to match Hurts' abilities in the RPO and passing game, while the defense will look to 'speed' up.
Defensive coordinator Alex Grinch brings his 'Speed D' scheme, which will focus more on helmets to the football than complex schemes. Oklahoma was dreadful against the pass, ranking 128th in efficiency and 99th in sack rate. Any jump from an S&P+ defensive rank of 84th to the top 65 will be a successful year for Grinch, who is familiar with Air Raid offenses while working under Mike Leach.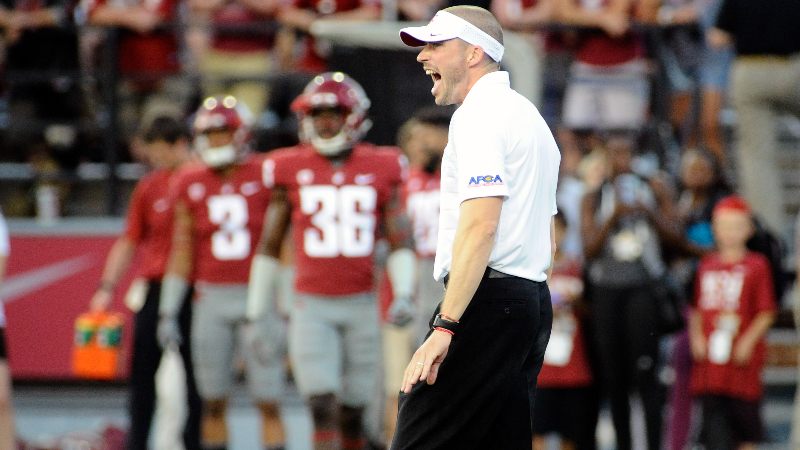 Texas football may have overachieved in 2018. A second-order win total of -1.8 is summary of victories over Oklahoma and Texas Tech. Our Longhorn preview points out plenty of statistical deficiencies, as this was a team that did not have a single touchdown over 50 yards.
The recruiting trail has been hot for Texas, as they have pulled as many highly touted players as Clemson and Georgia over the past two seasons. Those players will need to fill the gaps for a roster that is ranked 121st in returning production.
Iowa State has never won double-digit games in a college football regular season since it started play in 1892. The 1906 and 2000 squads each won 9 games, and an over the total of 8 would be one of the programs best ever teams.
The Cyclones have just four of nine conference games at home, but have a November bye week before facing Oklahoma and Texas. Brock Purdy is a quarterback who can lift Iowa State to new heights.
Purdy gets every offensive lineman back, but will be forced to find new targets with the departures of Hakeem Butler and David Montgomery. Tie-breakers may be critical in deciding the second seed for the conference championship game, which puts games against teams the state of Texas in the spotlight.
Matt Rhule has long been rumored to join the NFL when his tenure at Baylor comes to an end. A 1-11 teardown season in 2017 rebounded to 7 wins and a Texas Bowl victory last year. Rhule has a history of improvement at Temple and now at Baylor, where the roster is 20th in overall returning production.
A defensive S&P+ rank of 85th is nothing to boast about, but defensive coordinator Phil Snow improved from a 2017 mark of 111th. The Bears get both Oklahoma and Texas at home in November.
The Big 12 Pretenders
TCU stepped into fall camp with a quarterback competition large enough to field a baseball team. As of this writing, the decision has come down to a Kansas State transfer and a true freshman.
Starting QB yet to be named at #TCU, but Gary Patterson says Alex Delton and true freshman Max Duggan have separated themselves from the rest of the pack.

— Dean Straka (@DWStraka49) August 14, 2019
Gary Patterson's defense is 111th in returning production, with plenty of losses in a front seven that was 29th in sack rate. The Frogs defense was 22nd in success rate and 14th in third down success rate.
Any drops from the defense in 2019 may require more from an offense that was 109th in IsoPPP and 97th in passing efficiency. The schedule is unkind in Big 12 terms, from just four home games to having Oklahoma State, Oklahoma and Iowa State on the road.
One team getting zero attention since fall practices started is Texas Tech. Matt Wells brings his entire staff from Utah State to improve on the Kliff Kingsbury era. Quarterback Alan Bowman returns with two healthy lungs and has been added to the watch list of multiple awards.
The offensive line returns every starter except at center, where a number of players are competing to start. The Red Raiders start the season off with Montana State and UTEP, which is a great beginning for Wells and a revamped defense.
A team going through complete transition is Kansas State. Bill Snyder retires from the program with North Dakota State head coach Chris Klieman taking over the reigns.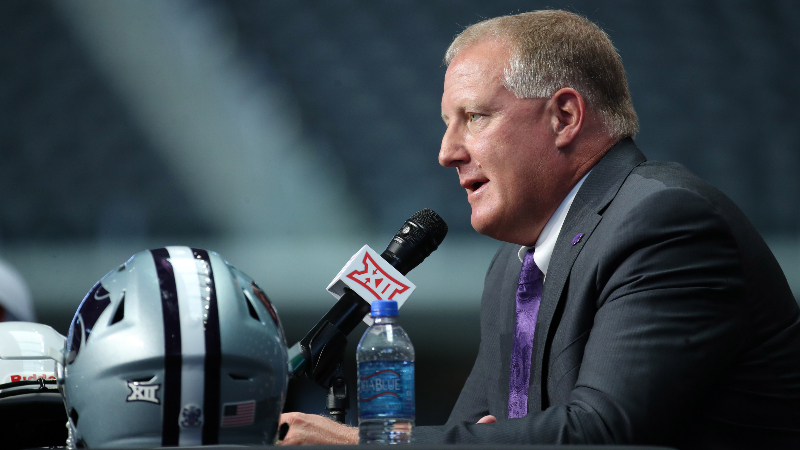 Klieman is best known for winning four of the past five FCS titles. The Wildcats return plenty on both sides of the ball with a returning production rank of 31st, but a scheme change is expected. While Klieman brings his offensive coordinator from Fargo, defensive coordinator Scottie Hazelton comes from Wyoming.
Wyoming was considered tough defensively last season, but there wasn't much chaos. The Cowboys ranked 114th in sack rate and 113th in defensive back havoc. A bowl is expected, but Klieman will be given plenty of latitude through his first few seasons.
The point spread moved an entire 10 points against West Virginia in the Camping World Bowl with the announcement of Will Grier to the NFL. Syracuse dominated a Grier-less Mountaineers team that quickly saw the exit of head coach Dana Holgorsen. A Sun Belt staple in the coaching ranks takes center stage, as Neal Brown comes from Troy with a history of success.
Unfortunately for Brown, the Mountaineers are 105th in returning production and start the season with FCS power house James Madison and a loaded Missouri team. Five conference road games will make it tough for West Virginia to make the post season.
There really are not enough adjectives to describe what has been happening in Lawrence since a 3-9 season concluded last November. Former coach David Beaty is in litigation for wrongful termination, new head coach Les Miles filled the position of offensive coordinator twice, and star running back Pooka Williams was suspended for just one game.
Kansas cycles out plenty of upperclassmen with a rank of 112th overall in returning production. The Jayhawks are projected to be favorites in just two games — both by less than a touchdown — against Indiana State and Coastal Carolina.
Bets to Watch
Oklahoma to Make the Playoff +225: One of my biggest preseason wagers comes on the Sooners to make the playoff once again. To win the Big 12 comes at a price of -140, but this wager would be a 'To win the Big 12 and only have one loss'. With a schedule loaded with inefficient defensive lines, not many will be able to expose the new faces on the offensive lines. Jalen Hurts takes plenty of criticism, but a national championship with a 26-2 record as a starter should not be dismissed. If Alex Grinch can get Oklahoma back to mid-pack, Lincoln Riley may get past the playoff semifinals.
TCU Under 7.5: TCU's loss of Ben Banogu and LJ Collier as edge rushers cannot be understated. The defensive ends accounted for 23.4% of the total team havoc. TCU was held together last season by a fantastic defense and an offense that was only a shade better than Cal in the Cheez-It Bowl. Besides the returning production and toughest conference schedule, TCU had a Special Teams S&P+ rank of 115th that was down from ninth the season before.
Texas Under 9: Tom Herman is an excellent buy as an underdog and fade material as a favorite. Sadly for the Horns, Texas will be a favorite in plenty of games this season. Injuries have started to pile up on a roster that was already thin on experience. Even with excellent recruiting in recent years, this coaching staff has had an offensive IsoPPP rank outside the top 100 the past two seasons.
Kansas Under 3: The Jayhawks project as two touchdown underdogs in the final 10 games of the season. Kansas will be without their best player in the opener against Indiana State, who keeps everyone on a team that just missed the FCS playoffs. While Coastal Carolina looks like a slam dunk, new head coach Jamey Chadwell came up just one point shy of winning at Arkansas two seasons ago. This win total has the highest probability to cash.
Oklahoma State Over 7.5: Princeton averaged 47 points per game and was the top scoring offense in the FCS last season. Tigers offensive coordinator Sean Gleeson moves into the same role in Stillwater, giving a needed punch to a Pokes attack that was 75th in explosiveness during passing downs. The trench takes a major hit defensively, but winning Big 12 teams generally have a formula of explosive offensive attacks.
How would you rate this article?